I LOVE MY DOLLS and CAROL
by Gussyboy1
Okay,get your kleenex out because this will bring tears to your eyes. For once on this forum I will be very serious for a short while.
Yes, I love dolls! I always have loved my dolls. Among my favorites is my Mary Englebreit doll "Sophia". I do love Sophia! What person doesn't LOVE
Mary Englebreit
dolls! Sophia doll gets to come out when I have tea parties with my grandchildren or when I want to decorate with some of my dolls, like at Christmas time. Yes, I love Sophia, but I love my best friend Carol so much more!
You see. Carol is a nurse friend of mine undergoing chemotherapy for the third time in three years for colon cancer. Carol has had two surgeries, a colon resection when the cancer was discovered three years ago. That was followed by chemotherapy. Then a year later the cancer had returned to a new spot-her lung. She underwent yet another surgery to have a lobe of her lung removed followed by chemotherapy. A few months ago a scan showed the cancer has returned again. Carol is undergoing chemo now for the third time.
Despite all the chemotherapy, Carol has continued to work from home on a children's hospital answer line. But now, she is feeling the weakness and nausea from the chemo and has almost used up all her sick days. When you cannot work ,and there are no more sick days, you don't get paid. It's a sad reality that occurs way too often with a serious illness.
I have decided to place my beloved "Sophia" Mary Englebreit doll, two Mary Englebreit framed prints, a Mary Englebreit book, and several other Mary Englebreit items on
eBay
in an attempt to raise money for my friend, Carol. I want Carol to focus
ALL
her energy on fighting this cancer--on healing.
Our local newspaper did an article a few weeks ago on the up-and- coming
eBay
auction. I am waiting placing the items on
eBay
until next week so that another local newspaper can run an article in hopes that the infomation will reach more people. My hope ,also,is that the goodness in people will
SHINE
!
Carol has cared for thousands of patients over the years. Now it's her turn to feel that caring spirit! Thus, next week under seller:
gussyboy1
on
eBay
under
Mary Englebreit
you will find "Sophia" and other Mary Englebreit items for sale. Please bid and bid often! Yes, I love dolls! I'm crazy about dolls and my doll-of-a-friend, Carol!
BTW, you can see Sophia in this picture along with the other items that will be on
eBay
sometime this week.
THANKS!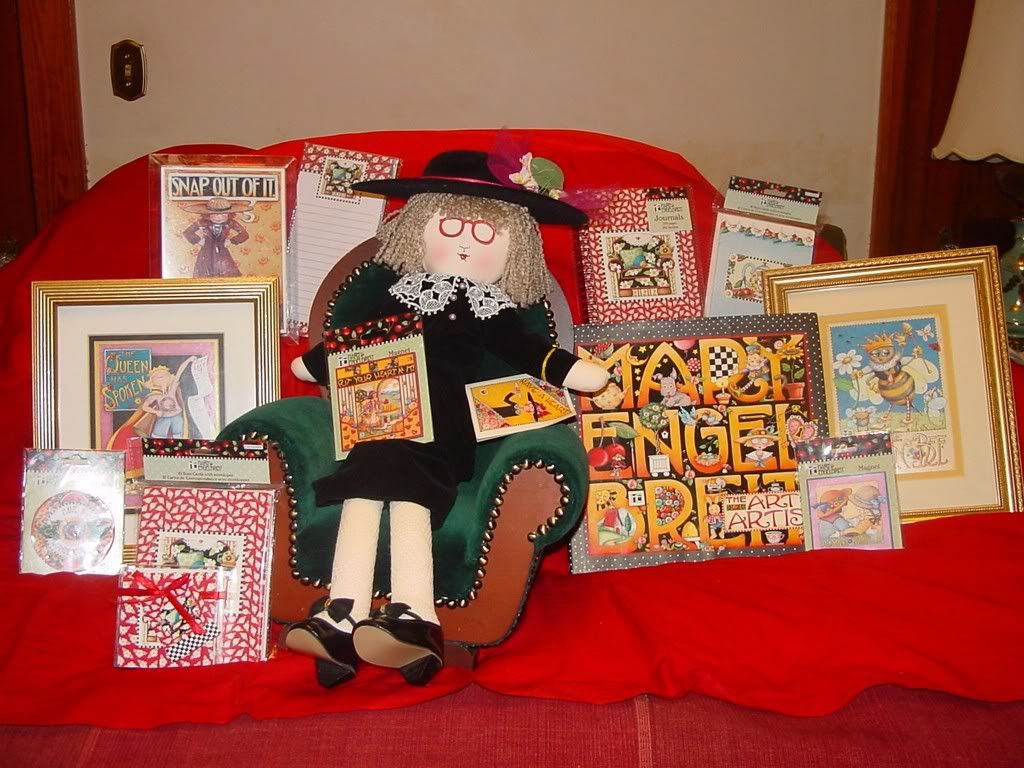 I only have one of the Classic American Doll stamps. I used all the others back in 1997 when they came out with the notecards. Here it is in the upper left corner of the notecard. It's entitled "Alabama Baby"/Martha Chase dolls.