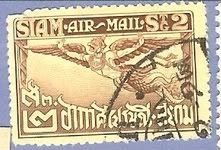 I love this Siam airmail
"angel?
"! ha
CONTEST FOR BEGINNERS with less than 50 posts-
-win some free (I say,
FREE)
Airmail stamps from my extras!
One Hundred years ago today, the "father of naval aviation" lifted off in a biplane made of wood and fabric and stayed airbourne for almost a mile!
Glenn H. Curtiss, a 30 year old pilot and plane designer, performed the first pre-announced PUBLIC flight in the USA and became a national hero. Before Curtiss made his public flight, less than 100 American people had ever seen the fantastic amazement of aviation!
Curtiss was a motorcycle builder and set a land speed record of 136 mph in Jan 1907 (pretty darn fast for that many years ago!).
In 1907 Curtiss accepted an invite to build powerful and lightweight engines for the Aerial Experiment Association headed by Alexander Graham Bell.
In 1911 he developed the first practical SEAPLANE and offered the Secretary of the Navy FREE instruction for ONE Navy officer. (we've come a long way since!)
TRIVIA QUESTIONS::::::::
Answer all three correctly
and you win some free airmail stamps (did I mention they are FREE!) (
Sorry
, but I don't have any inverted Curtiss Jennys to send you at the moment! ha)
What was Curtiss' hometown??
From 1916-1918 what city did Curtiss turn into an airplane manufacturing hub of the USA??
What was the name of the first Navy Officer who became the US Navy's first Pilot??
HAPPY AVIATING!
Gussyboy1