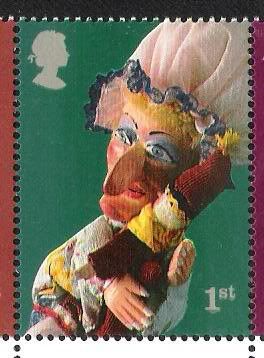 Tina,
Check out the link in my previous post and also the one from yesterday that led to such wonderful stirring pictures. Why, I even had tears in my eyes.
Punch and Judy, the most famous Marionette/puppet show the world has ever seen. George Washington was a fan. Originated in Central Europe.
As a child, I used love these shows, especially on the beach on a summer's day. Unforgettable.
Judy, on the stamp above, was my favourite character.
The strip of six stamps from GB, 2001 shows all the major characters including the pet Crocodile with the sausages !!
Your Mother would love it.
Londonbus1.....Show her