Correct:
Quote:
Is it not an easy ID ? I have always thought the Photogravure stamps, can be identified by the "pitted" lines of the image (esp the value tablet) under a loupe.
The picture of the screened border shows something that occurs with photogravure printing, but is not something you find on all stamps.
Photogravure is made up from little puts that hold the ink. This gives a dotted image. As the Machins are printed on rotary presses, the ink flows against the movement of the paper through the press. So, if the image is printed from the bottom to the top (Direction Of Printing - DOP - is upright ), you will see the dots of ink take on the shape of a droplet that point upwards.
Often, you can see the droplets anywhere in the printed area. The portrait tends to be a good part of the image where you can see the droplets. Where the printed area meets an unprinted area, along the edge of the image, you can see it best. Also, that is the area where it is easiest to see the direction of the droplets. It gives a jagged edge.
Here is a very clear example and a discussion on the DOP:
http://goscf.com/t/79543
Lithography is etched in another way and has sharp borders. Lithography stamps were not made up from dots and you won't see the sawtooth edge. New techniques do result in a 'dotted' appearance of litho-printed stamps.
There are caveats:
Bad litho printing can lead to fuzzy edges and excess ink can fill up the border of a gravure stamp.
Later gravure printings (photogravure was replaced by computer-aided engraving) are of better quality and have a higher 'screen.' At the same time, litho printings have been made with stochastic screens. Galeoptix has posted about this.
It does not always work:
here is an example of a Dutch stamp printed in photogravure by Enschedé that has a sharp outline. This was done on purpose.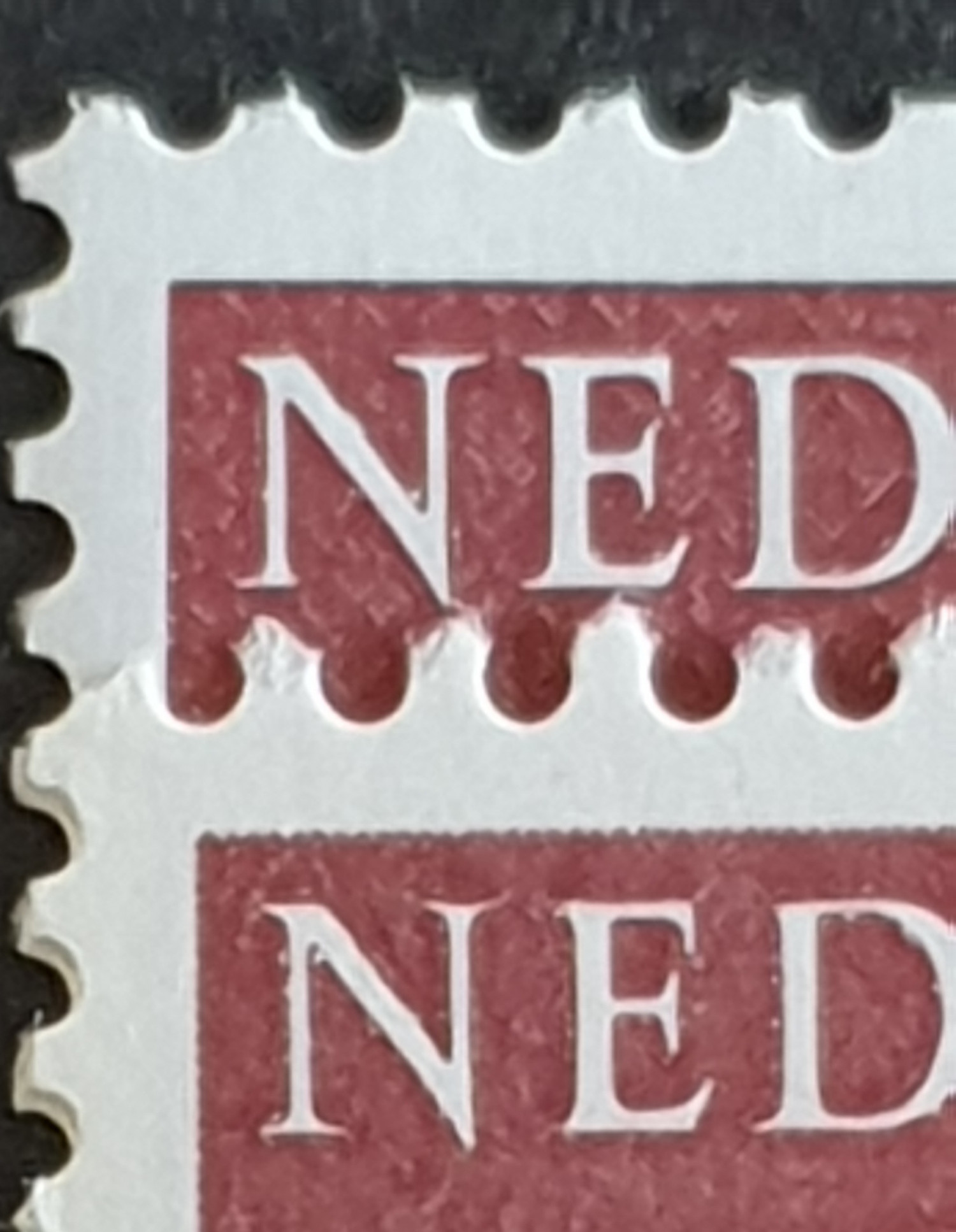 http://goscf.com/t/80894#747172
And here is a thread showing the stochastic screen of a litho printing (Hong Kong Machin):
http://goscf.com/t/76488