I recently paid a service to translate all my Marine Schiffspost cards, so I'm rebuilding my album pages to include that information. As I get them built, I'll share a few here.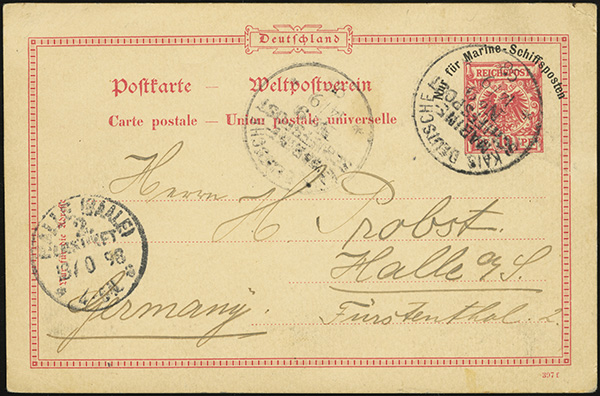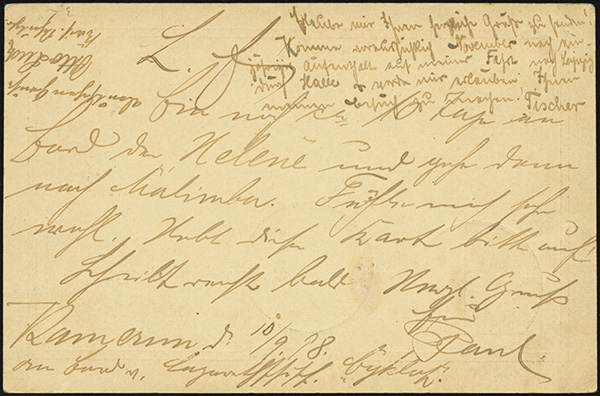 This card turned out to be a confusing one. It was written by Karl Fischer, a sailor who sailed from Germany to Kamerun on board the steamer
Helene Woermann
of the Woermann Line. The
Helene Woermann
was built in 1889 by Blohm & Voss, and was originally the
Montevideo
of the Hamburg South American Line. It was purchased by the Woermann Line in 1898, and immediately put into service to Kamerun.
The
Helene Woermann
departed Hamburg on 11 August 1898, and arrived at Kamerun on 7 September 1898. On 10 September 1898, Karl Fischer wrote this postcard back to family in Halle, Germany.
Quote:
Am still about 10 days aboard Helene and then we go to Malimba. Feel very well. Please save this card. Write soon. Best regards, Your Karl

Kamerun, 10/9.98 On board the hospital ship Cyclop

Allow me to send you warm greetings! Probably come in November after a year's stay on my trip to Leipzig through Halle and will allow me to visit you! Fischer
Though he traveled on the
Helene Woermann
, and was planning on still being on board for another 10 days, he wrote the postcard while on board the
SMS Cyclop
, a gunboat that had been converted into a hospital and supply ship.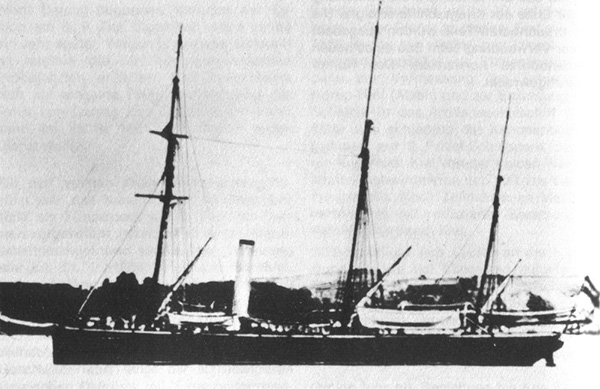 SMS Cyclop
As the
Cyclop
didn't have a post office on board, the postcard was mailed from the
SMS Habicht
, a gunboat that was assigned to the Imperial Navy's West-Africa Station at that time.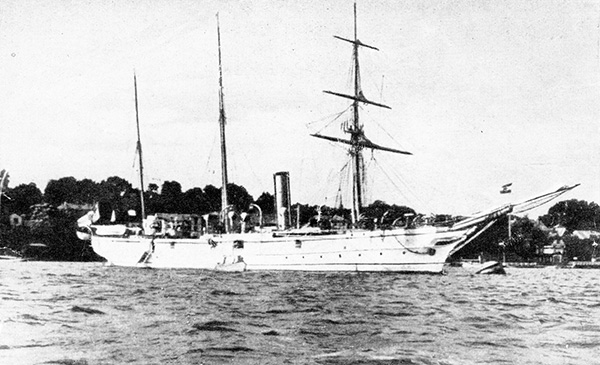 SMS Habicht
The
SMS Habicht
carried MSP canceller No. 9 from July 1897 until 2 October 1905.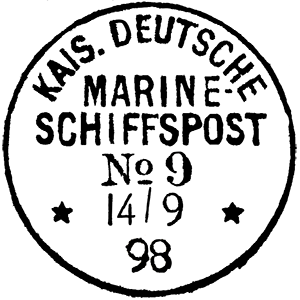 As to what happened to all the players in this card:
The
Helene Woermann
was sold to the Hamburg America (HAPAG) Line in 1907 and renamed
Lome
. In 1914, it was scuttled in Douala as a blockship. In 1915, it was raised by the British and renamed
Africshore
. In 1923, it was sold to Turkey, who renamed it
Sakariya
. The
Sakariya
was lost when it ran aground 25 miles southeast of Fethiye, Turkey, on 19 May 1943.
The
SMS Cyclop
was commissioned on 27 March 1875, and served in East Asia and the Middle East before being assigned to the the Imperial Navy's West-Africa Station in 1885. By 1888, the ship's machinery was unreliable, preventing the ship from maintaining more than 2 knots. As a result, the ship was decommissioned on 25 September 1888. It was left in place at Douala, however, and served as a hospital and supply ship. It retained a small permanent crew, and the masts and machinery were removed in 1900. The ship was seized by the British at the outbreak of WWI and scrapped.
The
SMS Habicht
was commissioned 1 October 1880, and served in Australia and Egypt before being assigned to the West-Africa Station in 1885. It remained in service in West Africa until August 1905, when it left for Germany. It was decommissioned on 24 March 1906 and scrapped.
I wasn't able to find exactly what happened to Karl Fischer, as there were many Karl Fischers in Halle during that period.
And here it is on the page: