Hi Cjd --
I just noticed this thread. Actually the whole history of these stamps is very interesting. Russia is only one of 4 countries which Occupied Crete during this period.
In a nutshell, Crete was part of the Ottoman Empire for centuries, but in 1896 a rebellion, supported by Greece, erupted on the island. Greek troops landed on Crete and a full scale war broke out across the region, known as the Greco-Ottoman War of 1897
The "Great Powers" (Britain, Russia, France, Italy, Germany and Austria-Hungary) in order to stabilize the situation, imposed a blockade on Crete in 1897 and, following Ottoman approval, established control of the Island.
In April, 1898, Germany and Austria withdrew their ships, due to their interest in maintaining relationships with the Ottoman Empire, leaving the four remaining powers to negotiate a settlement.
An agreement was reached that Crete would be given autonomous status within the Ottoman Empire, but would be administered by Prince George of Greece, the second son of King George I, as High Commissioner. The Great Powers would continue to retain forces on the island to maintain order.
The occupying forces divided Crete into four zones, in which the respective power was to guarantee the status quo. The Russians controlled Rethymnon, the British controlled Heraklion, the Italians controlled Chania, and the French controlled Lasithi.
Russia issued postage stamps for its district of Rethymno in 1899, and the postal service operated only for a few months, from May to July.
A first set issued was a series of four stamps, hand-stamped, with two designs which contained the double headed eagle symbol of the Russian Empire. Your stamp is one of these.
Here is my Scott #11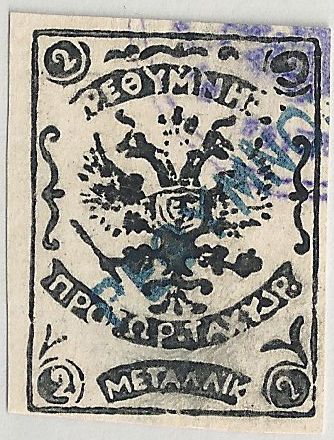 Shortly thereafter, regularly printed stamps were issued using a Poseidon's trident design These issues came out in three different values, on 7 different colors. The stamps included a violet or blue hand-stamped control mark of a doubled headed eagle (although they are also known without the mark).
A third set was issued, similar to the trident design, but included two stars in the frame around the trident. They were issued in the same denominations, and were printed in blue, rose, green and violet.
Here is a Scott #40 (with the stars in the oval)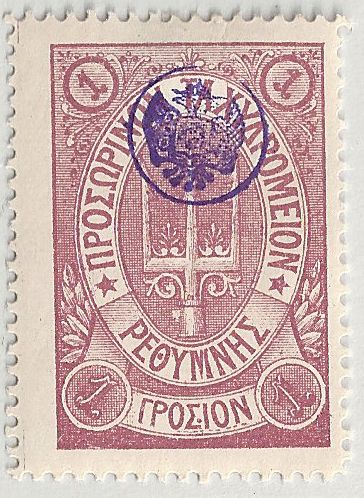 I find that the denominations are rather obscure, 1 metallik, 2 metallik and 1 grosion. As far as I can tell they are based on weights of silver.
You can read much more about the history and the stamps of Russia and the other occupying powers that issued stamps at my DCStamps site.
http://www.dcstamps.com/?p=2996
Hope this helps -- Michael