It's been a while, so here are my latest revenue cancel pickups...
First not a cancel, but black provisional Future Delivery overprints on a block of 4.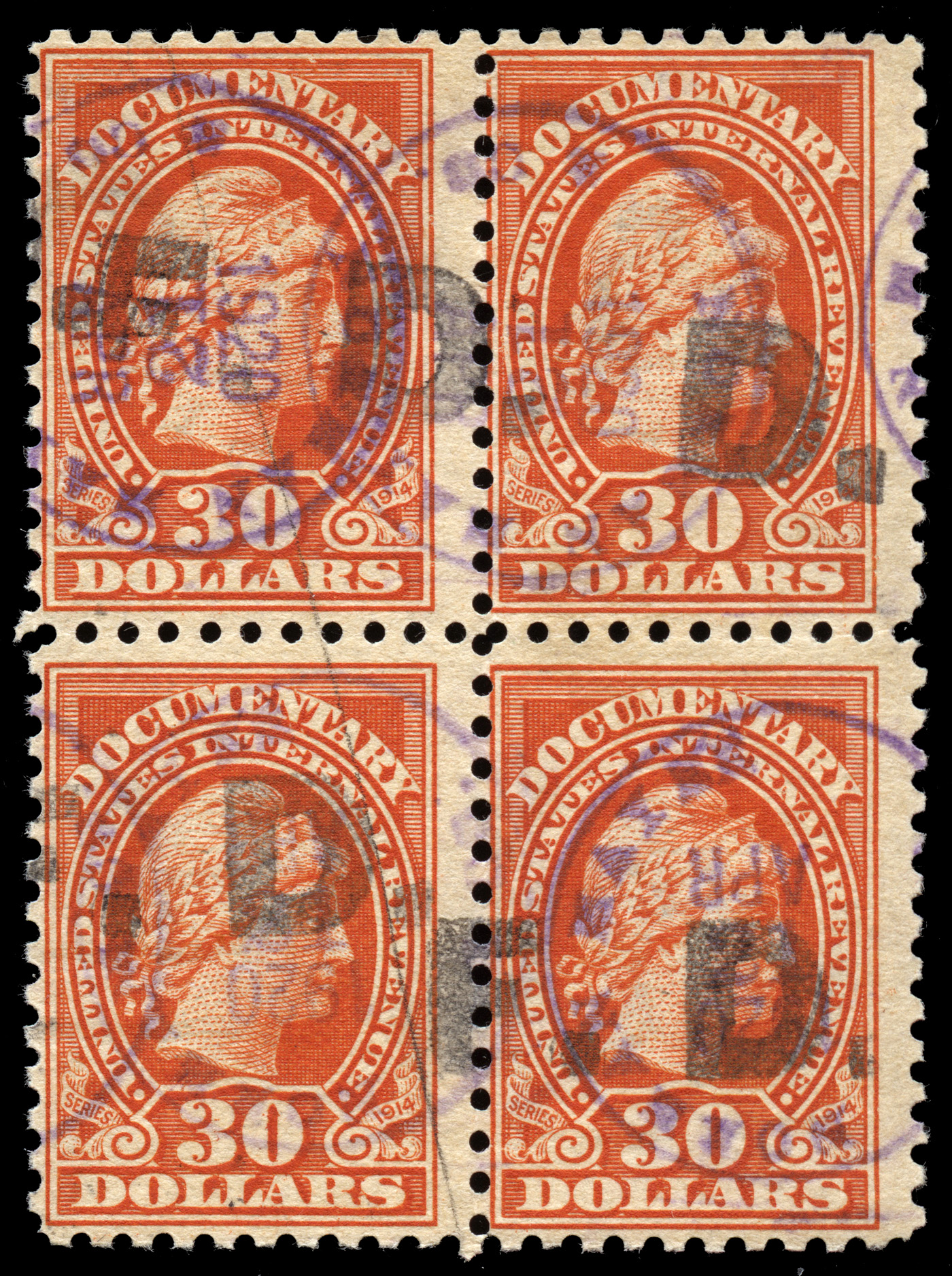 ... compared to similar overprints also in violet,

A reconstructed block of 9 of 5-cent Certificate silk papers showcasing large format ornate processing handstamps.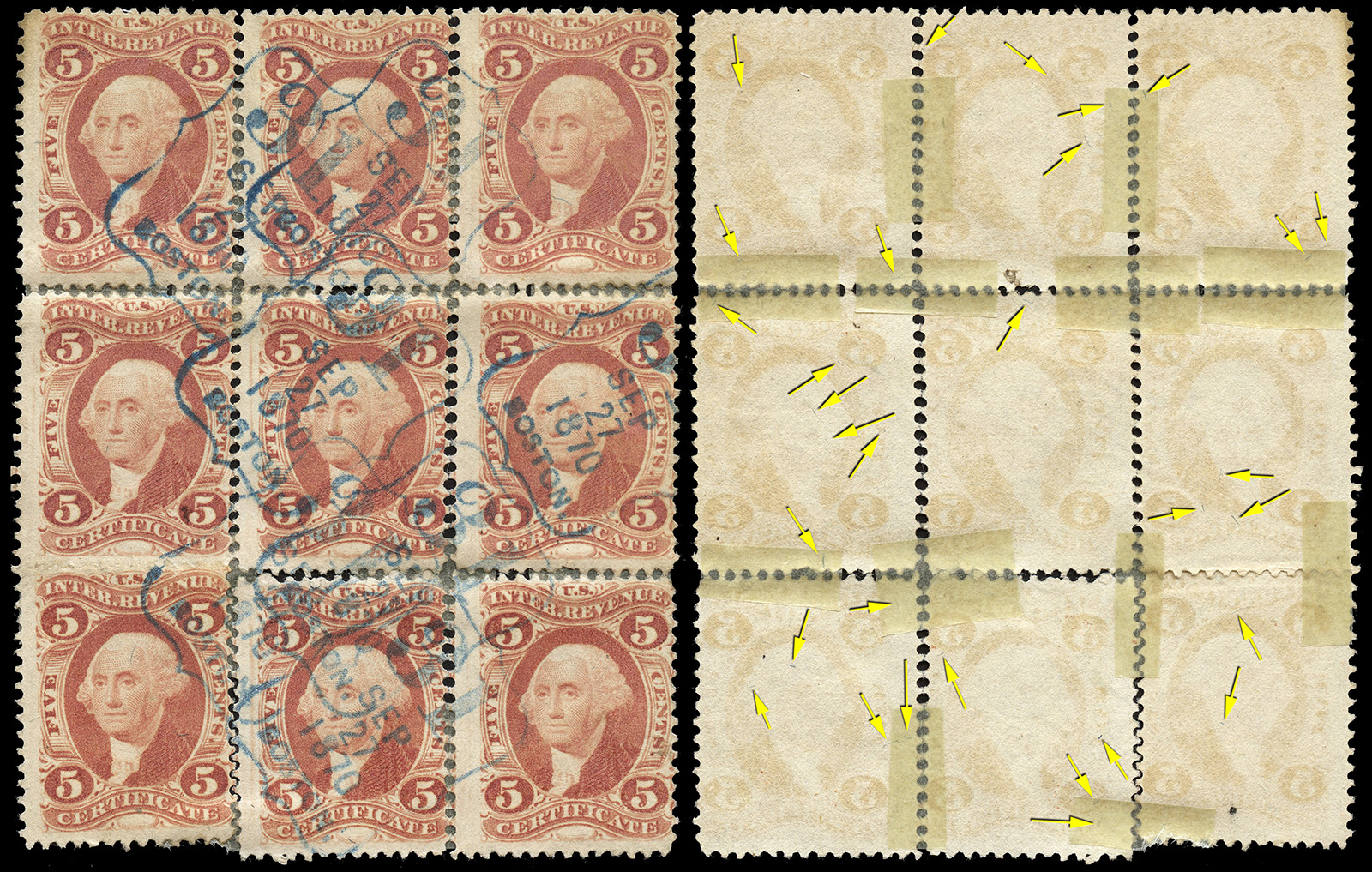 A nice bold early Simon de Visser oval handstamp cancel.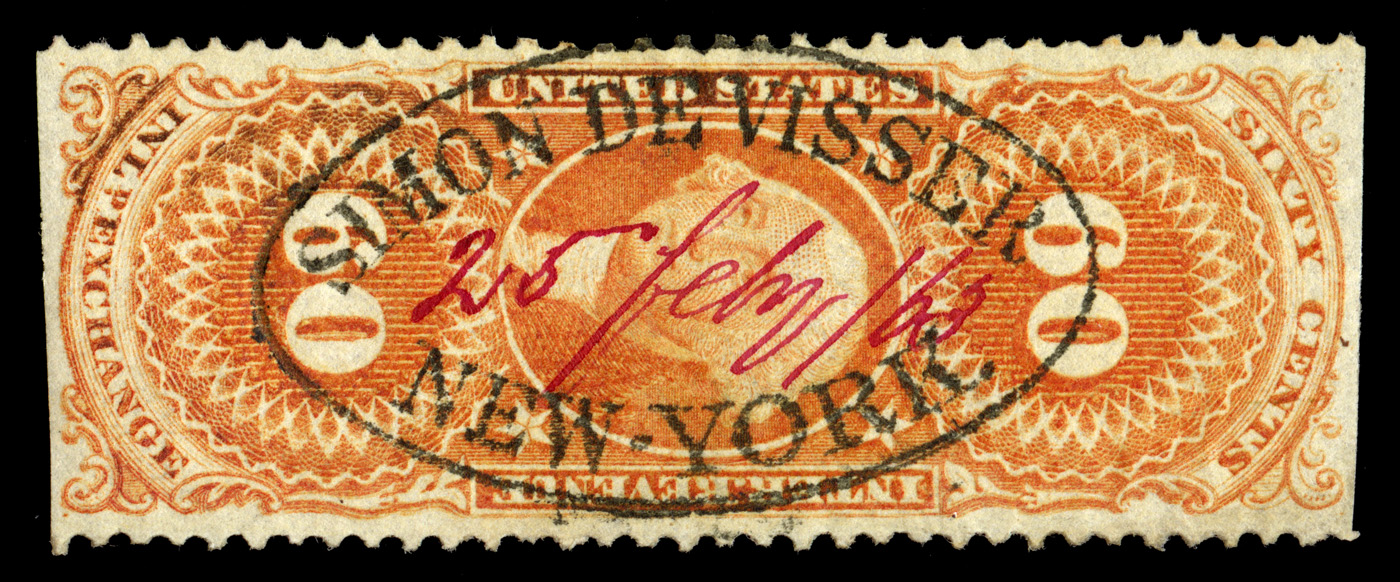 A boxed insurance handstamp cancel.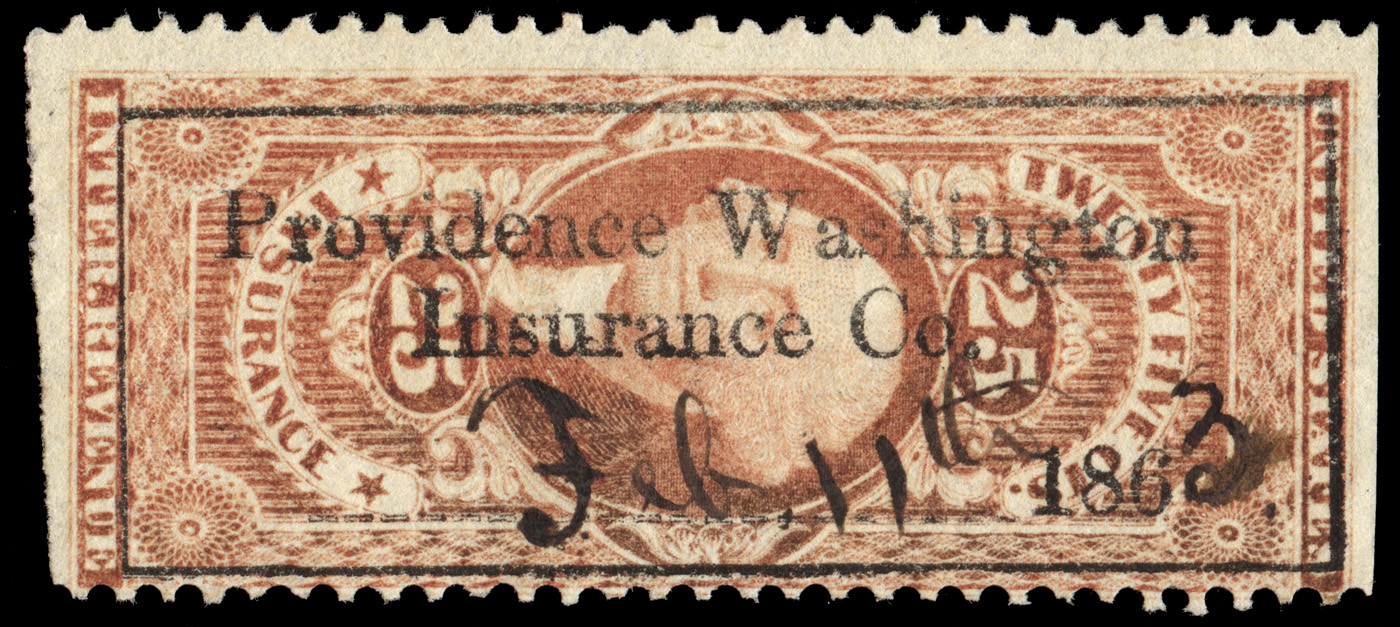 First National Bank of Brooklyn handstamp with large "1st" in center.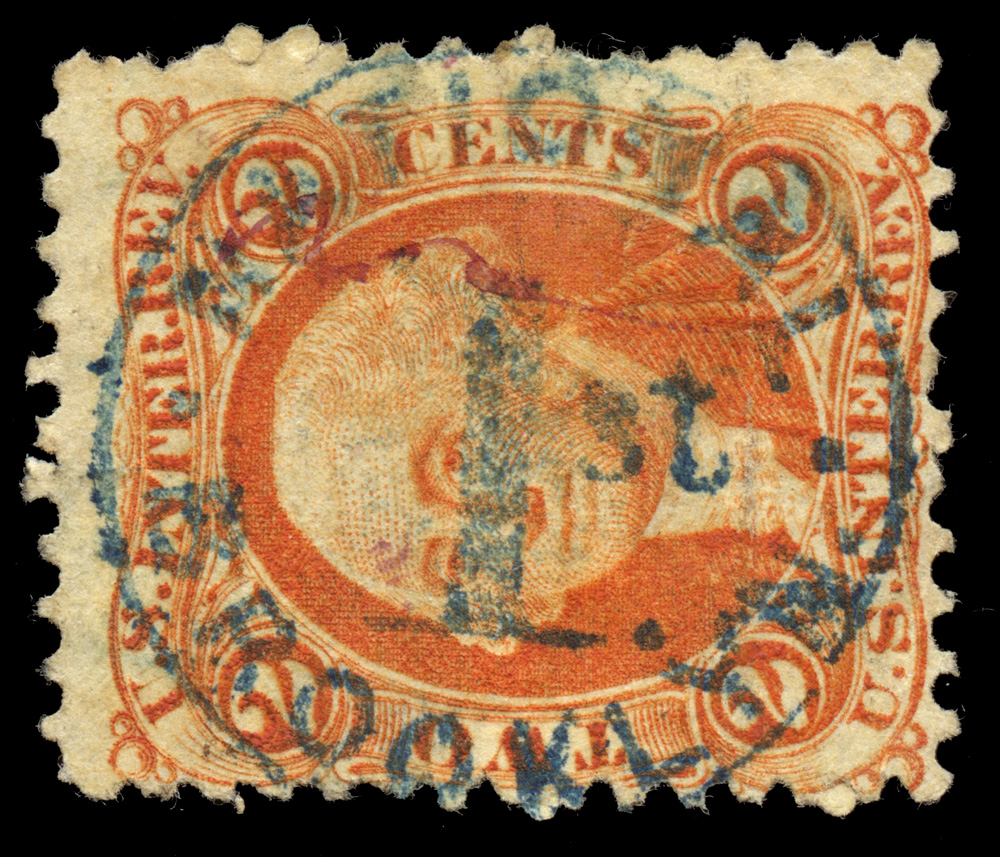 Large-format six-line insurance agent handstamp cancel.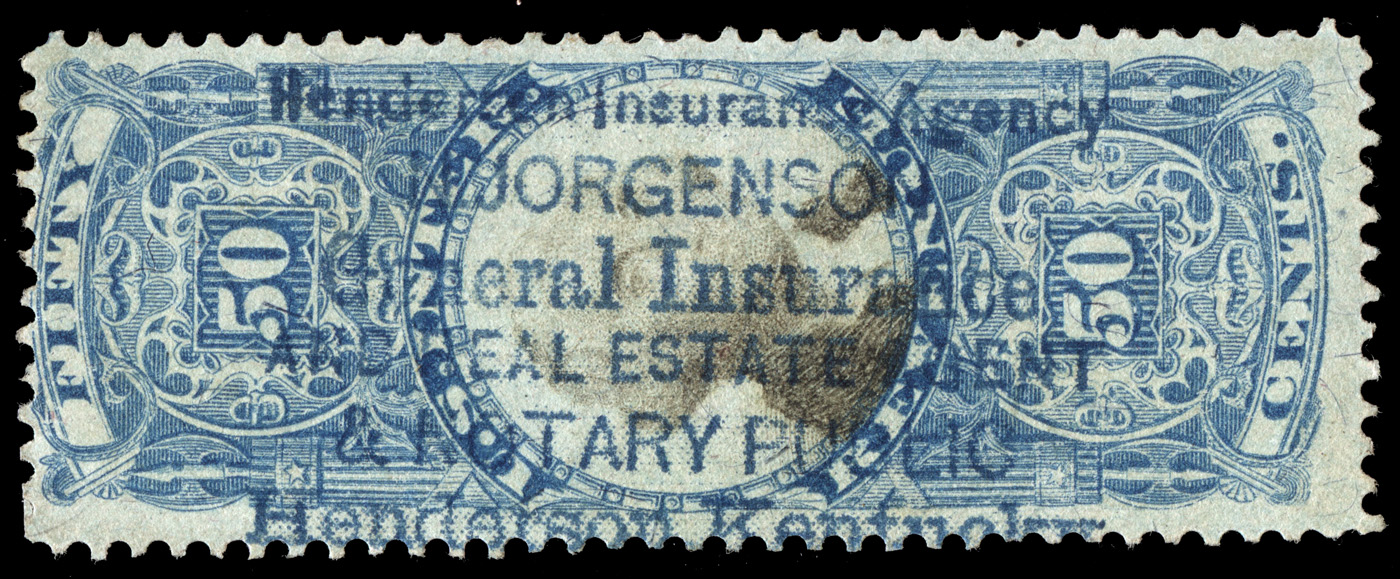 Printed/typeset cancel where the press operator had a wee bit of a positioning issue...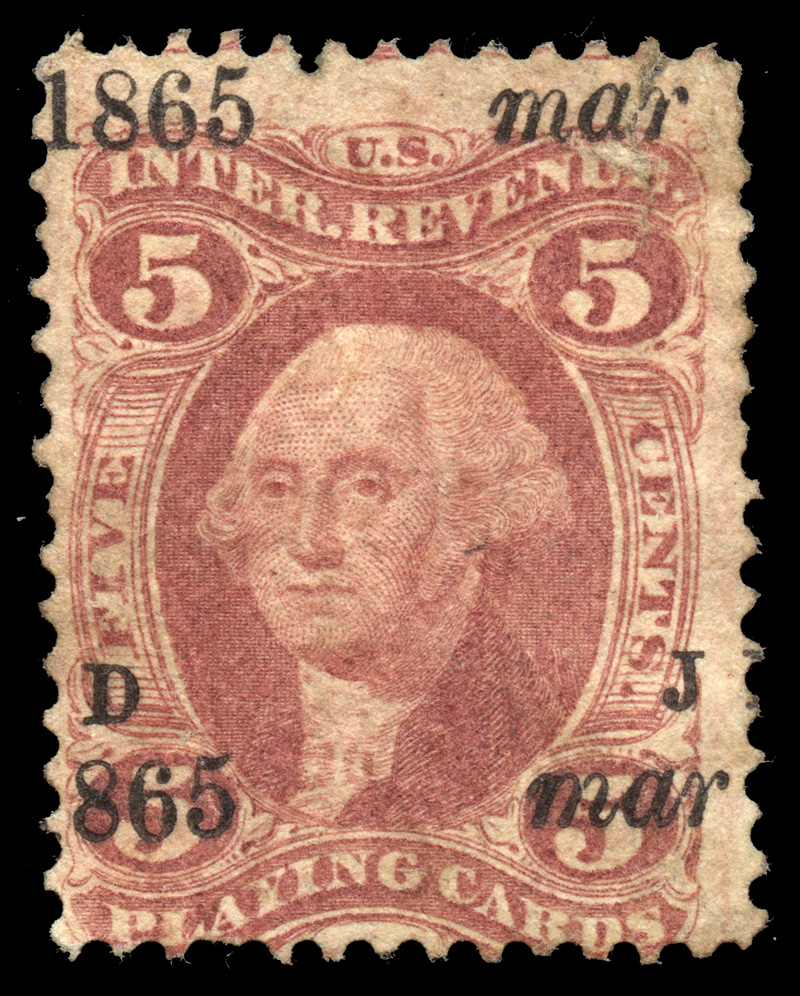 Diminuitive oval embossed cancel, Handy & Hoadley, a steamship company in New York.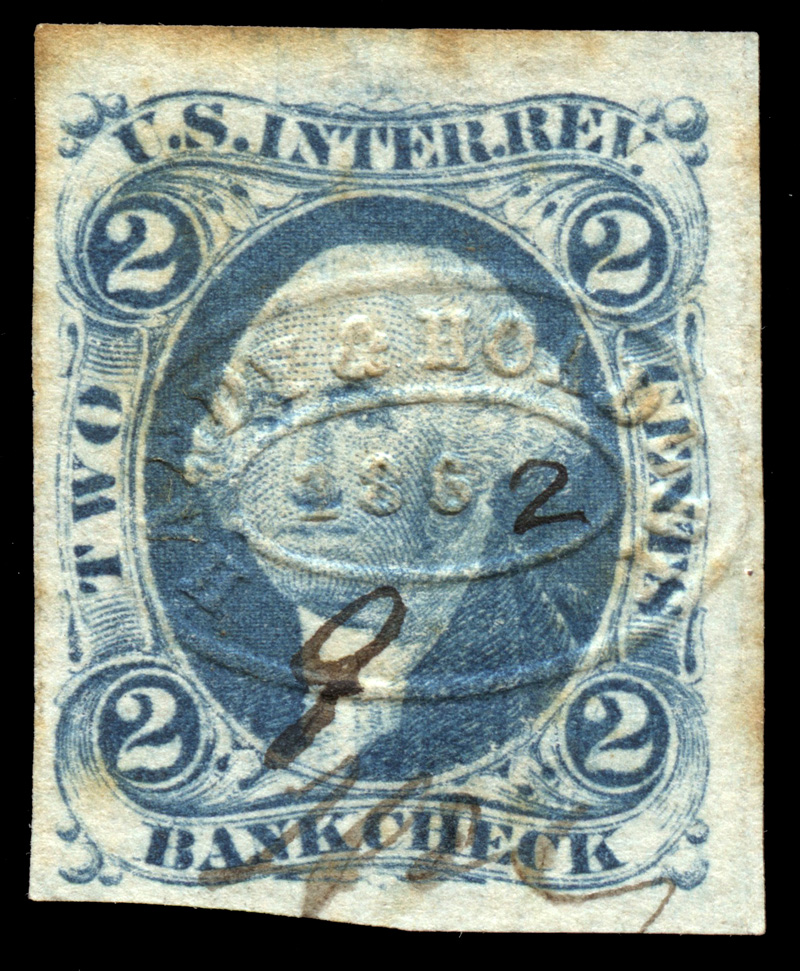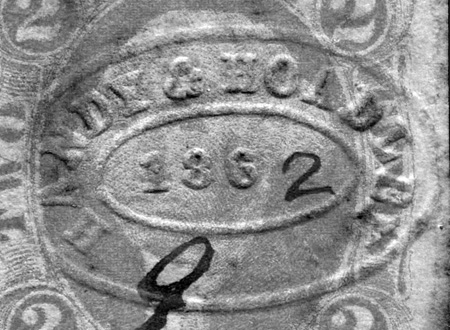 A nice bold early bank handstmp cancel.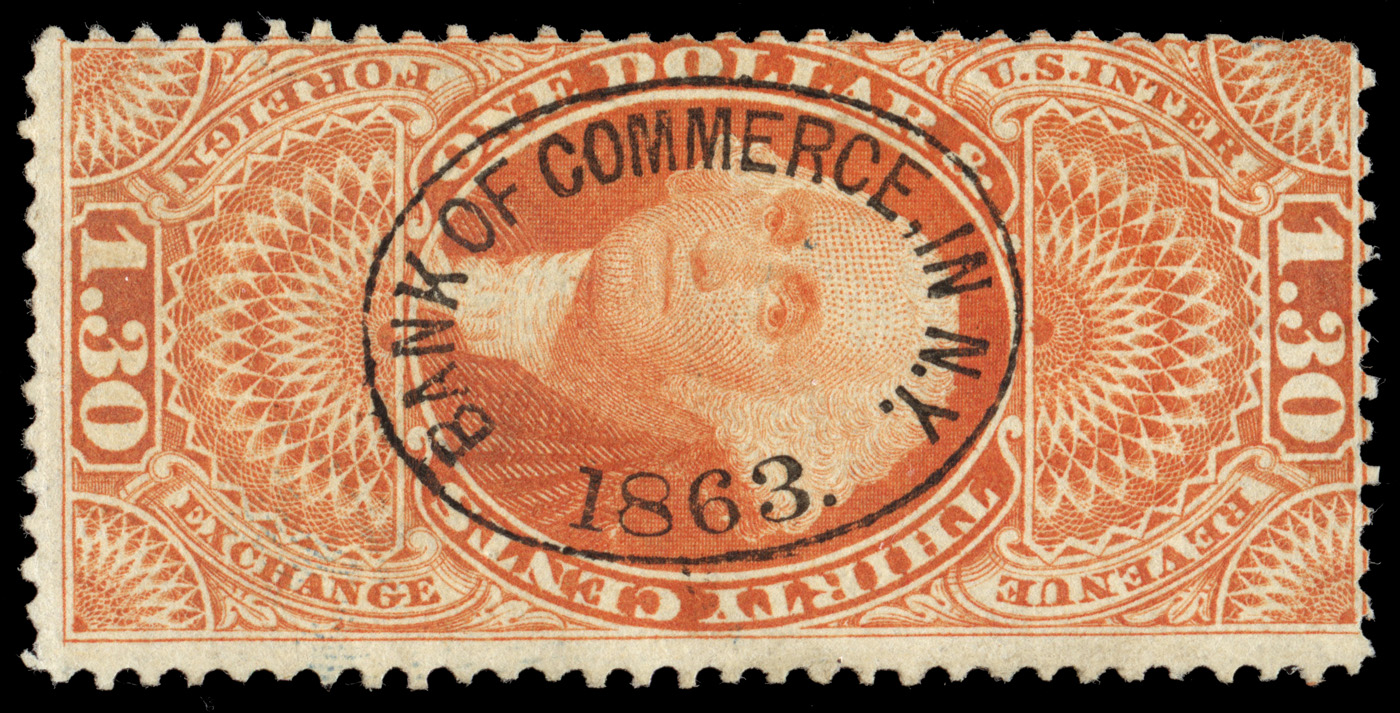 A proprietary cancel, also with positioning issues.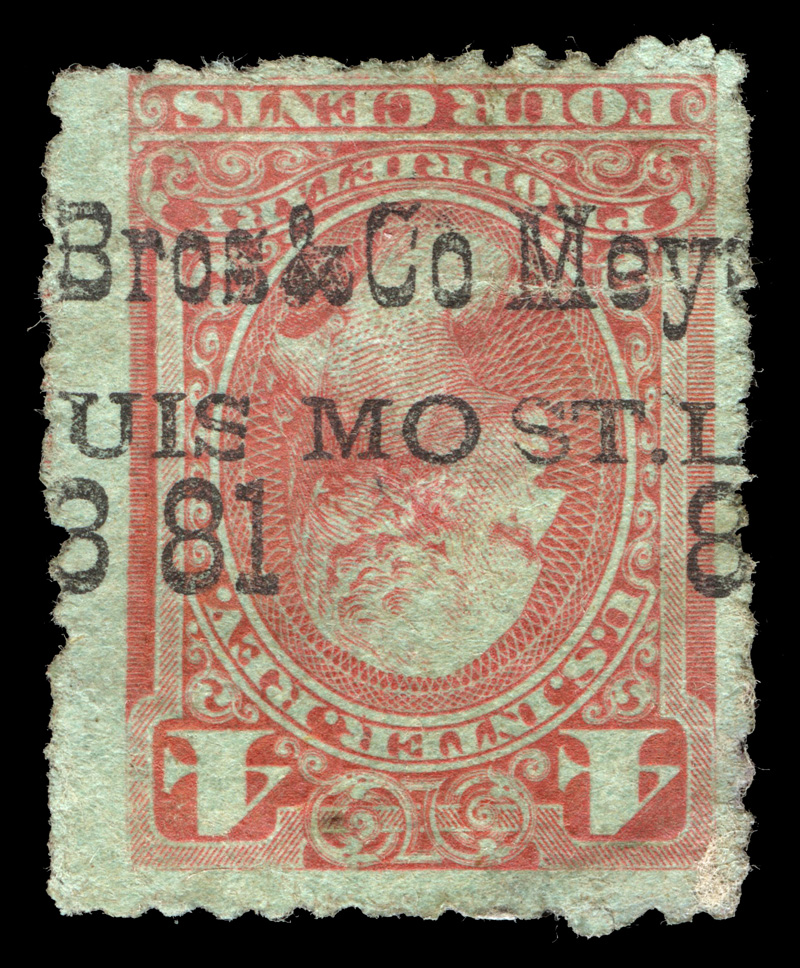 Attractive E.F.B & Co. proprietary handstamp cancel.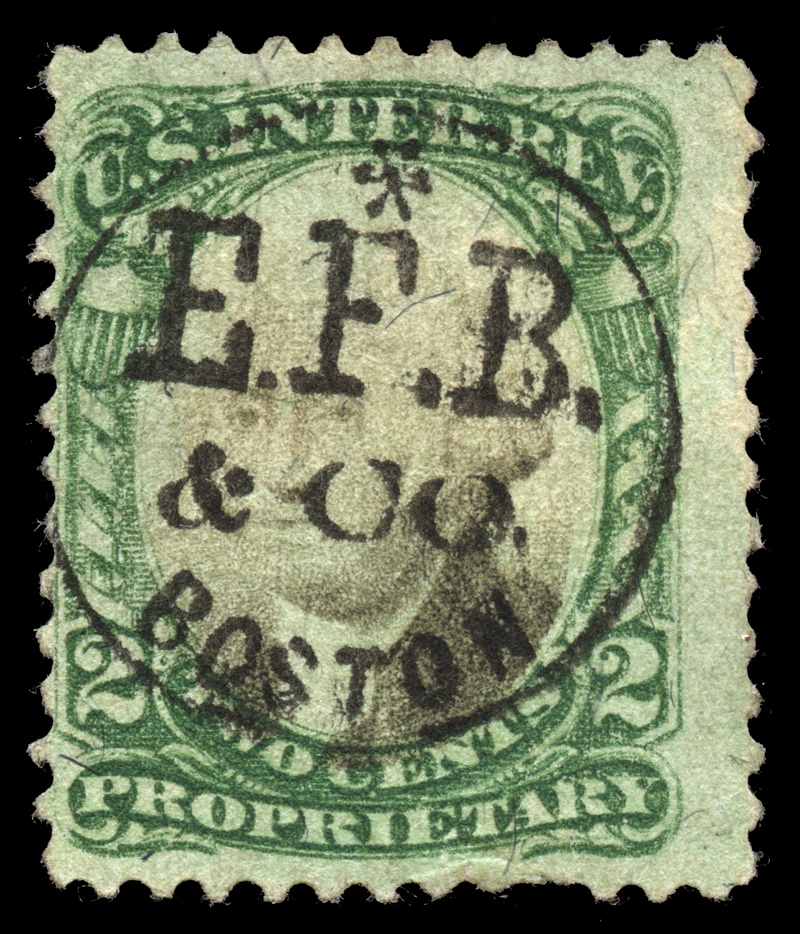 The next two stamps are part of what I call "The California Late Imperfs". Normally imperforates and part perfs with late cancel dates are an immediate red flag for fakery... the one notable exception being a cache/hoard of imperfs that apparently resurfaced from storage late in the taxation period in California, that are legitimate imperforates and part perfs. Normally you don't find imperfs used after 1864, but California examples can be found MUCH later. The latest imperf example I have in my collection is dated April 1869 and the latest part perf usage is dated June 1871, although for the latter I cannot attribute it to California specifically.
They're normally found as high denomination stamps, which is why the first example was quite surprising to me. That bottom stamp is a monster!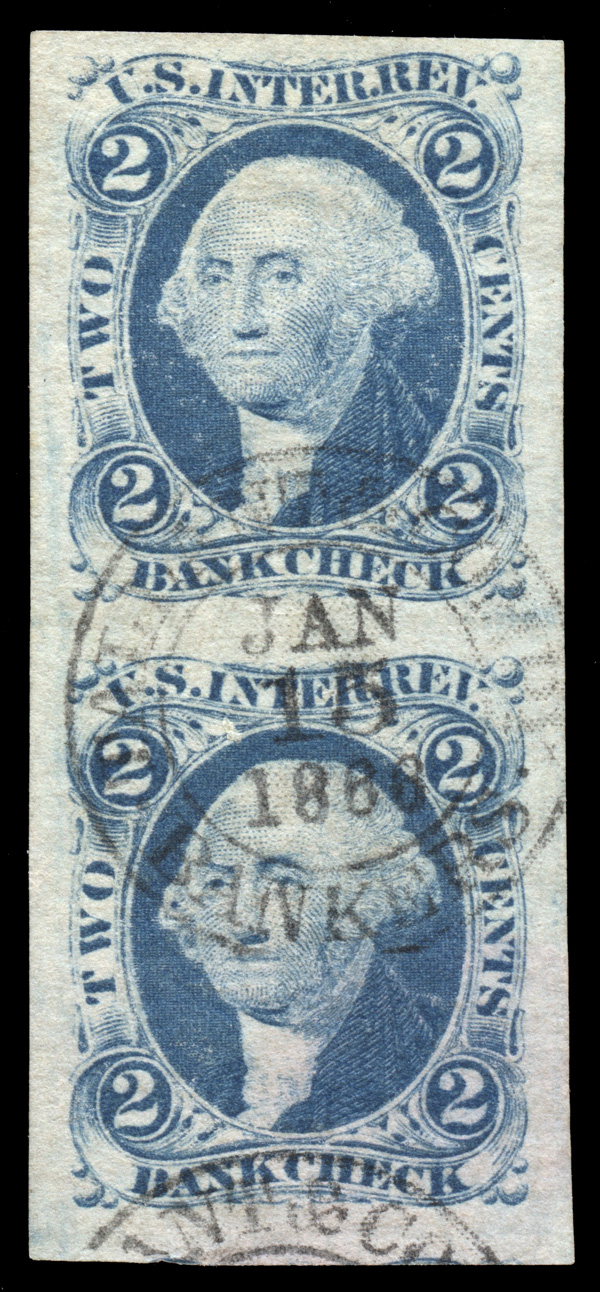 A nice ship broker handstmp cancel.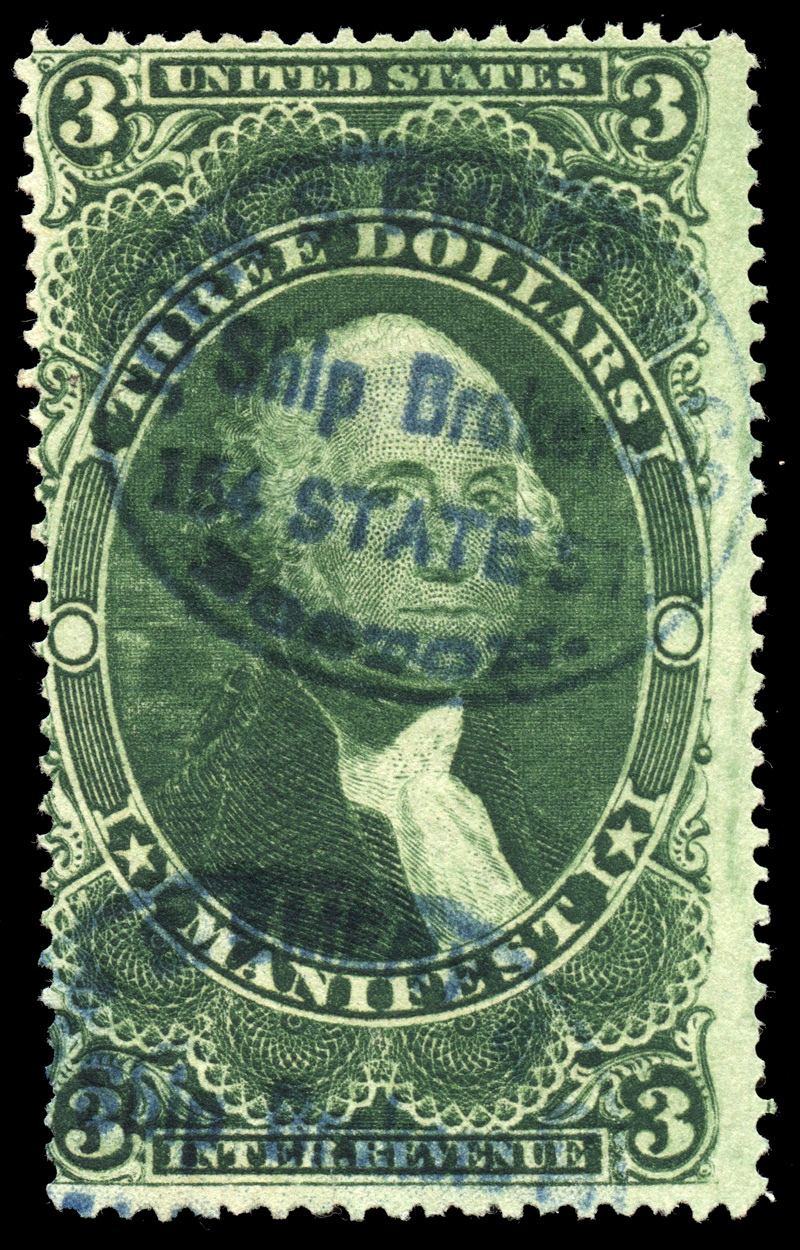 Two that I was thrilled to get, filling in more spots in my goal to find printed (yes they are printed, not handstamped) cancels of Brady's Bend Iron Co. on as many different 1st through 3rd issue revenues as possible. The $3.50 second issue is a moderately uncommon stamp in its own regard, let alone finding it with a specific cancel.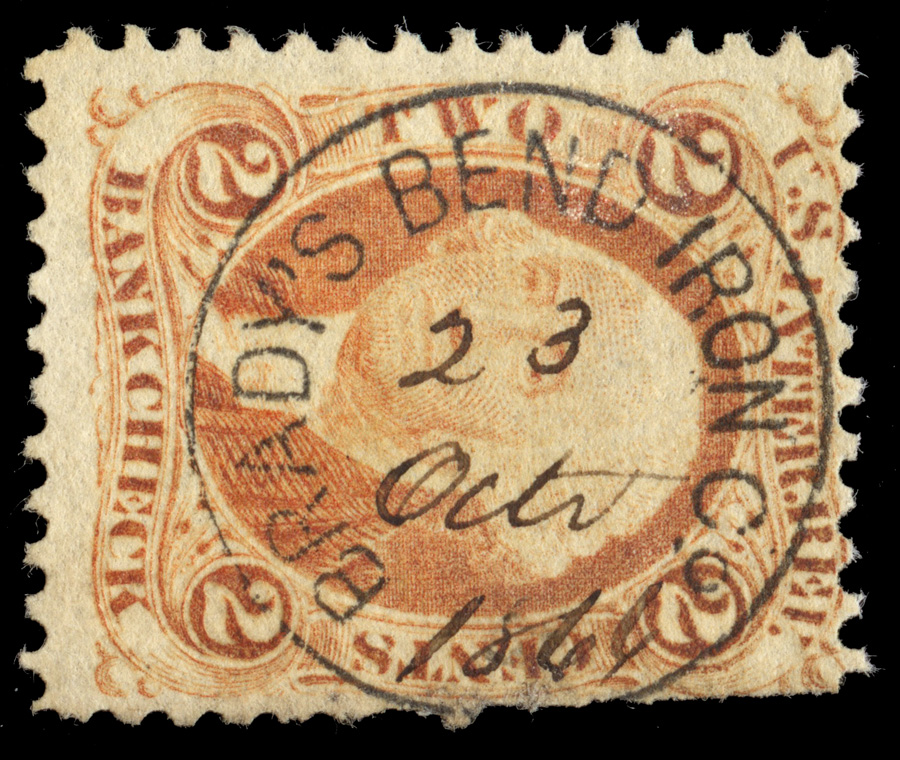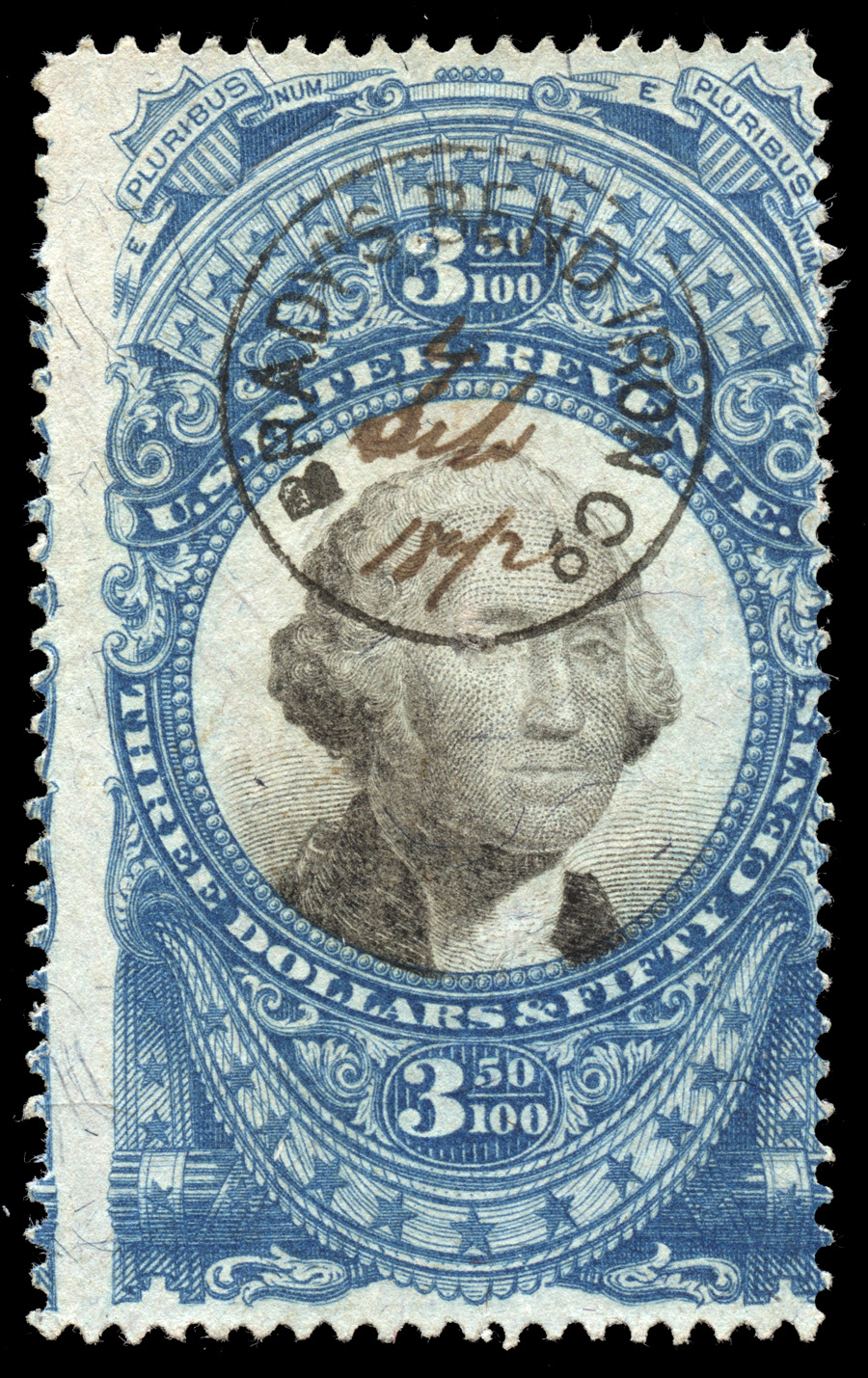 A trio of cancels from the "Dollar Steamship Lines" out of Honolulu, Hawaii, presumably taken from bills of lading. It would have been nice to have the documents intact.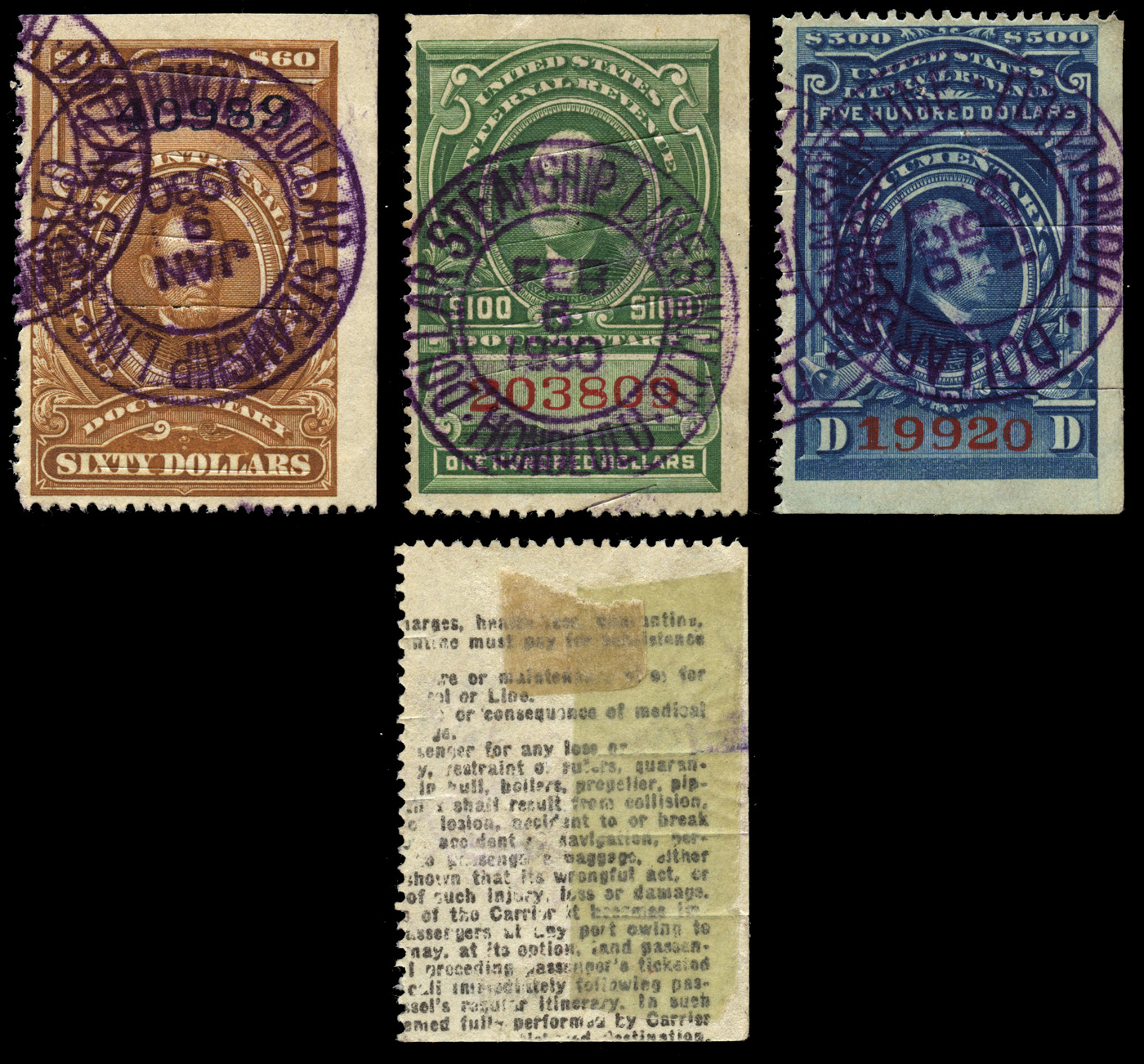 A nice Simon de Visser cut handstamp on a very high denomination second issue.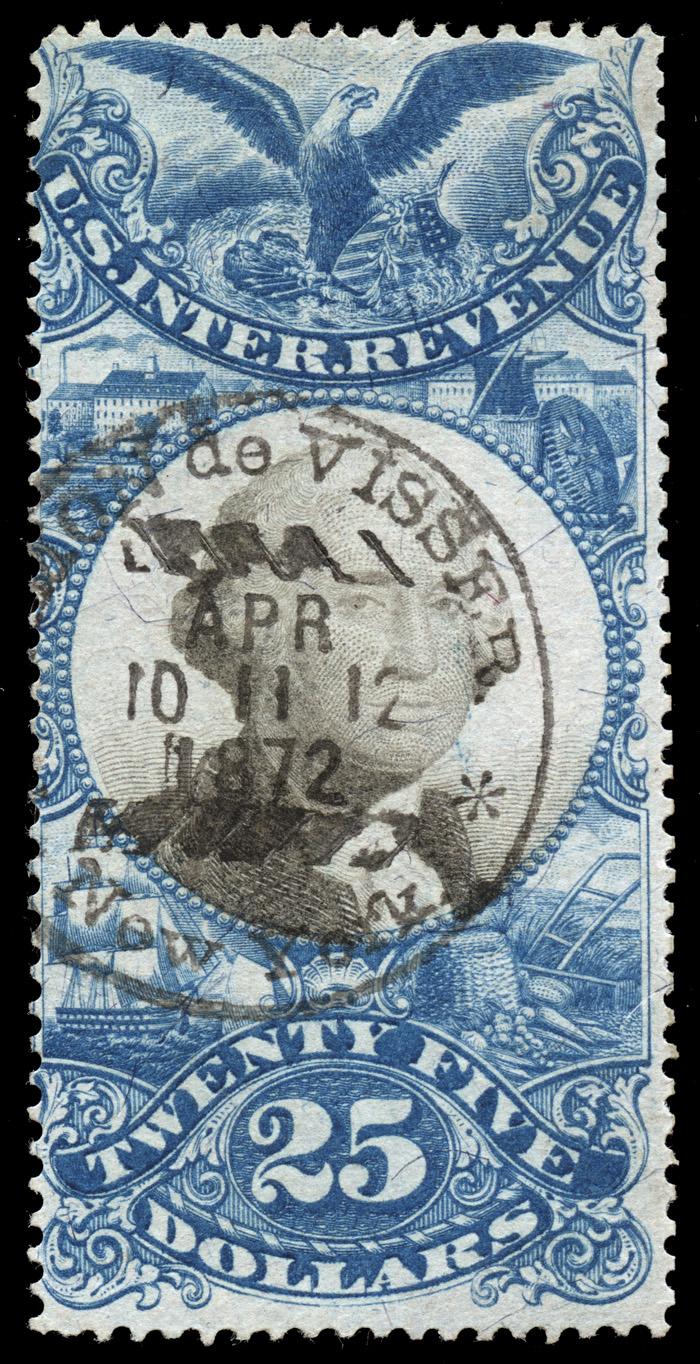 A nice script cancel that also matches my initials. :)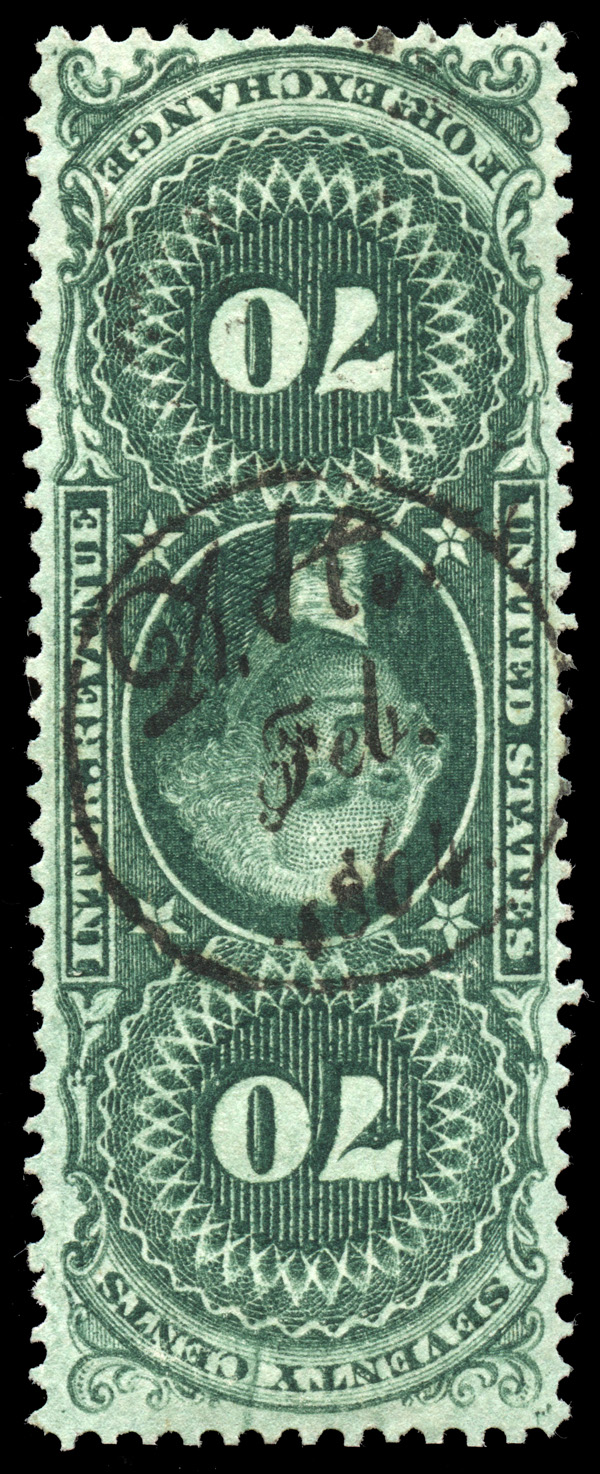 The stamp is munched, but an interesting script handstamp cancel on a 4-cent Playing Cards.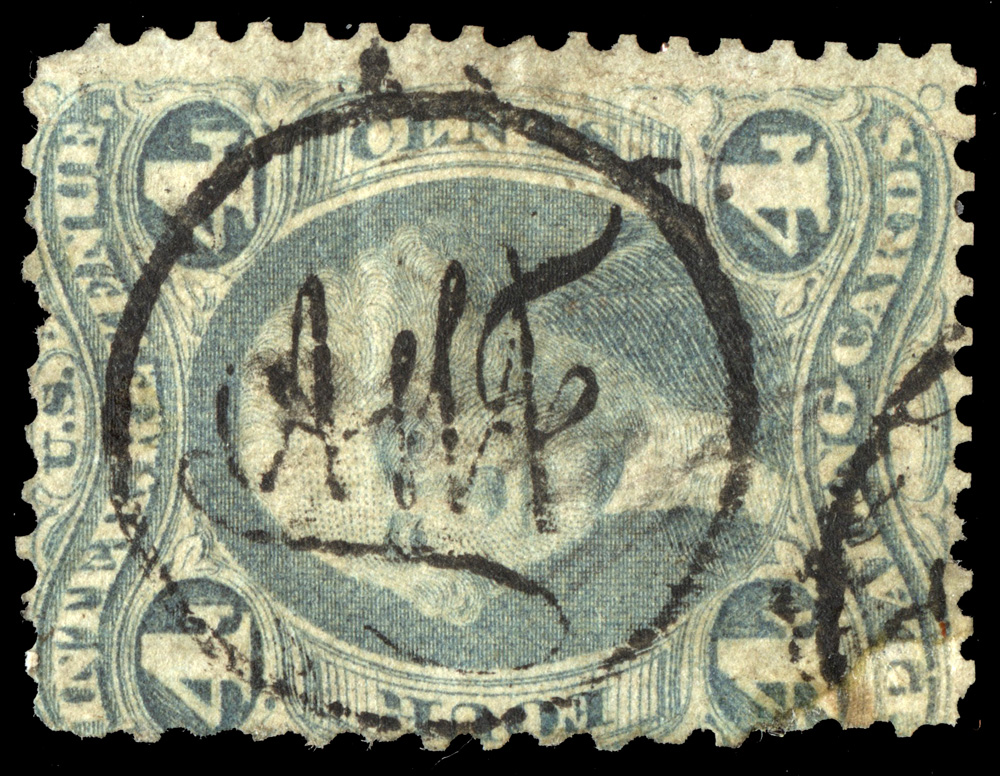 An ultra-bold manuscript cancel.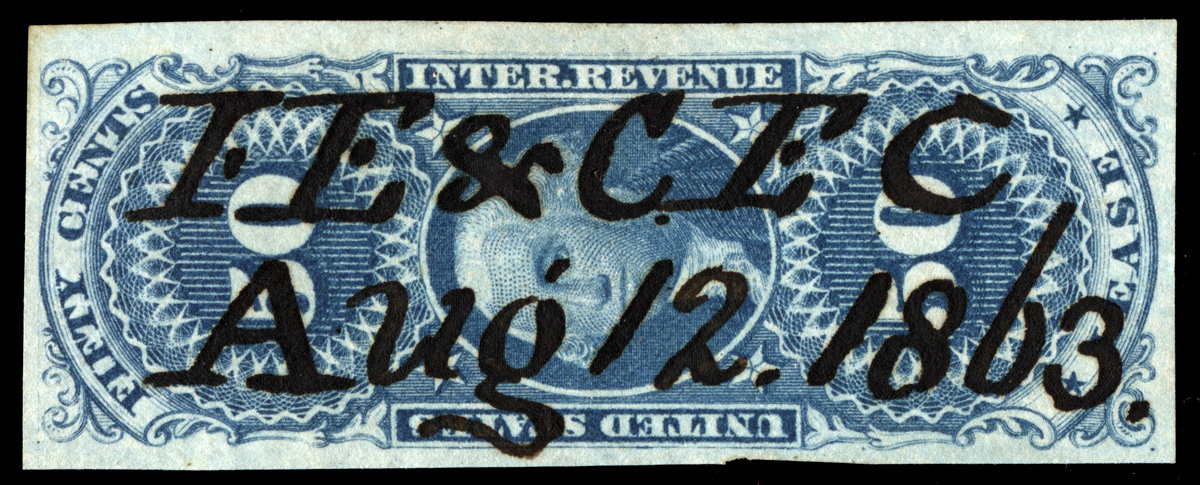 A manuscript cancel from The Montana Mineral Land and Mining Co.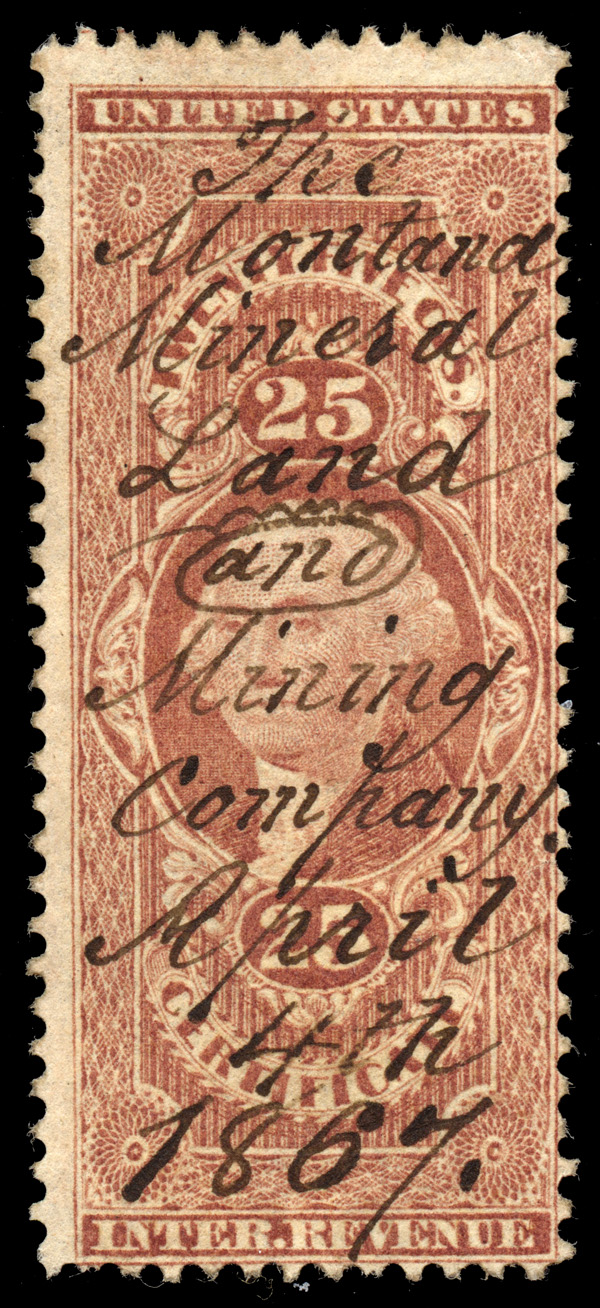 A nicely arranged bank handstamp cancel.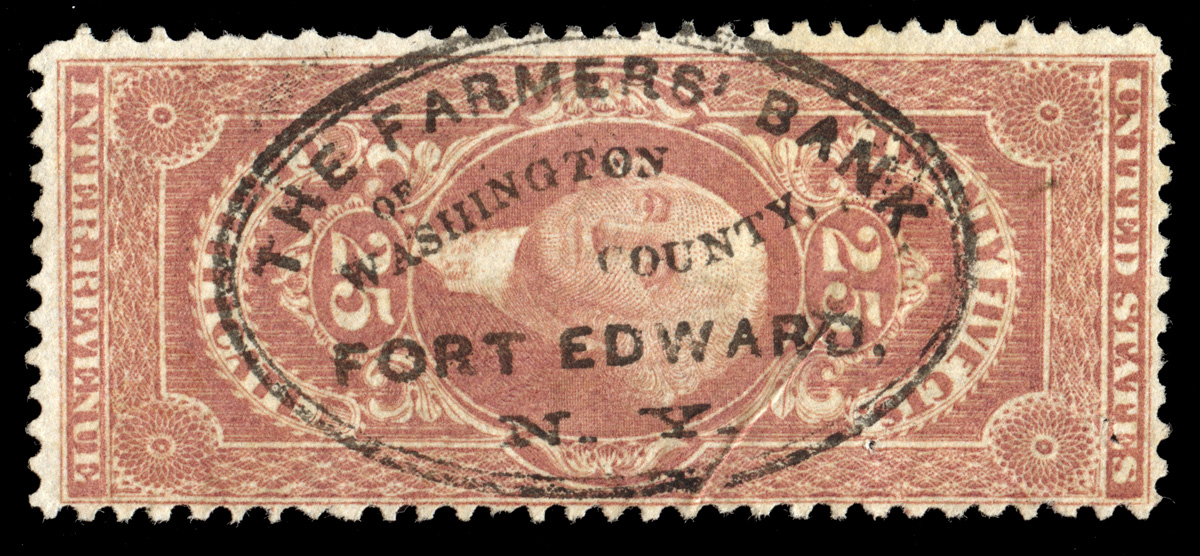 An attractive insurance broker cancel with a flourished box.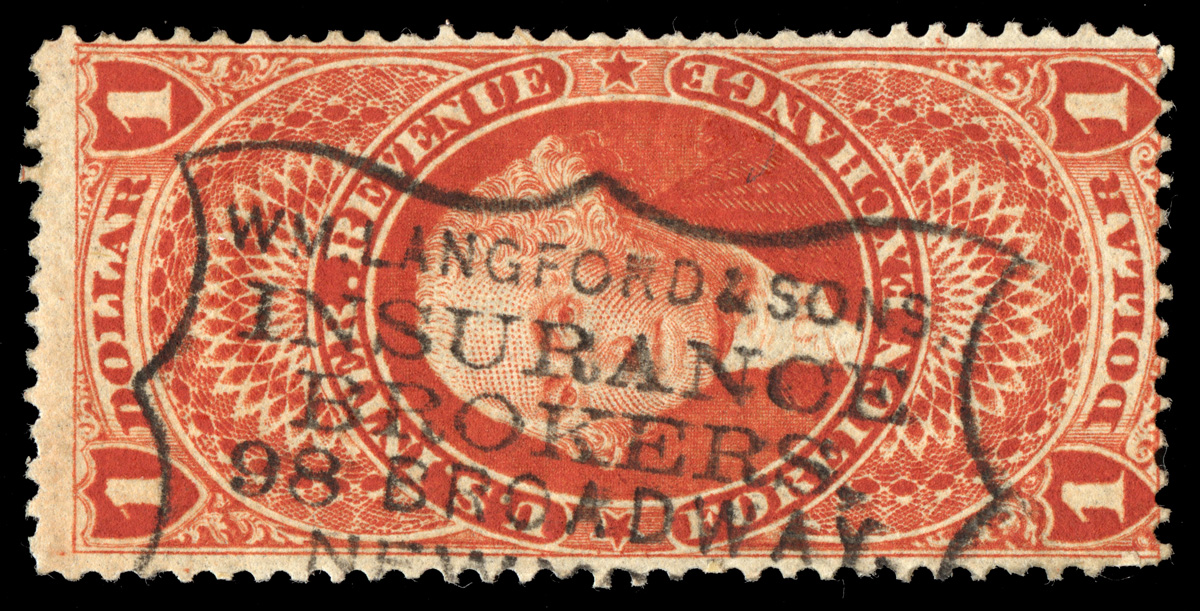 Unusual "B & Co" negative cancel using an old English font.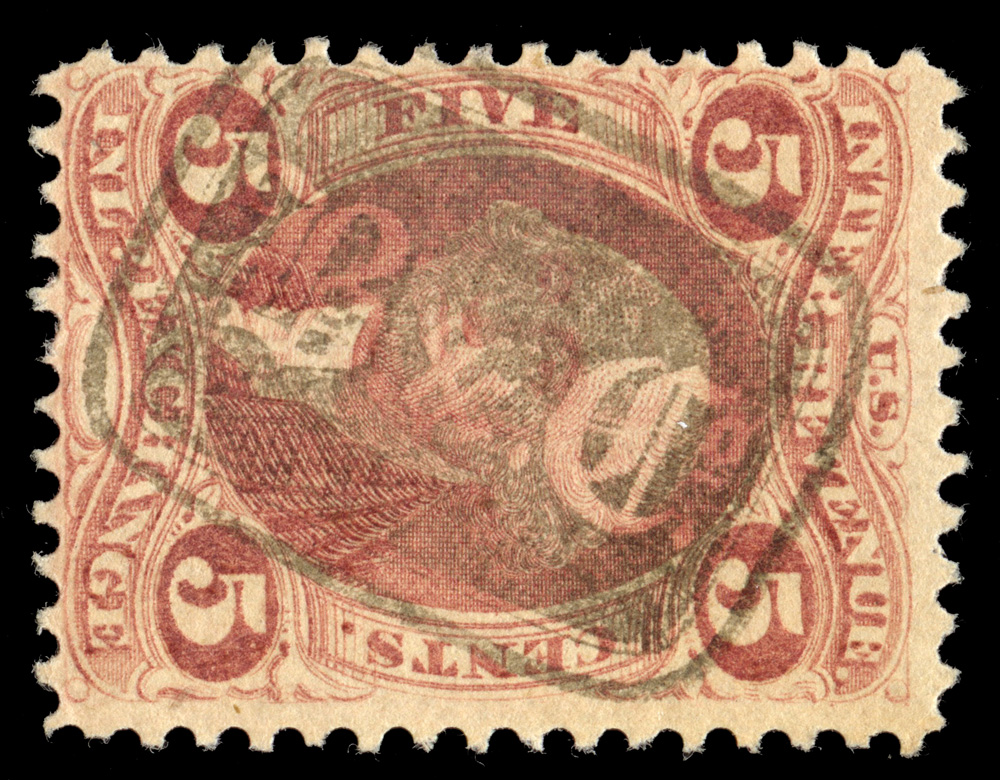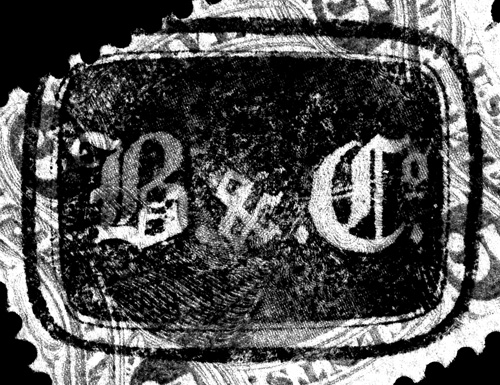 This is the first multiple I have seen bearing the Jacob Tobler negative script cancel.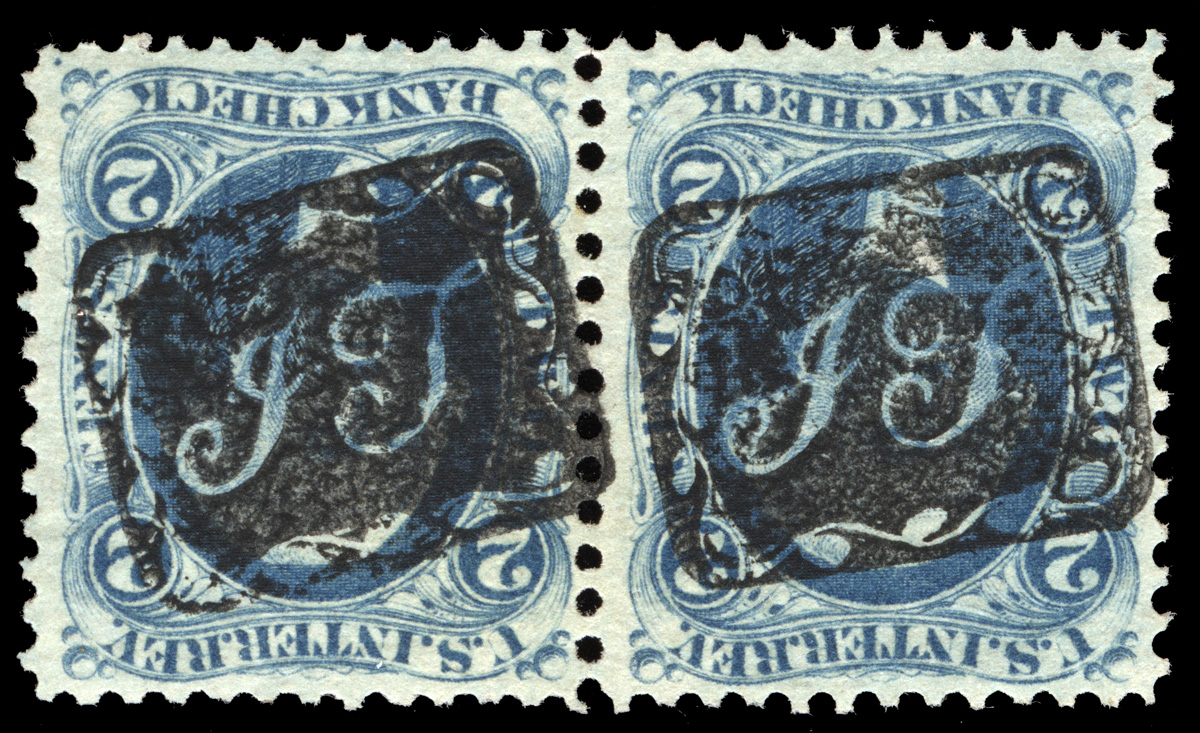 Wonderful reconstructed handstamp cancel from Comstock's Regular Clipper Line, New York to San Francisco'. This is the first example of this cancel I have seen.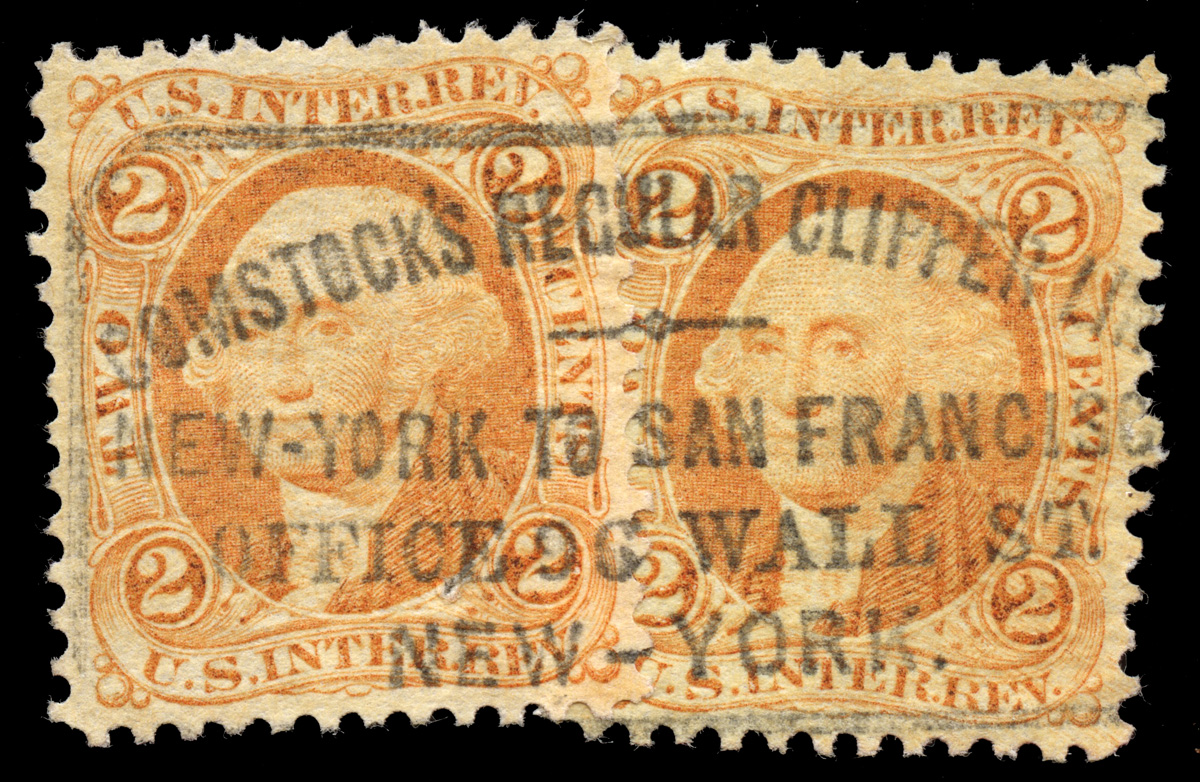 Great 'Bark Magna Charter' maritime manuscript cancel.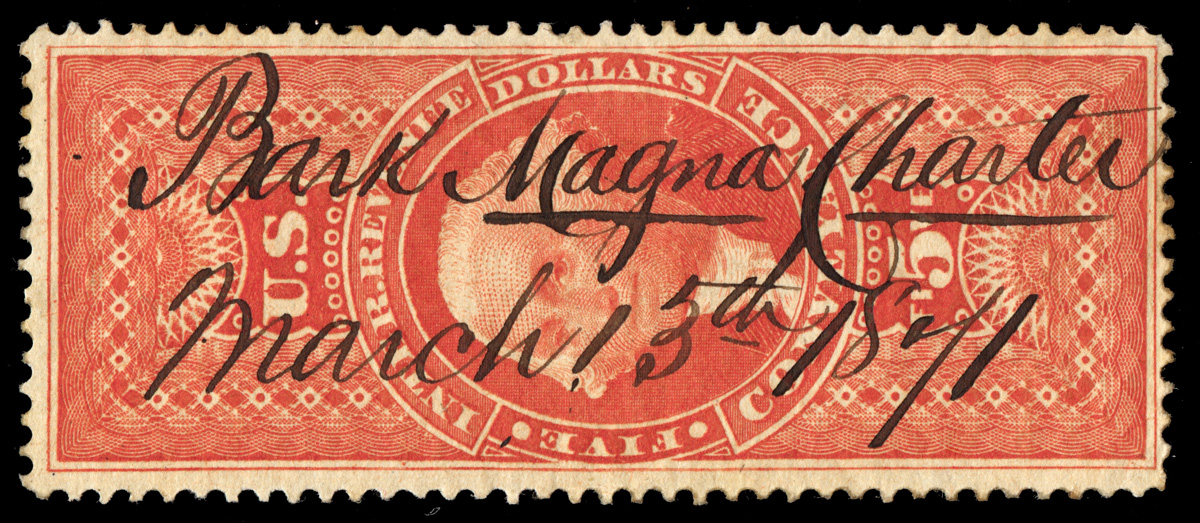 A very bold strike of one of the scarce Marysville, CA photographer stencil cancels, S. McCrary, "Odd Fellows Hall".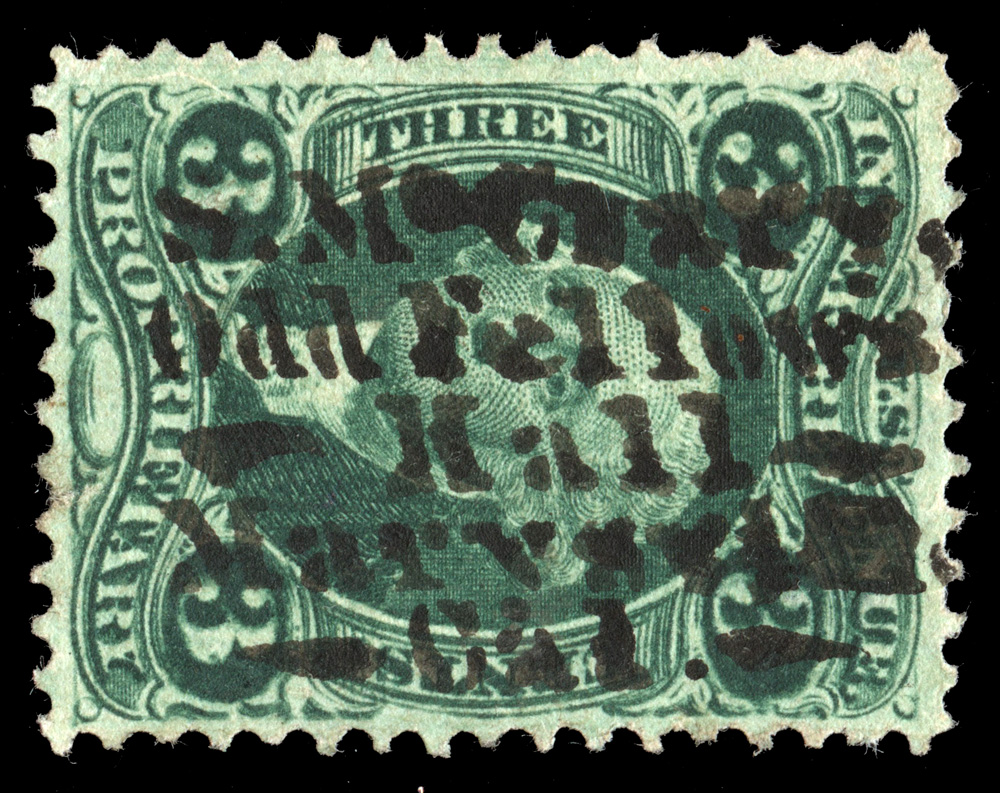 An example of one of my favorite printed/typeset cancels, the scarcest of the Walker & Taylor cancels, referencing "Extract of Fireweed" which always reminded me of something out of Harry Potter. I was so enamored with the first example of this cancel I found years ago that I decided to feature it on my business cards. Stamp also appears to have a double transfer at top.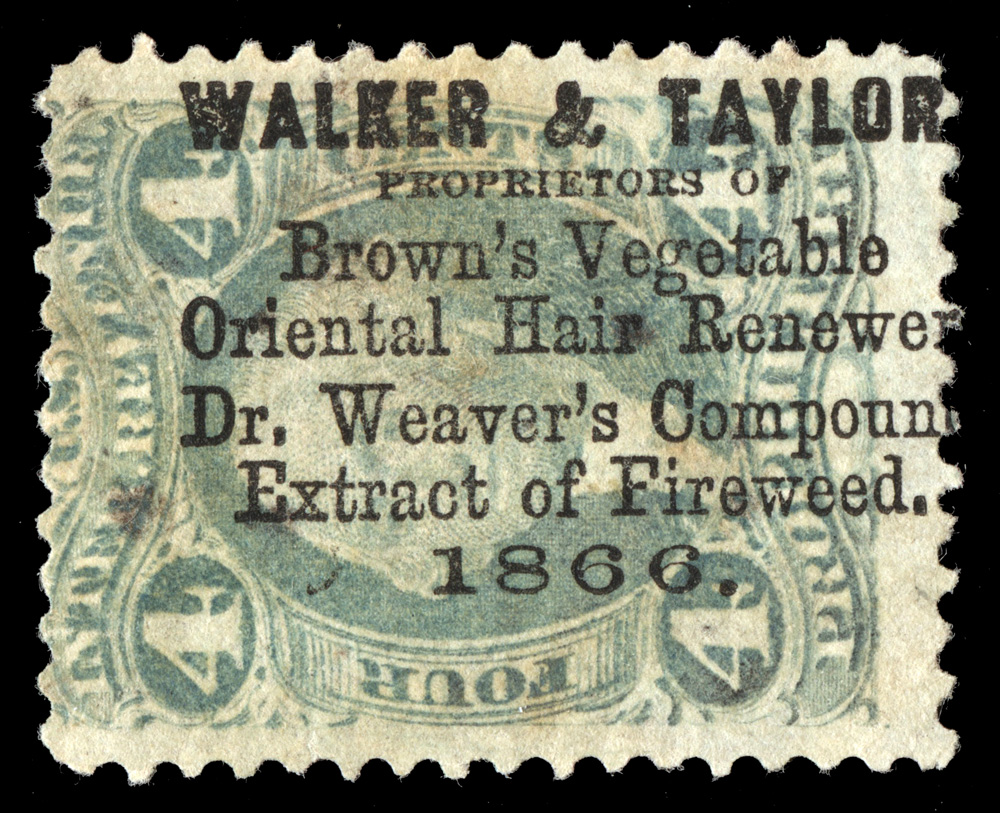 A very unusual and ornate 'PAID 4' boxed handstamp cancel.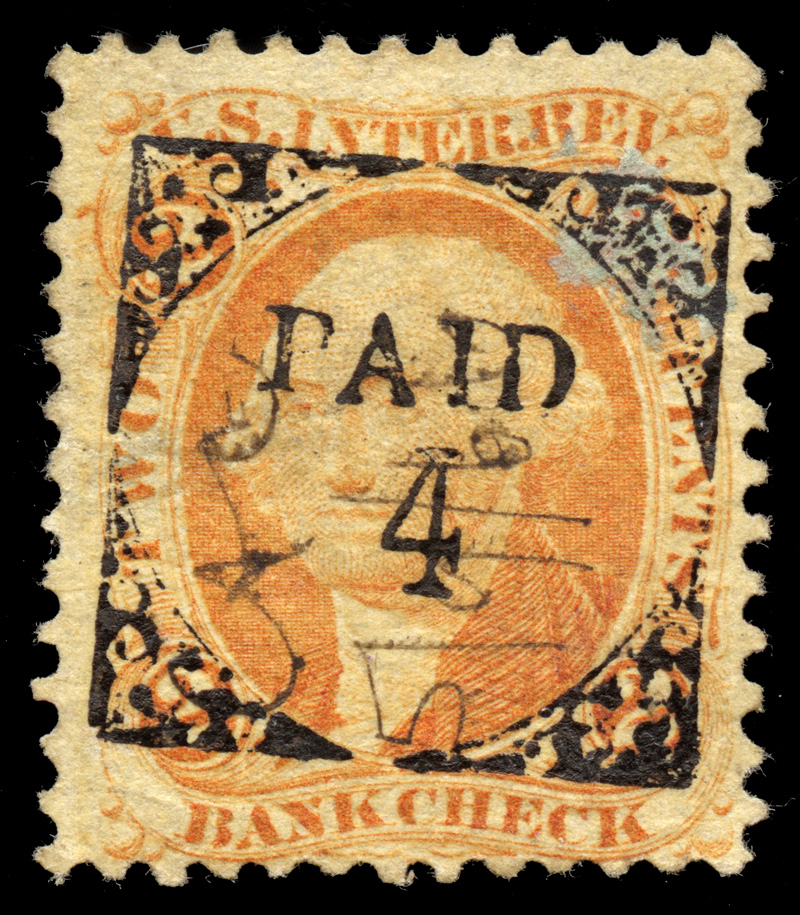 A great negative photographer handstamp, the first example I've ever seen. G. P. Hopkins, Albion, New York.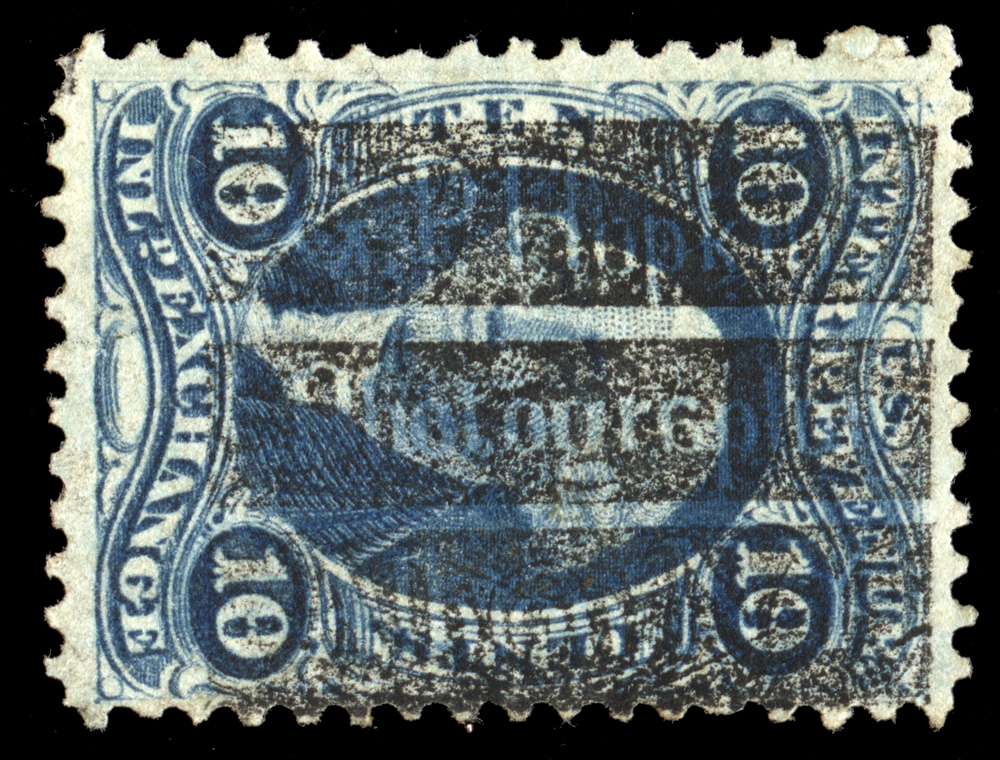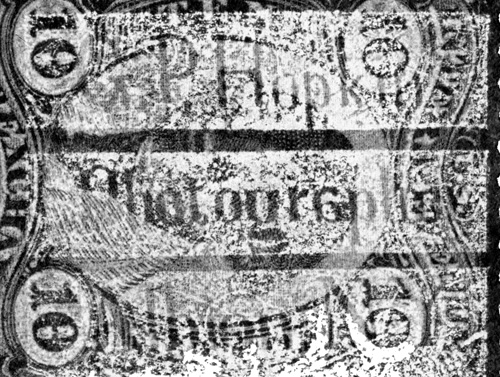 A great handstamp cancel from 'Price, Parrish & Co.' in Philadelphia. It was sold as the creature in the center being an eagle, but it looks more like a seal or a walrus to me. The company was an import house, founded in 1870, but I've not been able to find any images associated with them that would clearly indicate what the logo is.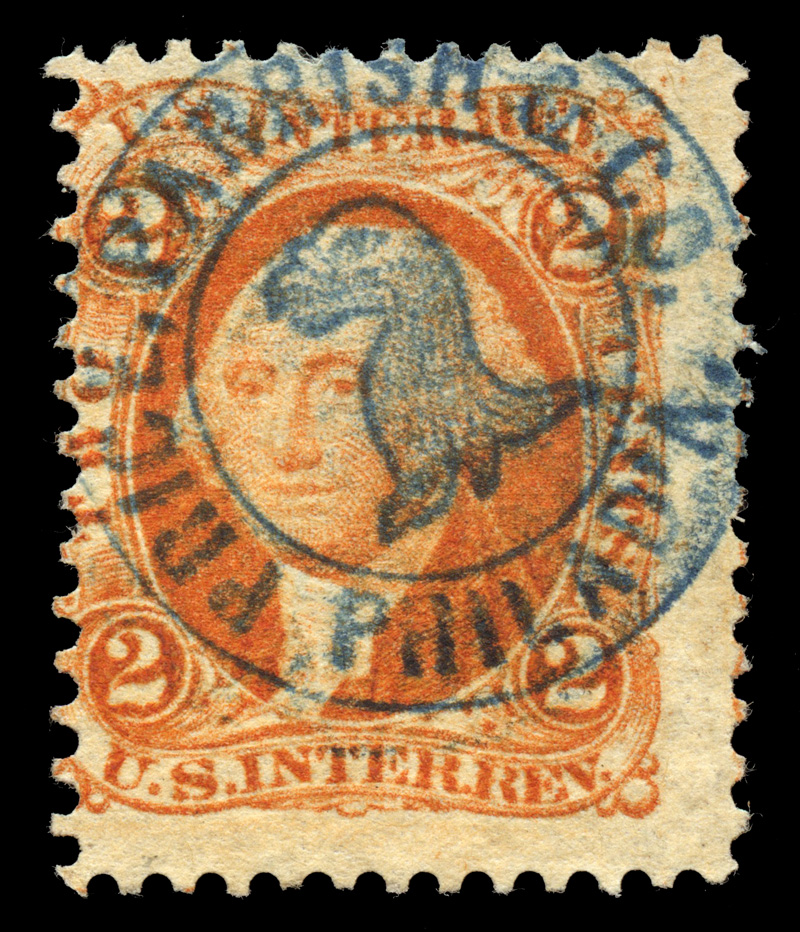 And lastly, a travesty. A vertical pair of R36a (Scott catalog value $1,700) with a large-format cloTheir handstamp cancel. Sadly, it has a piercing (document was stacked on a spindle on a clerk's desk) which results in severe tears to both stamps. It would have been a great showpiece otherwise. Still, due to the damage, I was able to obtain it inexpensively as an example of this cancel, another that I'd not seen before.