Today's episode:
What happens when a specialized collector starts down a rabbit trial?
- or -
Let's start the insanity...
All photos link to larger versions
My collection is Germany and related areas from 1872-1945. That's already fairly specialized, but I have one area which you might call a sub-speciality -- the German Colonies and Post Offices Abroad.
One thing I never attempted to do, however, was to collect postmarks of the Colonies and PO Abroad. Postmarks in the Colonies are "easier" to collect than in many collecting areas, since the PO's were only in operation for about 30 years, the numbers were fairly limited, and the dates, locations, and cancels are all well documented. In short, it's a well-defined area that, with enough investment of time and money, is do-able. I never wanted to attempt it, though, because I still had too many stamp holes to fill to divert money to postmarks.
But... not too long ago, I saw an unusual German New Guinea cancel on
eBay
and I snapped it up. I then needed a page to display it, so I built one.
But... the page looked lonely in my album, as it was the only postmark page. It just looked out of place. So, I decided to build pages for all the German New Guinea postmarks. There are only 24, so it should have been short and sweet.
But... the cancel catalog also listed postmarks of German naval vessels that were used on German New Guinea stamps. Might as well do those, too. That's another 23 pages.
But... there were also civilian mail steamers with cancellers that were used on German New Guinea stamps. Have to do those, too. That's another 31 pages.
So my 1 postmark page turned into 78. And there went my weekend.
I haven't made these available on my website yet because I'm in the middle of another server move, but here are a few samples.
The PO pages have a map with a dot showing the location of the PO and some basic info on the PO and the cancel. A few pages have photos of the PO, if available. The public versions won't have stamp boxes, since it's difficult to get the sizes right (the stamps on which these were used were 5-6 different sizes, not to mention those on-piece). Instead, I just left a large blank space to accommodate stamps of difference sizes, more than 1 stamp, etc.
The pages for the naval cancels (Marineschiffspost) have info on the ships and the dates when those ships were in the German New Guinea area.
The pages for the mail lines have info on the lines, the ships that were in use, and the cancellers.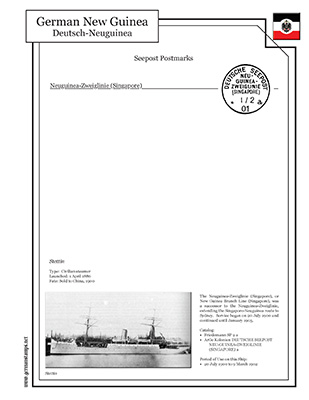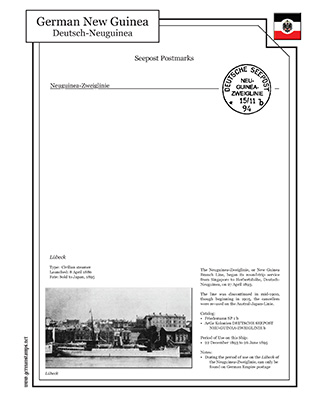 I also included pages for some unauthorized cancels that were used in a few instances on ships carrying mail within the colony.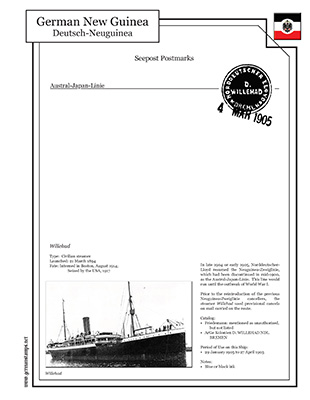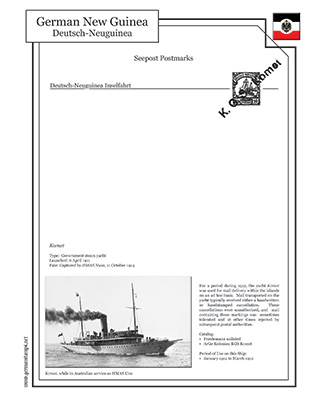 So now that German New Guinea's done, on to German East Africa...