Each one somewhat unusual.
First an envelope of "Oakley's Florabel Sachet" from the Oakley Soap & Perfumery Co. of New York, a 5/8-cent Battleship proprietary stamp on the reverse with a matching magenta company cancel.
Perfume envelopes with revenues still affixed, while not rare, are not exactly common either. They make for great aesthetic pieces, as most are printed in very colorful ornate designs.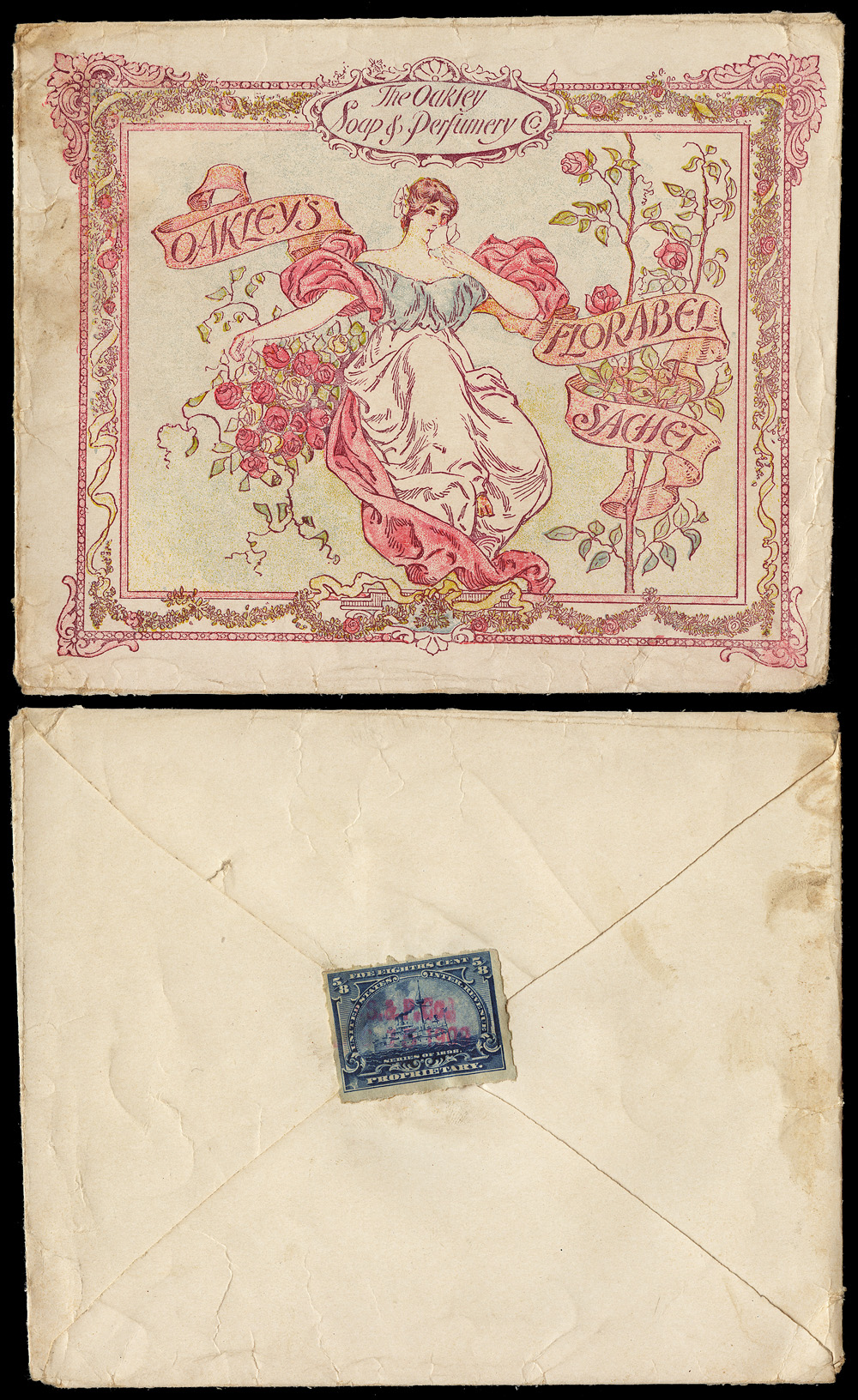 Next, a piece I had been coveting for my illegal usage collection for quite some time. Seller never put it on sale or reduced the price, and my polite inquiry as to whether he would entertain offers received no response. Still, I kept adding it to my watched list every time it was relisted, for over a year. Well, when
eBay
had their 1-day 20% off coupon last week, I figured I might as well bite, as it's a unique piece. It's not like I'll find another.
Scott #113 (2-cent post horse and rider) block of 4 and single paying a 10-cent tax on a promissory note. Blocks of 4 of #113 are uncommon, and in fact, are considerably less common used than mint.
A single catalogs $75, a pair $170, so a modest premium for a pair, but the catalog value for a block of 4 skyrockets to $1,350, a huge premium. Not dissimilar to block of 4 prices on 1st issue revenues, where on certain denominations, the premiums can be similar, if not even higher.
Lastly, an item that I spotted, set a snipe for, and waited patiently in the weeds. More scarce than it initially appears, R13d (silk paper) is moderately tough. What makes this nice is that it is a pair... and per the Curtis Census, only the 5th recorded multiple of any size.
In addition to the blue threads visible on the reverse, there is a large blue thread visible on the face of the left stamp at bottom left. A very nice addition.