A little history of the Ost-Asiatische Hauptlinie (East Asiatic Main Line), Ost-Osiatische Zweigline (East Asiatic Branch Line) and Ost-Asiatische Linie (East Asiatic Line).
The first ship of the Norddeutscher-Lloyd's Ost-Asiatische Hauptlinie, the
S.S. Oder
, sailed on 30 June 1886 for Shanghai.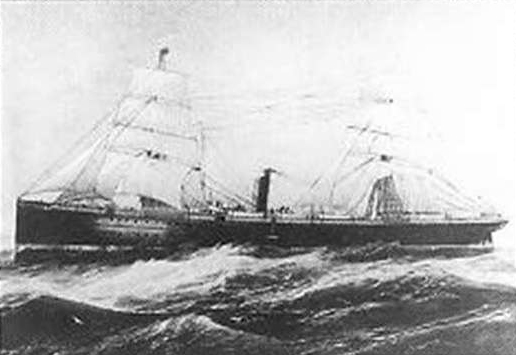 S.S. Oder
On board were the incoming Postmaster for the German post office in Shanghai, and a shipboard postal clerk armed with the
DEUTSCHE SEEPOST OST-ASIATISCHE HAUPTLINIE 'a'
canceler.
Concurrent with the
Oder
's arrival in Hong Kong, the
Stettin
departed Hong Kong for Japan, opening the Ost-Asiatische Zweiglinie. The
Stettin
clerk carried the
DEUTSCHE SEEPOST OST-ASIATISCHE ZWEIGLINIE 'a'
canceler.
The Hauptlinie left every four weeks via Rotterdam to Genoa, Port Said, Suez, Aden, Colombo, Singapore, and Shanghai. At Singapore, the Hauptlinie connected to several other German sea lines, including lines to New Guinea and German's Pacific island colonies, as well as Australia. In mid-1899, it increased its frequency to every two weeks, and in late-1899/early-1900, it was extended to Yokohama and to Tsingtau, the German naval base in Kiautschou.
The Zweiglinie ran from Hong Kong to Japan from 1889 until 1899, when the Hauptlinie was extended to Yokohama, eliminating the need for the Zweiglinie.
The Hauptlinie used cancellers lettered 'a' through 'g'. The 'a' canceller was lost in 1887 when the
Oder
wrecked on Socotra Island, 550 miles east of Aden.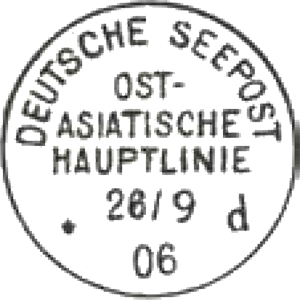 DEUTSCHE SEEPOST OST-ASIATISCHE HAUPTLINIE 'd' Cancel
The Zweiglinie used only one cancel, 'a'.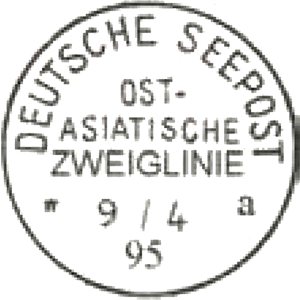 DEUTSCHE SEEPOST OST-ASIATISCHE ZWEIGLINIE 'a' Cancel
In 1899, new cancellers were issued due to the fact that with the termination of the Zweigline, the Hauptline wasn't really the "main line" anymore, it was the only line. So, new cancellers were issued with the words "OST-ASIATISCHE LINIE" replacing "OST-ASIATISCHE HAUPTLINIE". The 1899 cancellers were lettered 'a' through 'd'. Letters 'e' and 'f' were added in 1903, and 'd' was lost at sea in 1903.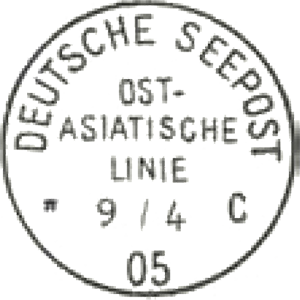 DEUTSCHE SEEPOST OST-ASIATISCHE LINIE 'c' Cancel
Despite the switch to the new cancellers, the old "HAUPTLINIE' cancellers were still frequently used until the termination of the line in July 1914.
Source:
German Colonial SeaPost, Part I: Introduction and Inter-Oceanic Routes
, by E. Drechsel,
Vorläufer
, Vol. 173 (March 2014), 15-22.
PSA –
Vorläufer
is the journal of the German Colonies Collectors Group, an official study group of the Germany Philatelic Society and an affiliate of the APS. All back issues, to-date, over 190 issues dating back to 1973, are available online for members of the GCCG.