Following the Spanish-American war, the Spanish sold its remaining colonial possessions in the Pacific islands. The Carolines, Palau, and Marianas (except Guam, which was a U.S. possession) were sold to Germany in a treaty signed on 8 February 1899, for the total price of 25 million pesetas. Germany officially declared the Marianas a German possession by Imperial Decree on 18 June 1899.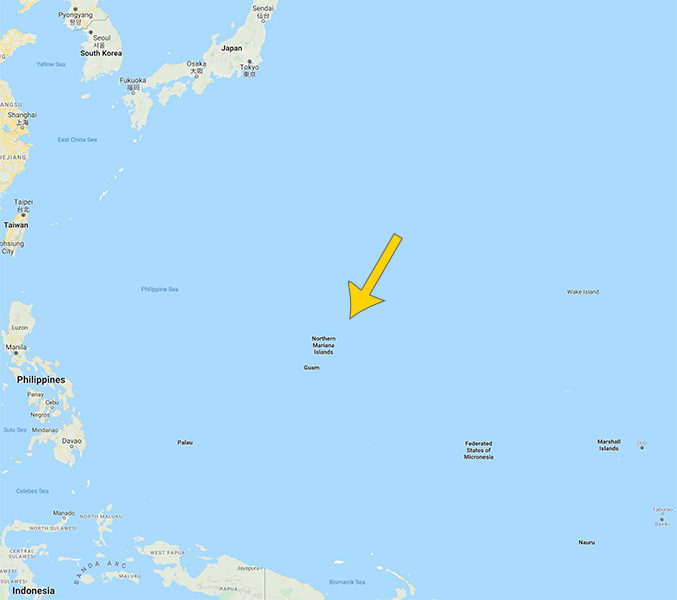 The local German government was headquartered in Garapan, Saipan, where the German flag was first raised on 17 November 1899. At the time, there were only three Germans in all the Marianas — Herr Fritz, (District Commissioner); Herr von Zelewski (Police Chief and Assistant District Commissioner); and Herr Woitschek (Postal Agent, Assistant Police Chief, and First Aid Attendant).
The early postal service was limited. Two steamers, one British and one Japanese, sailed 3-4 times a year from Yokohama to Saipan and back. At the end of 1900, the shortest delivery time from Berlin to Saipan was 56 days, and 48 days for the return, with the average in both directions being over two months. Though additional service to the Marianas was later added as a stop on the Jaluit Line running from Sydney to Hong Kong via the Carolines, Marshalls, and Marianas, this time never significantly decreased.
The second most populated island in the German Marianas was Rota.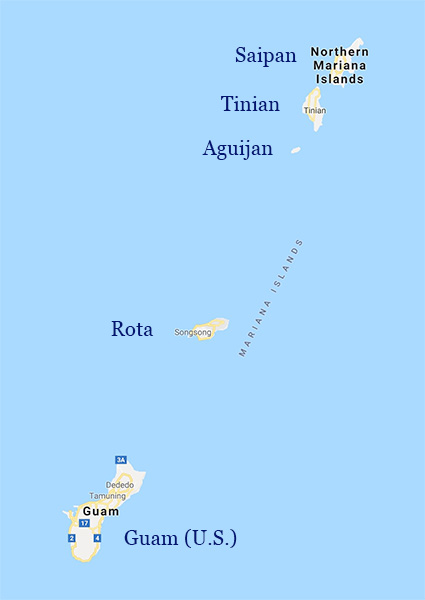 At the end of 1903, the population of Rota was 480 natives and a single Spaniard. The Germans, however, saw Rota as ripe for colonization. In mid-June 1904, a German agronomist, Herr Volkmar Reichel, was transferred to the island. For reasons that are unclear, Herr Reichel began operating an auxiliary postal station on the island. Contemporaneous sources differ on the legality of this "auxiliary postal station" — at least one source says the station was approved as an auxiliary, with the understanding it would later become an official post offices. Others say Reichel was operating entirely without approval. This is the prevailing theory, as no official record of any approval exists in German postal records of the time.
Regardless of the legality of it, Herr Reichel began using a rubber handstamp to cancel German Marianas postage on mail leaving Rota. This handstamp featured the text "ROTA" and date.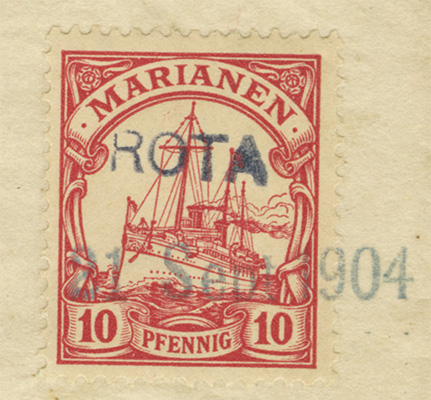 First "ROTA" Cancel
These stamps can be found without another cancel, or with Saipan or Guam supplementary cancels.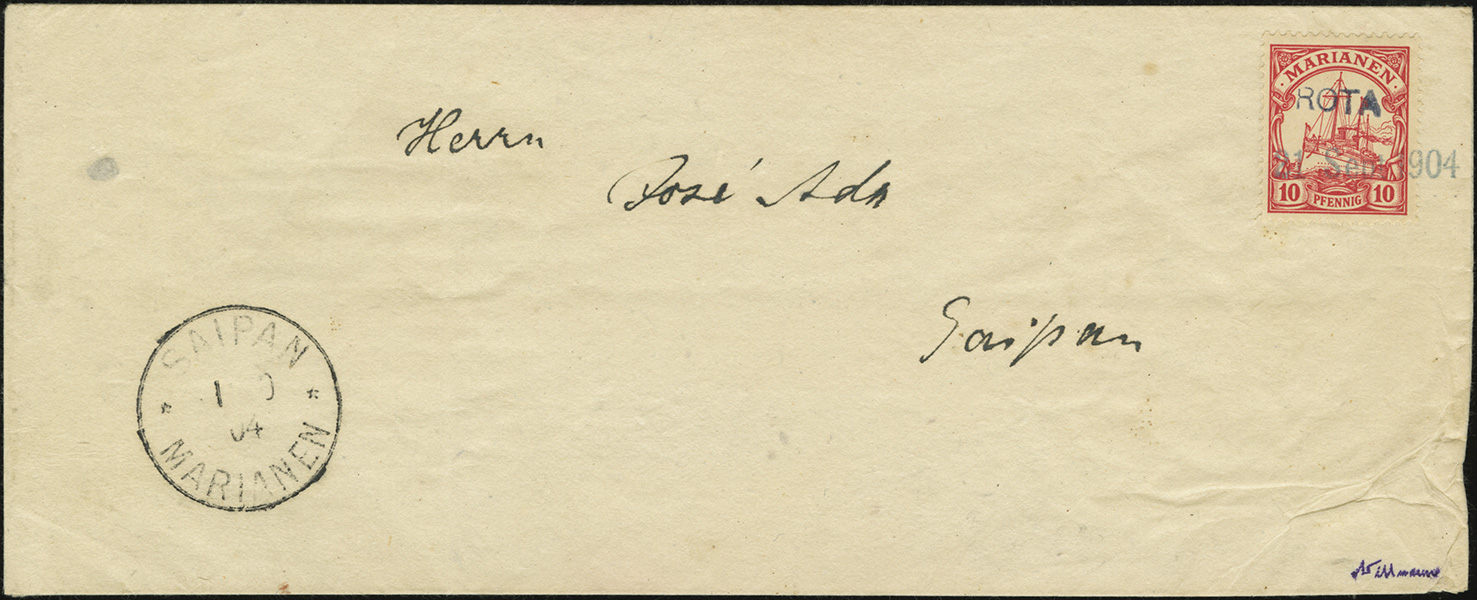 First "ROTA" Cancel on Cover to Saipan (click to enlarge)
In October 1904, Herr Reichel got sick and left Rota for Saipan. At that time, he surrendered the handstamp to the District Office on Saipan. Three months later, he was well enough to return to Rota, but the handtsamp could not be found. So, he carved another.
This second handstamp again said "ROTA" with the date, but in much larger text.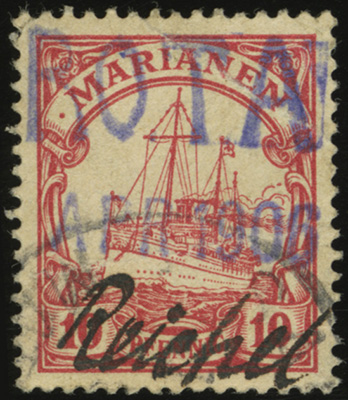 Second "ROTA" Cancel (click to enlarge)
Herr Reichel overprinted several hundred 5 Pf and 10 Pf stamps that the postal agency in Saipan had sent him. In the meantime, Berlin issued official instructions stating he had to add the date and his signature to all stamps. So, these larger "ROTA" handstamps also have Reichel's signature on every copy. Because o this directive from Berlin, it's assumed the practice was tolerated, though not officially sanctioned (much like the frequent creation of provisional bisects throughout the German colonies).
The second handstamp is considerably more common, but only one copy of an intact cover with legitimately used copy is known. Most remaining copies are on piece and date from June-July 1906, the last two months of Reichel's time on Rota. Most are presumably philatelic in origin. using up the remainder of the stocks of 5- and 10 Pf stamps Reichel had been sent from Saipan.