Most of these are from Chicagopex last month, but a couple are from other sources.
First the stamps...
A quaintly positioned manuscript cancel on a 3rd issue $3.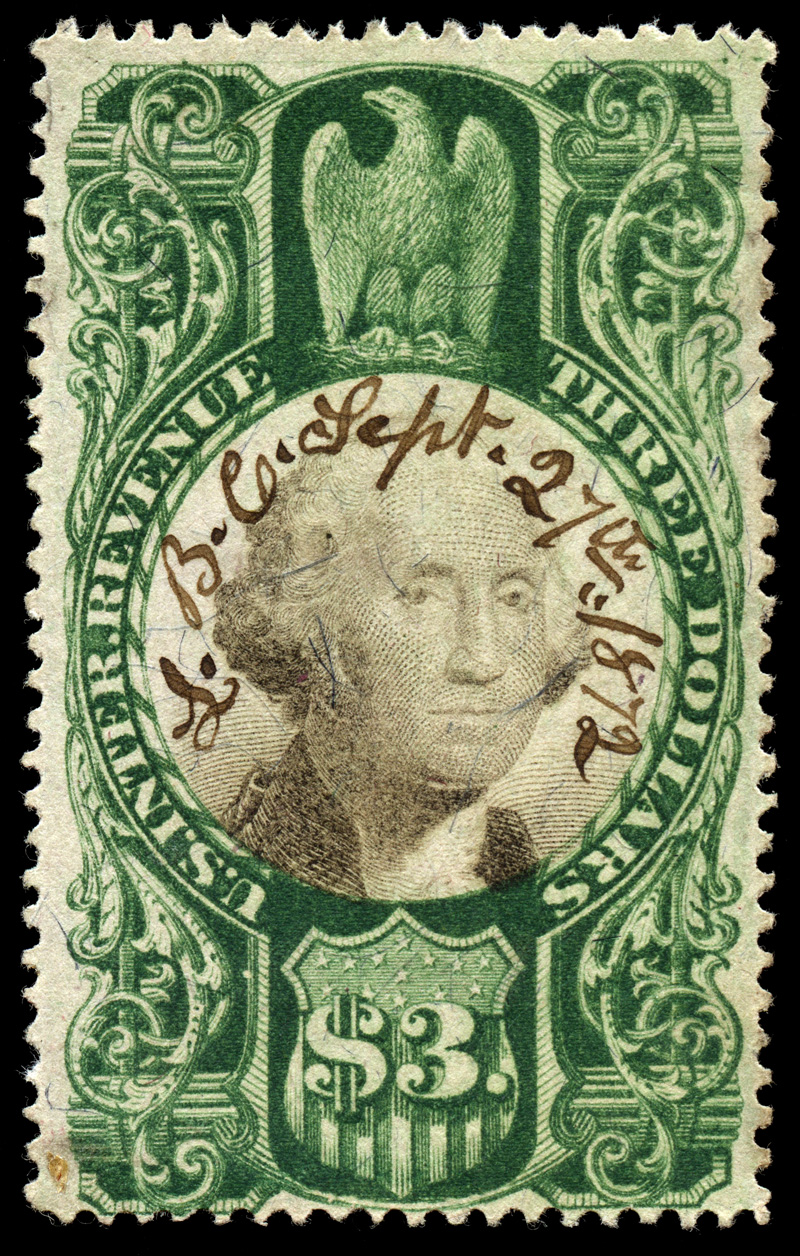 A nice R22c pair with a perfectly positioned handstamp cancel.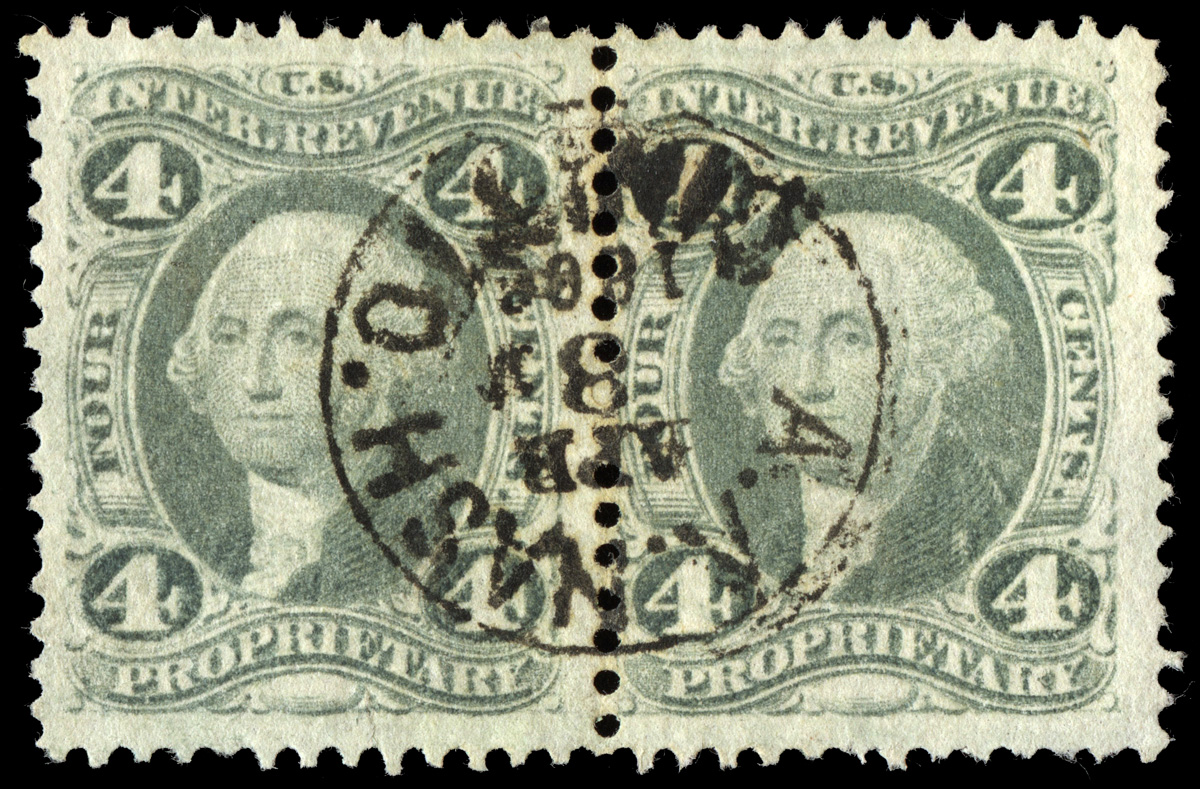 The first R1b part perf I've seen with double transfer in both bottom numerals. In theory, many of the consistent plate varieties we find on the perforated stamps should be findable on imperfs and part perfs (later plates notwithstanding) but that isn't always the case.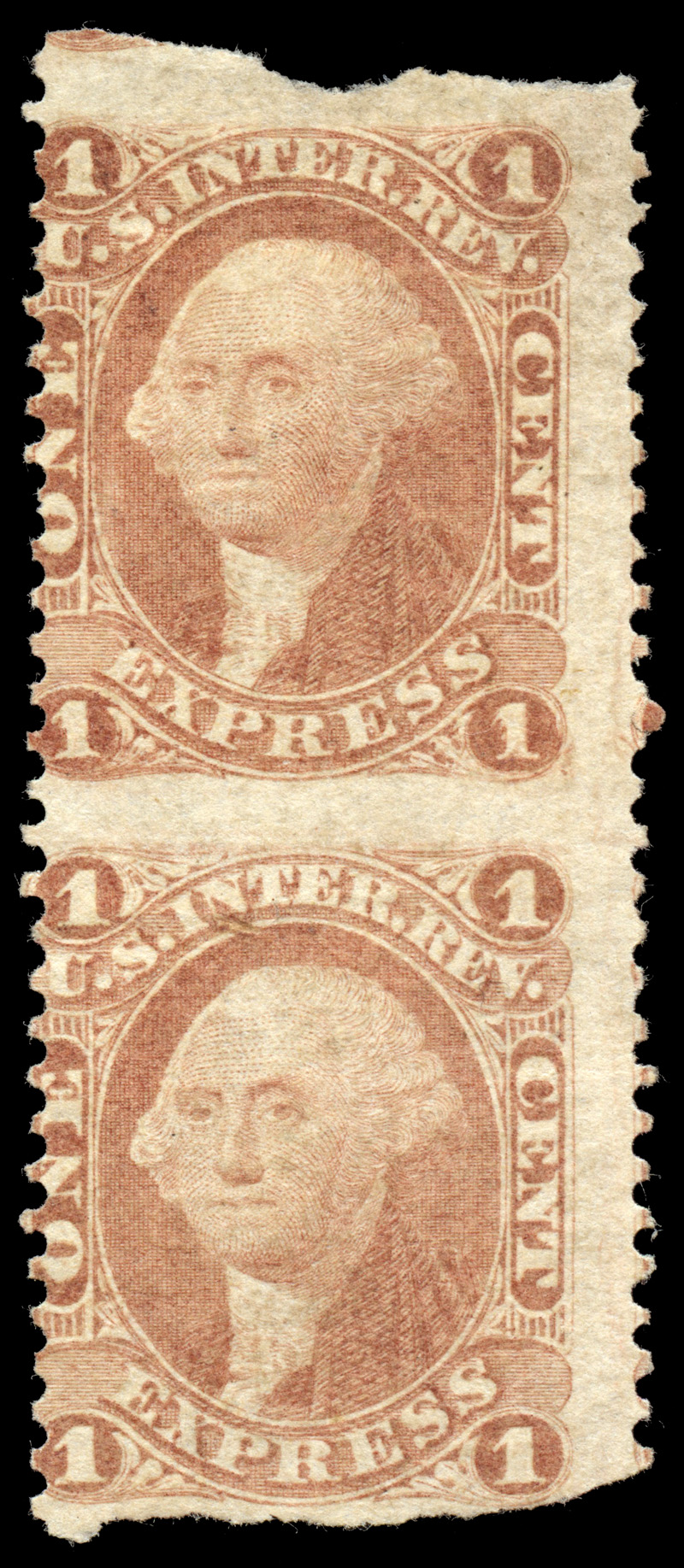 A great example of an oval steel die handstamp cancel... razor sharp.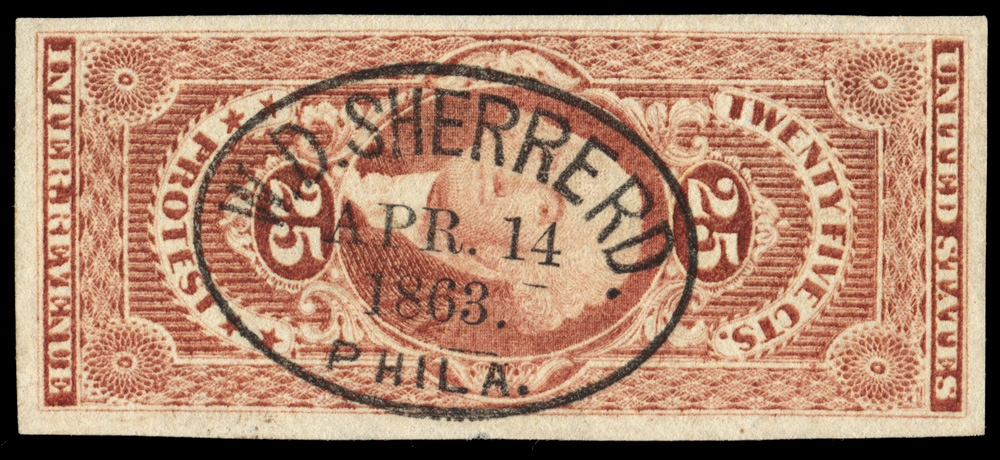 An R14c with a Gurney's proof card handstamp cancel, an absolutely huge jumbo of a stamp.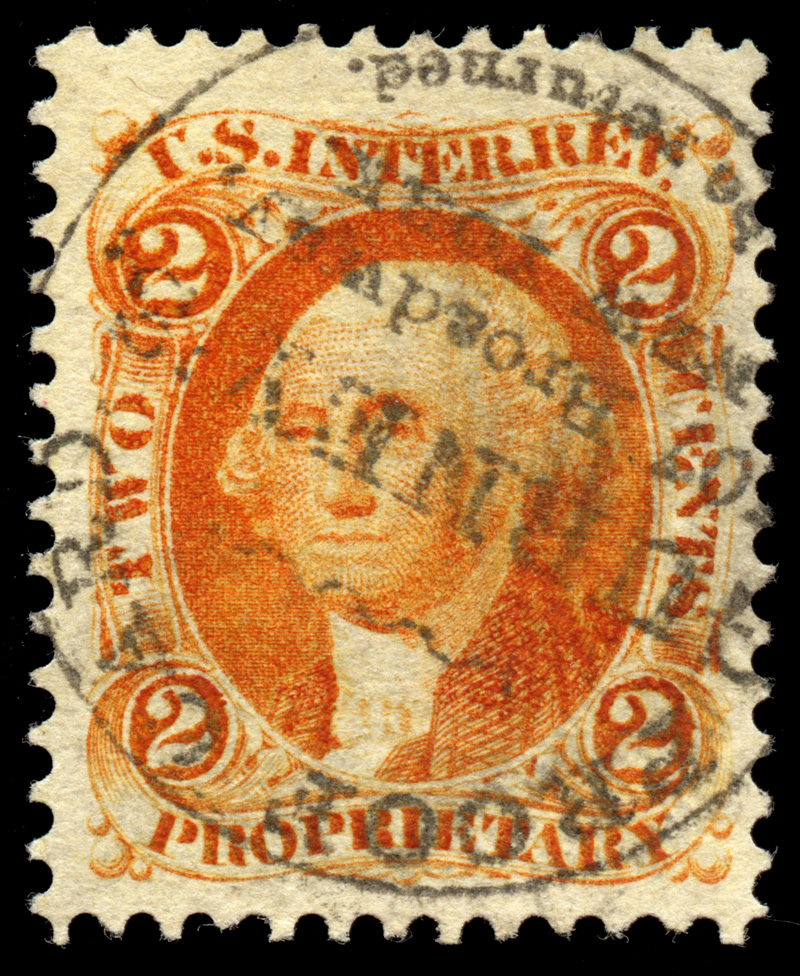 Two examples of R151a, the 2-cent orange on green paper invert. The 2-cent inverts are the most common of the 1st-3rd issue and proprietary inverted centers, but finding 4-margin examples is not easy. Most examples are badly off center.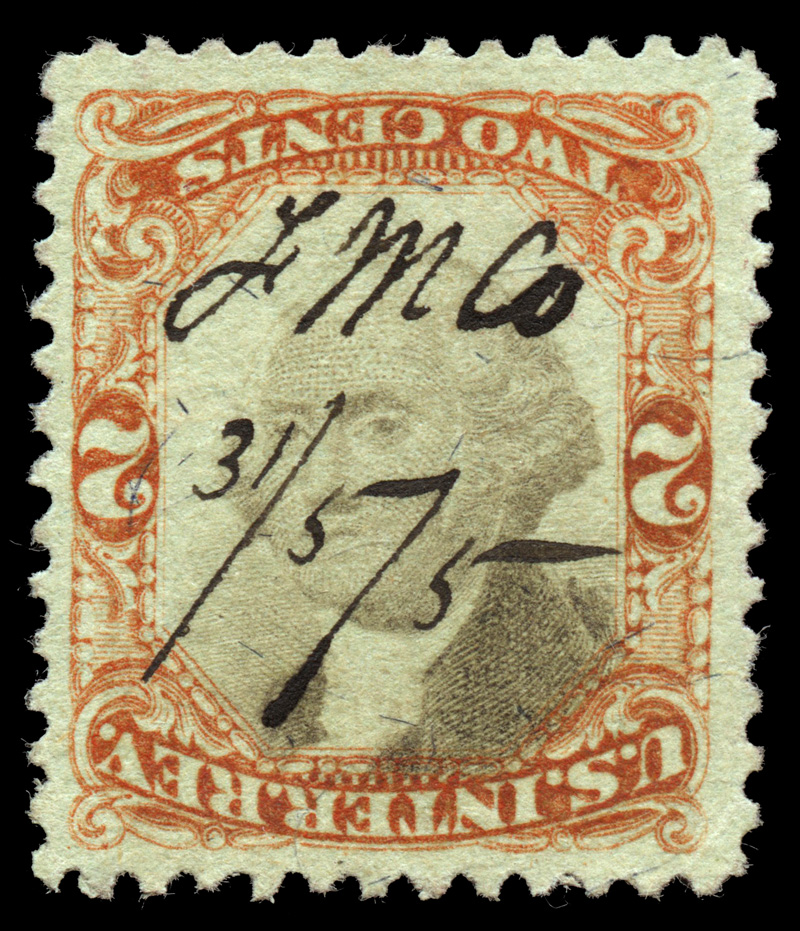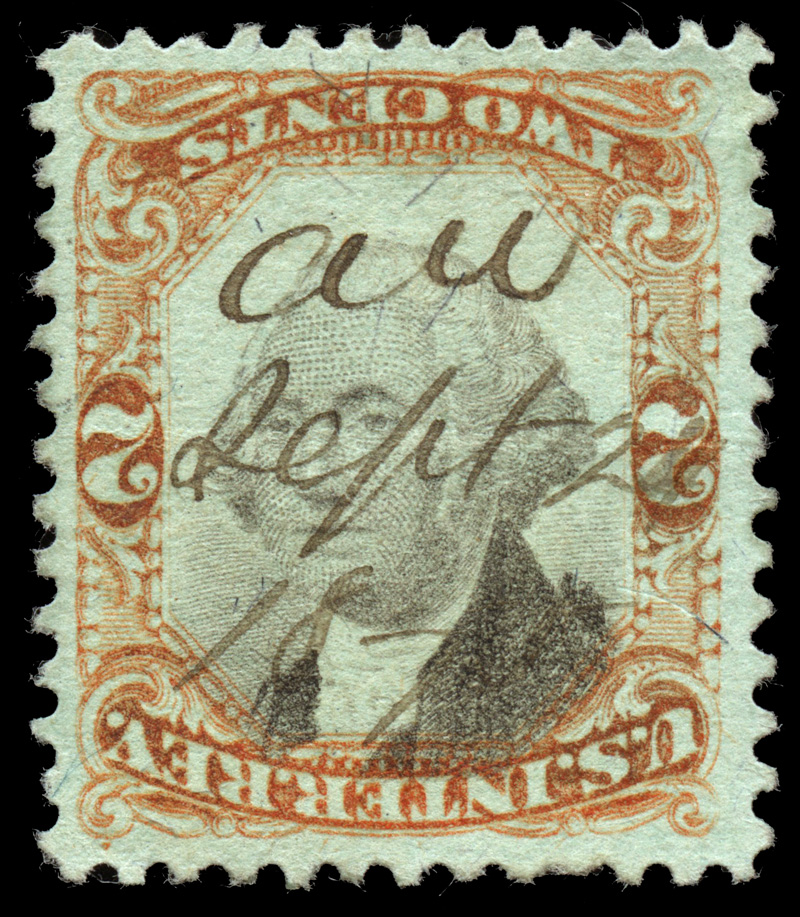 Now on to the documents...
First, a trio of bisects on document fragments... it's too bad they are not complete documents.
A matched pair of document fragments, each with a pair of 2-cent USIR and a bisect, paying 5 cents tax. The two bisects comprise the top and bottom halves of the same stamp. The second image is a composite image of the two halves, showing that they are indeed parts of the same stamp.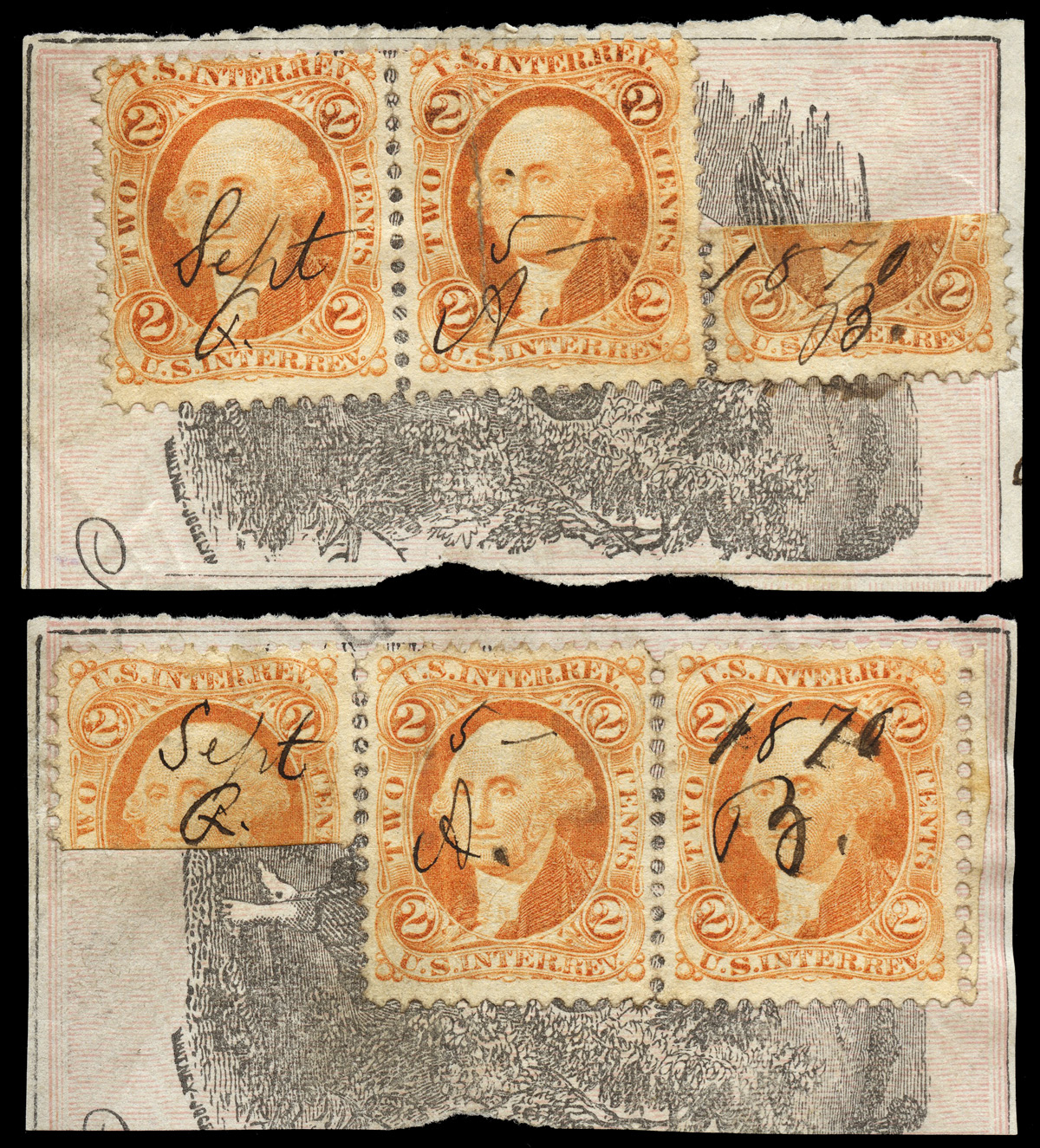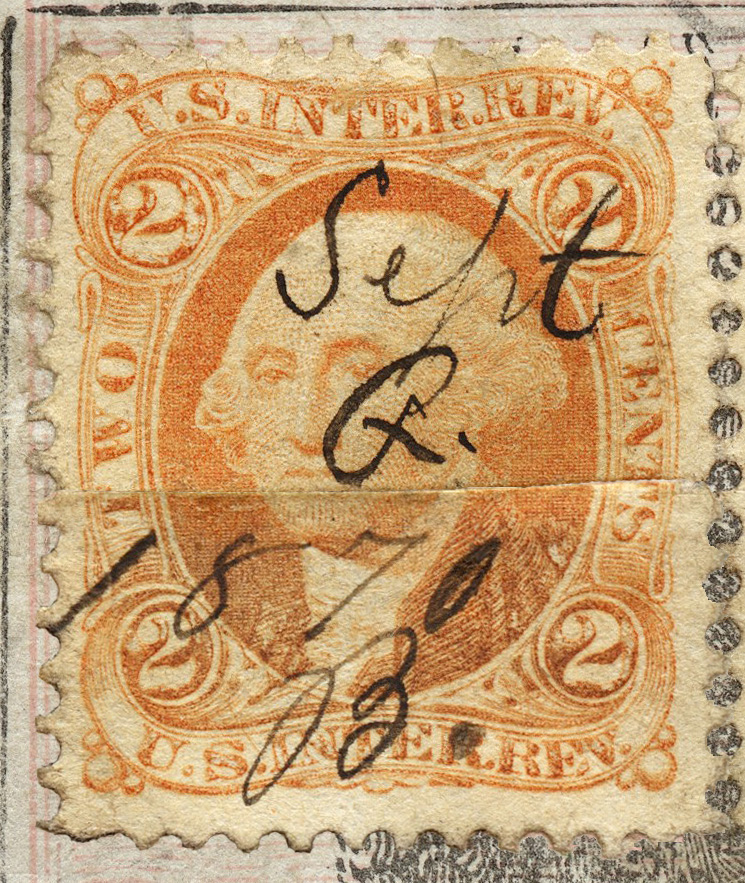 It's unusual to find bisected part perfs. Below is a fragment of an April 1864 stock certificate from the Little Schuylkill Navigation Rail Road and Coal Co. with two R37b singles and a bisected single, paying 25 cents tax, which was the correct rate for a stock certificate.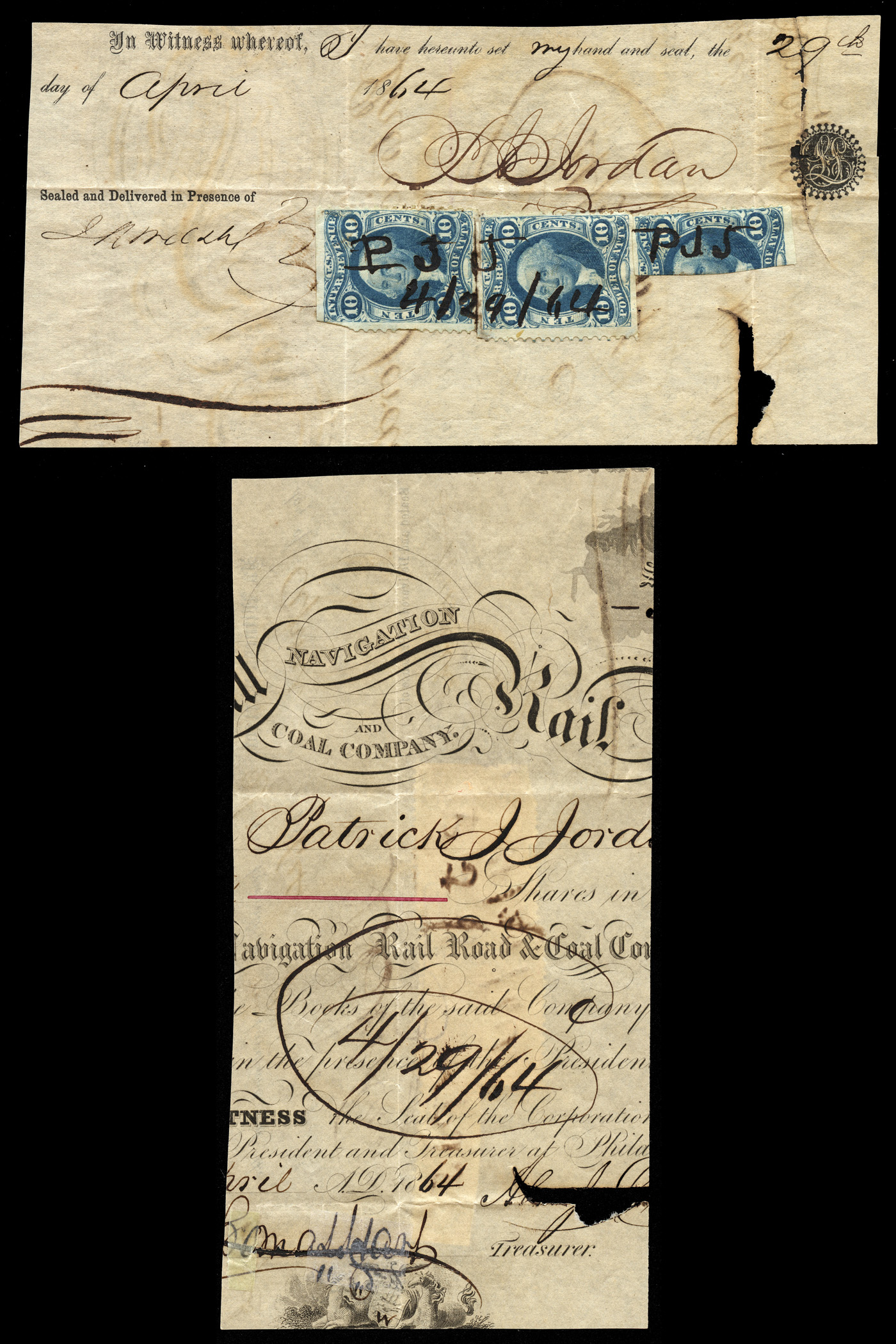 A fragment of an 1867 tax lien document with an R36e tied with a great bold oval handstamp from the county treasurer. The fragment came with a photocopy of a complete identical document dated the same day, showing what appears to be the other half of the same stamp.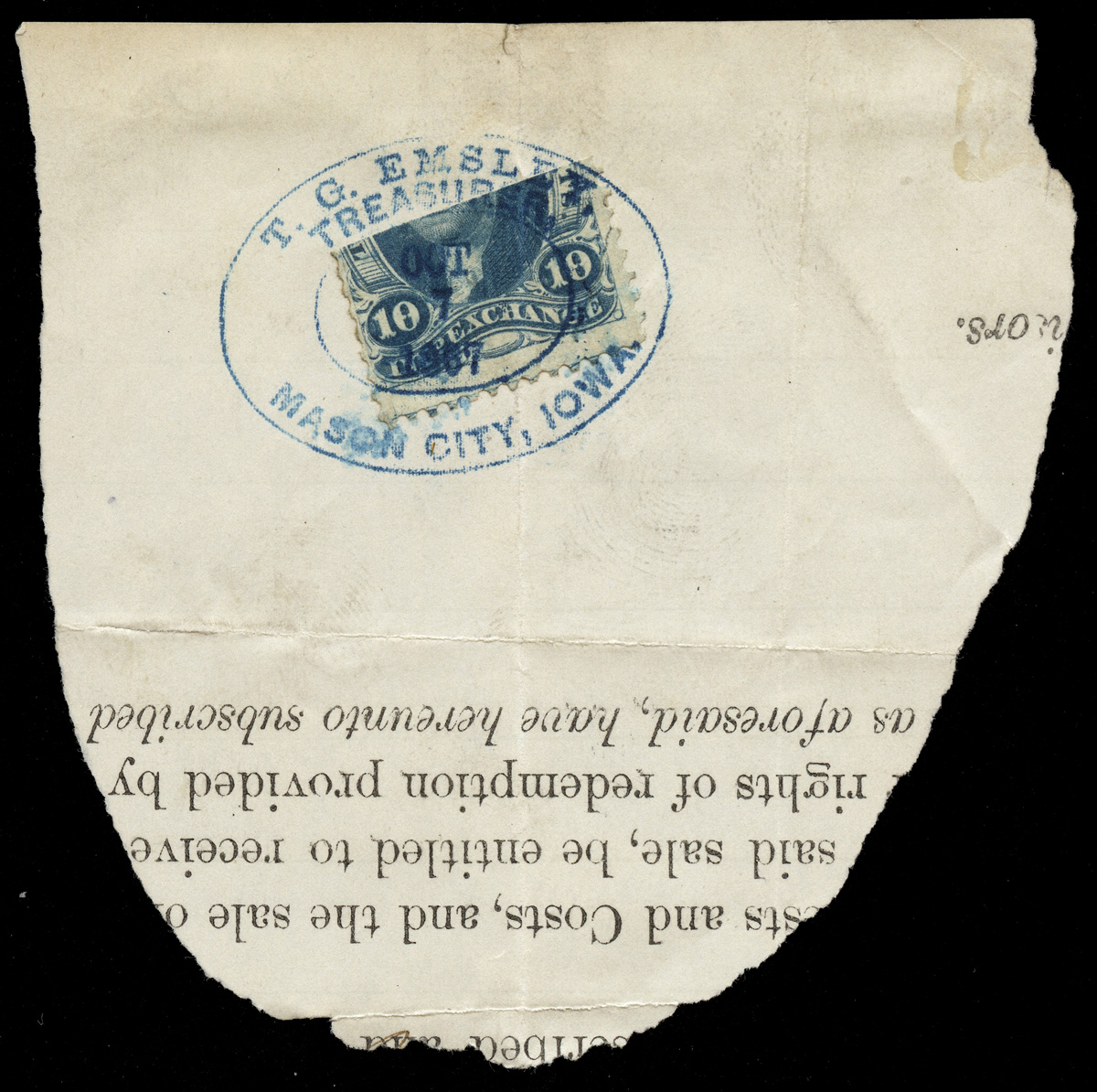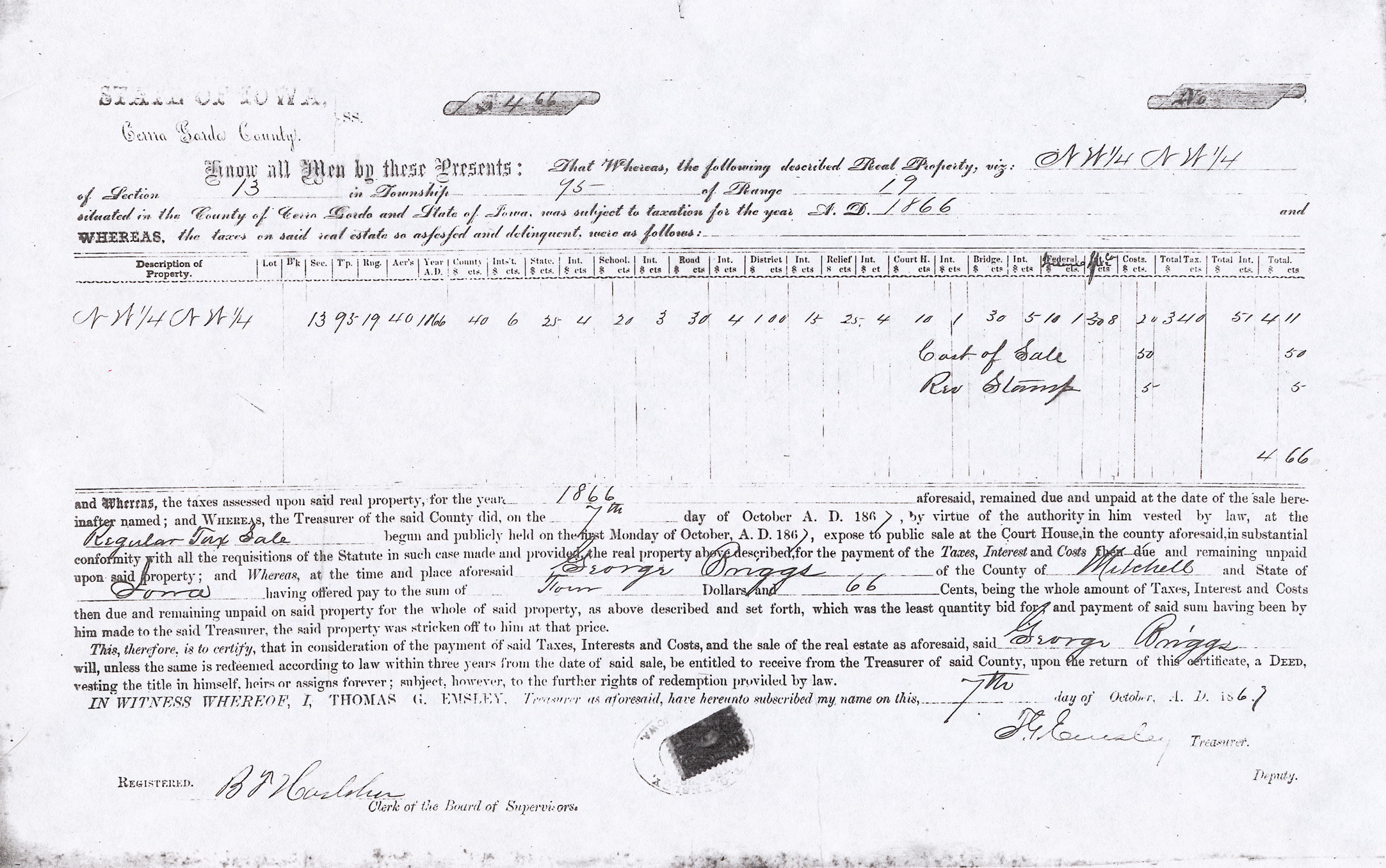 An estate receipt featuring an illegal usage of a very nice example of a 2-cent "Black Jack".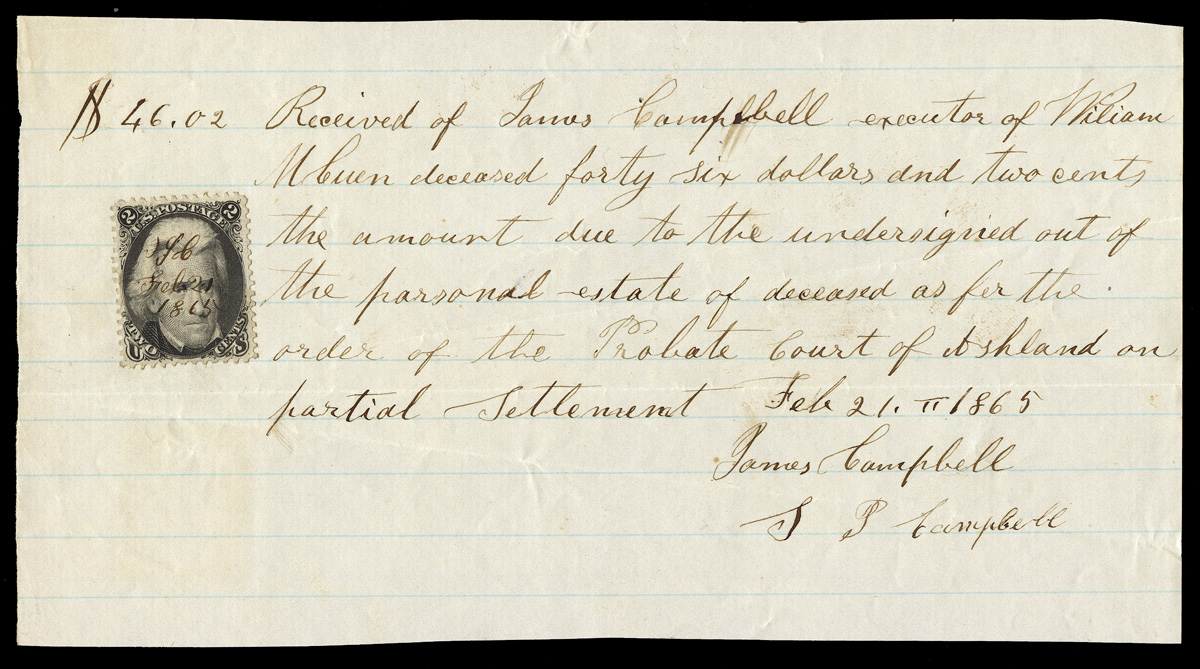 Another illegal usage, caught, and revenue stamp subsequently affixed.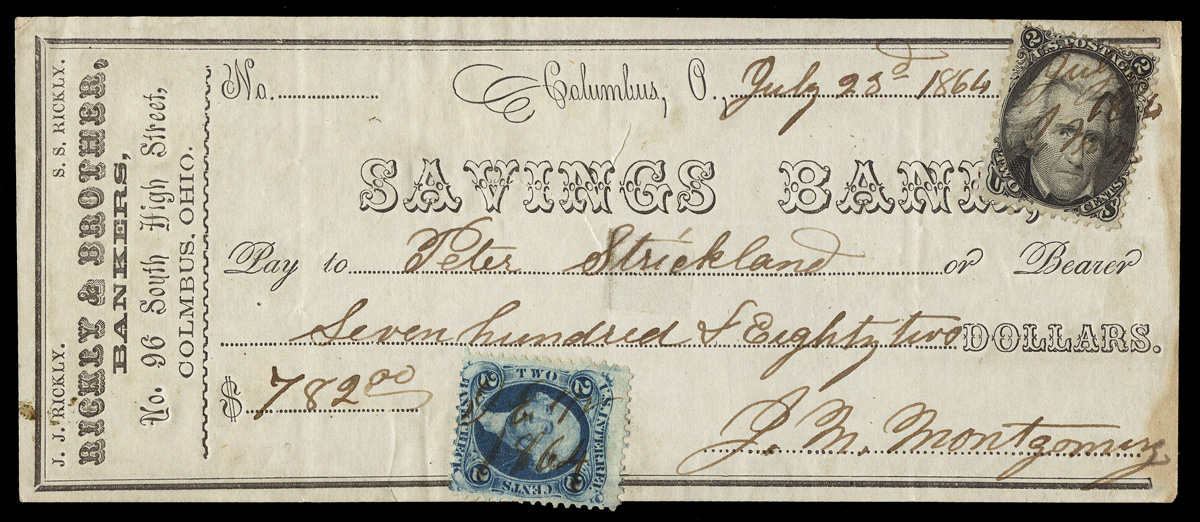 An illegal usage of a 2-cent Playing Cards (R12c) as documentary.

A document showing a cancel from the 'Continental Screw Co.' now referred to as the U.S. government.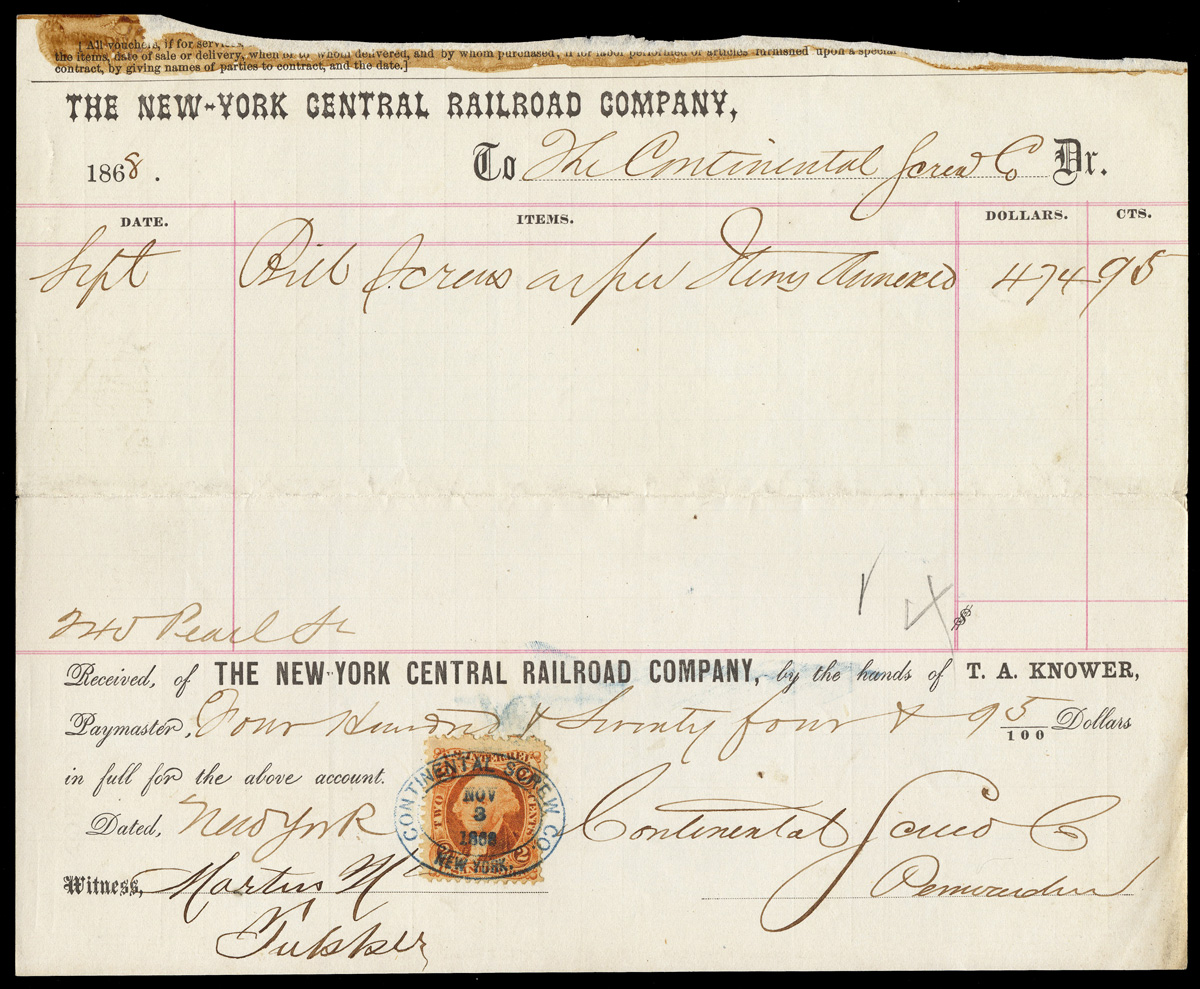 A document with20 examples of R27c, with a strip of 5 all showing double transfers at bottom.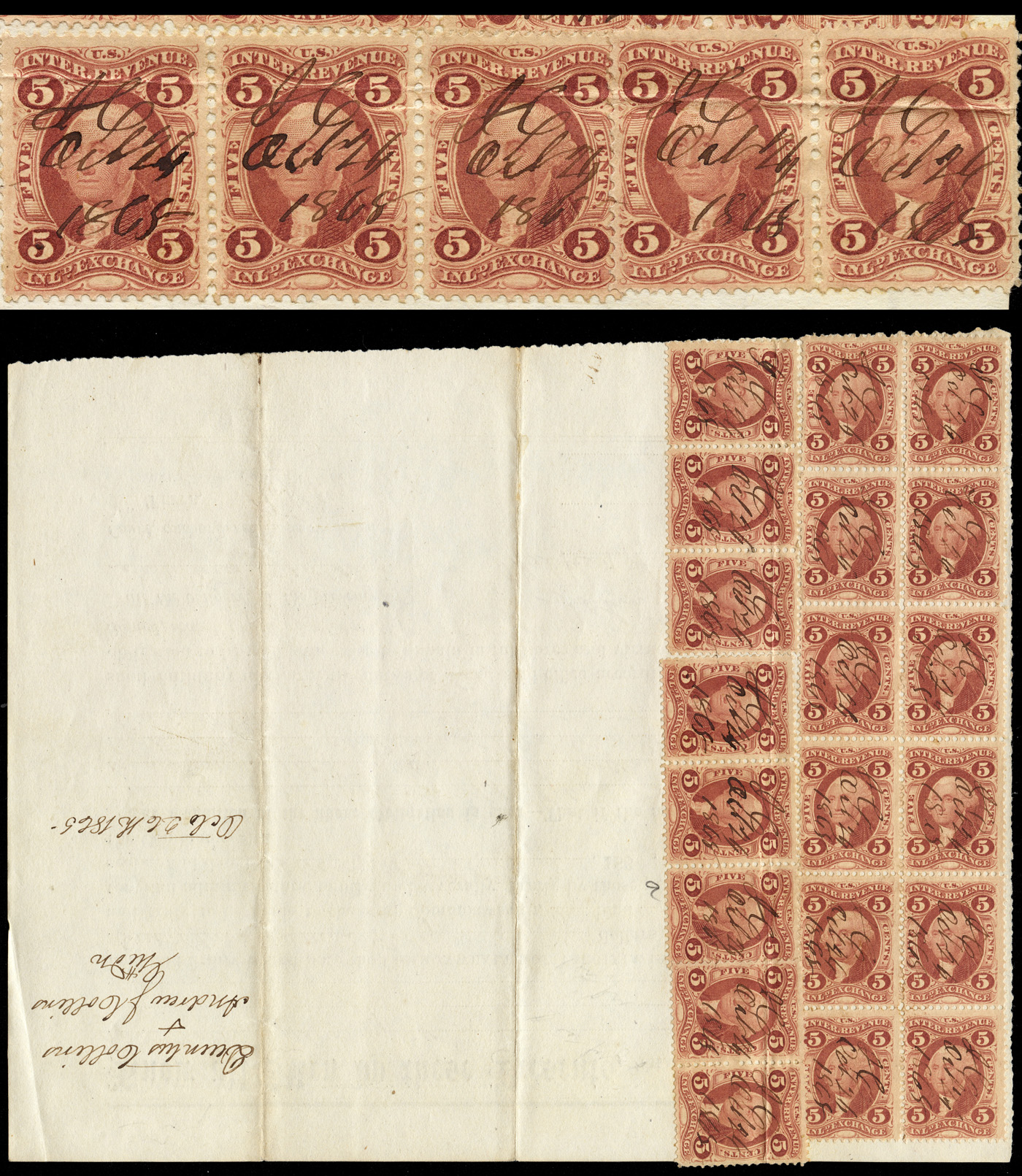 A very meticulous manuscript cancel that at first glance looks like it might be a printed cancel.

A check with great aesthetics, both in terms of cancel and vignette.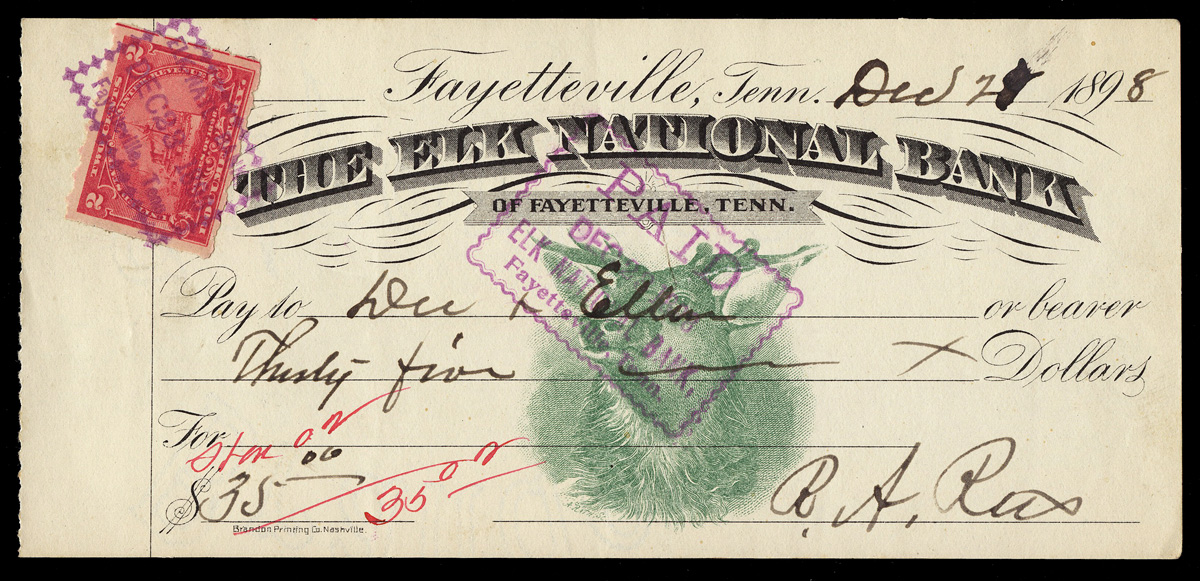 A document fragment that I *really* wish was complete, with a block of 6 and two singles of R29c, an illegal usage of proprietary stamps as documentaries.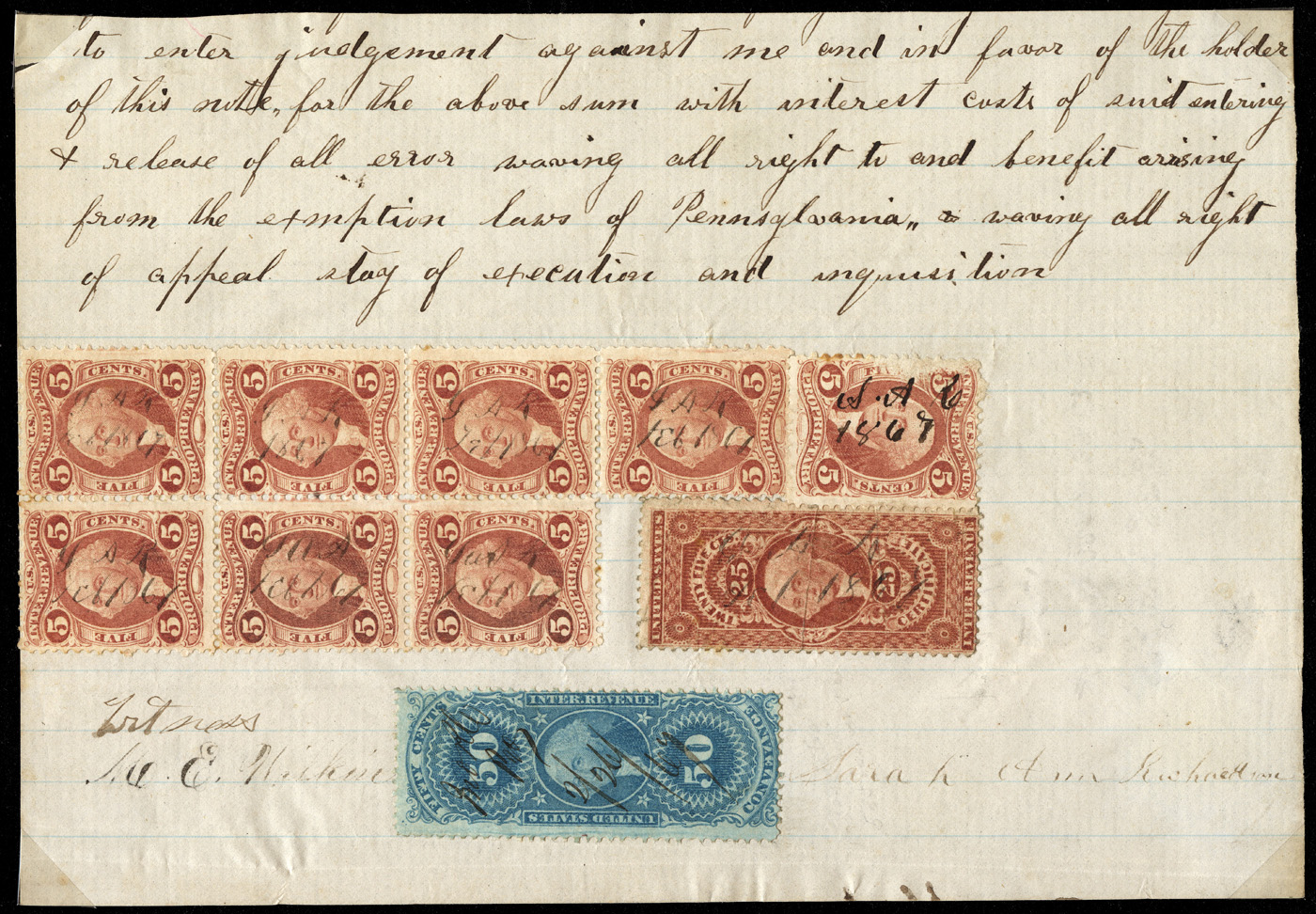 Two documents with great ornate handstamp cancels, one circular and one oval.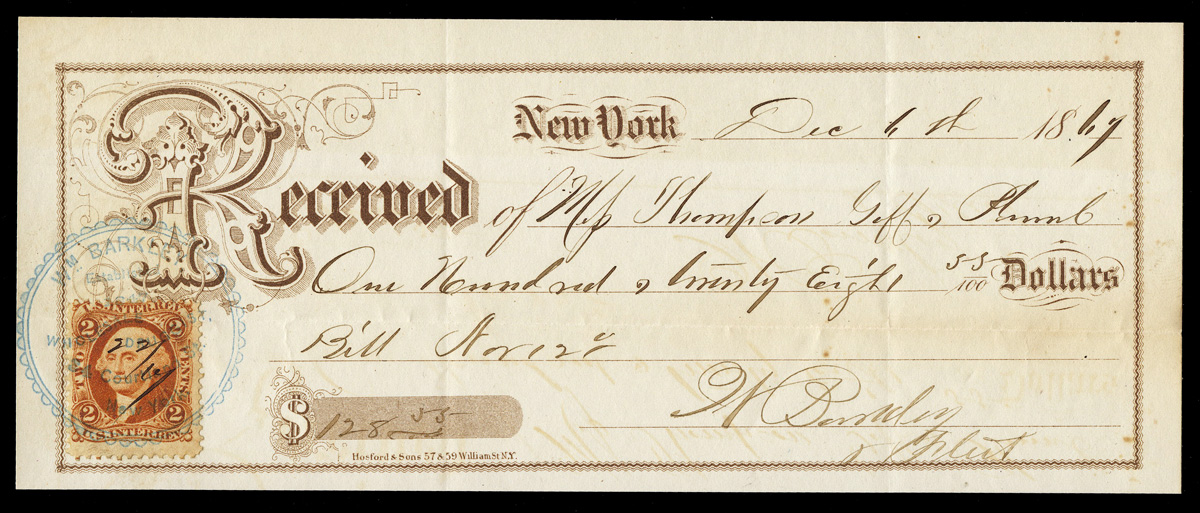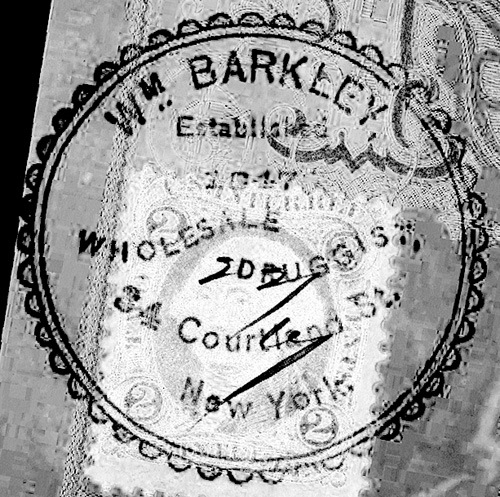 An aesthetically interesting document from the Andes Insurance Co., printed in orange and gold inks.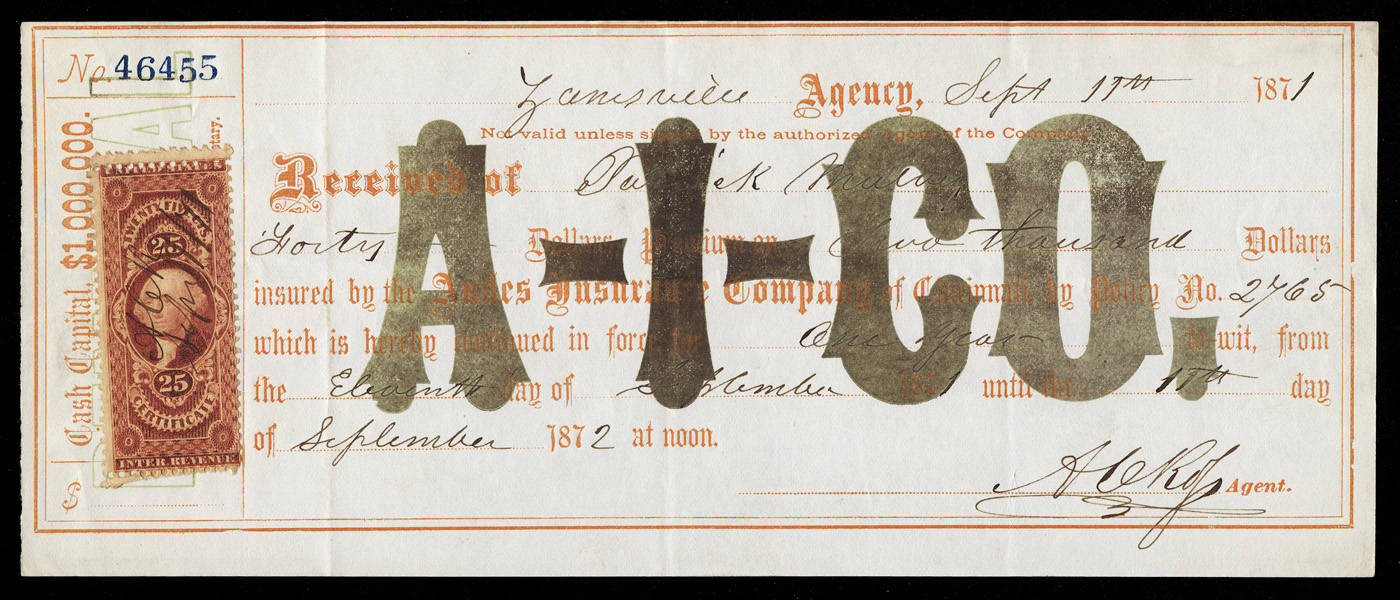 A great large-format printed signature cancel.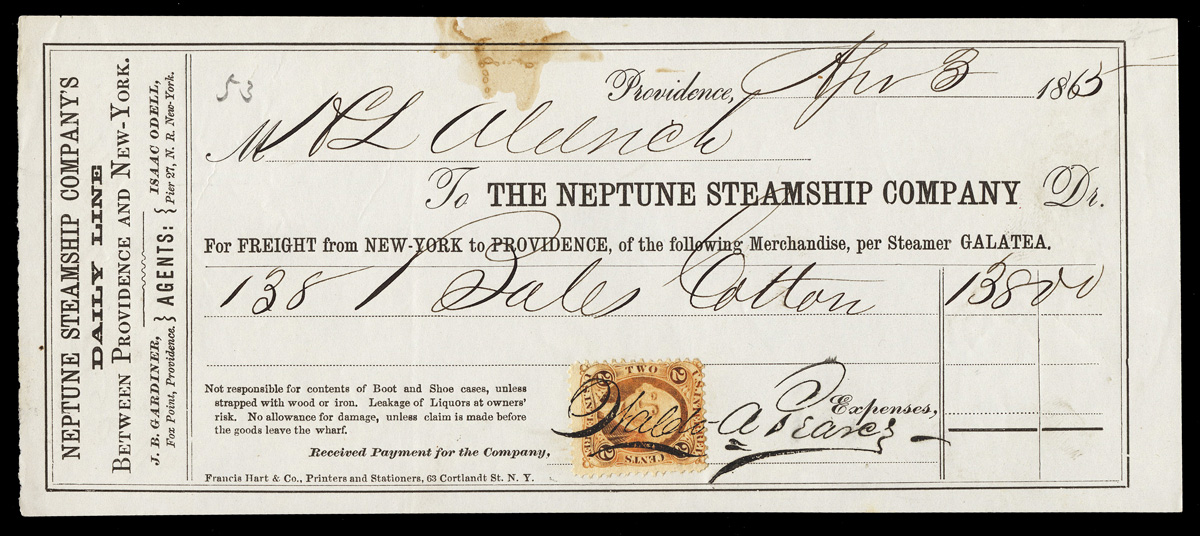 A great example of a holographic (handwritten) check in two colors.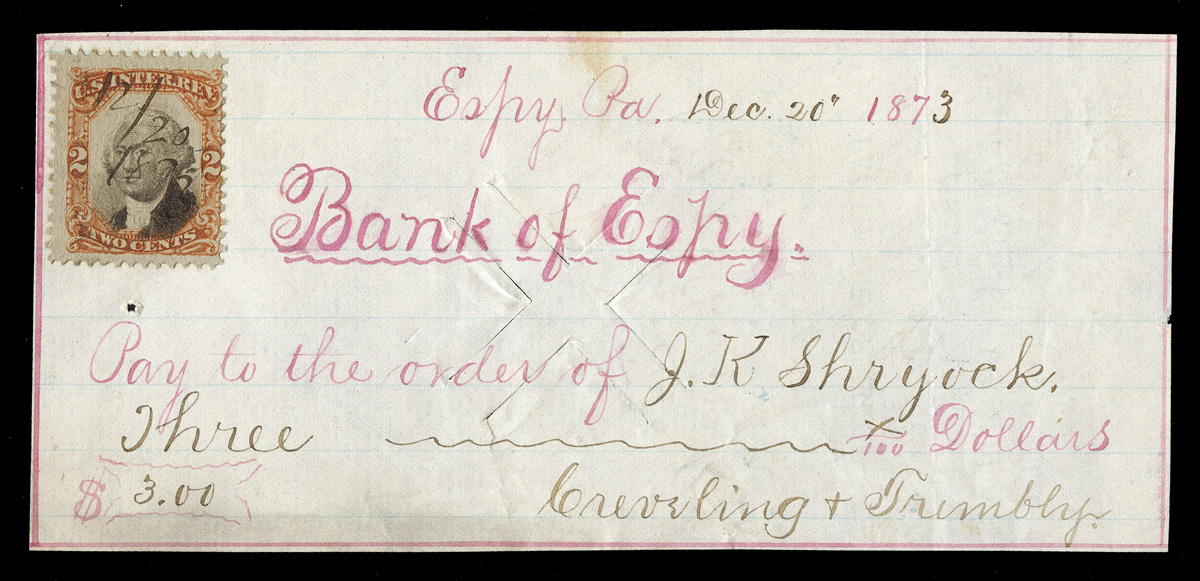 A rather nondescript insurance policy... until I turned it over. That ornate premium receipt was worth the price of admission.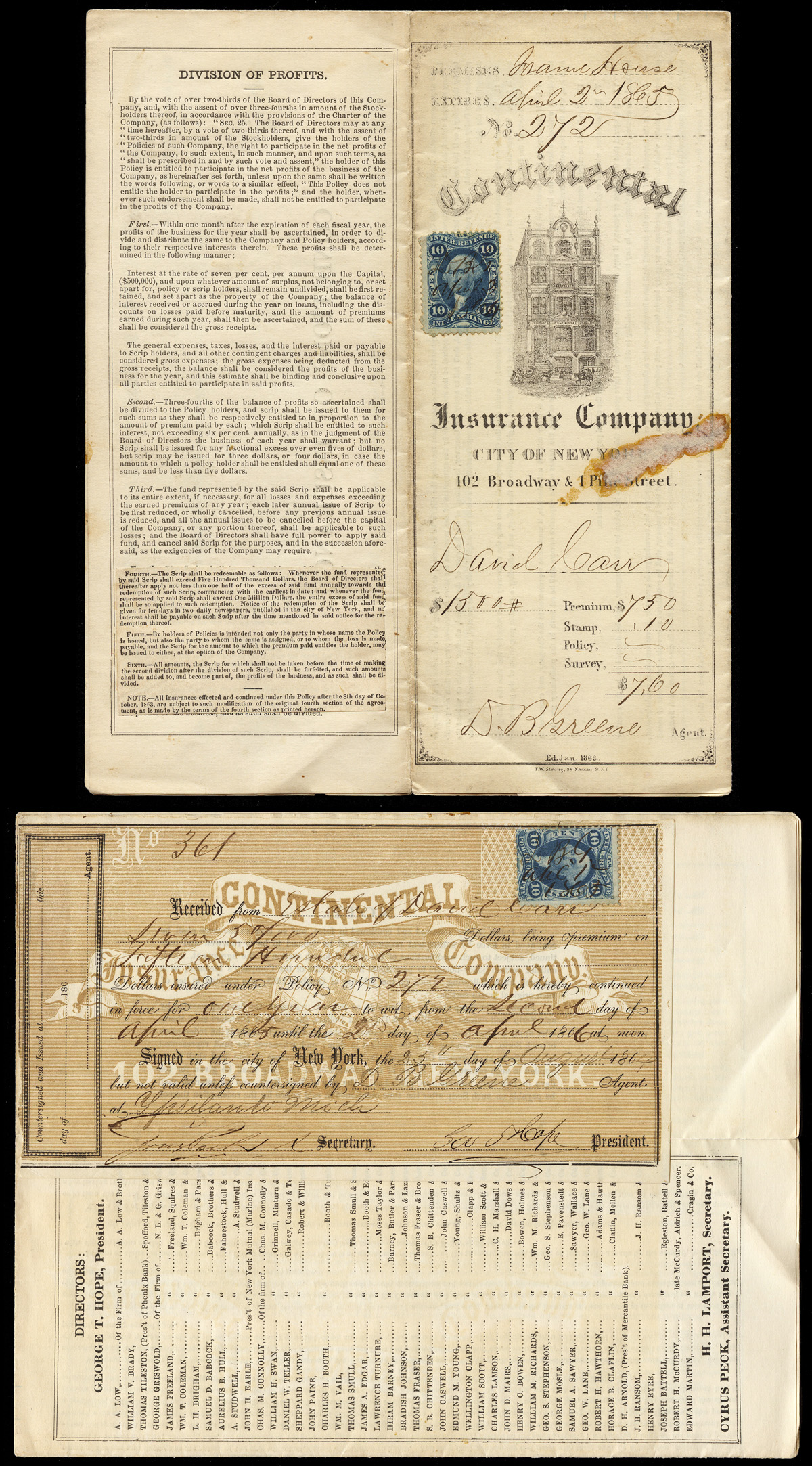 Four lovely bills of lading from the Spanish American War period.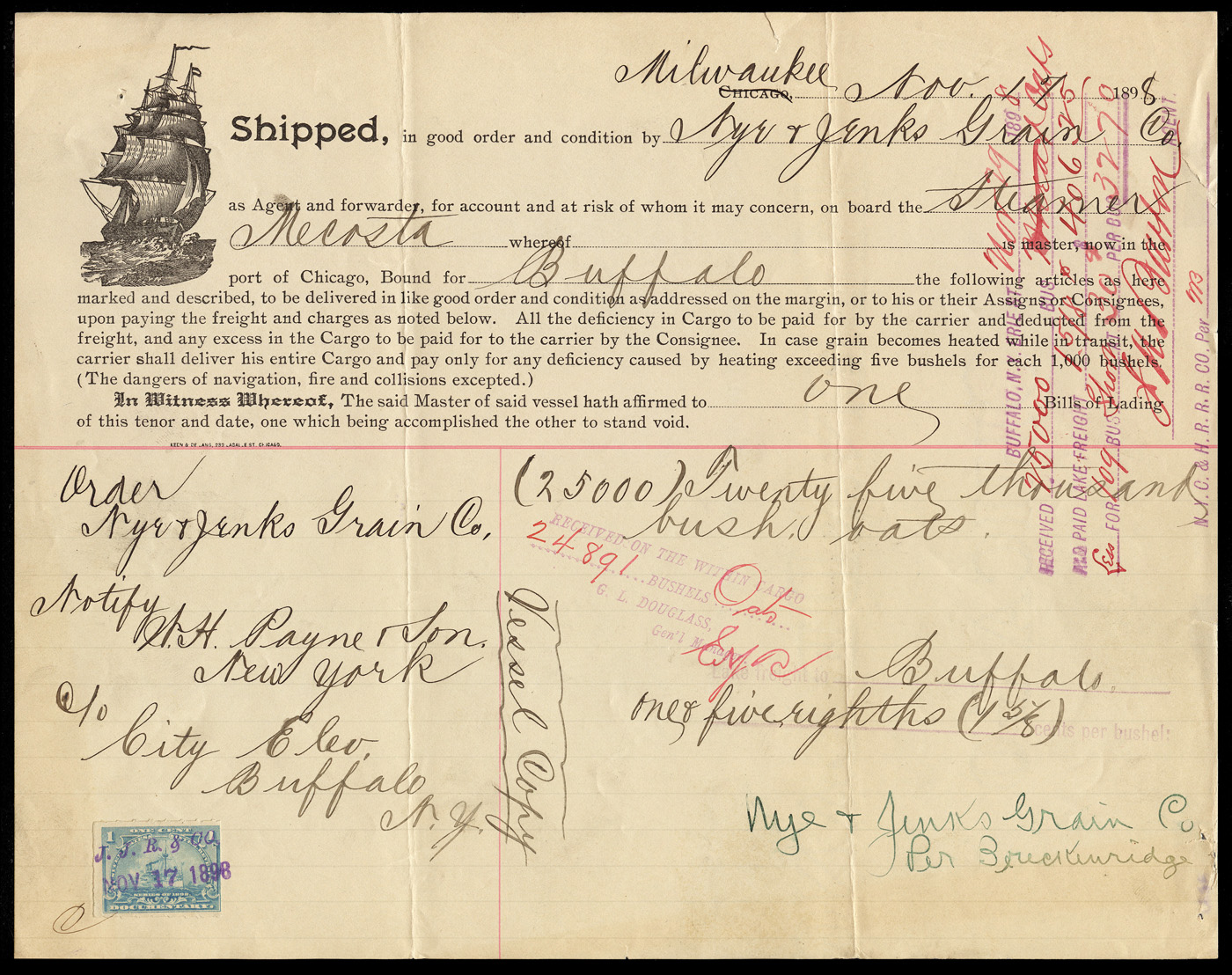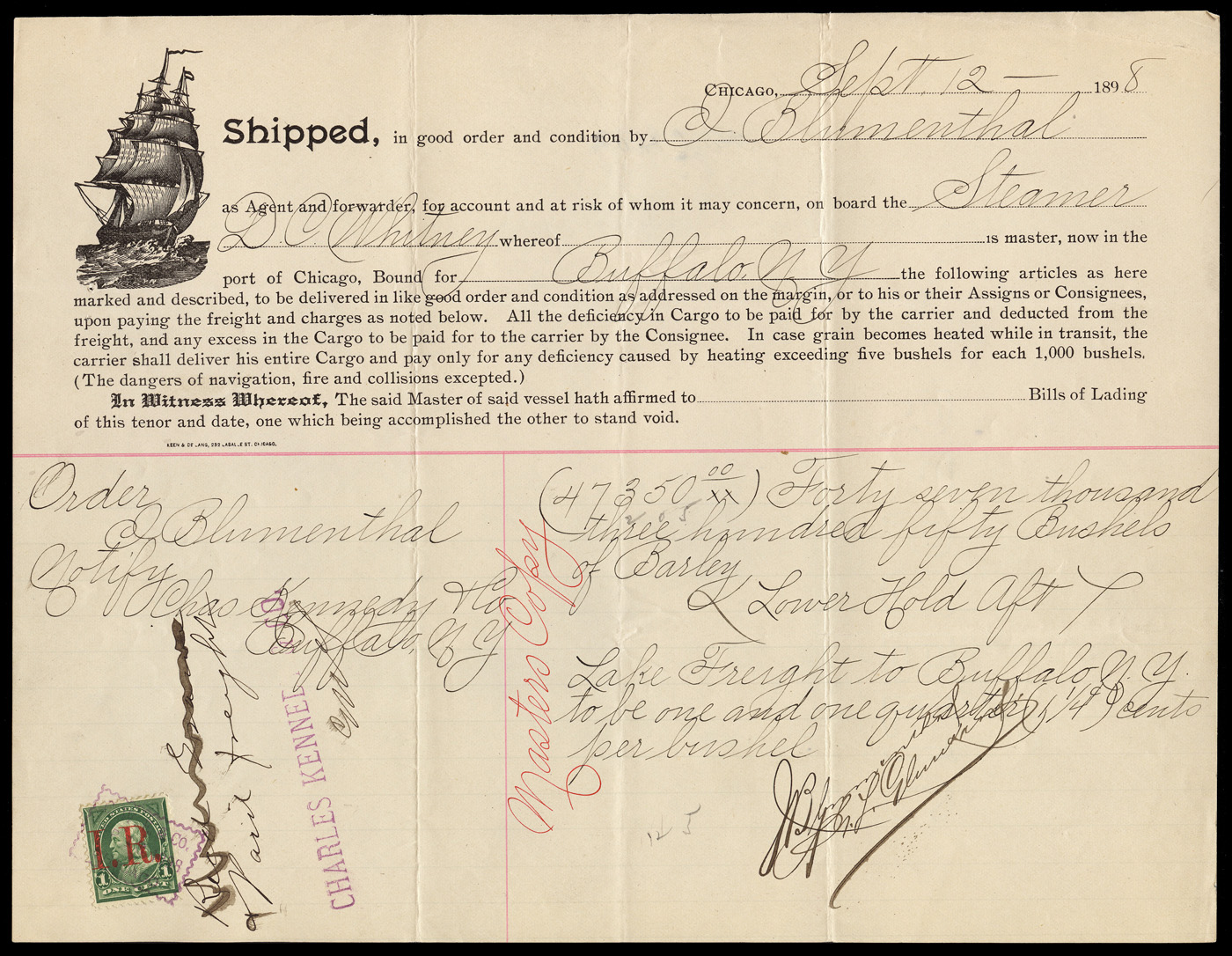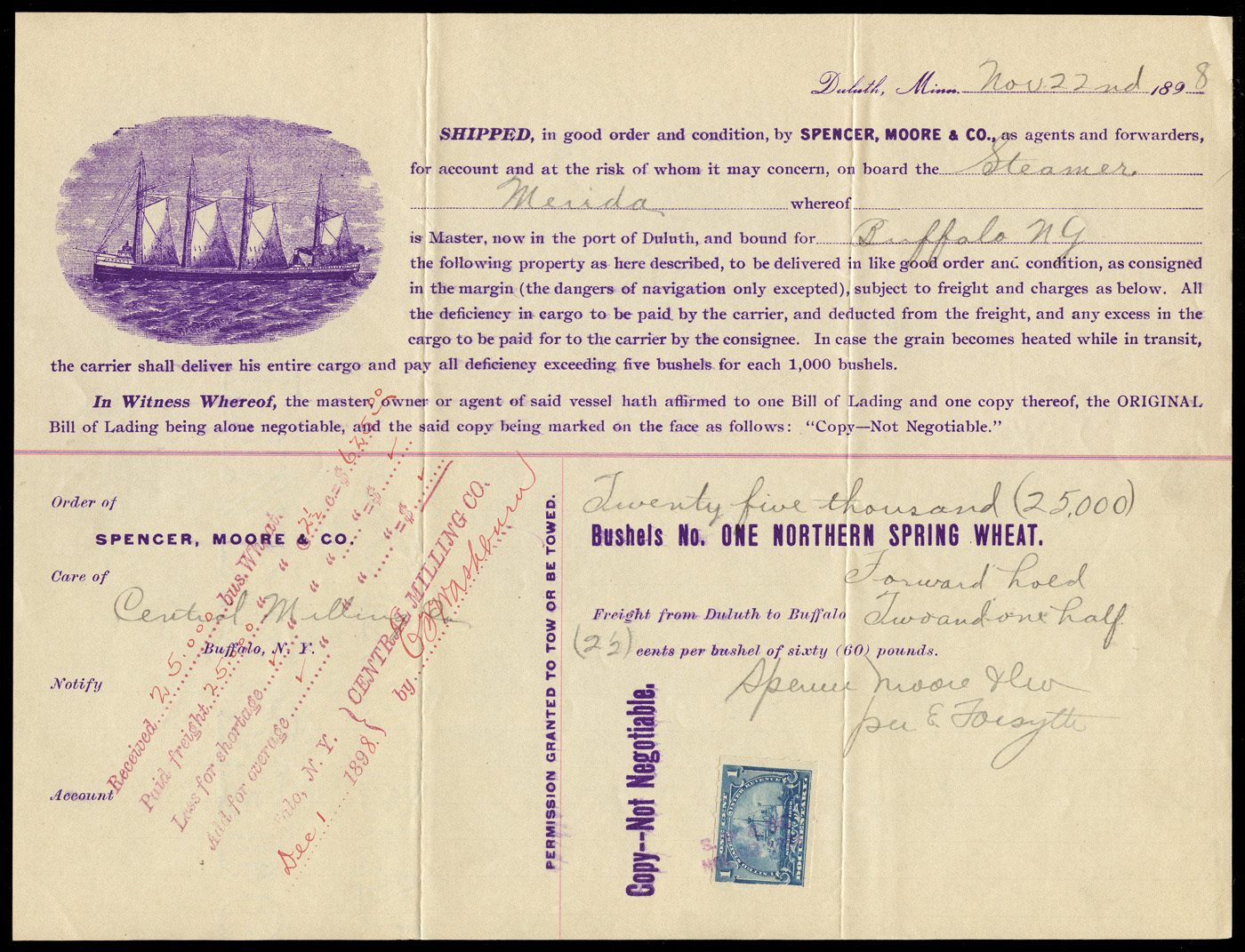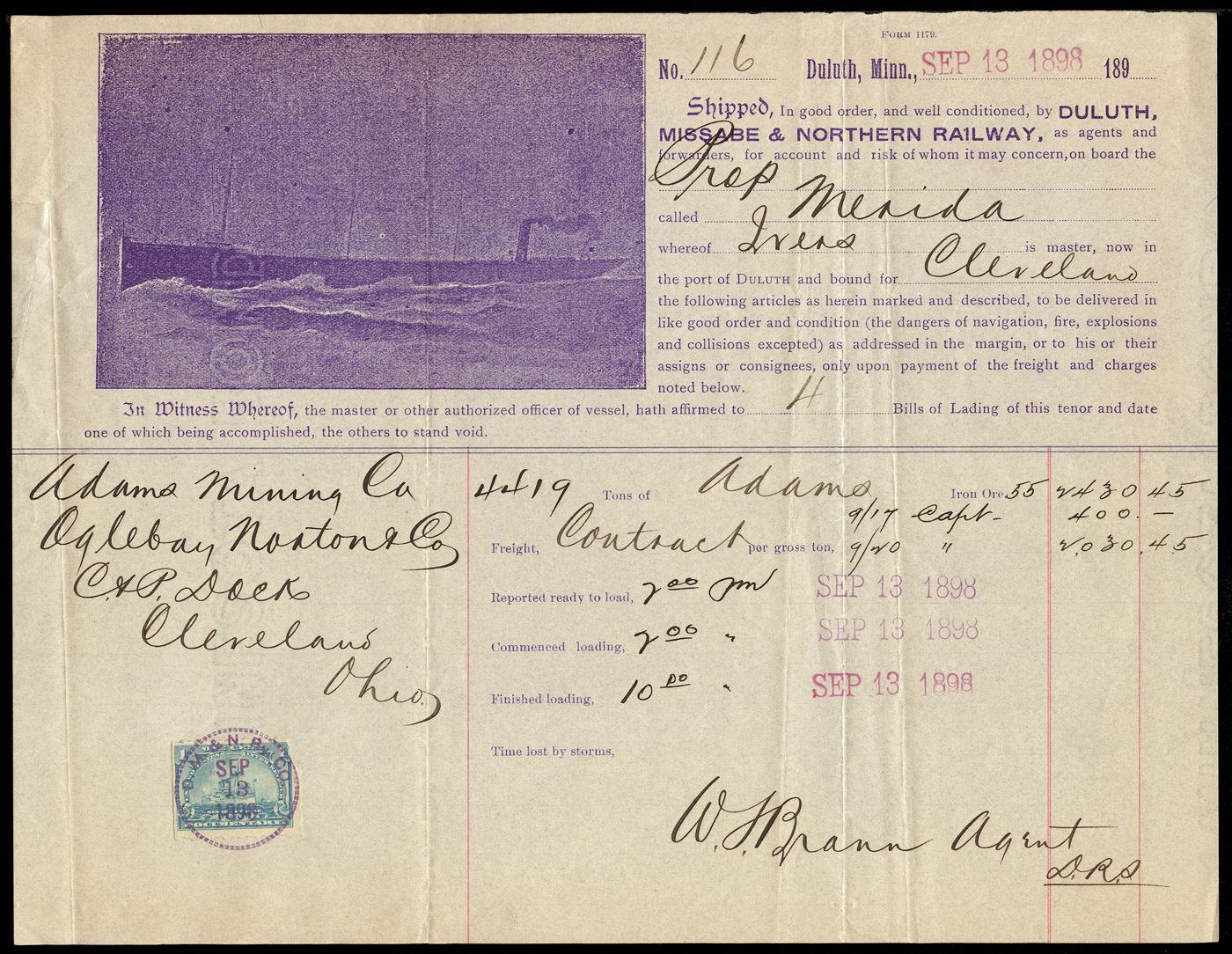 And lastly, a great two-color billhead, both in terms of vignette and color contrast.