Saw a few rare ones slip by this week, so I thought I'd share for posterity's sake.
In May/July 1942, the British Political Warfare Executive produced overprints in which the French Morocco 50 centimes and 1 franc stamps of 1939-40 were overprinted "Deutsche Reichspost in Marokko". It is believed that a single sheet of each value was produced, apparently in an attempt to persuade Marshal Philippe Pιtain, the head of Vichy France, and Pierre Laval, the Prime Minister of the same, that the Nazis were preparing to occupy French possessions in North Africa.
The overprint exists with both thick (Type I) and thin (Type II) overprints, with both coming from the same sheet, usually found in se-tenant form.
These issues have a surprisingly low catalog value in Michel.
50 C. (MiNr. 34): 2,200€ (MH) / 3,500€ (MNH)
1 Fr. (MiNr. 35): 2,800€ (MH) / 4,500€ (MNH)
I say surprisingly low, because only 11 copies of MiNr. 34 are known to exist, and only 7 copies of MiNr. 35.

MiNr. 34 I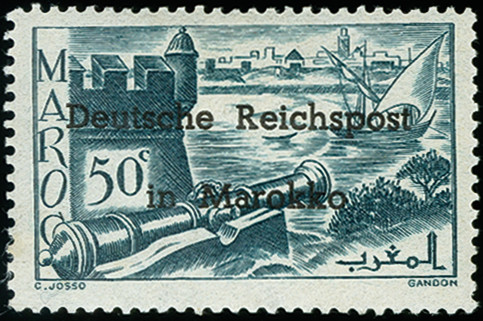 MiNr. 34 II

MiNr. 35 I with selvage of Type II
Due to the limited numbers, the issues rarely come up for auction. The Propaganda and Espionage Philately website indicates that se-tenant pairs came up for auction in 1992 and October 2009. This week, the Heinrich Kφhler auctionhouse had up for auction the copies shown above — singles of MiNr. 34 I and MiNr 34 II, and a se-tenant pair of MiNr. 35 I with selvedge of Type II.
Final hammer prices:
MiNr. 34 I (MNH, hinge on selvage) — 9,000€
MiNr. 34 II (MH) — 6,000€
MiNr. 35 I (MH) — 8,500€
They quickly skyrocketed past my spending limit, so I guess I'll have to try again in another decade or two!