This "Thanks Merci!" item from
Canada Post
is Picture Postage(tm).
The current group of 12 different 'frames' that can be used for Picture Postage were released in 2012. Single stamps, with the frame only, were released by
Canada Post
at that time (Scott 2586-2597).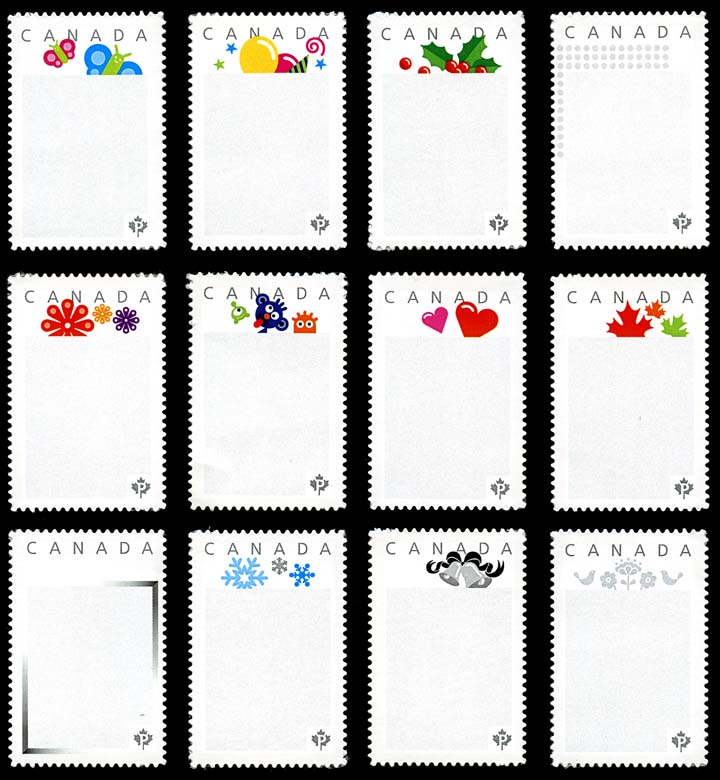 Any person or company, including
Canada Post
, who wishes to have their own stamp can order Picture Postage and choose one of these 12 frames. One can order either booklets of 12 or full panes (25+1 or 50). These customized stamps have been given a catalogue number of "a" from Scott Publishing for each of the 12 frames.
All of these are printed by Lowe-Martin in Ottawa.
I suspect that there have been hundreds of thousands of these Picture Postage designs created over the years. All of those that have the same frame have the same Scott catalogue number.
In this case ("Thanks Merci!"), the frame used is the "dots". As such, it falls into the Scott number 2586a listing ... like thousands and thousands of other Picture Postage stamps ordered by individuals and companies.
The Unitrade catalogue has a Picture Postage section in the back of the book with very specific guidelines:
Only Picture Postage(tm) stamps created by
Canada Post
, and sold to collectors in mint (unused) condition through
Canada Post
outlets ..." are listed.
This "Thanks Merci!" stamp does
not
meet this criteria. It was not sold by
Canada Post
to the general public at
Canada Post
outlets, just like thousands and thousands of other Picture Postage designs created for individuals and other companies.
This stamp
may
get a footnote, but it will
not
be getting a listing in the Unitrade catalogue (i.e. it will not be getting its own unique catalogue number).
Robin Harris
Editor,
Unitrade Specialized Catalogue of Canadian Stamps