Duttia (Datia)
is justly popular - its stamps have a certain elemental appeal - but
don't
even think of completing the State. A one-of-each collection of the cheapest versions of SG 1 to 7 catalogues at just short of £50,000, assuming you could find copies for sale
This cover with SG 2 and 3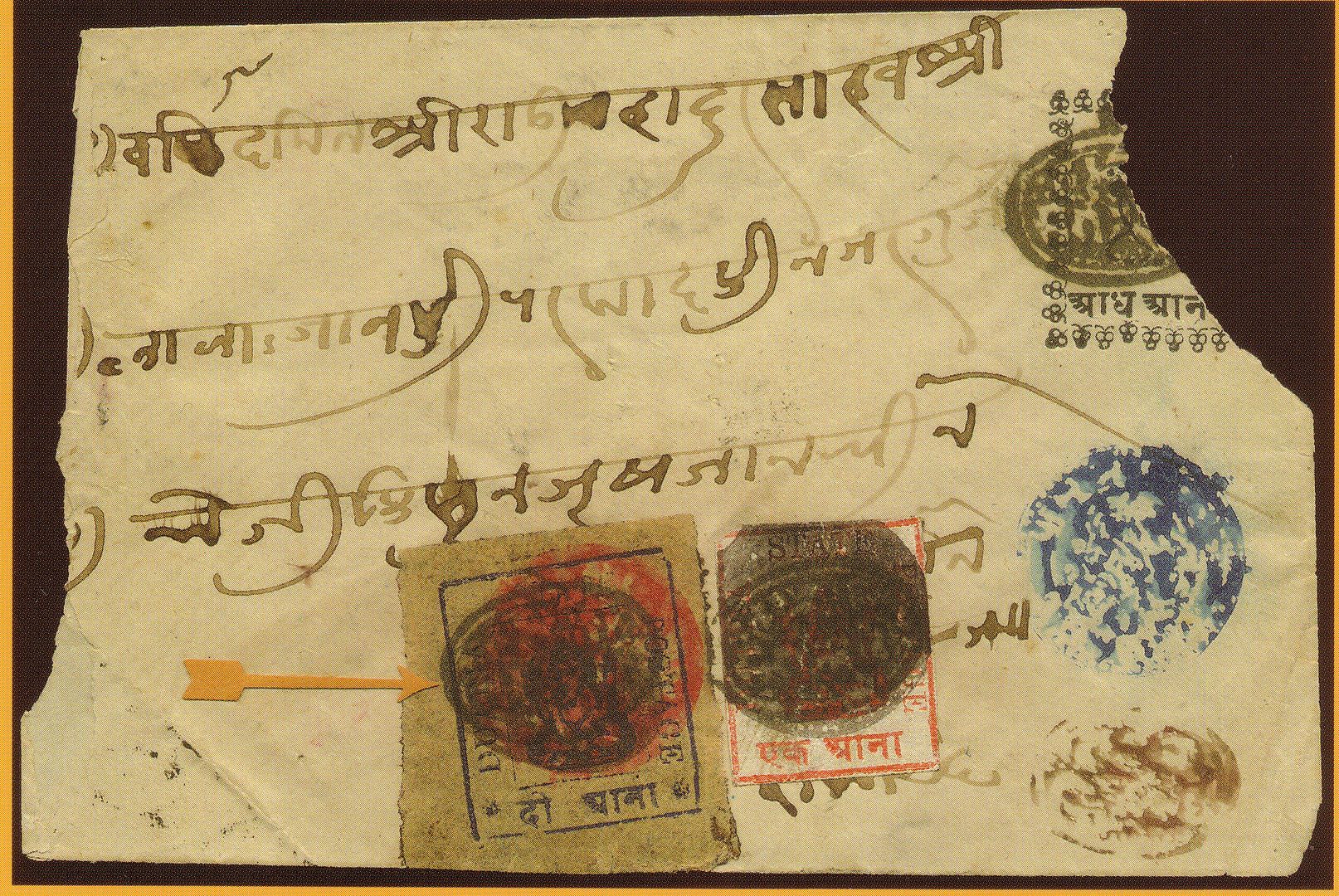 sold at auction for £36,500 in 2006. It isn't, and never was, in my collection, I regret to say.
So let's forget about the first three issues of Duttia, between 1894 and 1896, and start with the 1897 set. This is quite bad, or good, enough:
SG 11d
A couple of points to note:
All stamps of Duttia were supposed to be stamped with the blue control mark you can see on the stamp. This does
not
mean the stamp is used.
These stamps were printed from two single dies, which differ in the size of the image of the god Ganesh in the centre.
Also in 1897, a set of four values was released with the name of the State spelled 'DATIA', SG 12-15. This is the 'correct' spelling, and it's how you'll find the name written on maps from the time and today. I don't know why the printers preferred to stick with the old-fashioned spelling 'DUTTIA'. Perhaps collectors had become familiar with it.
Here is a strip of the 4 Anna value, SG 15, with the last stamp cancelled (by favour, or course)
After this, the printers reverted to 'DUTTIA' in a sans-serif font for the rest of Duttia's philatelic life, which ended in 1921.
These issues, from 1899 onwards, tend to be rather more accessible. Gibbons list several at down to £2.75. If you own any stamps from Duttia at all, it will probably be one of the ¼ Annas from 1899-1906, SG 16a to 16e:
(SG 16b)
For a bit of variety, the printers used coloured papers as well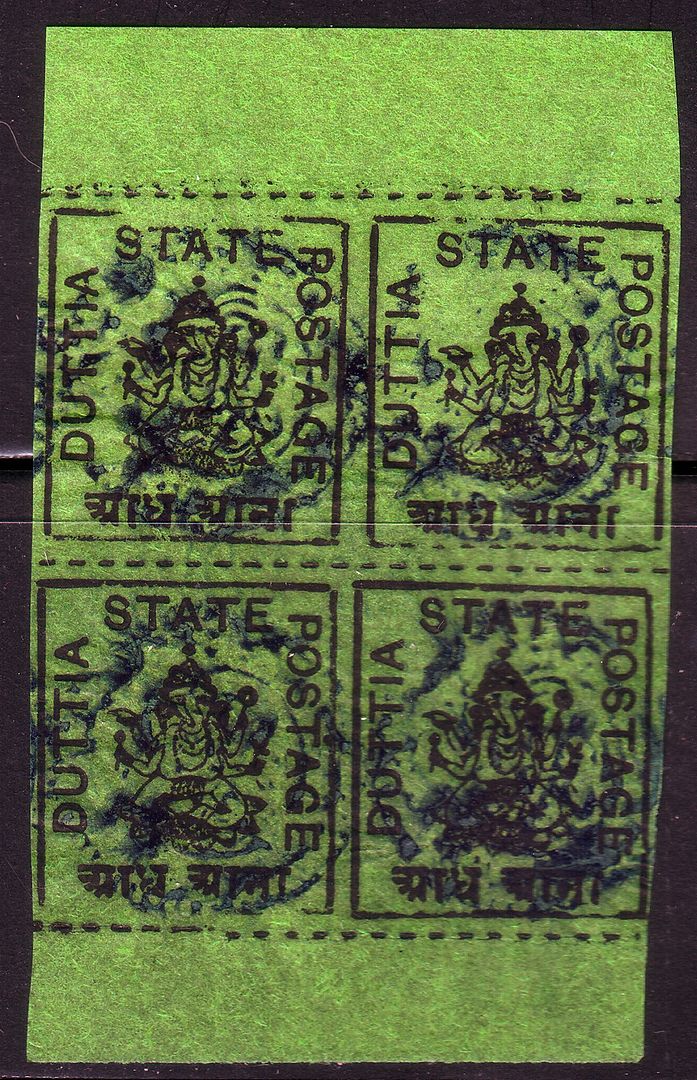 SG 17bb - the ½ Anna, which comes in other shades of green paper, and
SG 20 - the 4 Anna
The printers then turned out a stream of variations on this theme: perf and imperf, with plain rouletting and rouletted in colour, set wide and set narrow, different colours and even occasionally different coloured control marks, in different sized sheets.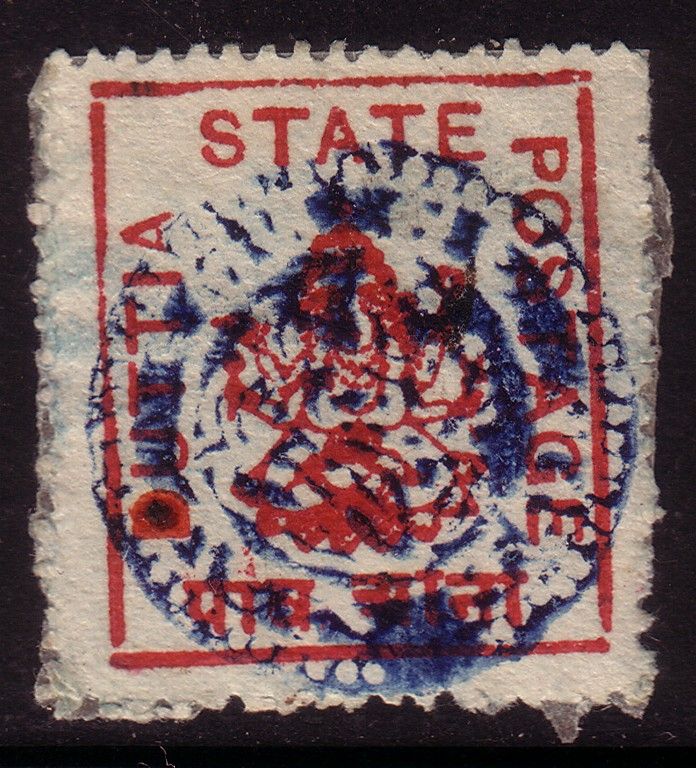 SG 25c, and
SG 25
SG 38 is a particular favourite. It was issued in convenient sheets of 31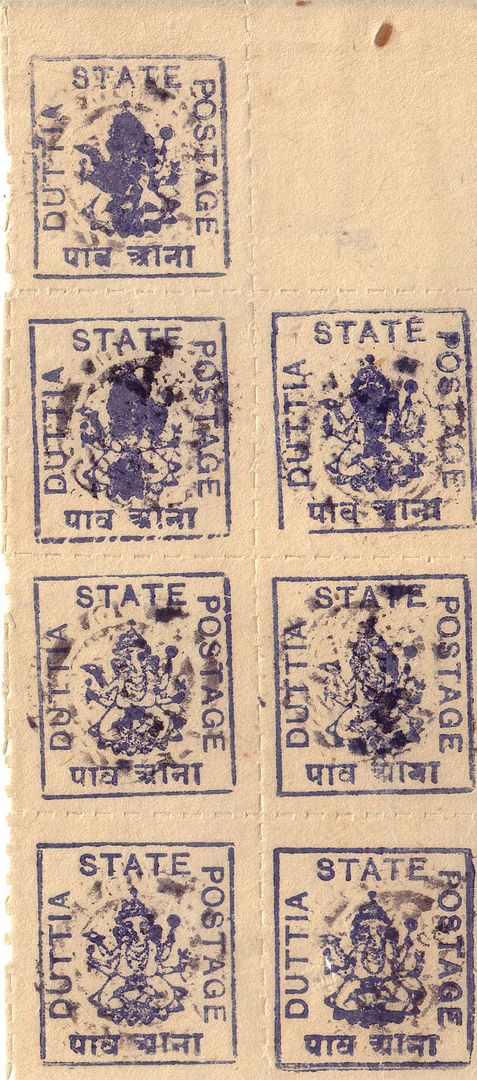 probably because the last stamp on the top row was defective, and was removed before printing commenced. This must have made life interesting for the post office clerks balancing their books at the end of the day, with each sheet being worth 7¾ annas instead of 8 annas (or half a rupee).
This block also shows the variant control mark in black, instead of the normal blue.
As I said above, the control mark is not to be taken as a cancellation. There are two types of cancellation you're likely to meet from Duttia:
(on a washed out SG 17, the 1899-1906 ½ Anna) and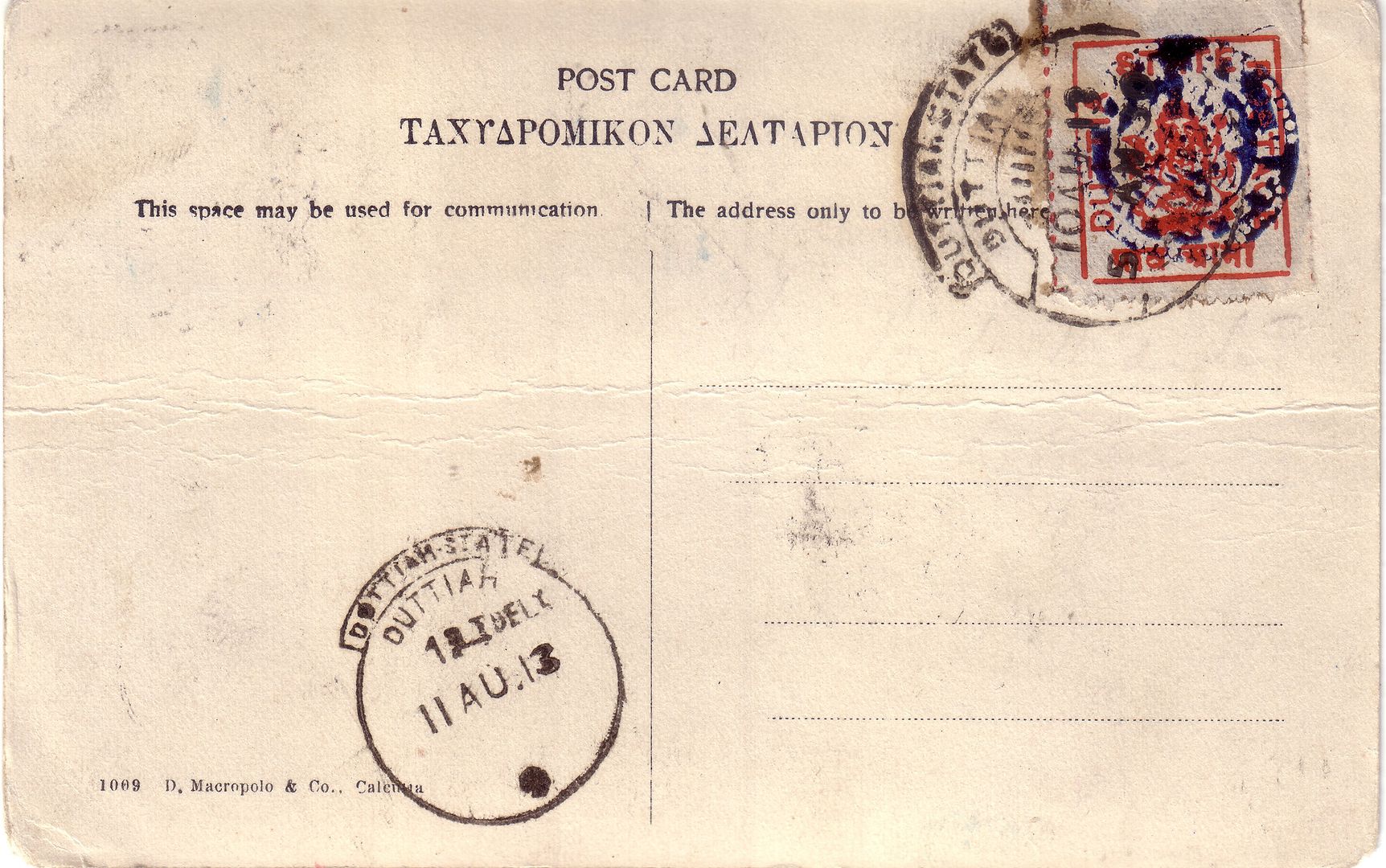 SG 16, the accompanying ¼ Anna
So that's Duttia: a lot of fun, as long as you don't try to take it seriously.
As a footnote, I have 1":8 mile maps of Duttia (and Barwani, Bhopal and Dhar) from around 1908. If you'd like a scan, just send me an email, and I'll be happy to send you a copy.