At this point, we need a small geographical and historical digression.
The state of Jammu & Kashmir was created around 170 years ago by a Hindu general in the Punjab region, who controlled the Jammu region in what was basically the north of the Punjab. He moved north again and took the mountainous neighbouring Kashmir valley from the Afghans who had held it for some time, and established the merged state. The ruling family of Jammu & Kashmir had their Summer capital in Srinagar, capital of Kashmir, and their Winter capital at Jammu town, since Srinagar was largely cut off by impassable snowy mountains.
In fact, a fair amount of the postal administration in the early days at least seems to have been run from Jammu town: certainly, the stamps were printed there.
Now, for reasons unexplained, separate stamp issues were made for Jammu and Kashmir in 1867, the year after the Circulars appeared, and continued in use alongside the Circulars until 1878.
Jammu
issued only two values, a ½ Anna and a 1 Anna, in a curious sheet of four, with the top two and bottom right stamp being ½ Annas and the bottom left stamp a 1 Anna. Complete genuine sheets are rare - modern fakes are not. However, the modern fakes look nothing like the real stamps: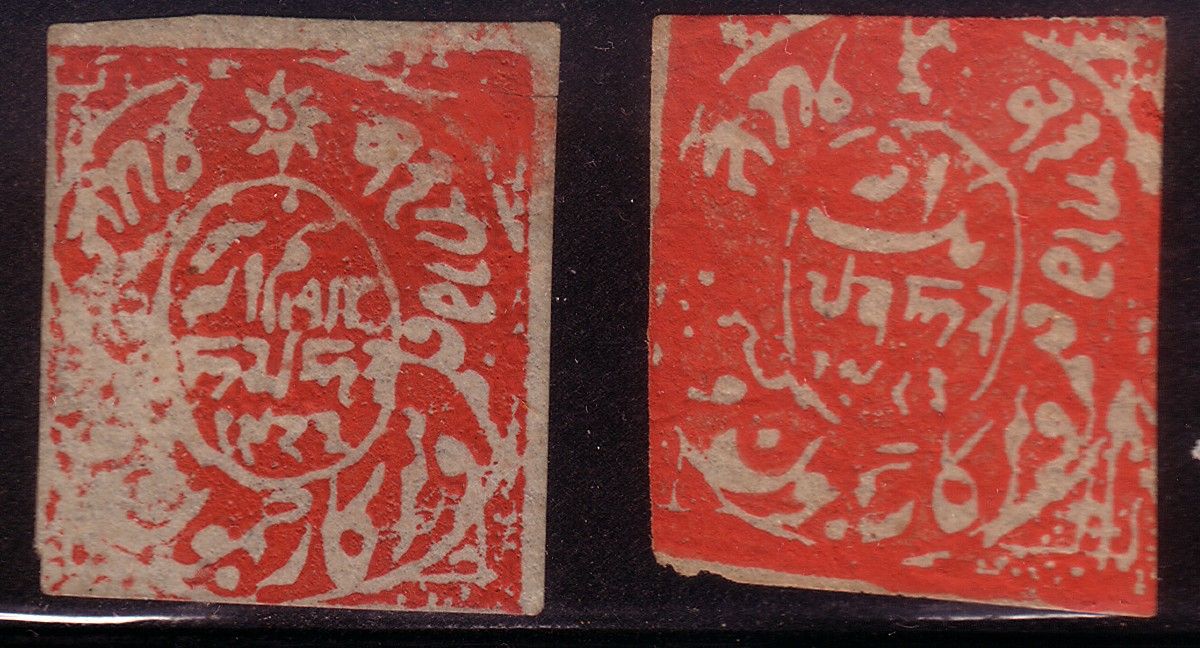 SG 60 and 61 - the ½ and 1 Anna
Shades of red seem to have been the standard colour for Jammu ... but, there were scarce to horribly rare (try £4750) printings in other colours - blue, black and green. These stamps were also printed in watercolour and oil colour. There isn't too much difference in value in the reds between the two types of ink, and the other colours are all expensive, whichever type of ink was used.
Here is the ½ Anna in deep ultramarine, SG 56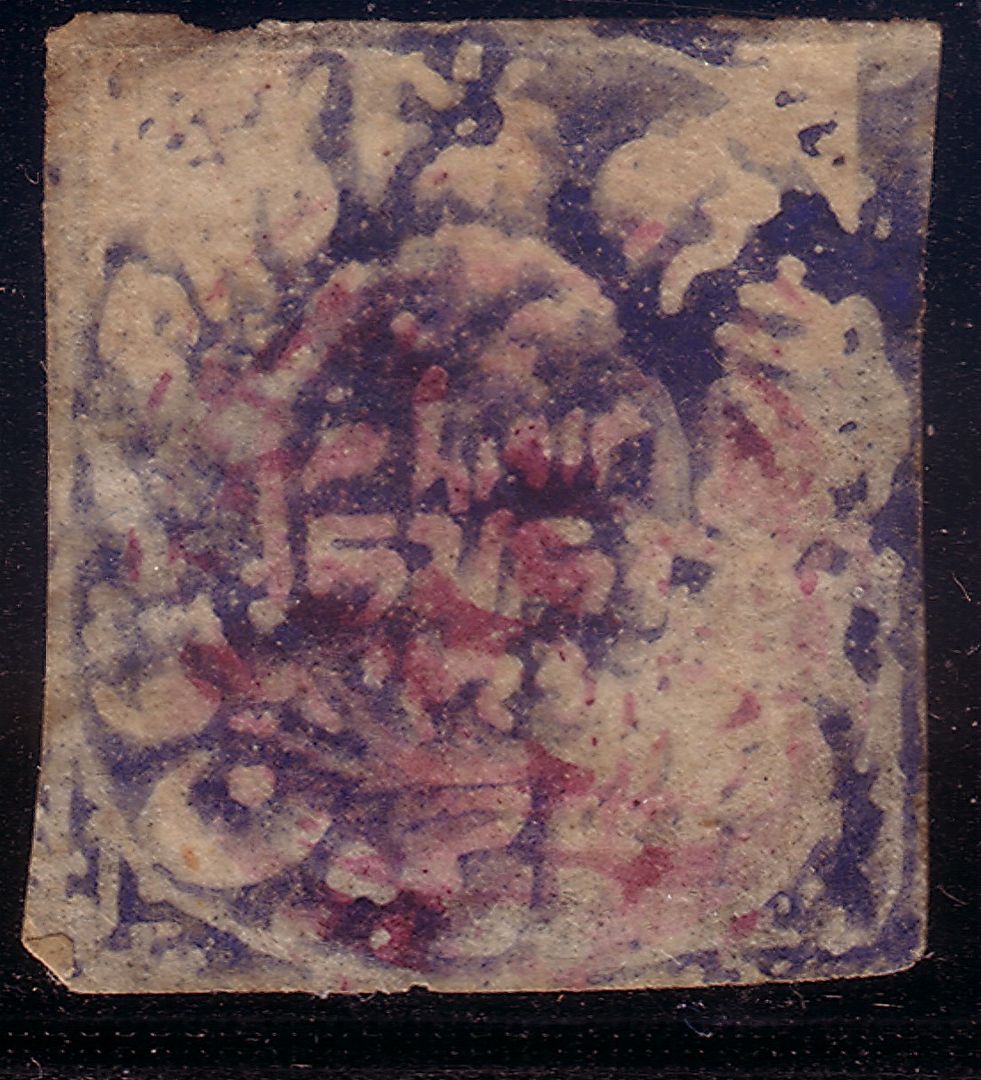 and the 1 Anna in indigo, SG 55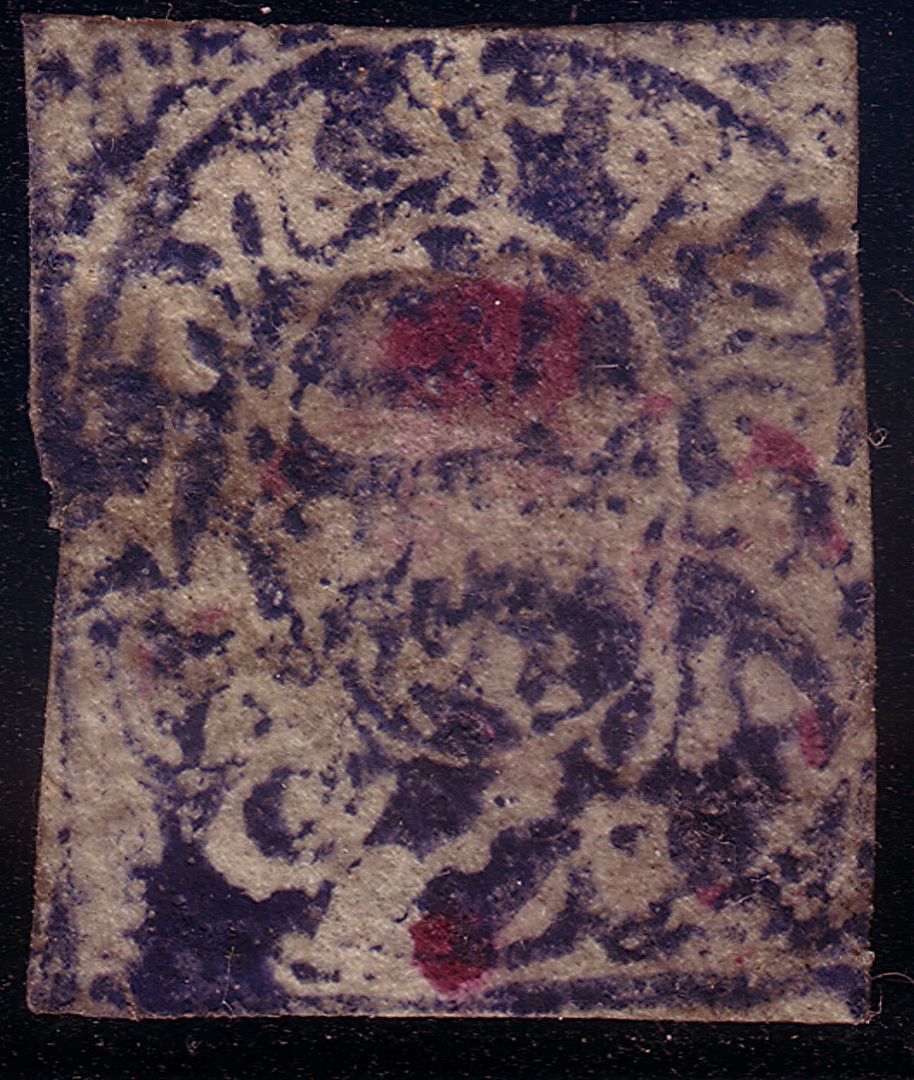 two of the slightly more affordable ones. (The magenta smudges are cancellations: used are much cheaper than mint
)
Most of these stamps, and the early Circulars, were printed on 'native' paper. This was locally made (the State supplies were made in the jail). It looks slightly like a laid paper, but is rougher and usually has bits of bark and other things evident.
Around 1877, the printers started to experiment with European papers, both for the Circulars and for Jammu. Most of the Circulars on European papers are scarce to rare, and all the Jammu printings on European papers are rare to very rare.
In 1877 again, there may - or may not - have been a provisional printing in red using the Jammu obliterator as a ½ Anna stamp. A few of these
do
exist, but there's furious debate in the tiny world of Jammu specialists over whether they were a genuine issue, or something cooked up for the early collectors.
(The obliterator, by the way, was a seal of the 'Jammu Iron Mines', appropriated to cancel stamps. The mines were probably a source of the red pigment used to print these stamps.)