As it's late on Saturday afternoon, and the cat is sitting on my next job, I might as well finish off the Cochin story now.
The Fifth Raja died in 1946, and was succeeded by his brother Maharaja Kerala Varma III, who lasted only until 1948, but was the last ruler to appear on Cochin stamps.
A set in the usual format appeared for him in 1948, from 2 Pies to 3 Annas 4 Pies (this value is rather scarce, though perhaps not as scarce as Gibbons make out). Here is the 2 Pies on a nice advertising card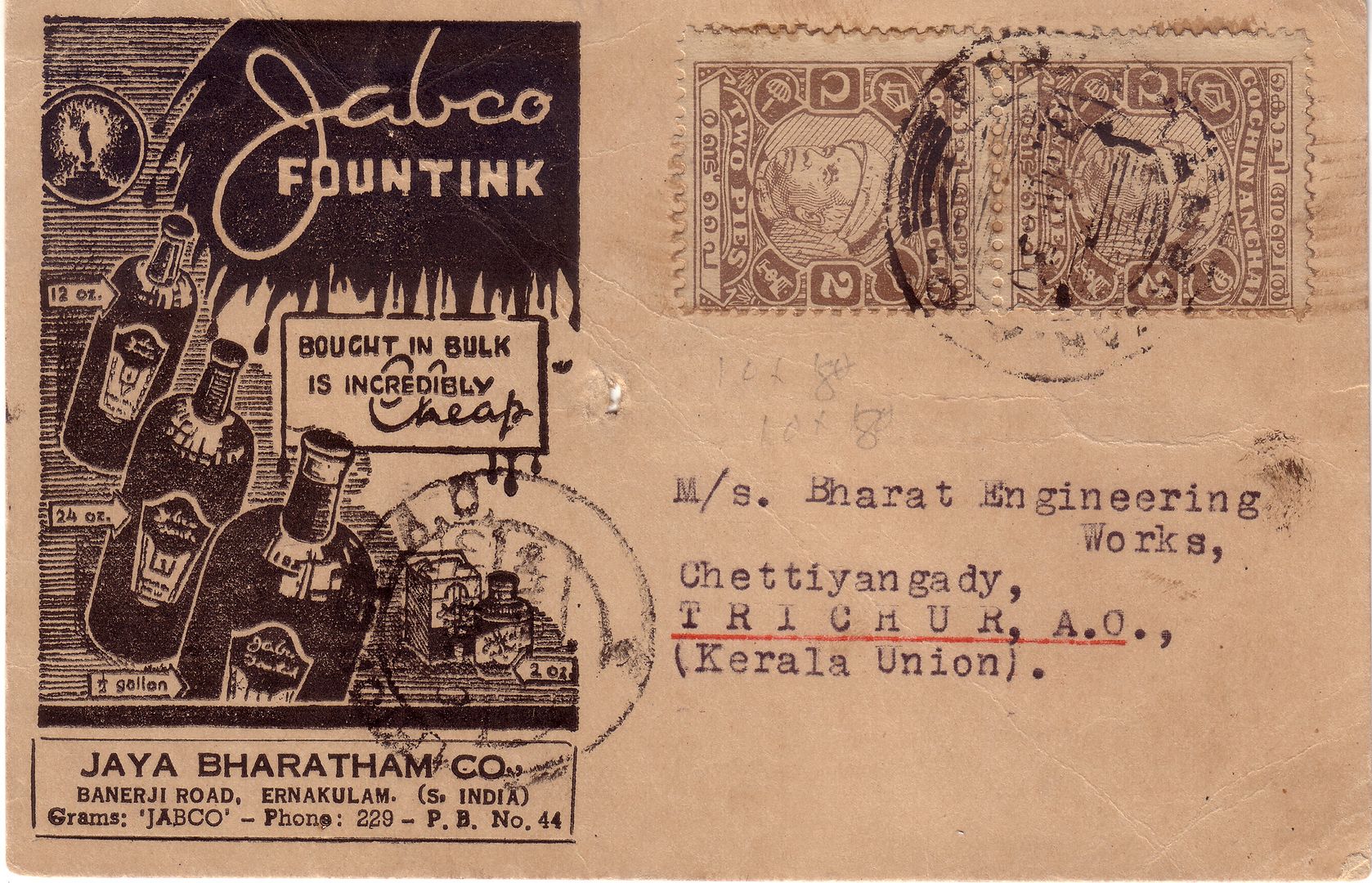 Gibbons lists second dies for the 2 Pies and 3 Annas 4 Pies, but there are sufficiently different types in other values to justify them being classed as 'types' as well - IMHO.
These stamps were also overprinted for official use, with the old Type 7 heavy overprint. There was a good error in one position on the sheet of the overprint 'C' for 'G':
(Row 1 stamp 4 - SG O98a)
In 1949, Cochin finally got around to issuing two pictorial values. I don't know if they had plans for more values, but these are quite pleasant. This is my greatest Cochin treasure: the 2 Anna of the pair, imperf vertically

(SG 117a)
India achieved independence in 1947, and in 1949, Cochin and the larger neighbouring State of Travancore were merged into the United State of Travancore-Cochin. Rather than print new stamps that would have had a very short life, Cochin fell back on surcharging stocks of all its old stamps in the three most needed values, 3 Pies, 9 Pies and 1 Anna. Here is an example of the 1 Anna surcharge on an old Fifth Raja official stamp, SG O100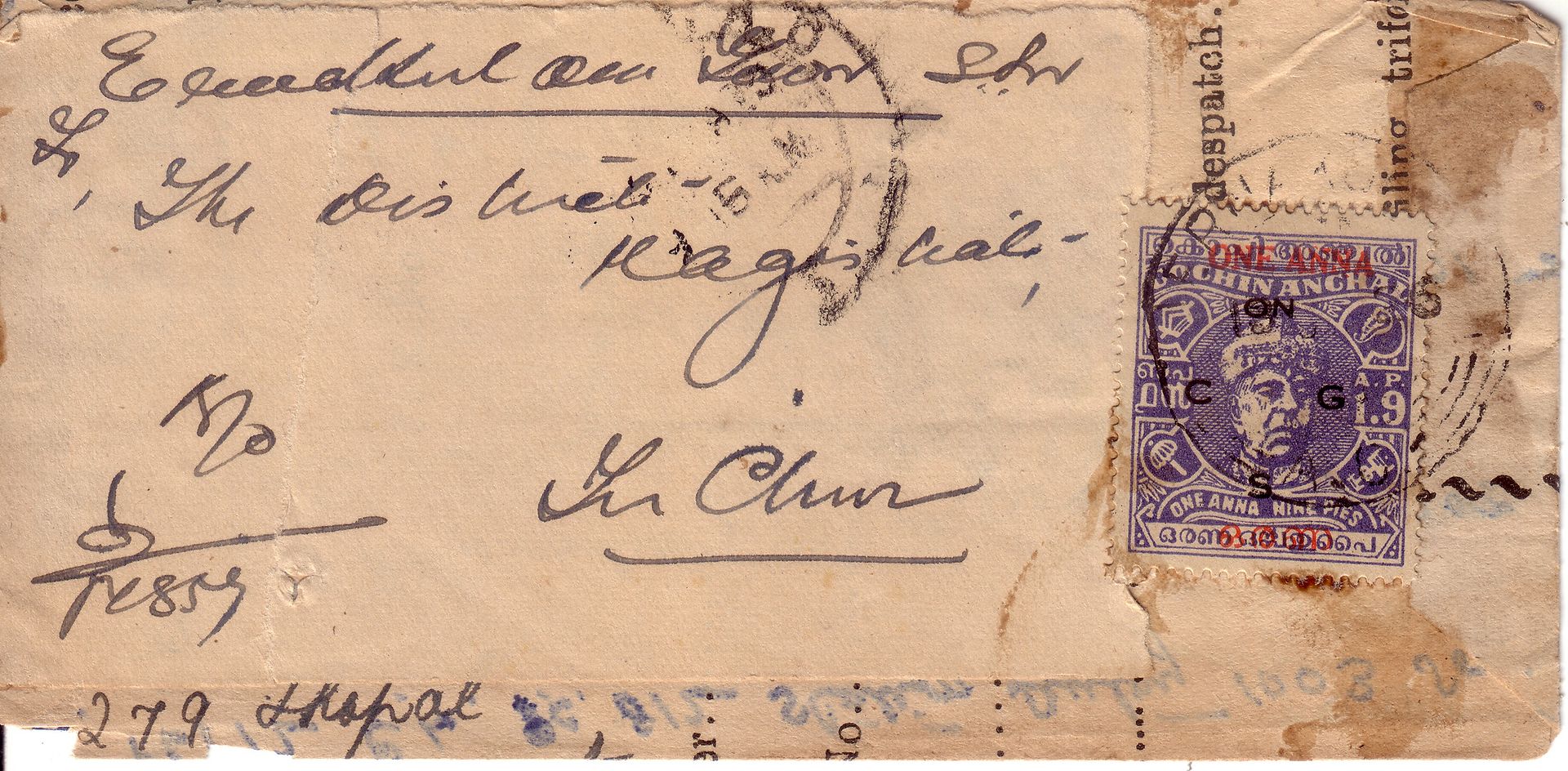 There were a few spelling mistakes in the local (Malayalam) inscriptions. These aren't hugely rare, and they sometimes slip past the eagle eyes of the dealers. I picked up this cover of SG 125a on
eBay
as the non-error stamp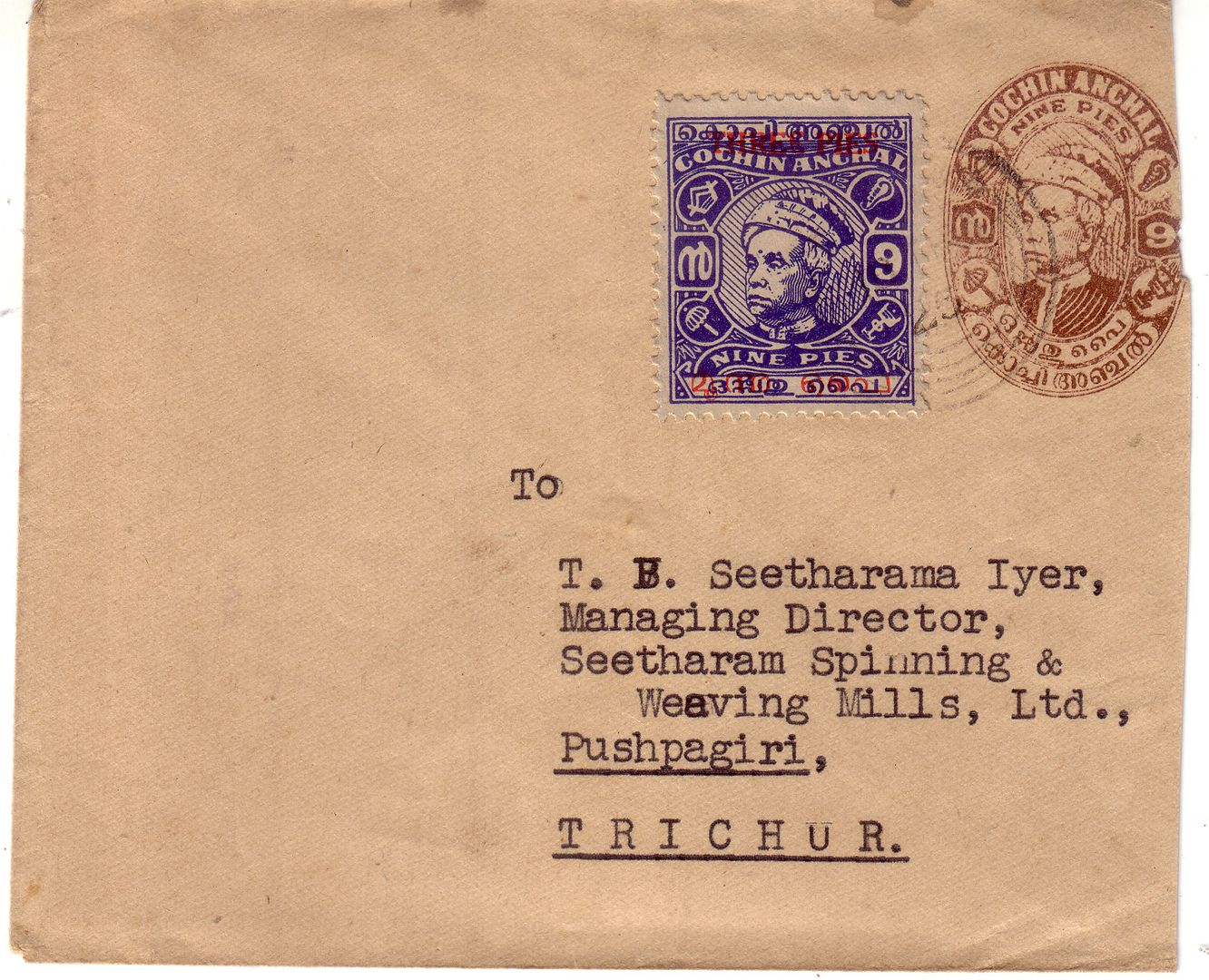 Here is a detail of the erroneous inscription:
The tail of the first letter in the second word should be short, like the second letter. This turned a £2.75 stamp into a £27 stamp.
Lastly, some of the stocks of stamps brought in for surcharging included stamps which had been printed earlier but never released. A few examples escaped without the surcharges, like this one from the Fifth Raja:
Gibbons mentions it, and prices it, in a footnote.
That brings us to the end of Cochin at last. If you were thinking of trying out the Indian States, but find some of the other States rather strong meat, Cochin may be just the thing. Lots of cheap stamps - and some very expensive ones for later - quite easy to find, and very accessible.