I was itching for something to do this weekend, and on the off chance that there might be a stamp show somewhere within driving distance, I called my go-to for all things midwest, Denny Peoples. He said that he was going to be doing a 1-day show in Schererville, Indiana yesterday (Saturday). It looked to be an easy 2.5 hour drive, so why not?
I deal with periodic insomnia, so I was up for the day as of 2:30am, and by the time 6:30AM rolled around I was tired of putzing around, so I hit the road early. Saturday drives up north through I-57 and I-80 are infinitely better than during the week, so it was a lovely drive and a bright and sunny day. I arrived at the show hall at 9 AM, a full hour before the show opened... and I'm glad I got there early. Things were already in full swing, with people doing business; not just dealers, customers too. I always plan to get to shows a good 30 minutes early anyway, just in case of traffic/weather delays, and this just reinforces that practice. Had I gotten there at 10, several of the carton lots I got from Denny would have already been gone.
For a small-town 1-day show, this show was comparatively huge. 22 dealers, split roughly 50-50 between coins and stamps. The room was large, with spacious aisles. Food and beverage service was available in the room. In addition to Denny, Rusty Shoaf was there, along with Fox River stamps, both of whom I'd already seen previously at shows this year. David Alex was there; typically I only see him at CHICAGOPEX and COMPEX. All of the others were smaller/local dealers I'd never seen before.
Traffic was HEAVY! People were out in droves. All the dealers I spoke with were thrilled with the turnout. Denny had brought 6 banker's box carton lots of miscellaneous and sundry world stamps and covers, and all but one were sold within 1.5 hours.
There was relatively little available as far as U.S. revenue material, which I had expected. I had plundered Denny's inventory 3 times already this year, so I focused on some of my other collecting interests, and buying some things in which I saw flip potential.
I bought a couple of bundles of 50-100 world covers for $5 each, a small collection of South Moluccas (which I dabble in) for $5 which while I already had the stamps, I bought mostly for some old reference material photocopies and 1970s-80s adverts tucked in the binder. A dealer wanted to unload several boxes of USPS souvenir cards for cheap. Normally not my thing, but looking through them there were several large-format numismatic cards and quite a few private (non-official) cards that looked interesting. Just on quantity alone I figured I can't lose, plus they'll be fun to go through for the engravings.
The same dealer also had a carton full of Israel mint postage... to which I recoiled in horror, as most do.
Like mint United Nations, it typically provokes the same reaction: everybody has it and they can't unload it. So why do I mention it and the comparison to U.N.? Because in the box was a binder of sheets that, even though I know absolutely nada about Israel issues, I recognized the sheet format... it's one of the few areas of value in U.N. that is fairly in demand... and I suspected that the same might be true for Israel. But I was flying blind with no catalogs. Sure, I could stop and ask one of the dealers for a peek at their catalogs, but I didn't want to possibly disrupt the deal. I asked him what he wanted for the binder of 40 sheets. He said $40 and we dickered back and forth and settled on $20. At that price, if I struck out, no biggie. It would have to wait until I got home before I could test my suspicons.
And my suspicions were correct. All 40 sheets are personalized sheets, typically selling (per
eBay
sold listings) for $5 to $50 per sheet depending on the issue. The sheet layout and style is very distinctive, so once you can recognize it, it's a pocket where you can do well in areas (Isreal, U.N.) that most dealers are looking to quickly and cheaply dump material without searching it.
I bought a couple stock pages of newspaper stamp facsimiles for $20. It's an area that has fairly active interest, and that price was too cheap to pass up.
I bought a used Cuban Ottmar Zieher postcard to add to my burgeoning collection after being exposed to them by Denny at a show earlier this year. I'd seen them in the past, but they never resonated previously... and now I'm obsessed with them. As I've been shopping for them online, I discovered a similar neat collectible: trade cards with philatelic themes.
From
https://en.wikipedia.org/wiki/Trade_card
Quote:
A trade card is a square or rectangular card that is small, but bigger than the modern visiting card, and is exchanged in social circles, that a business distributes to clients and potential customers, as a kind of business card. Trade cards first became popular at the end of the 17th century in Paris, Lyon and London. They functioned as advertising and also as maps, directing the public to the merchants' stores (no formal street address numbering system existed at the time).
The ones of interest were produced by various merchants/businesses in Germany and France from the 1880s through roughly 1910. There are tens of thousands of different trade cards, and are typically not incredibly expensive ($4-25 per card depending on the particular theme). They were issued in different series in a myriad of themes... including postage stamps!
I don't know whether there are any definitive catalogs for trade cards, but there are online references. I have a number of cards en route from Germany from the 3 series depicting world stamps from the company Leibig (meat extract) and will post those.
They are similar to Ottmar Zieher postcards in that each card typically depicts stamps from a specific country, along with country-related imagery in the background.
I mention these because Rusty Shoaf had a group lot of 18 of these cards from the company Brabanter-Hakelgarn. When I saw them I had to buy them. Vintage philatelic imagery is wonderful material IMO.
Here is one of the cards I got from Rusty: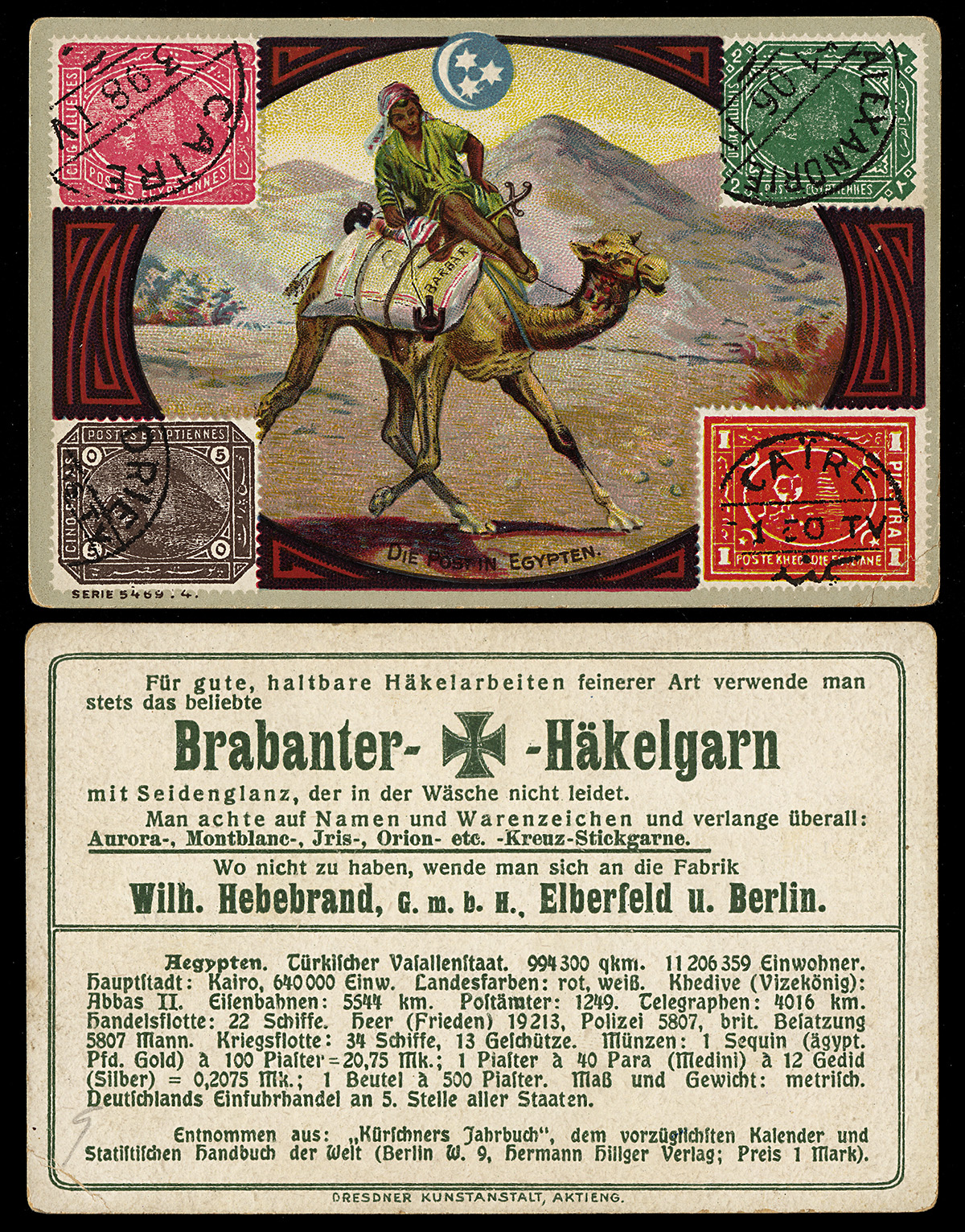 Also from Rusty I purchased a cover that is IMO gorgeous. It has a block of 4 of Germany Offices in Turkey, with lovely centering and color, mailed from Constantinople to Munich. How often do you see a block of 4 of these overprinted issues on cover?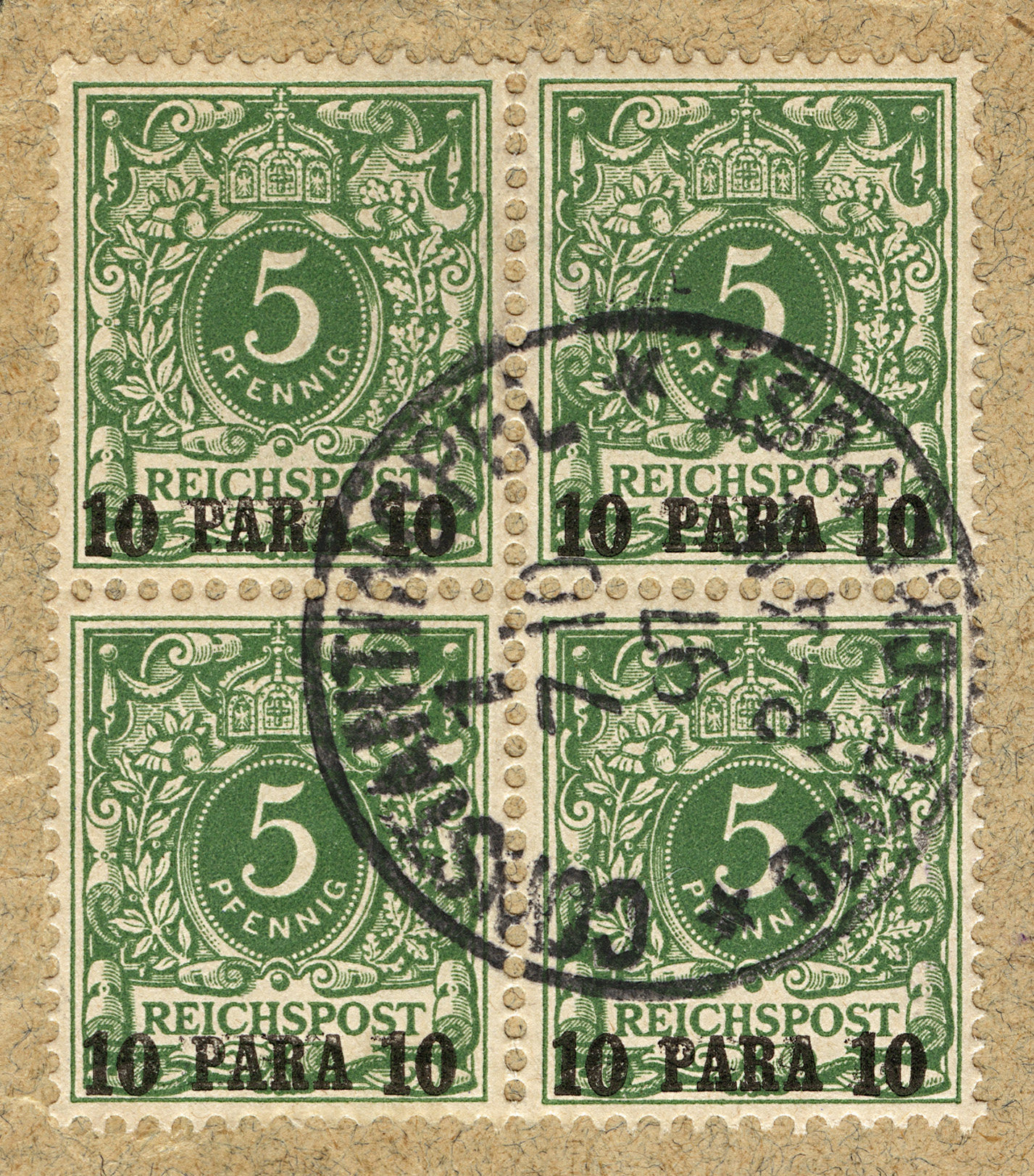 And lastly 2 U.S. revenue pieces that I cherrypicked from various dealers.
The first is one that while the cancel strikes are incomplete, are immediately recognizeable. It's 2 strikes of the Pacific Mail Steamship RISING STAR. If the strikes were complete, this would be a $150-200 item. Still, I'll take it for $3.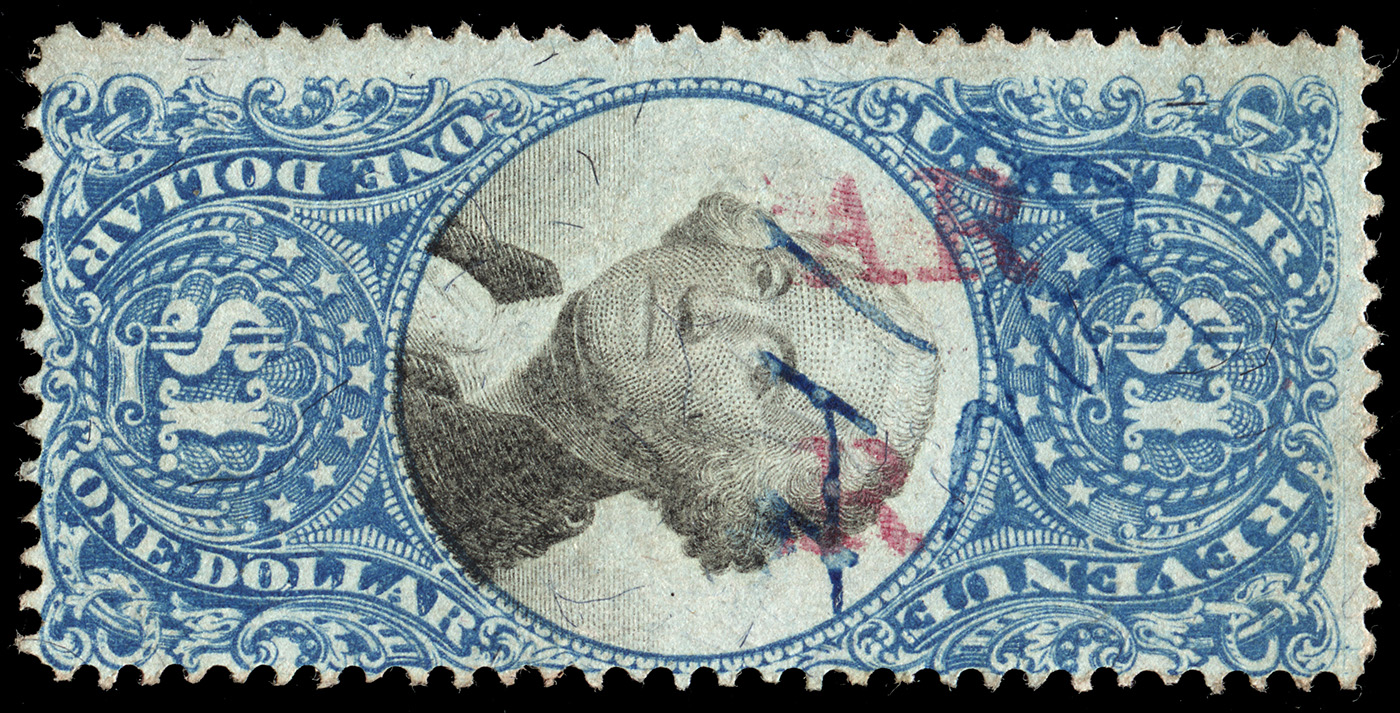 This one I was thrilled to find. A few weeks ago I posted an example of the second-most dramatic plate position of the doubled stars double transfer for R113, the 2nd issue 30c. And now I have an example of the most dramatic position, plate position 47.

So I was done by about 2:30PM, it was 65 and sunny, and I headed off to do some shopping in Merrillville and Highland, and then home by 6PM. A wonderful day. This show is now on my calendar to come see again, without question!
For anyone else in the midwest, I recommend checking out the show, which appears to be held 4-5 times per year:
https://calumetstampandcoin.com/shows/