Definitive commemoratives
On 30 June 1944, two stamps were issued to commemorate the tercentenary of the death of brother Mícheál Ó Cléirigh, co-author of the Annals of the Four Masters. The stamps, originally, were issued as commemoratives. After issuance, they became part of the definitives series, replacing the 1/2d and 1 s "Sword of Light" stamps. They remained in use until superseded by the Gerl definitives, in 1969.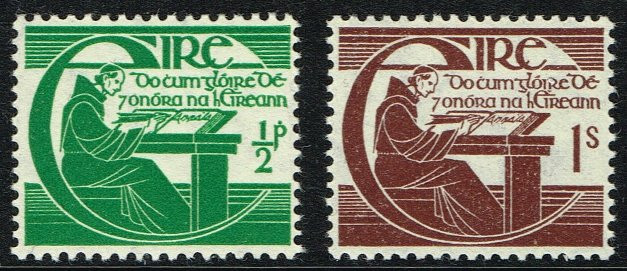 Mícheál Ó Cléirigh
The stamps depict Ó Cléirigh at his desk enclosed by the "e" of Eire in the style of illuminated miniatures. The manuscript which he is writing is titled "Annala." The caption in Irish Gaelic "Do chum glóire Dé agus onóra na hÉireann" means To the Glory of God and the Honor of Ireland.
Mícheál Ó Cléirigh was born and educated in Ireland. He studied Irish history and literature before he entered the Franciscan Irish College of Saint Anthony in Louvain (currently in Belgium). Together with fellow scholars, brother Mícheál Ó Cléirigh returned to Ireland to collect and transcribe Irish manuscripts. In 1632, they began to assemble a set of Irish annals. The Annals are a chronicle of Irish history from A.M. 2242 (Great Flood) to A.D. 1616 and contain records under successive years of the deaths of kings and other prominent persons, both ecclesiastical and lay, along with accounts of battles, plagues, etc. They end with the death of Hugh O'Neill, earl of Tyrone, in 1616.
The work took four years to compile and was known as Annála Ríoghachta Éireann (Annals of the Kingdom of Ireland), or Annals of the Four Masters. The four masters refer to four of the scholars, including brother Mícheál Ó Cléirigh. Among his further works is a glossary that was printed during his lifetime, in 1643. Mícheál Ó Cléirigh returned to Louvain, where he died around 1643.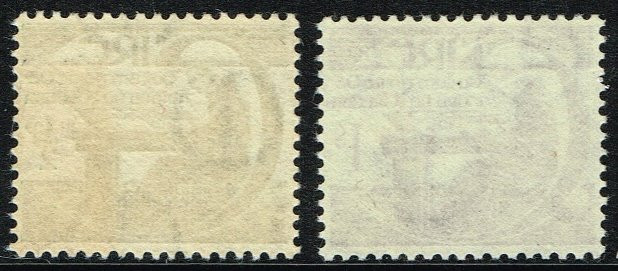 The stamps have the watermark sideways: seen from the front, the "e" reads from top to bottom with the top pointing to the right. In 1946, booklets were issued with panes of six of the 1/2d stamps from this issue. These had the watermark both sideways and sideways inverted (the "e" reads from bottom to top with the top pointing to the left) in the normal course of printing).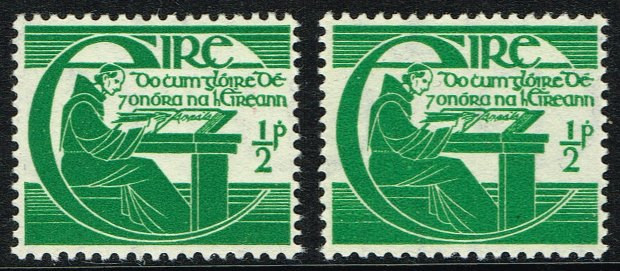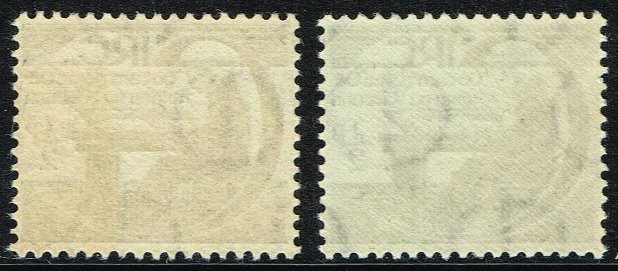 I am not 100 percent sure the left stamp has the sideways watermark
Both stamps exist with sideways inverted watermark from counter sheets. The 1 s stamp with sideways inverted watermark, only, originates from counter sheets.