Rod,
Here you go.
First one is listed in my old catalog as CGL, but it's probably more accurate to call it LG&C. I should have the new catalog in a day or so. We'll see if it is still listed that way.
CGL
— Louis Gottschalk & Co., furrier items; Köln (Cologne), 1905-1923

Postmark is probably
CÖLN * (RHEIN) 5 b
.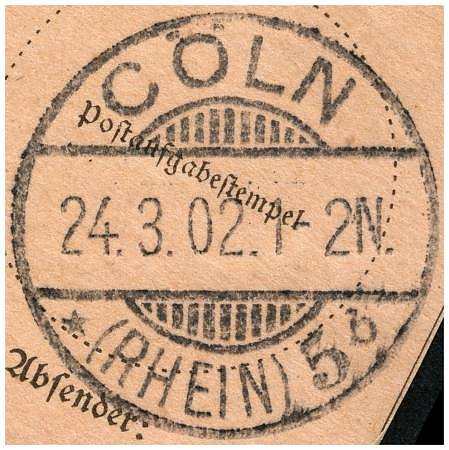 S&W.
— Schuber & Werth, makers of door closers (see
here
); Berlin, 1897-1915

Postmark appears to be
BERLIN, C. * 25 c
.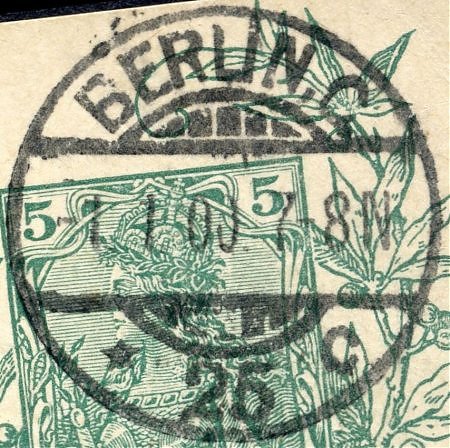 LLP
— unknown company; Breslau, 1921-1925, or Posen, 1912-1922

Breslau and Posen were close to each other, so it was likely the same company in both locations.
As to the cancel... I think you might have a rare one, because it isn't in my usual references. The type is what the Germans call a "Kreis und Segment oben" (circle with segment at the top). I have a catalog just for this type of cancel, and yours isn't listed in that catalog or in the StampsX database.
The lower text is "(KR. SCHRODA)". Kreis Schroda was a county in the southern administrative district of Posen, near both the city of Posen and the city of Breslau. I have a reference listing all post offices in Germany up to 1920, and I did find a listing for a PO at Briesen (Kreis Schroda). I think that's where your cancel is from. The "BR" is clear, and I think I can make out portions of "SEN". Though the perfin was for a company in Breslau and/or Posen, neither city was in Kreis Schroda, so it can't be from either city.
Here's a similar cancel from another town in Kreis Schroda. I also pulled a cancel of the same type from a different city named Briesen (in Spreewald, not Kr. Schroda), and when I superimposed it over the Kr. Schroda one, "BRIESEN" appeared to fit length-wise.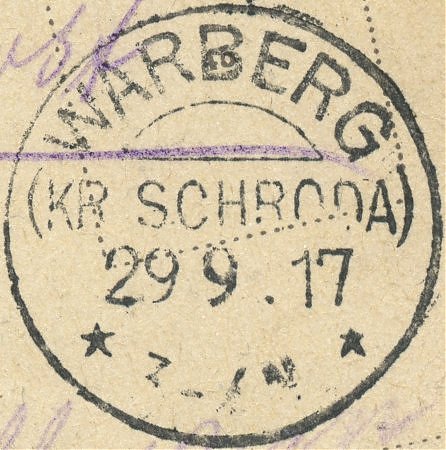 H.&S.
— Henschel & Sohn; Kassel, 1898-1917

Postmark is of this general type, but I can't get more specific as to the PO number and canceller letter since they're missing/indecipherable.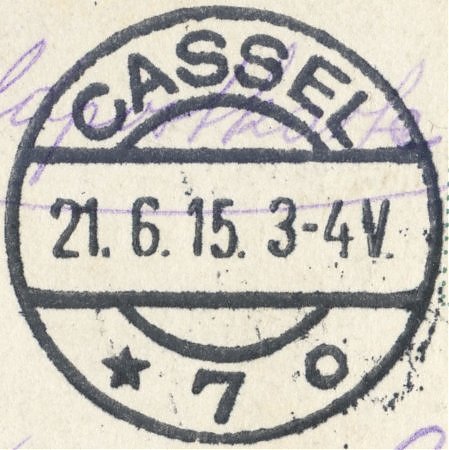 H
— Aron Hirsch & Sohn, copper and brass factories; Halberstadt, 1910-1923 (there were a lot with 16 pin holes, but only 1 in Halberstadt)

Postmark is a
HALBERSTADT * 1
, but I can't be sure about the canceller letter. Based on the placement of the star and the number of bars in the upper and lower semi-circles, I think it's probably
HALBERSTADT * 1 e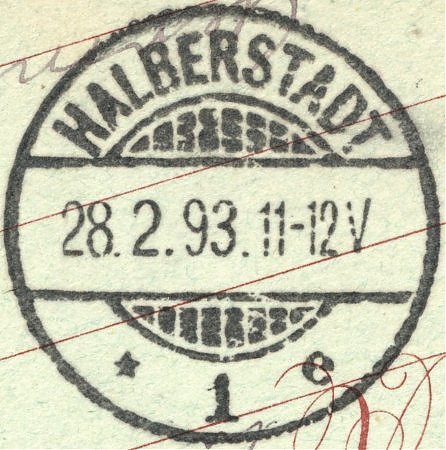 B&Co.
— Bremshey & Co.; Solingen, 1903-1923

Postmark appears to be
OHLIGS * * a
, though it could be
OHLIGS * * *
or
OHLIGS * * b
, depending on whether that's an "a", "b", or star at lower right. Ohligs is about 6-7 km west of Solingen.