This past weekend was the Indiana Stamp Club Spring Fair, over on the east side of Indianapolis. It's an easy drive for me, roughly 2 hours door to door. The weather was slated to be lovely, sunny with highs in the mid-to-upper 80s, so perfect weather for a day trip. Unfortunately I had forgotten that it wasn't just the advent of Summer, but also the other major season here in the Midwest... construction season. There was a 20-mile stretch on I-74 that was single-lane posted 45mph, and it was exactly that both coming and going. Ugh.
Traffic foibles notwithstanding, it was an uneventful drive, and I arrived about 45 minutes prior to the show opening. I always plan to arrive early just in case there are unforseen issues en route, and I usually can spend time while waiting in the lobby going through Denny Peoples' "pick-N-pay" revenue box. It saves me time once I get into the room.
Over the course of the 45 minutes, the crowd waiting grew to 25-30 people, pretty impressive for a club show. A couple that drove in from Ohio took Denny's box once I was done and went through it, and Denny brought out another box to go through... so there was all sorts of philatelic conversation to be had.
As is typically the case at smaller shows, the vast majority of my time (and money) is Spent at Denny's table. I bought a couple of items from L&J Stamps, but everything else I acquired was from Denny. I stopped by and said hello to Michael Mules @ Fox River Stamps, Shaun @ Goldpath, Inc., Brad Houser @ Village Stamp & Coin, Mark @ Sterling Stamps, Jim Bardo, and of course Denny's cohort in crime, Rusty Shoaf. I missed seeing Eric Scott @ The Stamp Shop; apparently his wife is not doing well so he wasn't there in the morning.
All told, I was at the show about 3 hours, then packed up and headed out to do a loop around Indianapolis feeding one of my other collecting vices, hitting 10 used movie (DVD/Blu-Ray) stores before heading home in the evening. A long day, but well worth it!
I bought two banker's box junk cartons of U.S. & world stamps and covers from Denny, so those will be relegated to future winter evenings. Here are the individual items I picked up.
First, a few non-revenue items that piqued my curiosity, either for aesthetics or I felt had resale potential:
An attractive cigar manufacturer advertising cover.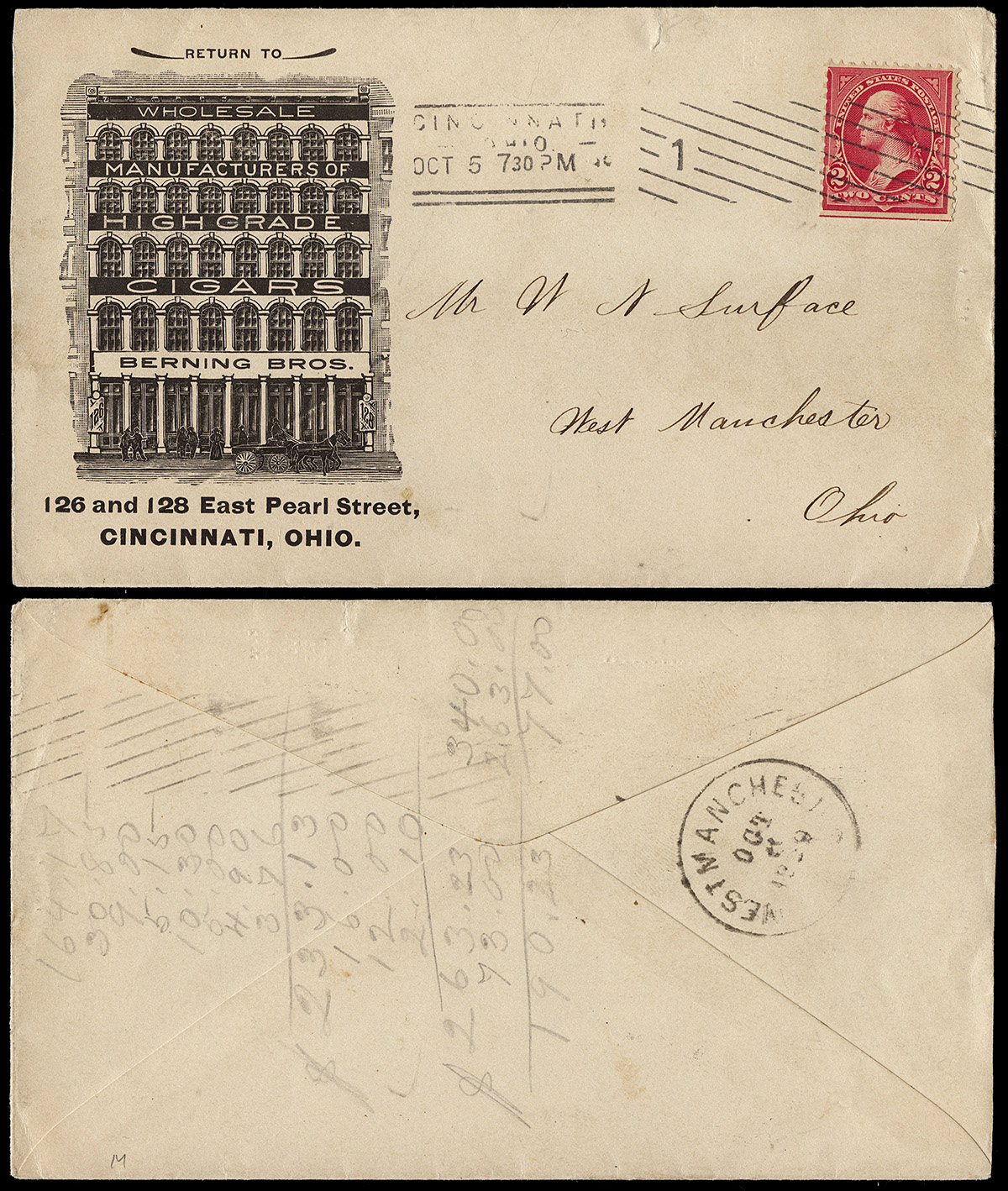 A small special delivery cover with a host of back markings.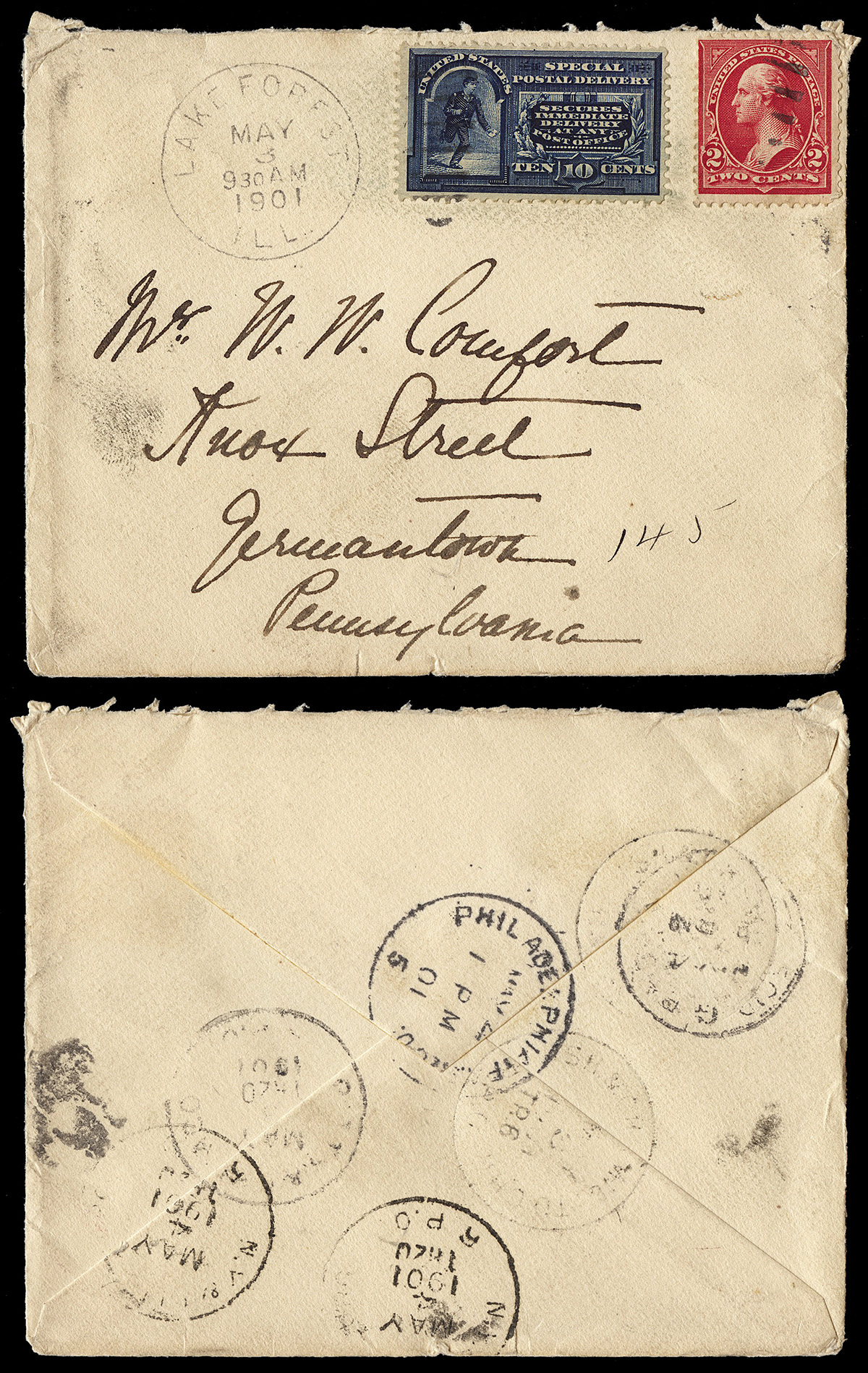 A very interesting 1872 Masonic death notice requesting "shares" due from the recipient in order to pay death benefits.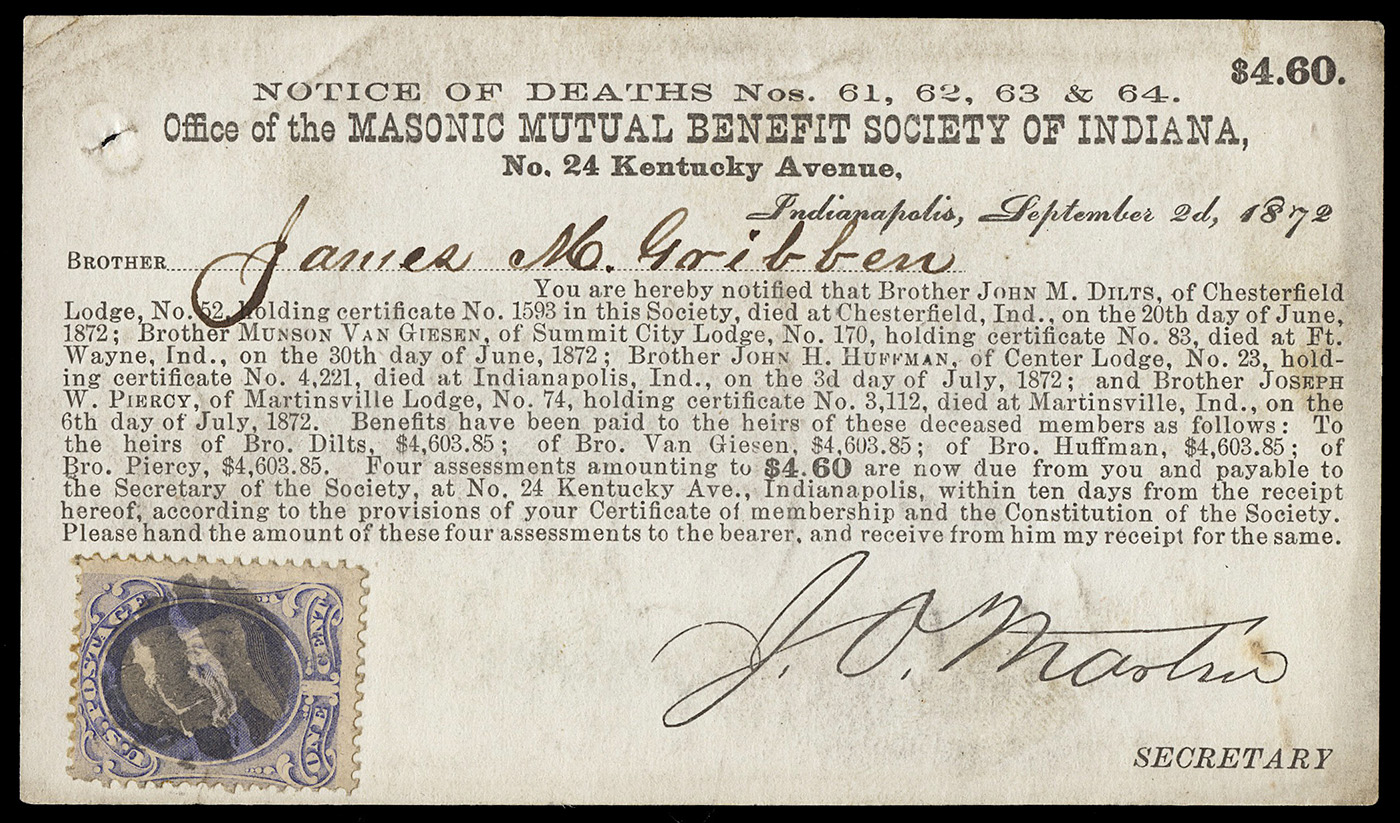 An Ottmar Zeiher philatelic design postcard for the country of Ceylon. Unfortunately not used in-country, but from Austria to Italy.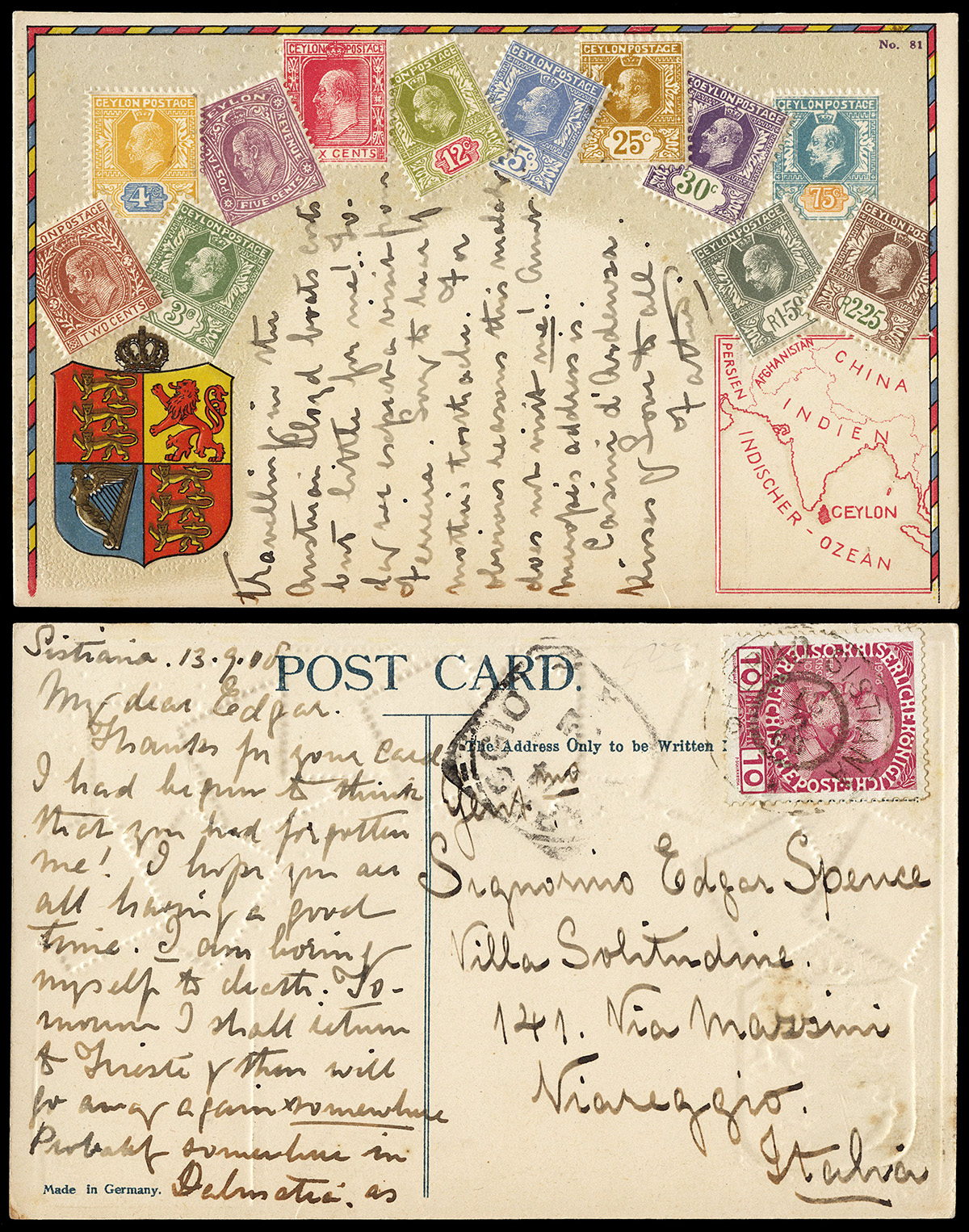 An addition to my government checks collection, an 1876 "COUNTY WARRANT" check from the Board of Supervisors of Adams County, Mississippi with an embossed CHANCERY COURT seal at left.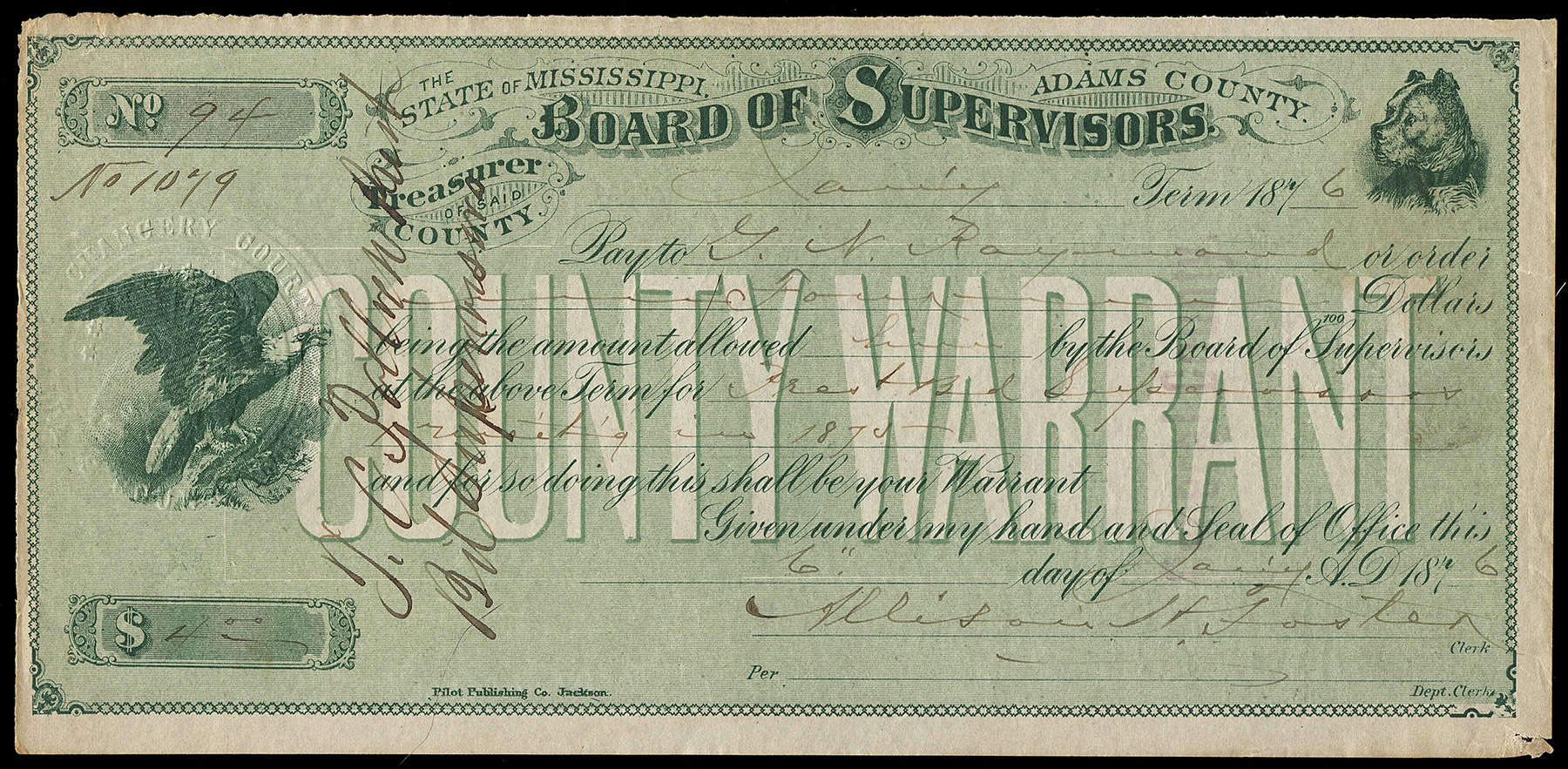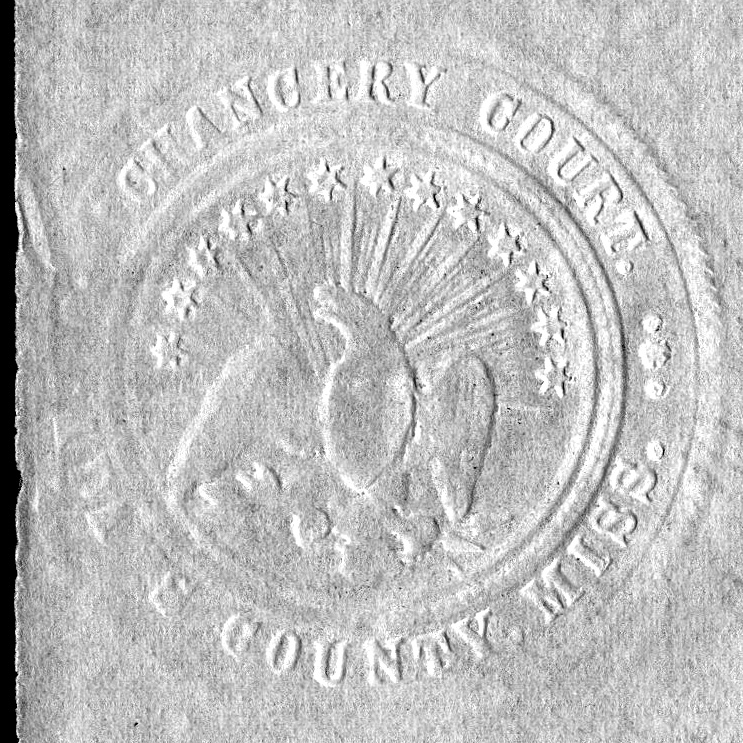 Ok... on to the U.S. revenue items. First a few stamps:
A nice 1863 multiline county treasurer handstamp; the stamp itself has large margins and is well centered.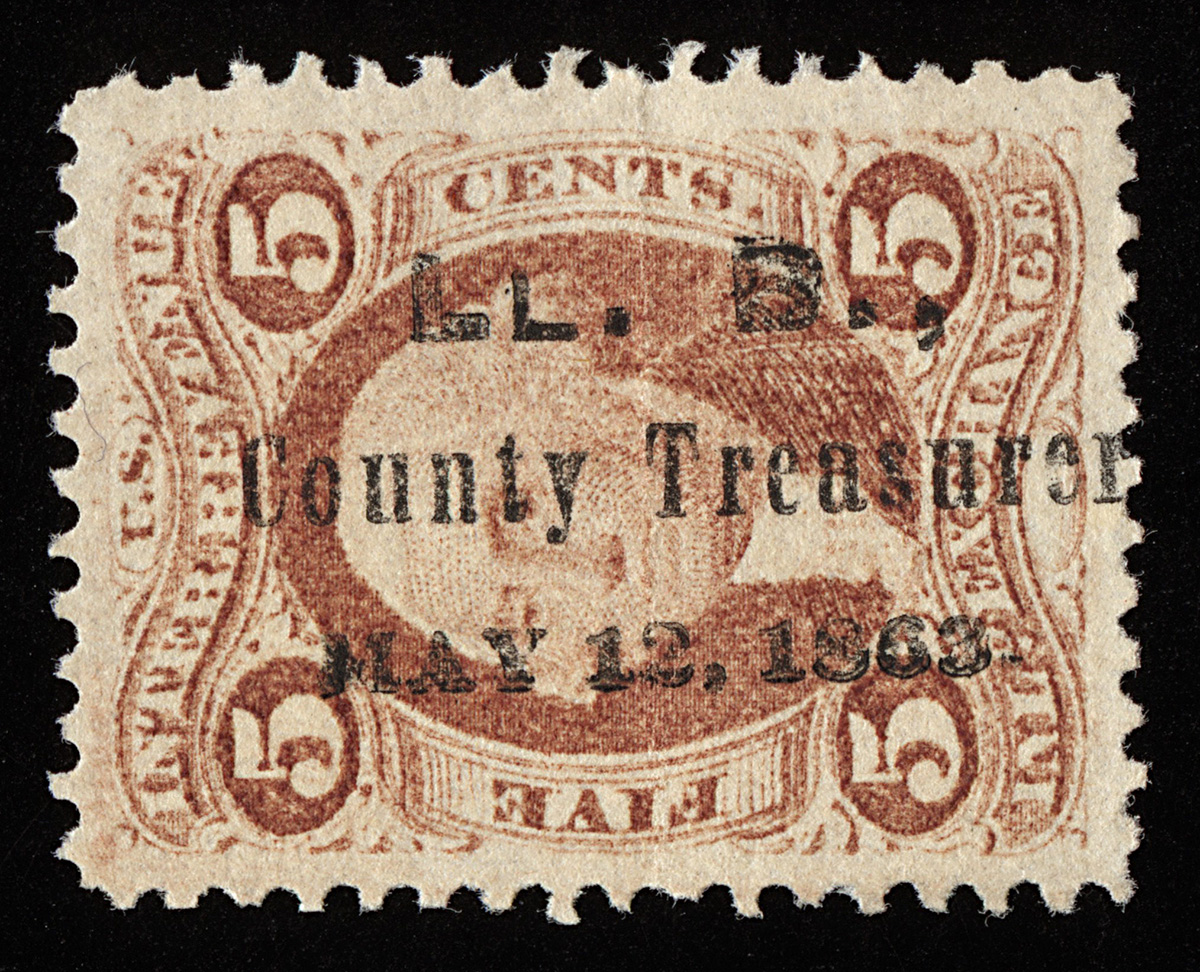 An interesting New Orleans tobacco merchant handstamp cancel.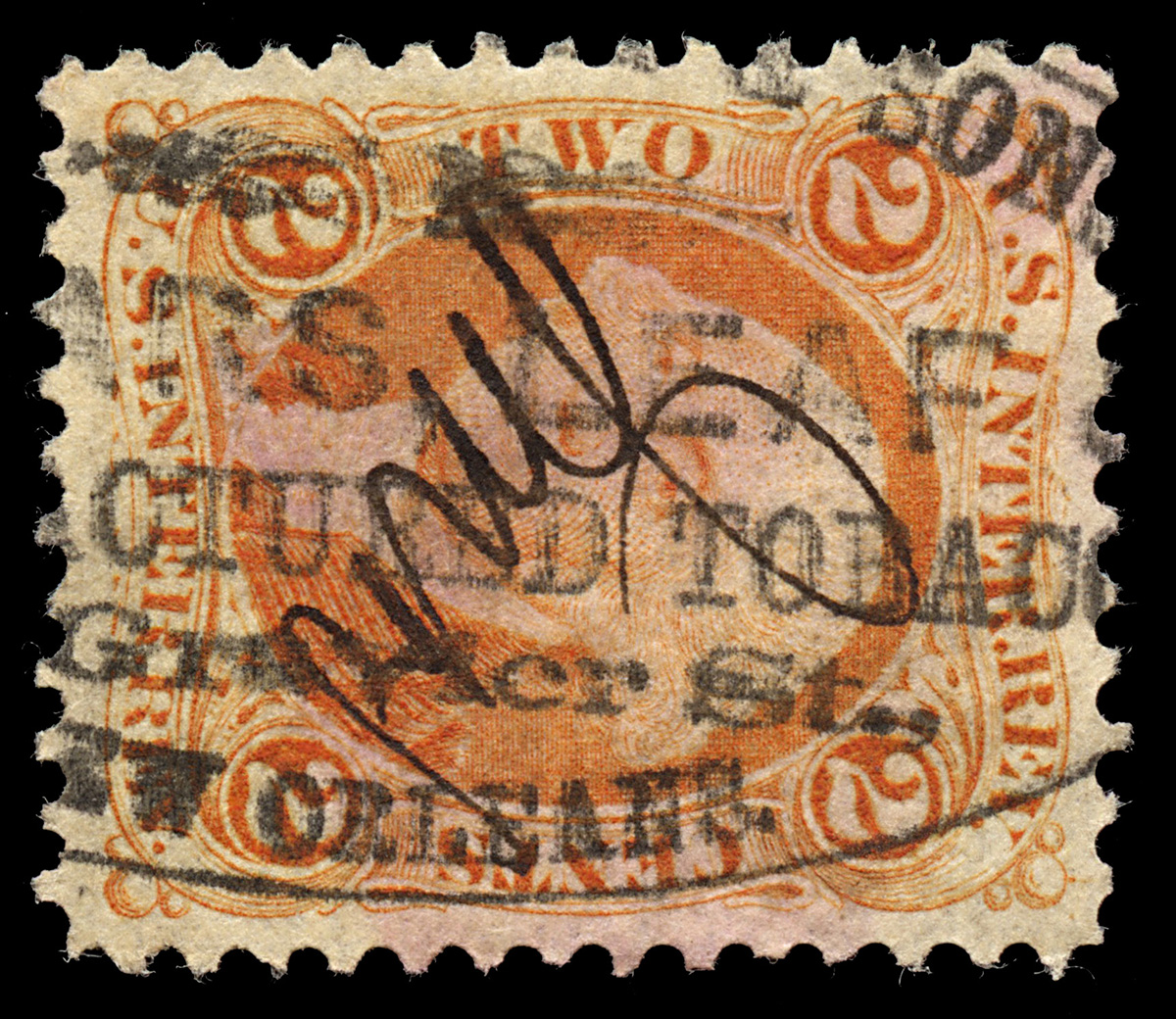 Sadly clipped on one side, an example of a very scarce cancel: L.J. Stinson, one of the two Marysville, California photographer stencils. If it weren't clipped it would be a $250-300 item.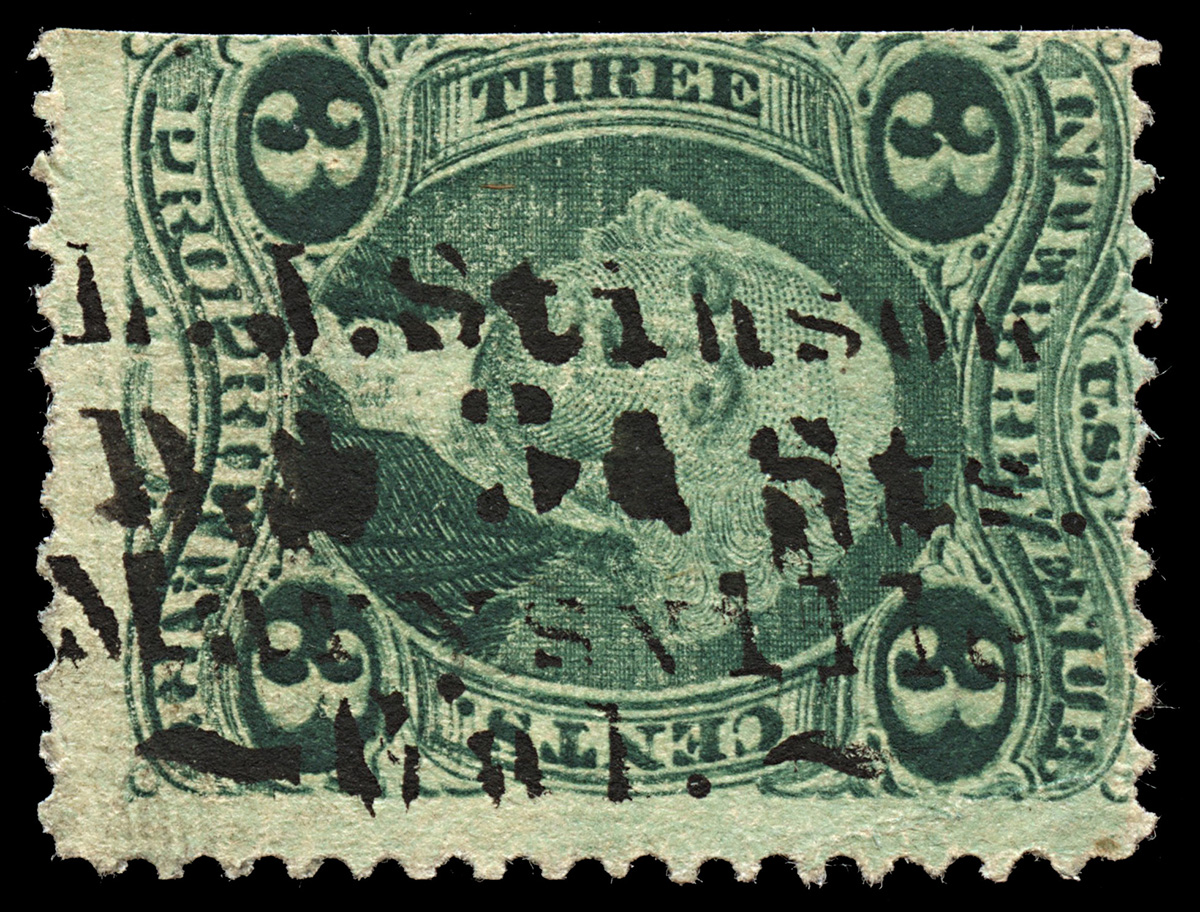 The double transfers in the stars of the 30-cent denomination of the 2nd and 3rd issue are a relatively recent discovery with respect to plate positions and have only just been added to the Scott Specialized catalogue within the last several years, thanks to the tireless work of both Karl Lackemacher and the late Dick Celler.
Of the four plate positions, three have been identified. This is an example of the fourth plate position. I have been able to locate numerous examples of the four plate positions on the second issue (R113). The equivalent third issue stamp (R140) has proven far more elusive... not so much due to a difference in scarcity, in my opinion, but rather the orange ink of the stamp is frequently so poorly printed. The vast majority of stamps end up with blotchy, blurry impressions so poor that you cannot make out the details sufficiently enough for double transfers to be apparent. This example, believe it or not, is far crisper in detail than most stamps I encounter.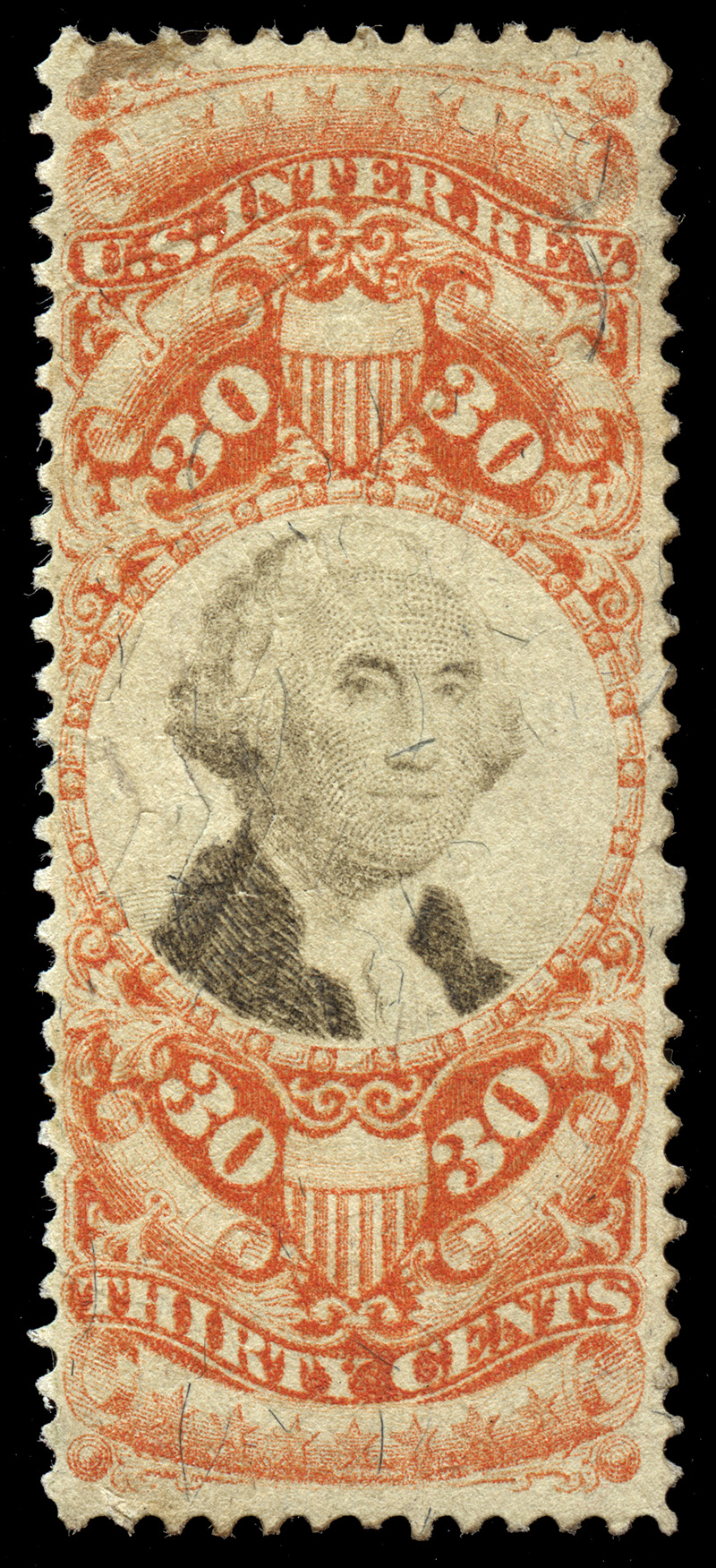 On to the documents...
I didn't know there was a Knoxville, IL (as opposed to Knoxville, TN).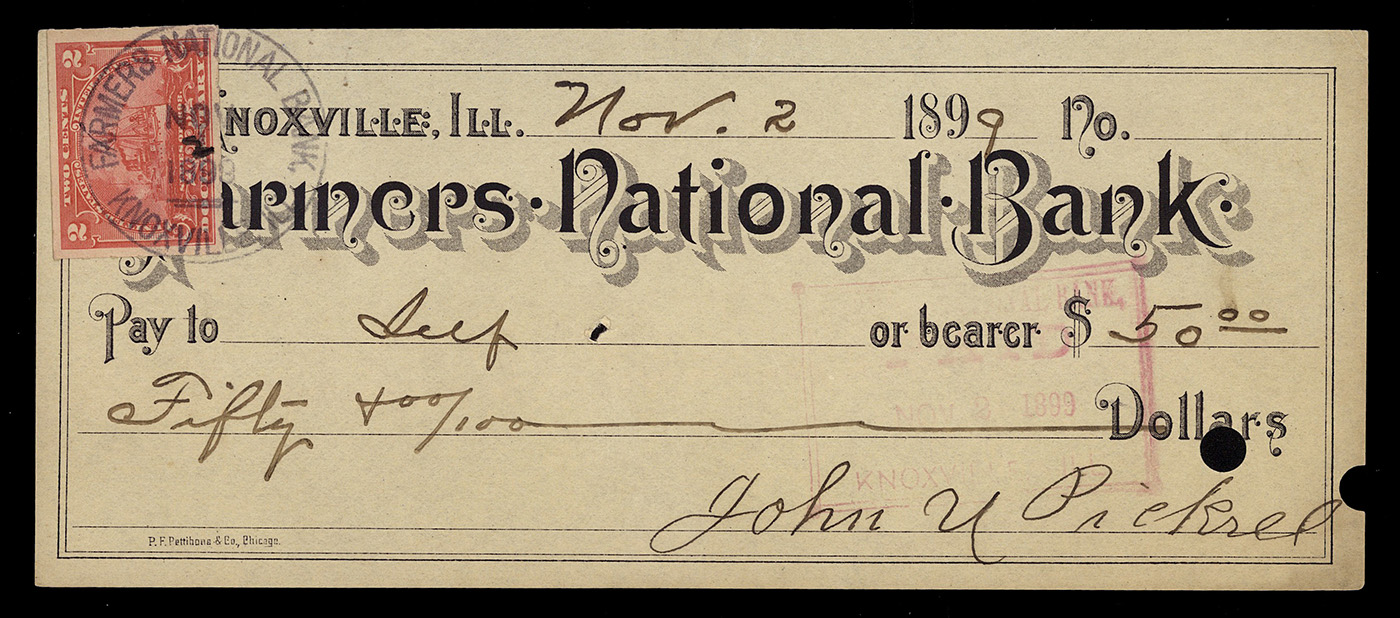 Speaking of Knoxville, TN...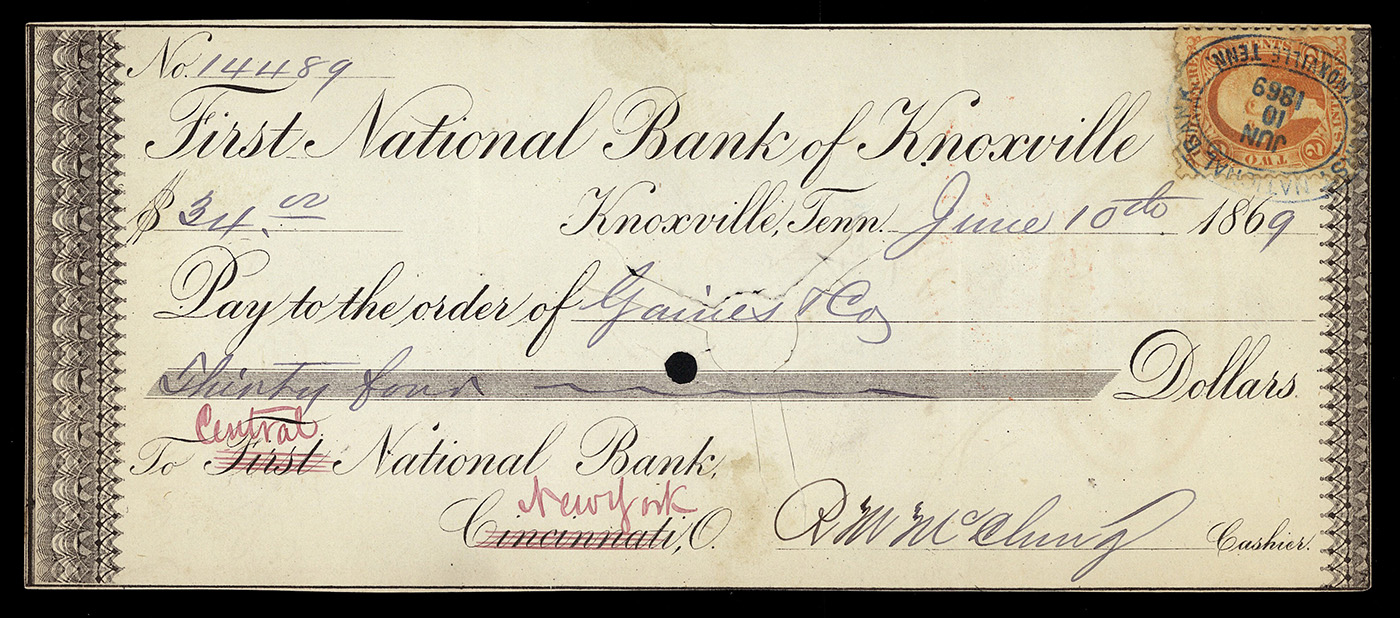 Very interesting sight draft with the admonition:
Quote:
Notice to Bank. The Bank to which this draft is sent is earnestly requested to personally present for collection, for which service a fee is enclosed, and if not paid at maturity NOT TO PROTEST, but kindly place it and the accompanying papers in the inclosed [sic] envelope, stamped and addressed to
________________________________________________ (Resident attorney for THE CREDIT ASSOCIATION.)
No. ____________ Street. Town ________________ who is or are hereby directed to take immediate steps to collect or secure this claim. Follow closely the accompanying instructions and PUSH VIGOROUSLY.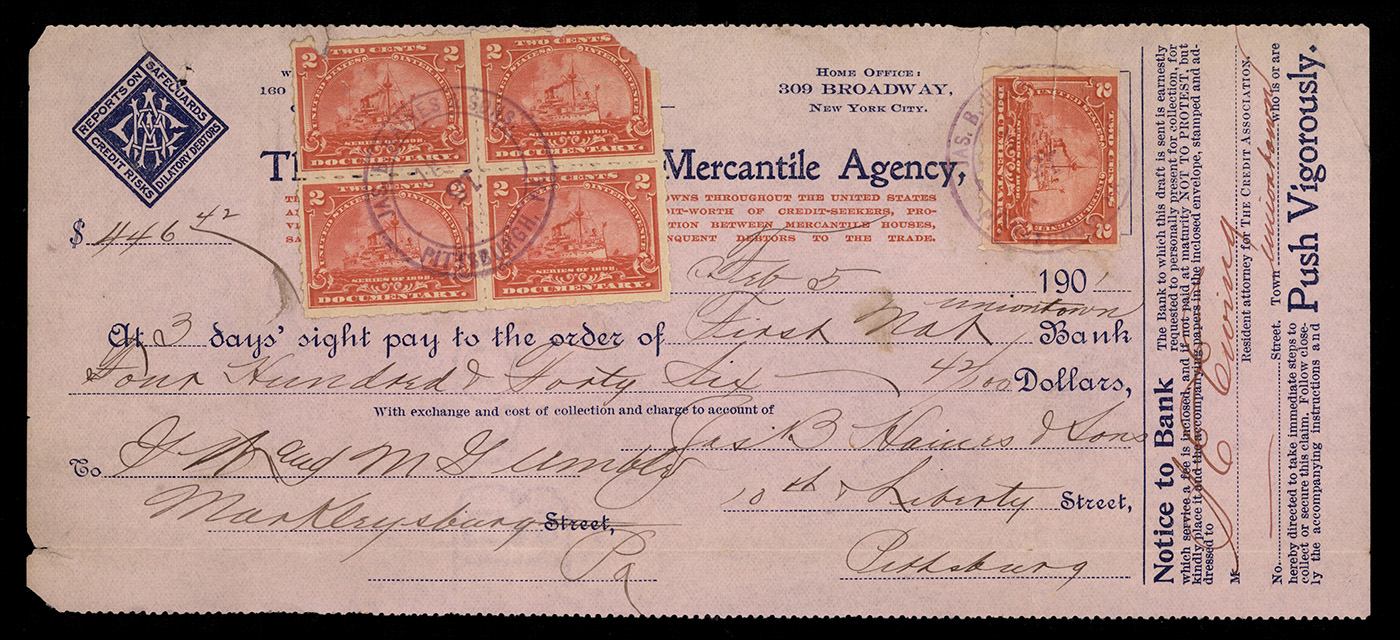 A lovely Maroa, IL large-format bank handstamp cancel.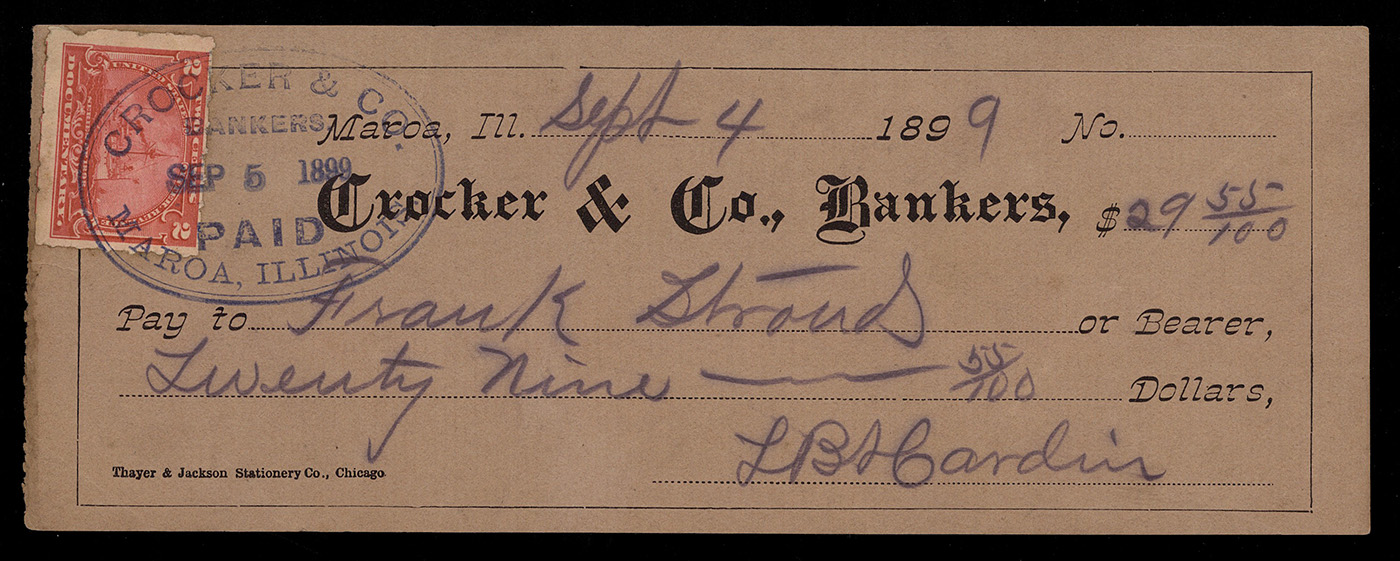 A very attractive wine company sight draft with one of the provisional overprint revenues affixed.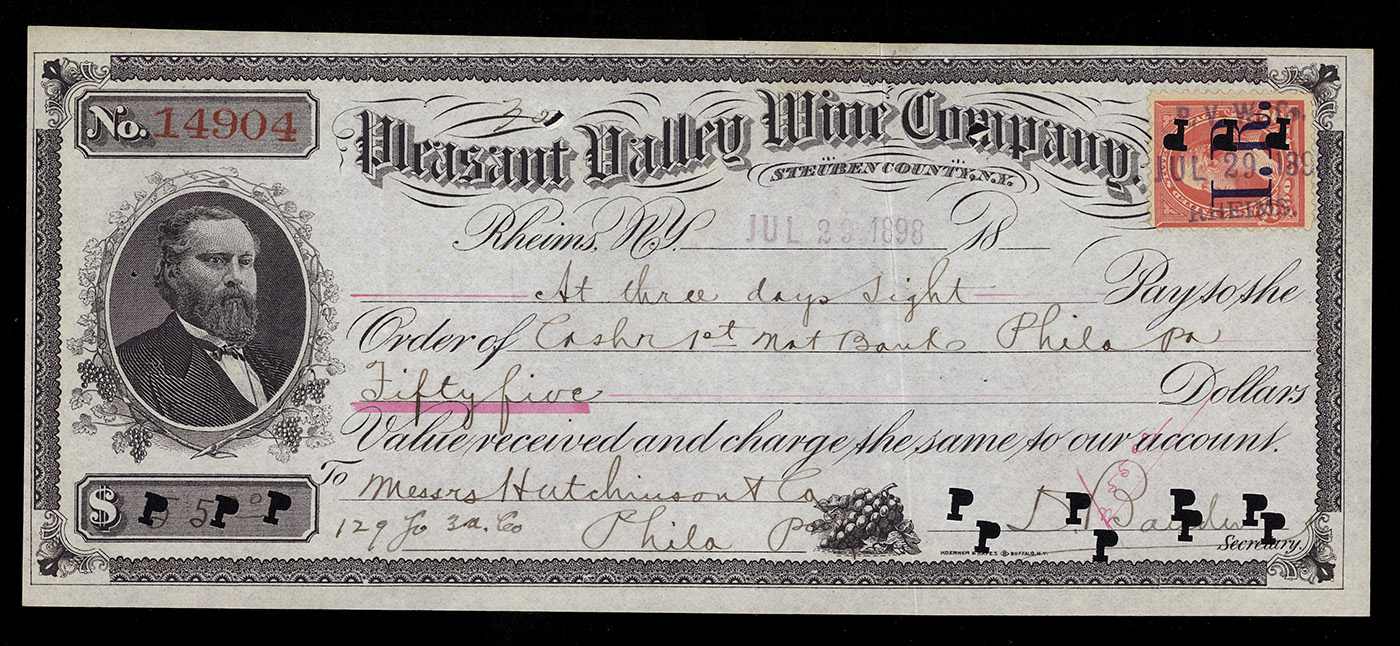 1865 Indiana indenture with four singles (sadly not a block of 4!) of the 10-cent Foreign Exchange, a stamp not typically found on document in any quantity.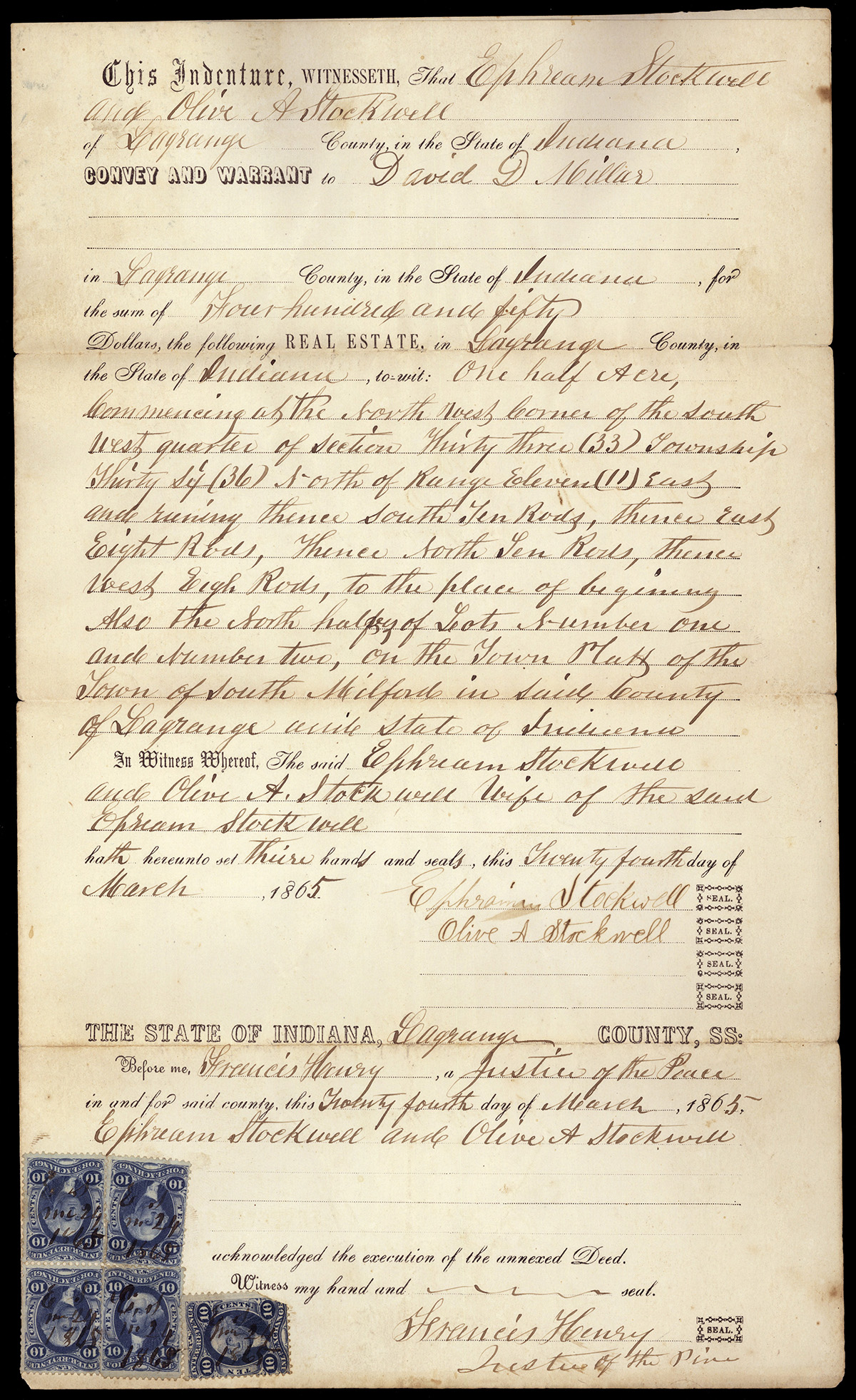 Four 1876-77 checks with 2-cent proprietary revenues used illegally/improperly as documentaries. Two each of RB11a and RB11b.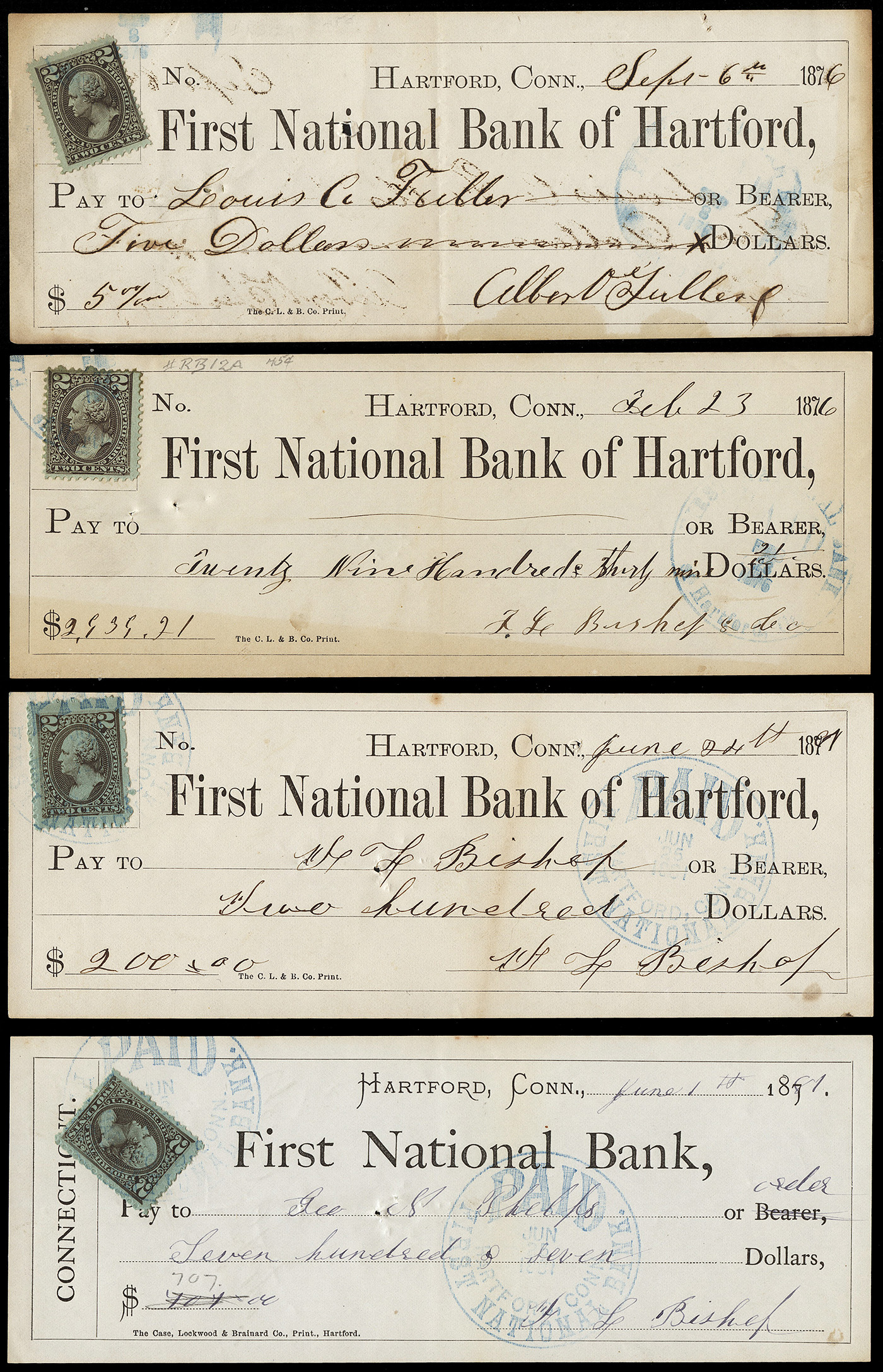 A large-format 1865 city tax receipt from St. Louis encompassing the payment of several different types of taxes. Not a document type I've seen before.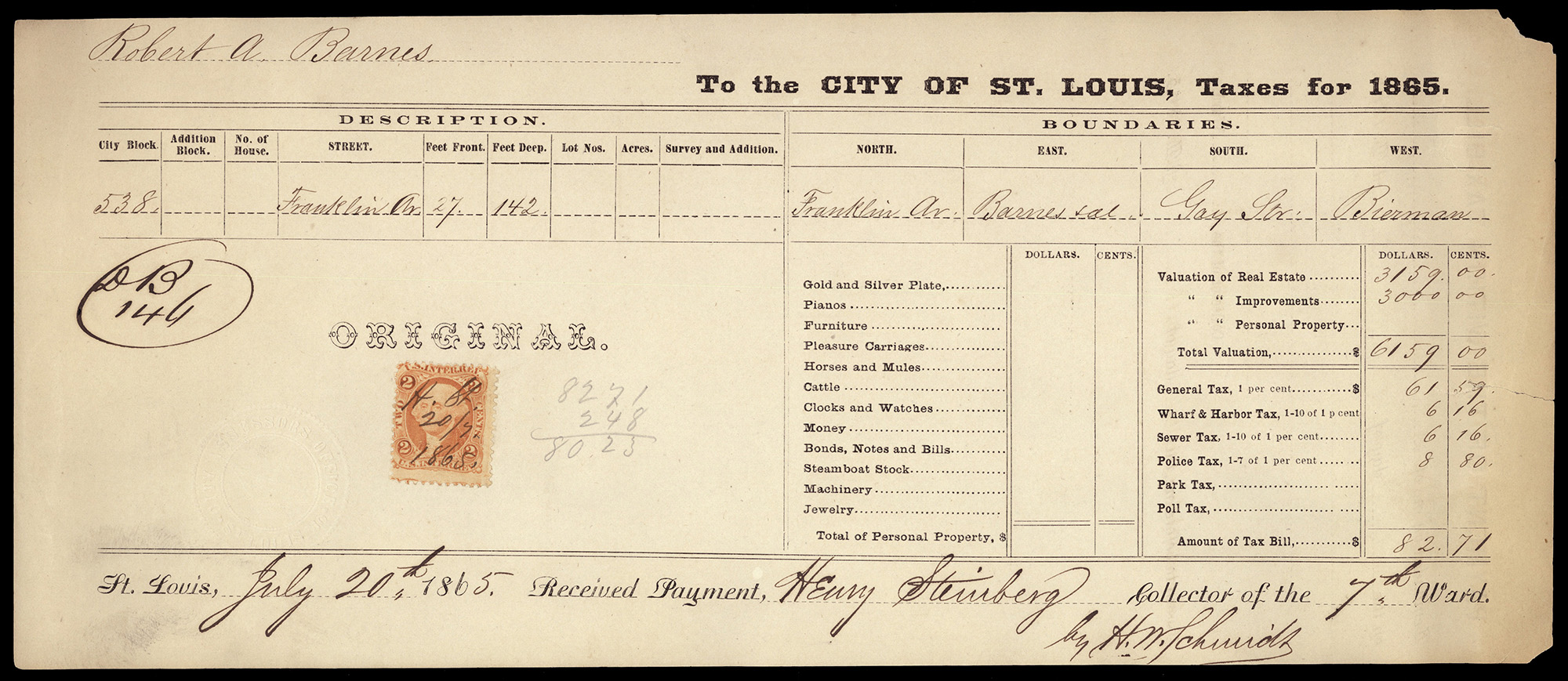 1868 rent notice for a lot of land in the interestingly named "Sailors' Snug Harbor".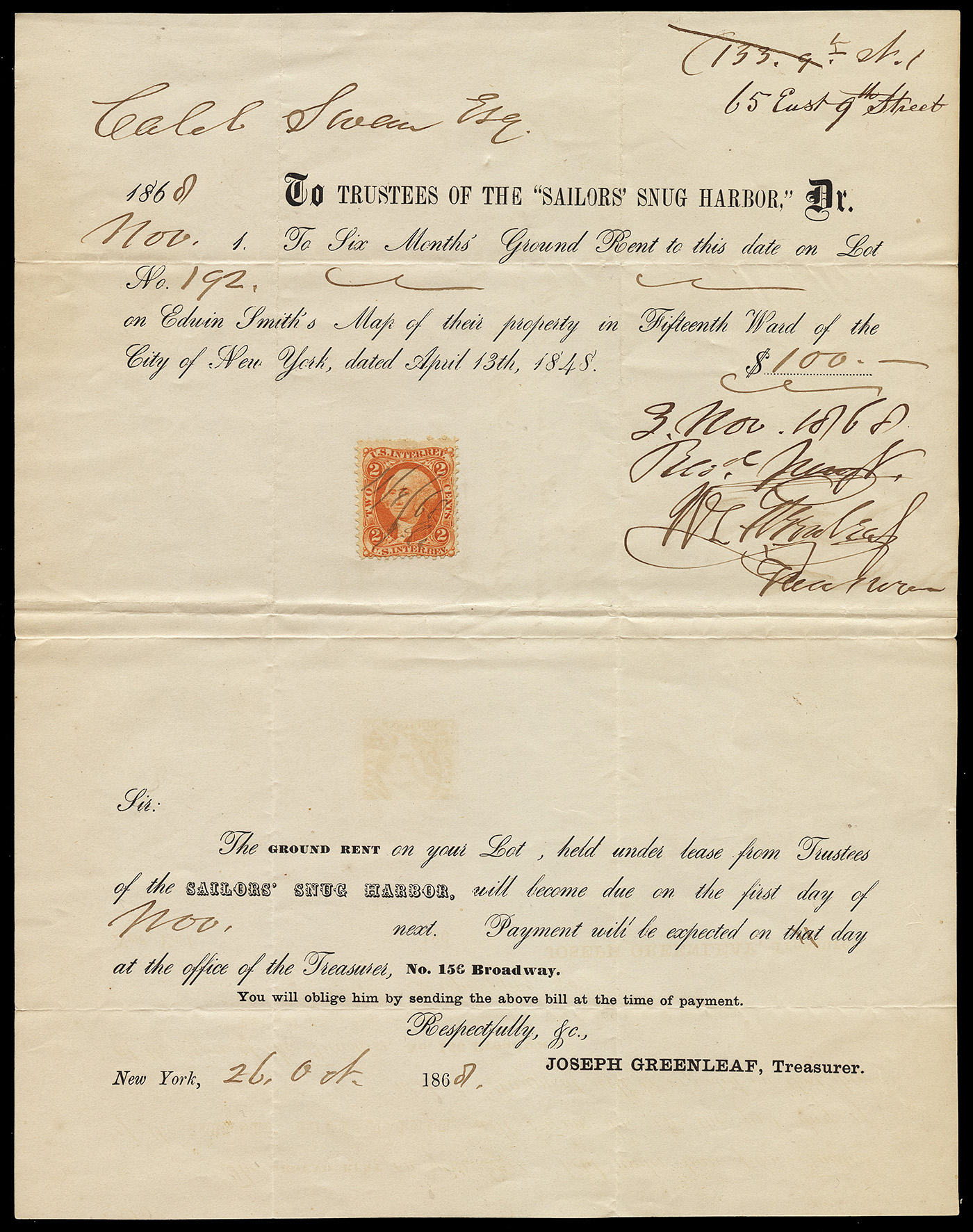 Unfortunately not from the earlier express tax period, but rather a receipt from Harnden Express, Western Division.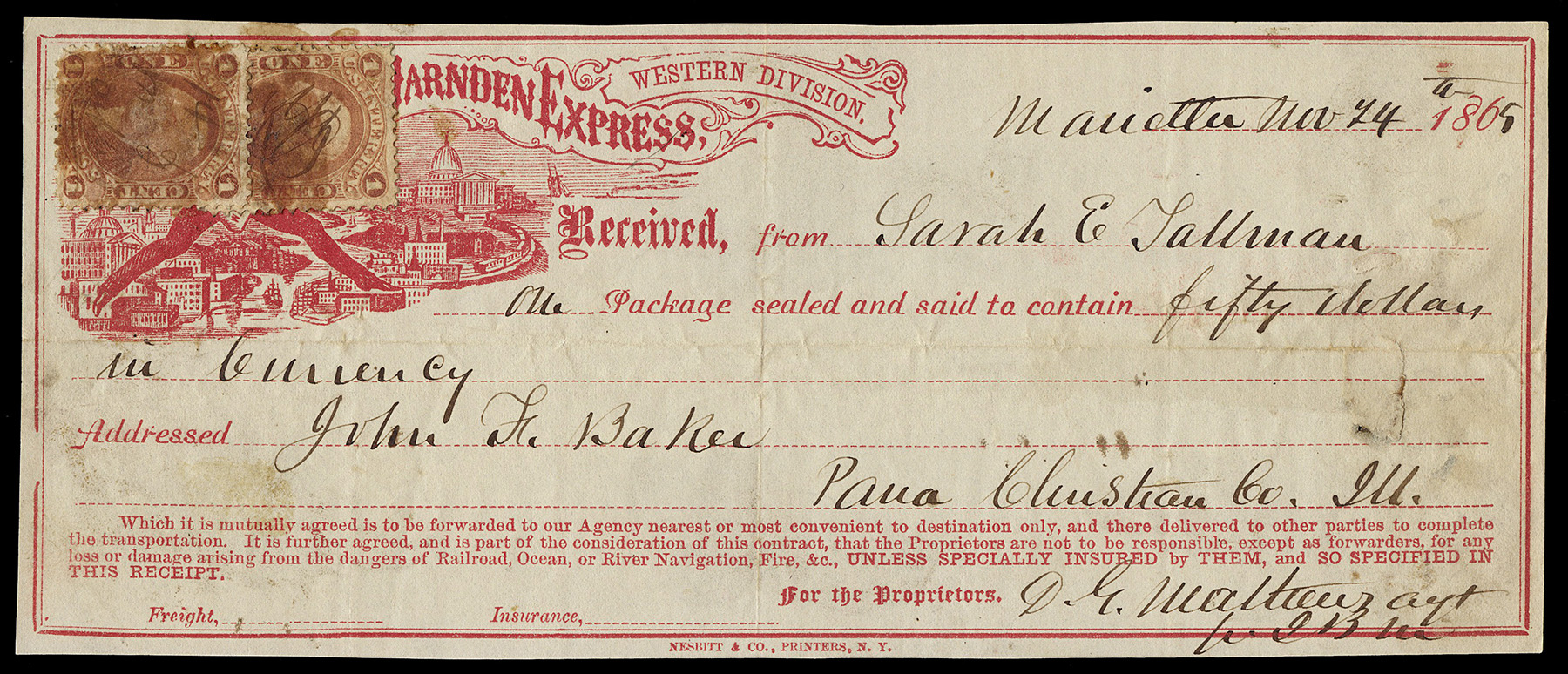 And lastly, the three pieces I was especially happy to acquire:
A 1-cent Proprietary (Scott #R3c) with printed/typeset precancel on an unfolded box top from S.R. van Duzer. This piece showcases perfctly what we collectors frequently lament as lack of care with respect to the stamps themselves, when in fact the workers of the period cared not one whit... nor were they required to. The sheets of stamps were cut up once removed from the printing press, and it didn't matter how close the cuts aligned with the perforations. The only thing that realistically mattered was affixing the canceled stamp to the product to prove the payment of tax.
Regardless, a very scarce piece.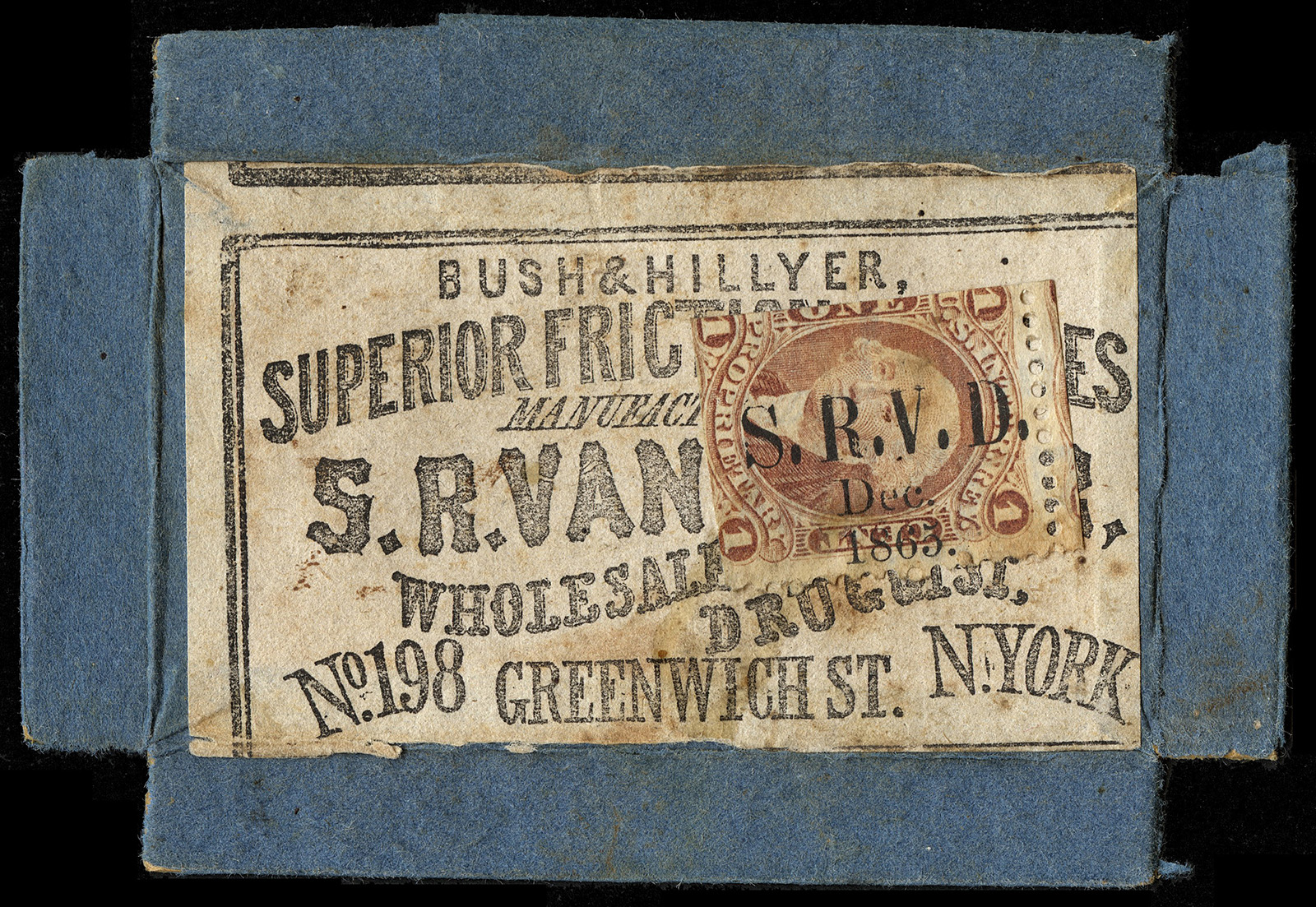 A document that when I initially looked at it, the full significance didn't dawn on me right away. It's a May 1863 protest document with the original instrument (a January 1863 promissory note) attached. It's odd in that the 25-cent revenue paying the tax on the protest is affixed not to the protest document itself, but to the original document, overlaying the 15-cent revenue paying the original tax.
What is notable though, is that BOTH stamps are EMUs (early matching usage): R40a 15-cent Inland Exchange imperf paying the tax on the original promissory note, and R49a 25-cent Protest imperf paying the tax on the protest.
A very nice dual-EMU!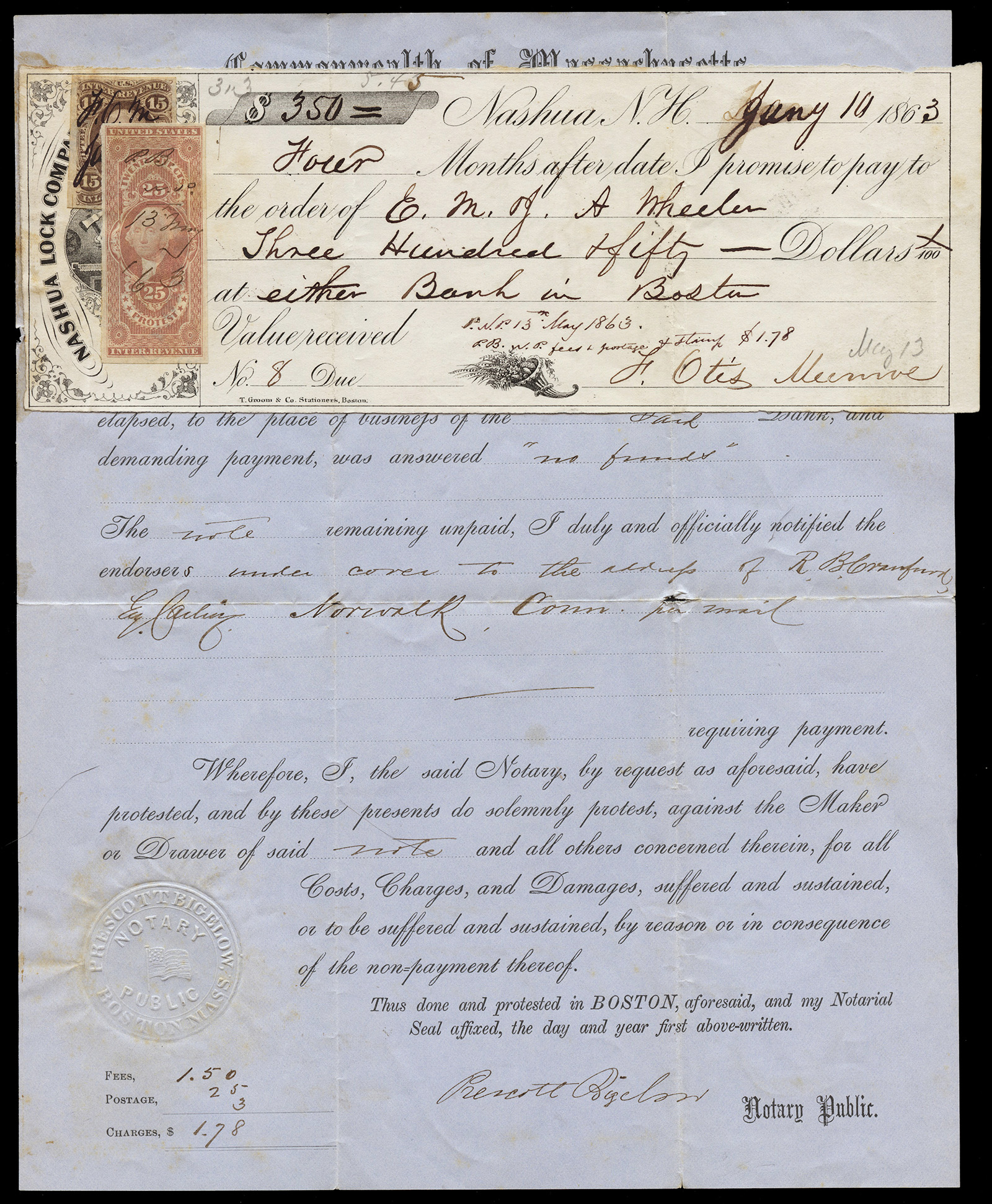 Finally, a lovely illegal use cover: a strip of three 1-cent Express (R1c) used illegally as postage, caught and a 6-cent penalty (double the postage amount) assessed. All 3 stamps are tied by a bold December 29, 1863 Washington, DC postal cancel. A lovely example of a wartime illegal/improper usage.