I regularly search for lots of revenue documents and ephemera, especially with smaller auction houses that may not garner significant traffic, thus presumably lower competition. Just due to the nature of these lots, there's typically only a few images (if any), so you're buying blind to a certain extent. Definitely a gamble, and definitely not suitable for everyone's tolerances.
If the cost-per-document ends up being under $1 and/or there are clues that there might be something worthwhile, I'll take a stab for a nominal amount.
Obviously they don't always pay off, and of course you'll never see me posting about the strikeouts, so no assumptions should be made about success rate. That said, I enjoy going through bulk lots, so there's entertainment value to be had, if nothing else.
I'm typically looking for interesting cancels, vignettes, company types and names on the documents, and plate varieties on the stamps.
This particular lot was described as follows:
Quote:
US Revenue Stamps on 1860s-1870s checks, large stack with duplication, hundreds of cancelled checks.
Original images: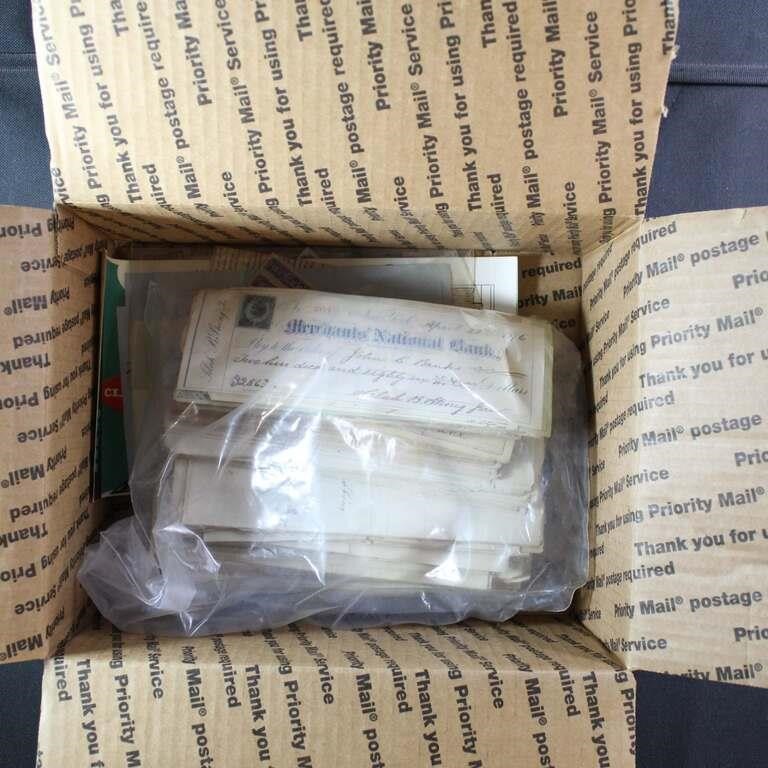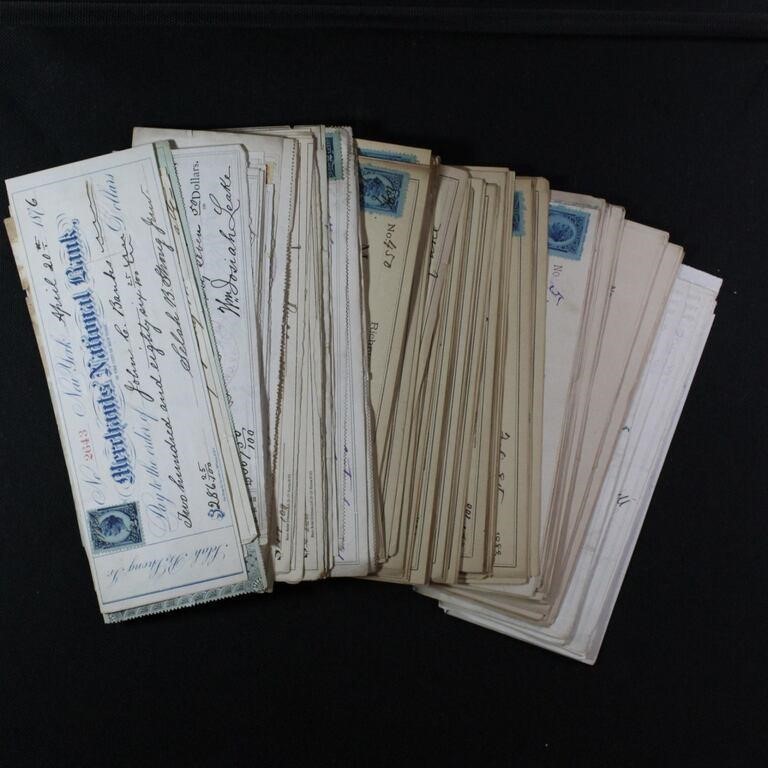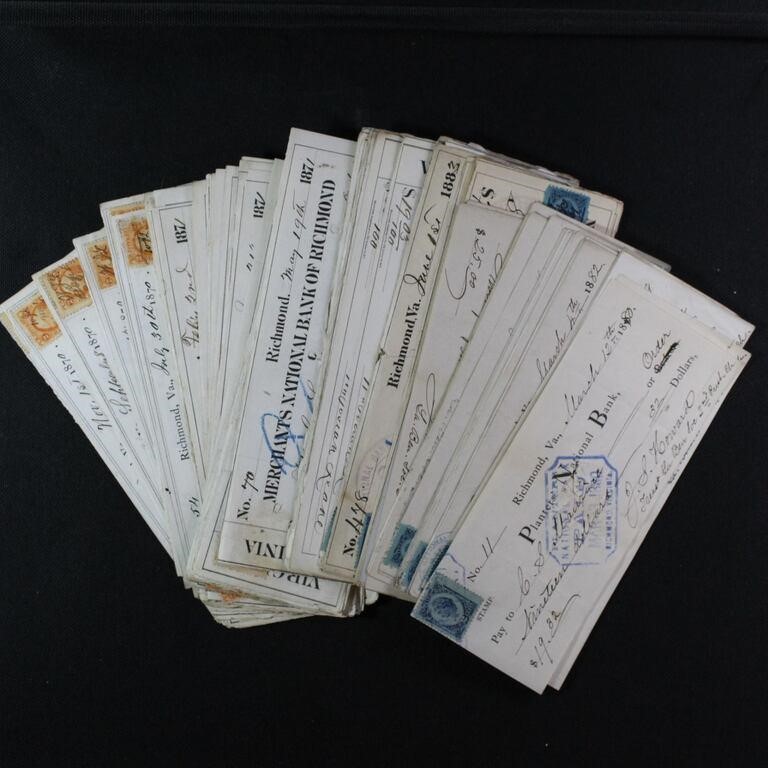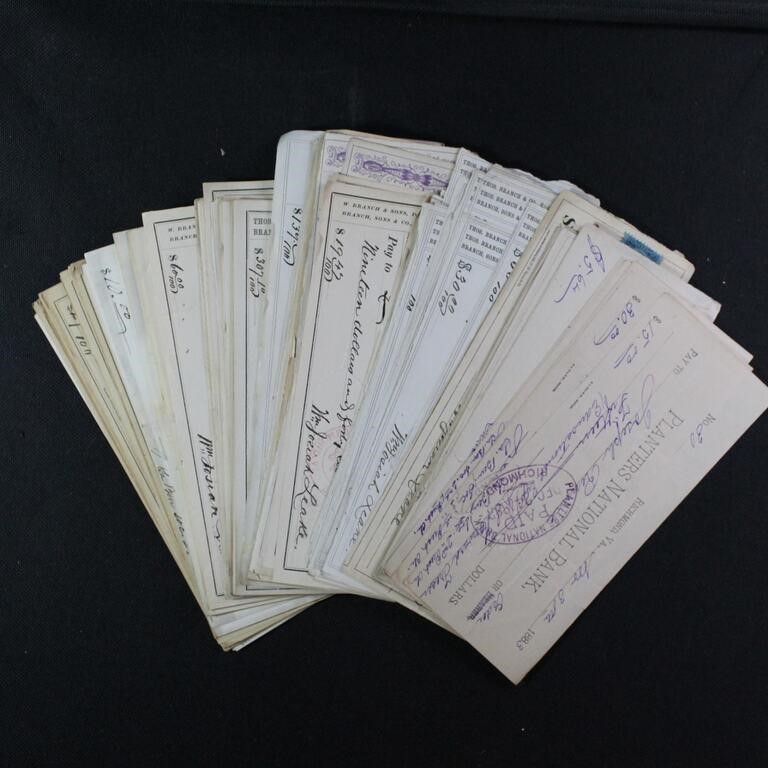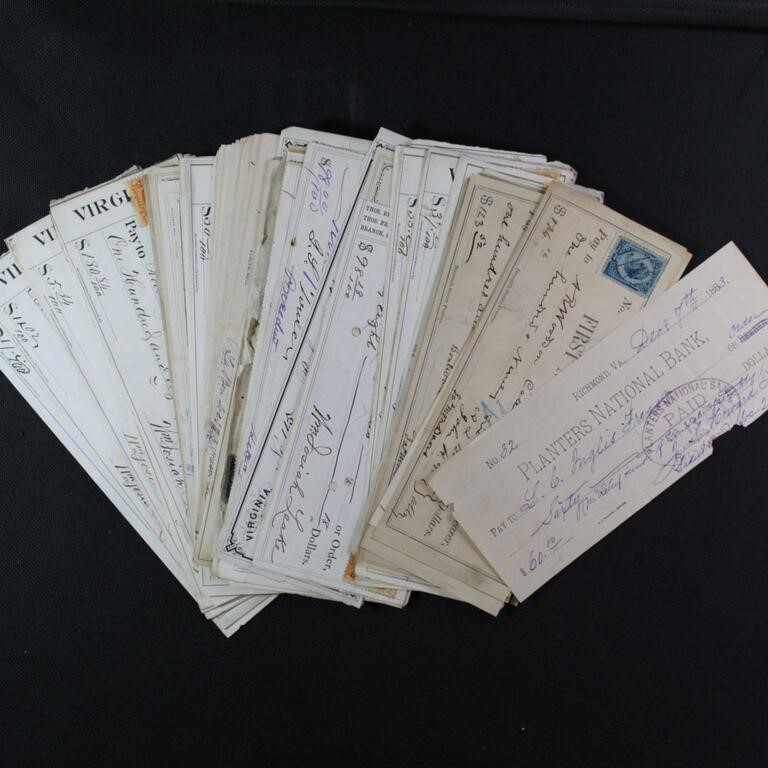 At first glance there are a lot of unstamped checks and the majority of stamped checks are R152a or R152b, which while there is potential for plate varieties, they are not very dramatic and comparably few and far between.
That said, there are at least some Civil War-era checks, presumably R6c and R15c, so worth a small bid.
I ended up winning the lot for $45, and after BP and shipping, came in at about $65. Not a king's ransom.
Upon arrival I separated out the Civil War era material from the other material and went through the latter first. Nada. Bupkis. Zilch.
Not looking good.
So on to the Civil War era checks...
Hmm... all were from Richmond, Virgnia, on three different banks/accounts, covering primarily 1870-71. While most were nondescript and your typical fodder from the era, there were streaks of double transfers, ranging from very minor to extremely dramatic, including T15, T15a, and position 145 major DTs, and most appealing to me, almost all of them on silk paper (Scott #R15d).
Scott only lists them currently on R15c, but theoretically many should also exist on R15d. I have found some of the R15c double transfers on silk paper, but this is the first "en masse" swath of them I have encountered, and the first on documents.
I've created a page on my website that shows 28 checks that I've kept, with diagnostic points described and links to high-resolution camera photos of the stamps:
https://revenue-collector.com/DTchecks.shtml
(For some of the more minor DTs, you'll need to click on the images to view the full-size versions.)
I'll showcase a few of the most dramatic examples from the group below.
A wonderful group of documents that will I will keep intact.