It's been quite a while since I posted show acquisitions, partly because it's been a dry spell since I attended an actual show. Even though I retired late last year, I've since returned to work on a seasonal basis, which due to the nature of the project means full-time work May through September... so summer shows are pretty much out of the question.
Still, working from home on my own schedule, focused strictly on technical tasks without the perpetual weight of university and State of Illinois bureacratic incompetence burdoning every aspect of my day makes the work INFINITELY more enjoyable. It's like having a completely different job. Removing managerial administrativia from my life was the best move ever!
But I digress... last weekend was INDYPEX, and I attended on Friday. Sadly, one of the dealers that I had planned to spend much of my day (and budget) with, was taken ill in the days leading up to the show and was forced to withdraw. In retrospect, my wallet is glad, as I ended up finding quite a bit of material that fully exhausted my show budget. Had that dealer shown up, I would be wincing. Hopefully he'll be back next year.
When the doors opened, as always, Denny Peoples was my first stop, where I picked up several documents that I had spoken with him about over the phone, as well as an impulse buy that ended up being far more scarce than I had expected.
I had mailed out wantlist letters to all of the dealers several weeks prior to the show, and two had responded with material they were setting aside for me to look at, so I made them my next stops. I spent time with Marc Achterhof @ AAA Stamp and Coin, truly one of the nicest people in the business. I always enjoy sitting and chatting with him and his wife (who sadly was not in attendance having gotten sick the night before). I stopped by Russsell Eggert @ Dutch Country Auctions and picked up a few nice pieces. Even though he didn't have anything for me, I stopped by and said hello to Mark Vervaeke @ Sterling Stamps. Scott Couch @ Tiger Collectibles is always a good visit, and I picked up a few nice documents from him. I spent time joshing with Rusty Shoaf; he and Denny are always sniping at one another like an old married couple. Terry Kurzinski also had a nice item that I picked up.
So on to the acquisitions, starting with revenue stamps.
(Clicking on most images below will open them at higher resolution.)
First, a lovely example of a common stamp, Scott #R118, the $1 second issue. The contrasting red cancel works so well against the blue and black.
Next up, a bit of a cherry-pick, Scott #R116, the 60c second issue, showing a foreign entry of the 70c at top. This is plate position 31, one of 6 plate positions that exhibit the foreign entry.
A distinctive cancel, from the Pacific Mail steamship "Oregonian". The font used is very different from the other ships, but is well known. If it had a bit clearer strike and wasn't torn at upper right, it would be a $150+ item. Still, not bad for 60 cents.
This wounded warrior gets filed under "If only...". The printed cancel is from "Lawrence & Cohen", a playing card company. Any of the typeset provisional playing card cancels are extremely rare on R21c (the stamp cataloguing $700). A nicer example of this same stamp and cancel sold for over $1,000 including BP back in 2019.
That said, were it not for the hole at center-right, I likely would not have paid up for it. For under 10% of Scott, it was a comparatively cost-effective way to pick up a tough stamp-cancel combination.
This one was a very nice pickup. Barring obtaining a multiple of this part perf (Scott #R61b, CV = $750 for a single stamp), this about the most convincing single you'll ever see, including portions of adjacent stamps at both top and bottom.

Now on to the documents...
A lovely vignette at left.

I haven't encountered too many checks from the Dakota Territories.
Steamship/maritime items are always very collectible. Even though the handstamp cancel doesn't tie to the stamp, it's nice to obtain an example of this steamship cancel, from the Steamer Katahdin.

I love billheads! The imagery, the wording, all of it. I've been accumulating hundreds of them from the 1850s to the 1920s (not just revenue usages) and am toying with the idea of working on a database for them.
This one was interesting for the red "SOLDIERS PAY" handstamp at left, which I had not seen before. Given the dollar amount, presumably this was not payment to an individual soldier, but an aggregate amount to be distributed to a regiment/batallion/etc.?
A solo use of one of the less frequently found denomination late documentaries, Scott #R638. Not especially valuable as a used stamp ($7.00), but I hadn't seen one on document before.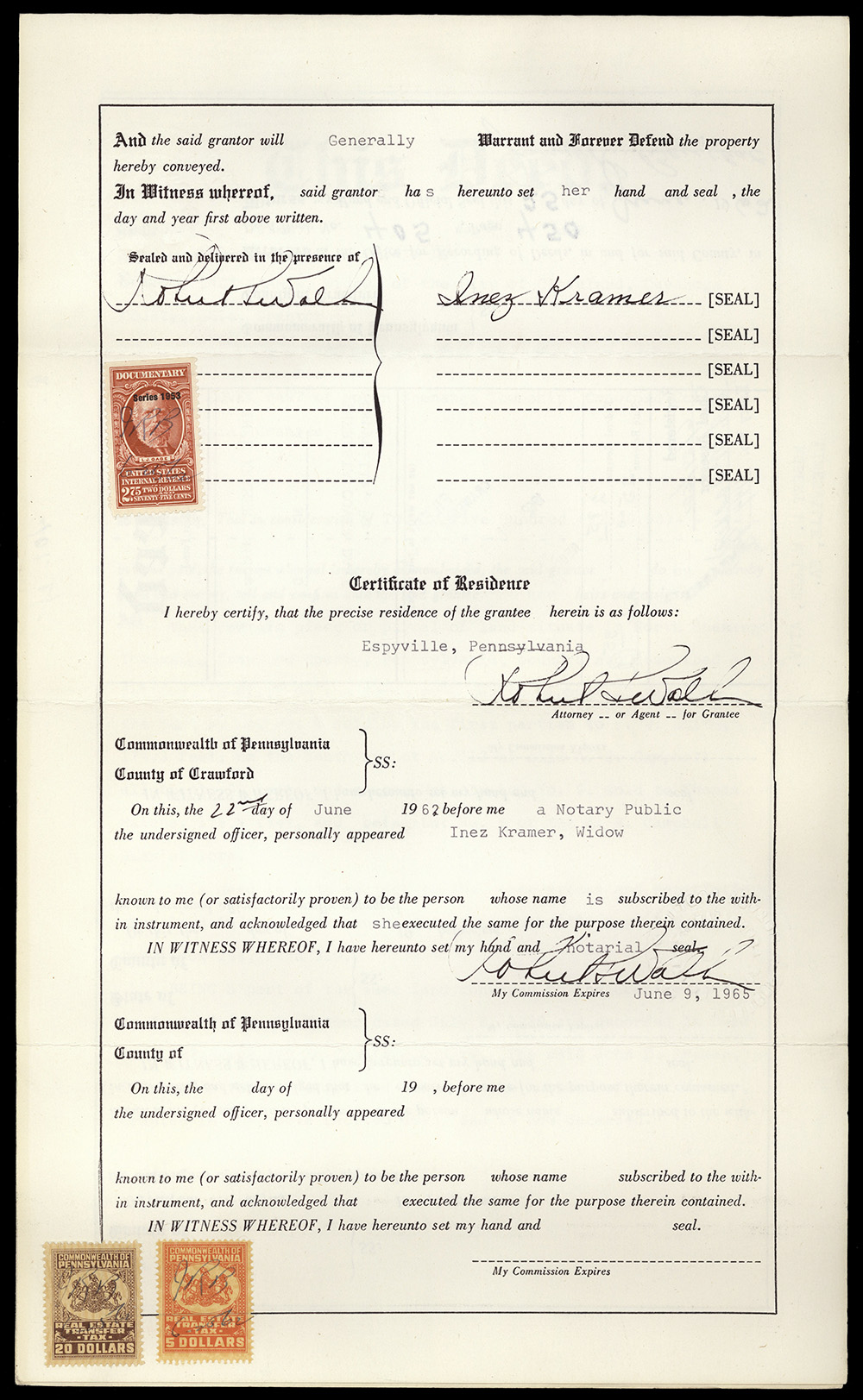 Turn of the century railroad stock certificate with a great... mining (???) vignette. Makes you wonder if the vignette was left over from a mining stock.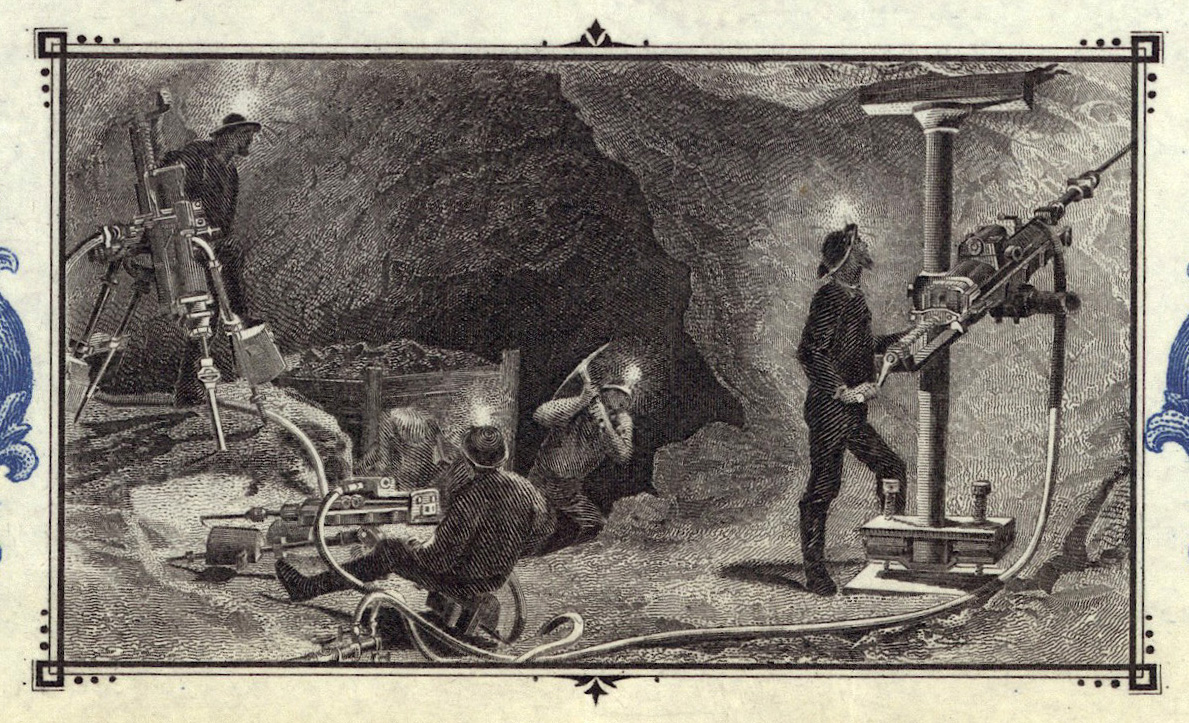 A nondescript in-period improper revenue usage as postage on cover, but it's a less frequently seen proprietary battleship (most seen are the 2-cent red documentary battleship).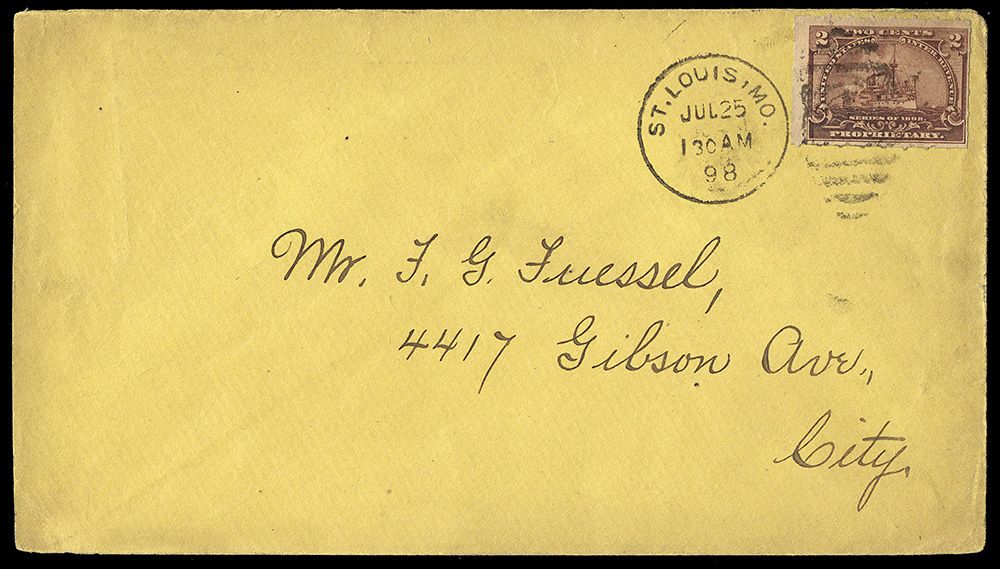 One-day promissory note, with the payment of the tax being doubly-illegal: 1. use of postage stamp instead of revenue stamp, and 2. underpayment of tax (tax should have been 5 cents).

Another billhead, this one with a 2-cent Black Jack improperly paying the tax.
2-cent Trans Mississippi used improperly as revenue on an October 1898 check from a tobacco manufacturer.

1870 receipt, with 2-cent tax initially paid by the supplier (Rose, Dinsmore & Co., manufacturer of railway car springs) on February 2, improperly using a 2-cent horse and rider (Scott #113). When it reached the (audit?) office of the New York Central Railroad on February 25, a revenue stamp was properly affixed. Very scarce.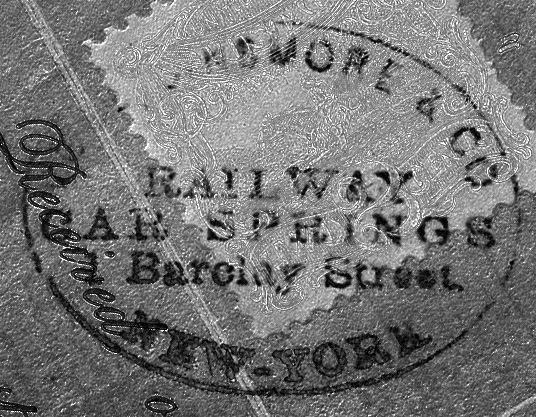 A tattered but very scarce mining stock certificate from the Gunnell Central Gold Company of Colorado. Why so many mining stocks were printed on what was effectively "tissue paper" rather than normal paper is beyond me. This stuff is sooooooo delicate. I can't imagine that it was easier to print on this paper than a heavier weight.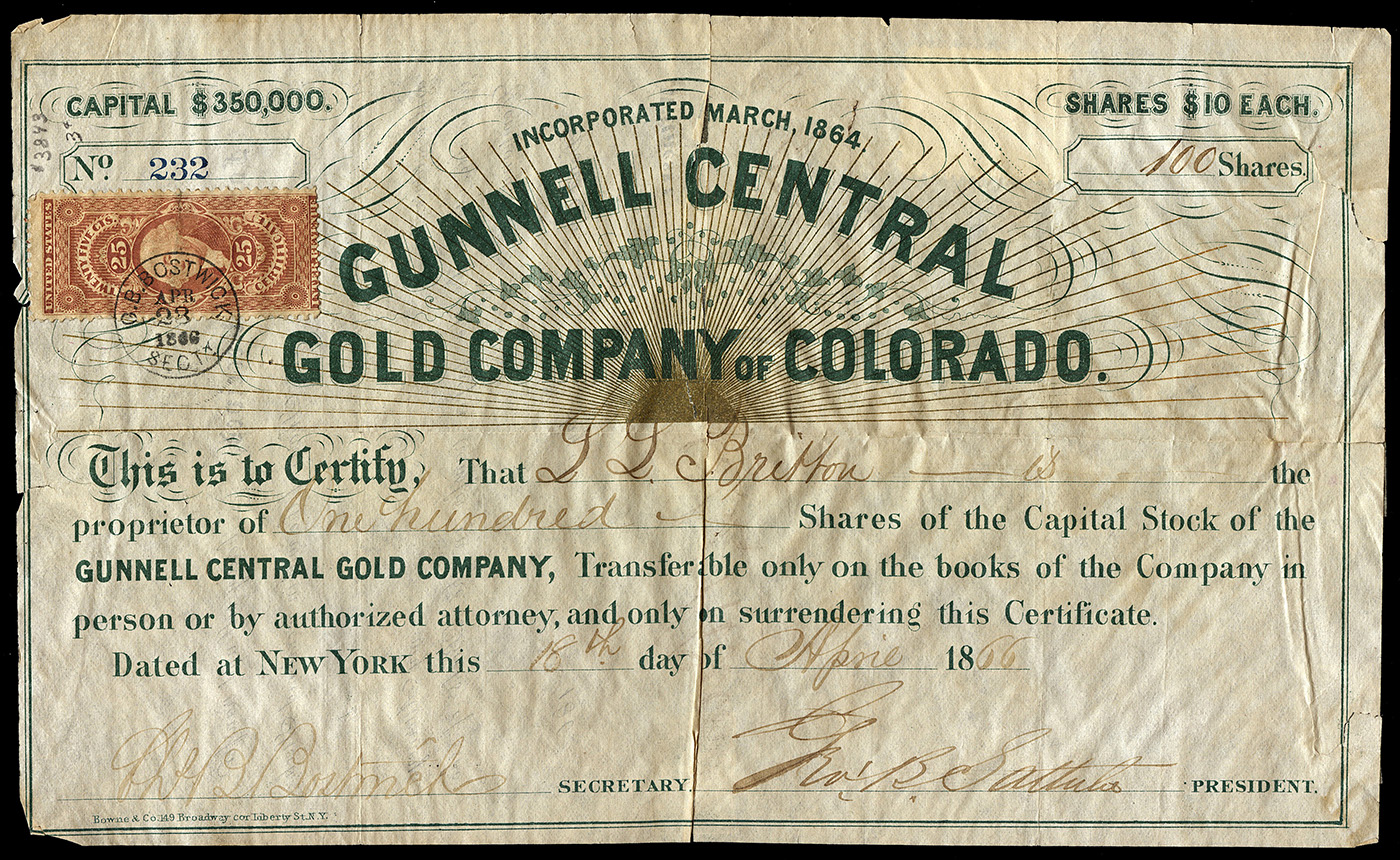 Another Colorado mining certificate, also on thin translucent paper.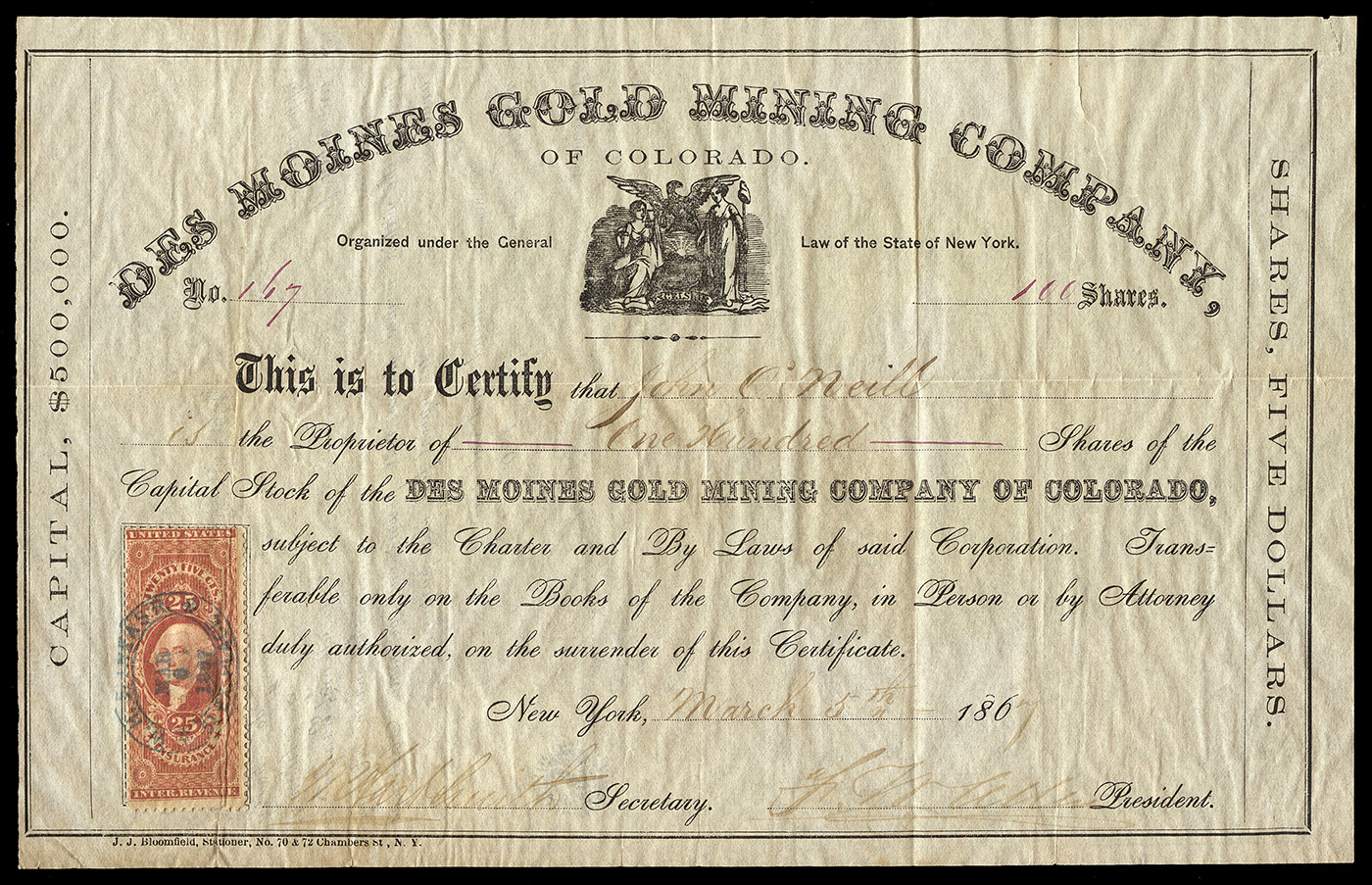 A 1900 cemetary deed from the Oklahoma Territory.
This is a document type I've not seen before, a "deed of stock brand" showing the actual marks of the brand.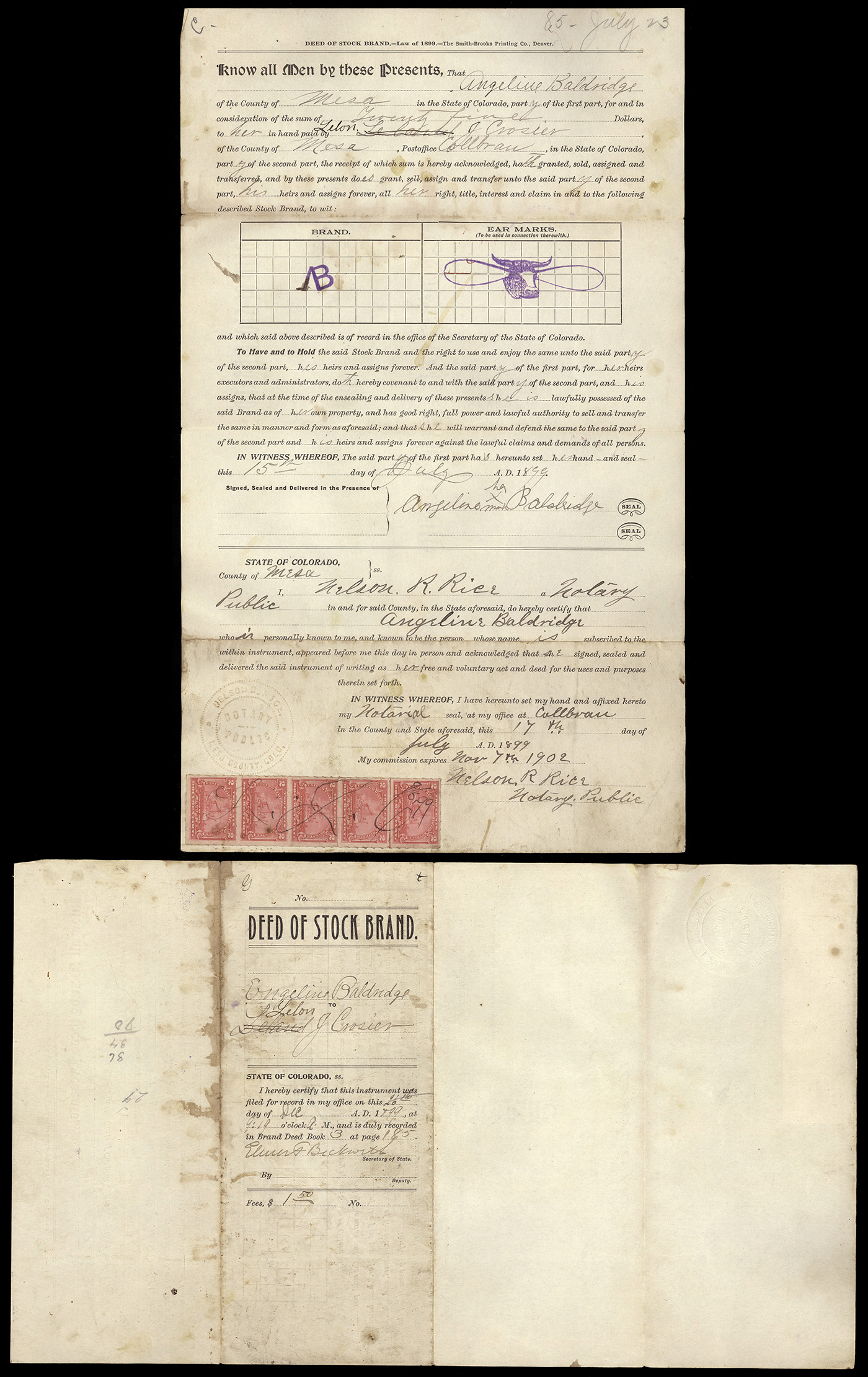 And now lastly, the three documents that I was especially happy to acquire...
Mid-20th century improper usages of postage stamps as revenues are increibly rare, much more so than 19th century examples. This is a 1934 quit-claim deed, with $4 of revenue stamps affixed and initialed by the original signer of the document. Then there is a pair of the 1932 3-cent Washington definitive (Scott #720) affixed by the notary public listed on the second page. I don't know enough about the rates in question to determine whether the $4 was originally underpaid, or if there was a secondary transaction requiring the additional 6 cents.
The Washington pair is a partial plate number imprint capture to boot!
This one was an impulse purchase, as state revenues are not typically my area, but it turns out it may be quite scarce. It is a large format (approximately 14" x 6") "Memorandum of Gold and Silver Bullion" from the Assay Office of E. Ruhling & Co. in Gold Hill, Nevada, recorded June 18, 1868. The stamp, sadly somewhat damaged, is State Revenue Catalog #DI-13, compound roulette 10x15.
Mike Mahler, in his article in the August 2019 issue of American Stamp Dealer & Collector magazine, displays an identical document dated several weeks prior (although he says his example is rouletted 10, not compound), and states the following (emphasis added):
Quote:
Figure 6 shows a June 1868 report of E. Ruhling & Co. in Gold Hill, the sister city of Virginia City, in the heart of the
Comstock, also stamped with the 5¢ dark green rouletted 10. The many details show that 1,006 ounces of "Petaluma Mill slum," evidently a bullion bar, was 96.7% silver, worth $1,231.67, and 2% gold for another $407.24, total $1,638.91 before the small loss in assaying. The eye-catching magenta-and-blue printing is probably explained by the imprint "Trespass Print – Virginia, Nevada." The shortlived Daily Trespass, published February 1867-October 1868, was named tongue-incheek by owner William J. Forbes, acutely aware that he was "trespassing" in a field dominated by the celebrated Virginia City Territorial Enterprise. In a competitive job printing market, Forbes evidently offered Ruhling & Co. bicolored printing as an inducement to land the firm's business. This is the sole-recorded example of this remarkable form.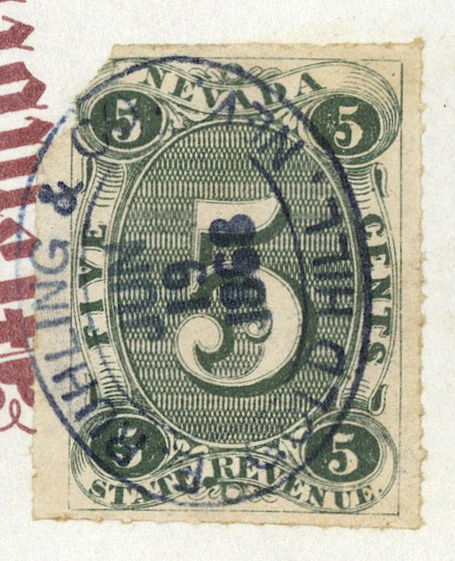 And to wrap things up... documents featuring both U.S. and non-U.S. revenue stamps are fairly scarce, the vast majority being Spanish American War period or later. Civil War period documents in this category stray into "rare" territory. This is a very delicate 1870 Mexican bill of exchange with imprinted revenue stamp (renta papel sellado), also with two R15c affixed, presumably when it was presented for payment in Galveston, Texas. The imprinted revenue is #870.45 in Donald O. Scott & Frank A. Sternad "The Revenue Stamped Paper of Mexico 1821-187".