Here's another neat one from the collection — The
Wittekind
Provisionals of 1901.
During the period in which Germany had colonies in Africa and the Pacific, German naval vessels had on-board post office to serve the postal needs of the crews. These on-board post-offices used Marine-Schiffspost (MSP, or Naval Ship Post) cancellers which used unique numbers, allowing modern collectors to easily ID the ship of origin and its location at the time the cancel was applied.
In the early 20th Century, Germany needed to transport large numbers of military personnel to and from its colony in Kiautschou, China, both because Kiautschou was the HQ of the East Asia Cruiser Squadron, and because of the Boxer Rebellion. To move these troops, Germany would frequently charter civilian steamers from the German shipping lines. To accommodate the postal needs of the troops embarked, the German navy would issue a MSP canceller to the civilian steamer.
However, for reasons that remain unknown, on 15 July 1901, the steamer
Wittekind
of the Norddeutscher Line departed Bremerhaven for China without an MSP canceller. On-board were 1,216 men of the Ostasiatische Besatzungsbrigade (East Asian Occupation Brigade).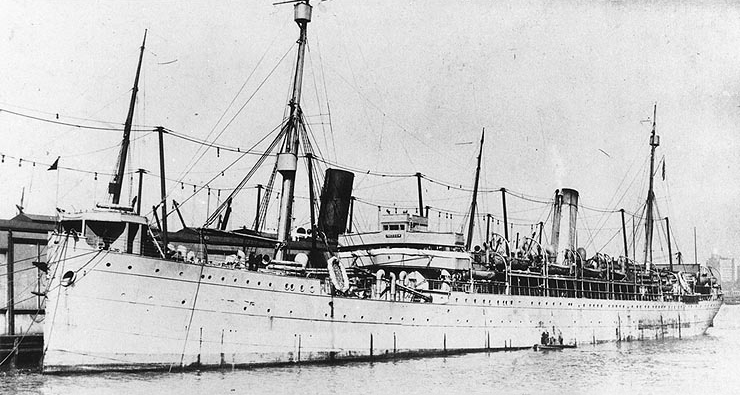 Wittekind
, in later U.S. service as
SS Freedom
, 1919
Their mail was not required to be franked with a stamp, as due to the Boxer Rebellion, military feldpost was free until 31 August 1901. However, it was required to have a postal marking — typically, this would have been the MSP cancel of the on-board PO, but they had no such canceller onboard. So, a stamp bearing the seal of the Ostasiatische Besatzungsbrigade Ablösungskommando des 2. Transportbataillon (Detached Command of the 2nd Transport Battalion, East Asian Occupation Brigade) was used instead.
This postcard is dated 25 July 1901, while the
Wittekind
was nearing Port Said, Egypt. It's from Musketeer Schacht to his mother, Anna, in Dresden.
Quote:
Dear Mother!

If someone would like me to send him or her a postcard, please have him or her write to me herself/himself. I will answer each card in a timely manner. I am doing very well. I never had such a nice and lazy life as I have here. The heat has not been dangerous yet. (strikethrough line) We are getting 4 meals and 1 beer, if you do not show up, you do not get anything. From the place that is crossed out above, I prefer to write when it is time. Hugs and kisses. Your son.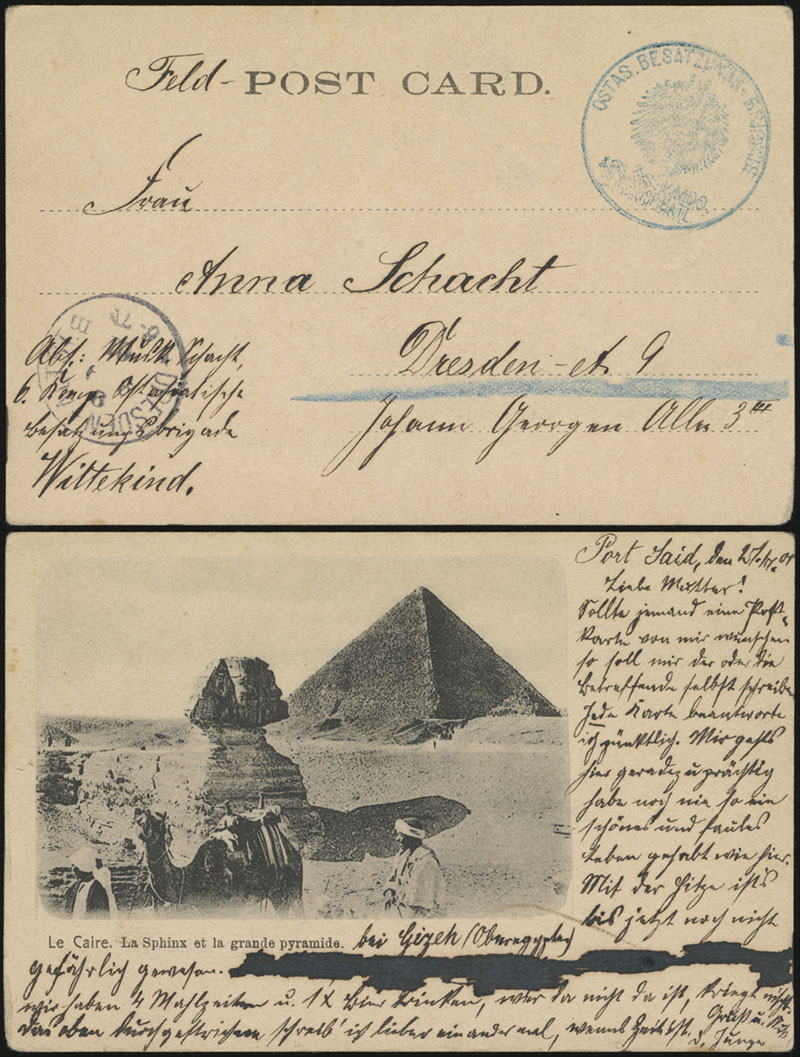 This postcard is dated 10 August 1901, while the
Wittekind
was off Columbo, Ceylon. It's from Wilhelm Schmidt to his sister, Minna, in Cottbus.
Quote:
Dear Sister, I would like to let you know that I am still healthy and have 2 more weeks to go, then we will be in China. In Colombo, we ate a lot of fruits that you don't have.
 
Dear Sister, it is a long ride. It lasts over 6 weeks. The ship goes day and night. Many greetings from your Wilhelm. Have a good time, both of you. Goodbye. Give my regards to Alwine.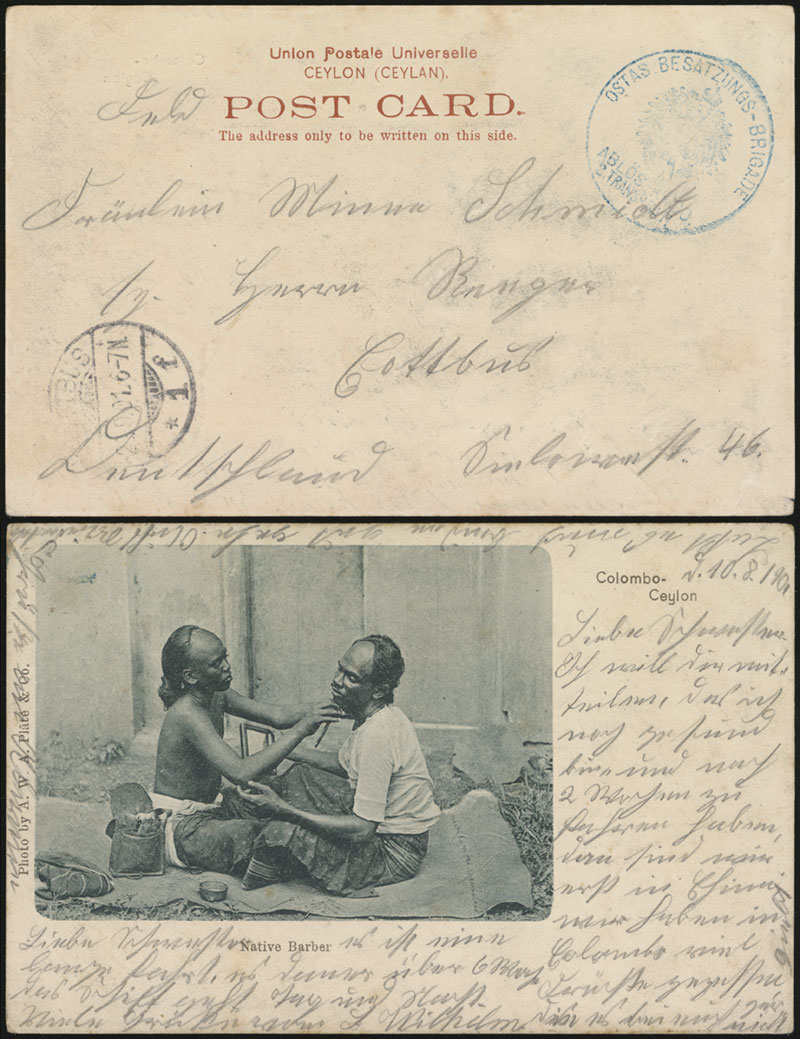 The number of pieces of mail cancelled in this manner is unknown, but at least 20 pieces are known. The possible date range is from 15 July to 27 August 1901, as the
Wittekind
did receive an MSP canceller for its homeward voyage.