'Gouda' stamp
On 27 August 1962, PTT issued three stamps from the current permanent series printed on fluorescent paper. These were the 12 cent of the 'En profil' design by Louis Hartz, and the 4 cent and 8 cent values of the contemporaneous 'Van Krimpen' design. The stamps had been printed for an experiment with a 'Mark II' facer-canceller machine. The machine was tested in the Gouda area between November 1962 and January 1963.

Luminescent 'Gouda' permanent series stamps
The 15, 20, 25, 30, and 50 cent 'En Profil' stamps and 6 cent 'Van Krimpen' stamp had also been printed on the same paper but were never issued. The executive director of the Posts who had to approve any stamp issue decided against the issue of these six stamps on fluorescent paper. It had been expected collectors would buy some two-thirds of the issued sets. He considered the fl. 1.70 for the complete set too high.
Gouda was chosen to conduct the test with the facer-canceller machine that used optical signals to recognise the postage stamps and face the item of mail so it would correctly be cancelled. The mid-sized town of Gouda was not too large for a test. It was a sufficiently 'confined' postal area. And Gouda was not situated too far from the town of Leidschendam where PTT had its laboratory from which the test was overseen. The size of the town was important to make it possible to flood the locality with the stamps used for the test.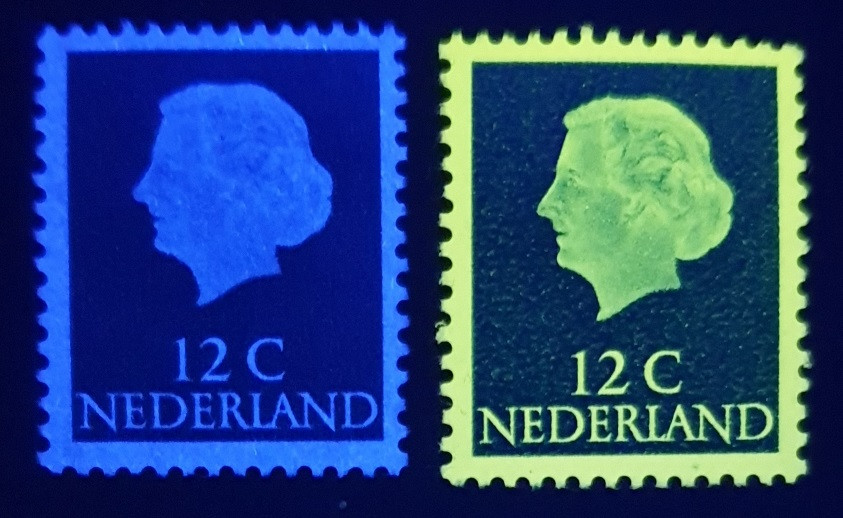 'En profil' permanent series normal and fluorescent 'Gouda' stamp
The stamps were printed on fluorescent paper without watermark, produced in Germany. They luminesce bright yellow under ultra-violet light. The stamps can be identified by the luminescence and by the lack of a watermark.
A year's supply of all the stamps plus 500,000 sets to cater for philatelic demand were printed. The three issued stamps were those that had shown the highest demand in May 1962. There was high demand from philatelists. Many, probably, hoped to have their covers cancelled by the 'Mark II' facer-canceller. This, however, was not used until 8 November 1962.