The following is my review of 'Topaz Sharpen AI', a dedicated image sharpening filter/application. This application has potential for anyone wanting to get a better understanding of fine details in a stamp image.
NOTE: I am posting this software review in this forum section because I feel the primary benefit will be for the platers. Once it has been here for a few days, I'll move it to the 'Philatelic Book, Reference, Supply and Software' forum category.NOTE2: My general opinion of many of the graphics imaging filters is that they can be dicey; used incorrectly or maliciously, they can be deceptive. Ideally everyone would always note whenever they have applied any kind of graphics filters to an image. Also note that the various image filters greatly differ in quality. Generally, you will find better quality filters in higher end (costly) image applications and those found in 'free' graphics apps are a lesser quality.NOTE3: Click on any of the images in this post to see high resolution versions of the files.
I download and tested the Windows version of the 'Topaz Sharpen AI' demo application earlier this year. After giving it a test drive, I was impressed enough with approach they use, with the quality of the sharpen outputs, and the intuitive interface that I sprung for the full version. After using it for a while now I am comfortable with offering an opinion.
Image sharpening filters typically work by removing data from the image file by simply merging pixels to make edge delineations brighter to our eye. In other words, if the image has a gradient of 60 shaded pixels going from black to white the typical sharpening filter will detect the gradient and reduce it to 20-30 shades over the same 60 pixels. This makes the edge appear sharper. (Note that once you remove data from a saved image file, you can never get it back.)
As a stand-alone, rather pricey, single function, application; the quality of the filter and output really needs to be outstanding. And I think in this respect 'Topaz Sharpen AI' has succeeded. This filter app is different that the typical 'sharpen' filter because rather than simply detecting edges and merging some pixels they attempt to address the root cause of the sharpness issues. By targeting specific types of sharpness loss, Topaz tries to reverse the type of blur to generate a much more "natural result". In most cases you will notice that your file size has increased rather than decreased.
After starting the application, you can simply 'drag and drop' your image file in the main window of 'Topaz Sharpen AI'. And of course you can also use the typical Windows menu File|Open to navigate to your image file or a convenient 'Open File' button in the primary window. By default, your original image will be displayed on the left side while the sharpened image will be shown on the right. At the far right is a control panel which contains all the sharpening functionality. The preset filters (called 'models' in 'Topaz Sharpen AI') are at the top and are accessed using a drop down control.
There is a 'standard' sharpening filter and three specific sharpening filters; focus, camera motion, softness. The three specific sharpening filters also have additional presets that can be chosen for each of them. The application also provides full customization for anyone who wants to tweak the presets of apply the filter parameters manually.
To illustrate the output of the 'Topaz Sharpen AI' application, I began with two original test files (click any image in this post to see high resolution version);
- A 1666 x 2125 resolution (2MB file size) .JPG of a 1851-57 3 Cent, plate position #87R5e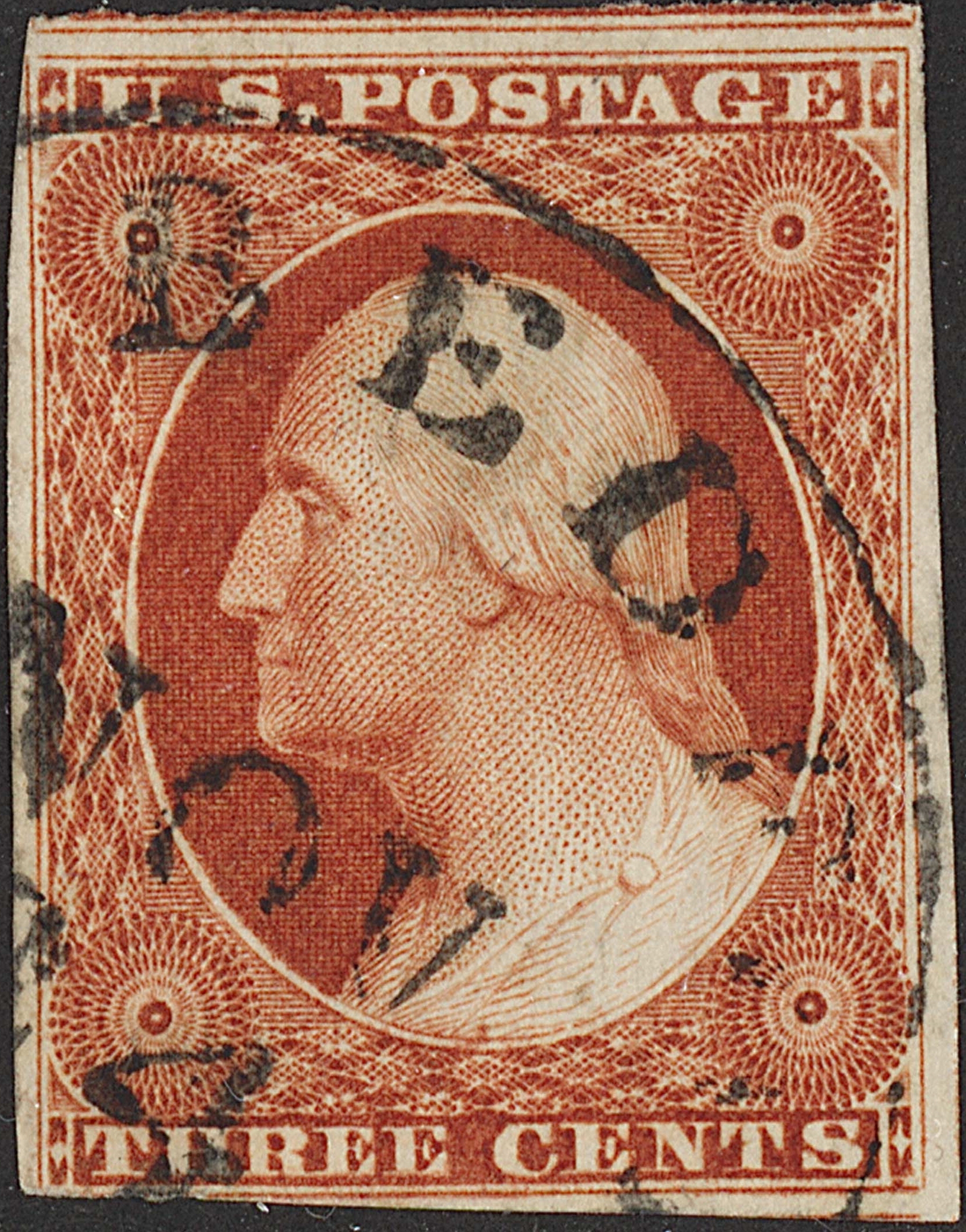 - A 1087 x 1321 resolution (1.2MB file size) .JPG of a 1851-1860 1 Cent, plate position #48L1e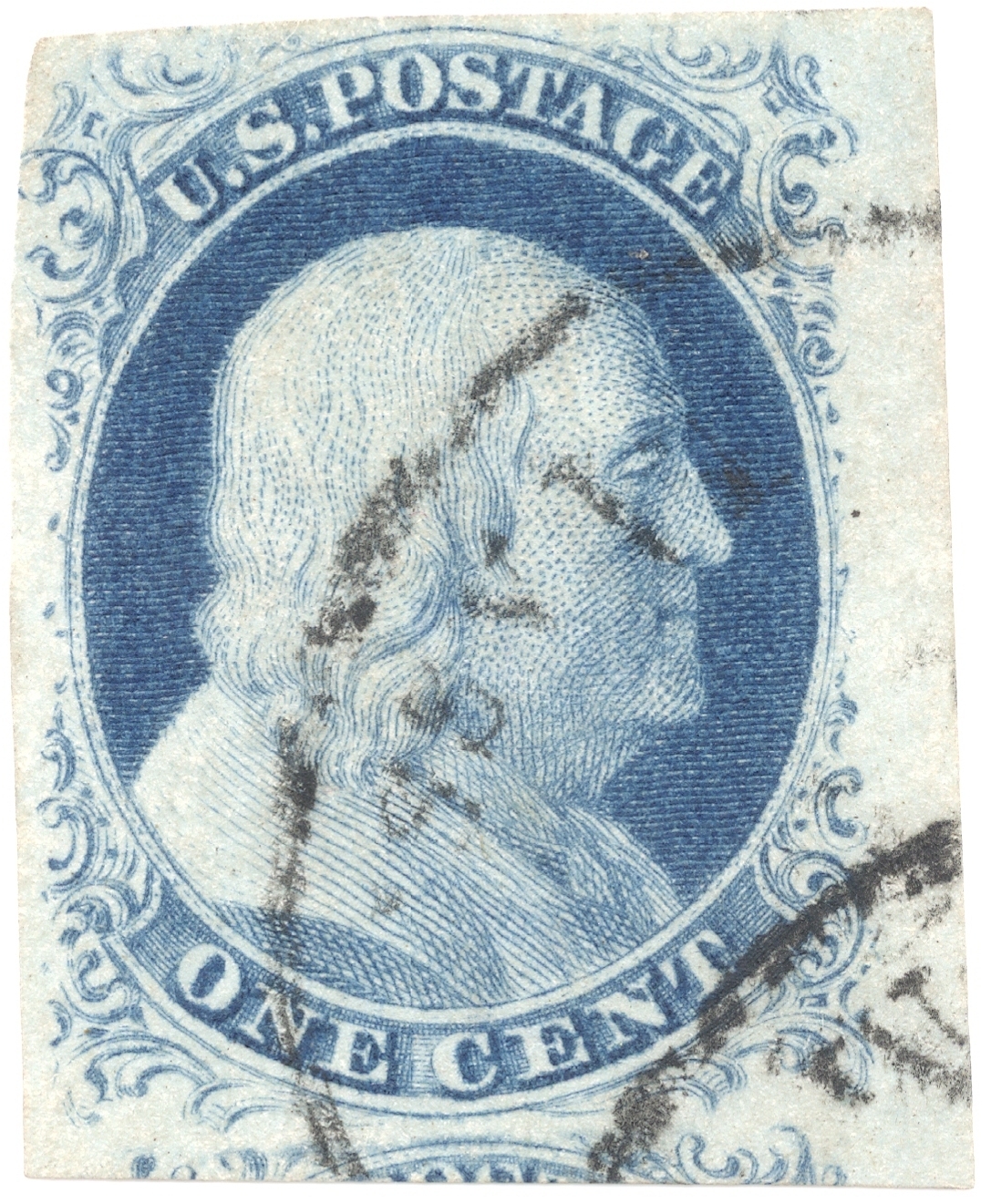 Here is the 3 Cent #87R5e image run through the 'Out of focus' + 'Very Noisy' parameter filter.
Here is the 3 Cent #87R5e image run through the 'Too Soft' + 'Very Blurry' parameter filter.
Here is the 1 Cent #48L1e image run through the 'Out of focus' + 'Very Noisy' parameter filter.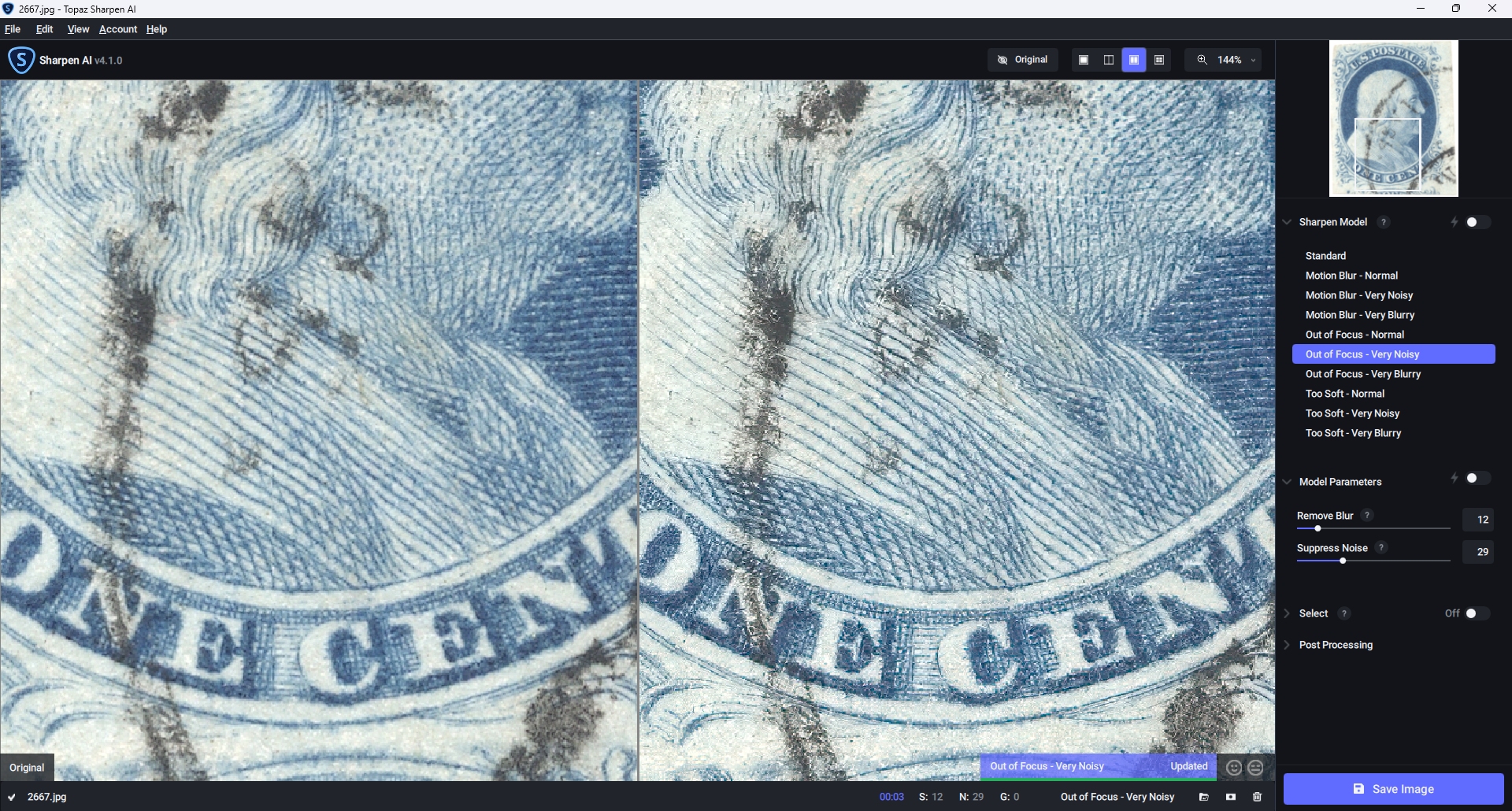 Here is the 1 Cent #48L1e image run through the 'Motion Blur' + 'Very Blurry' parameter filter.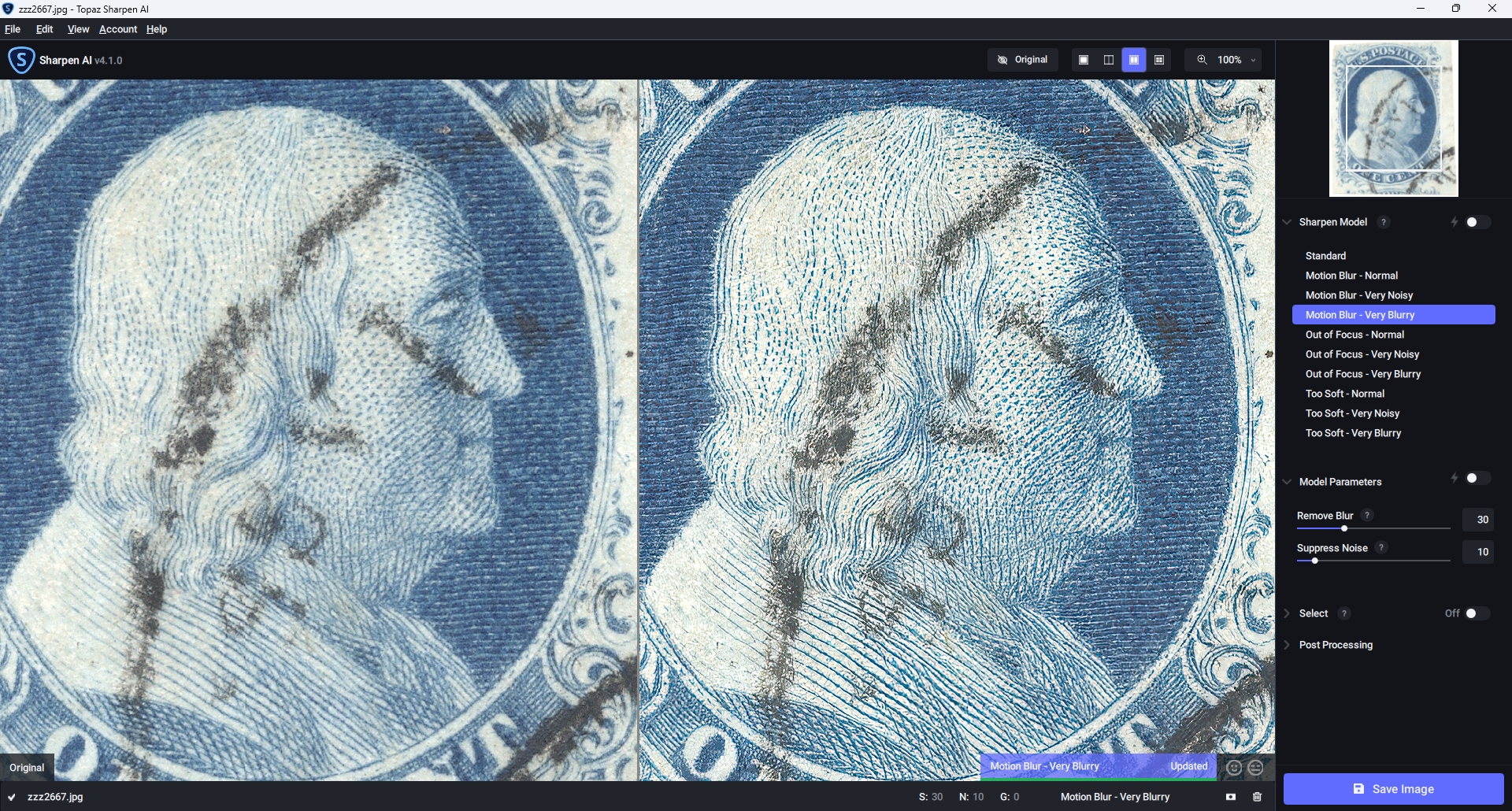 Note that these were not my images and without knowing the image source and device I ended up having to try the different filters more than if I had generated the images myself. If I had generated the images myself, I would know if I may have moved when snapping the image with a camera, had poor focus, or used a subpar scanner.
In addition to the core sharpening filters, there is a useful 'Selection' function which allows you to select certain areas of your image to apply the sharpening function (as opposed to the entire image).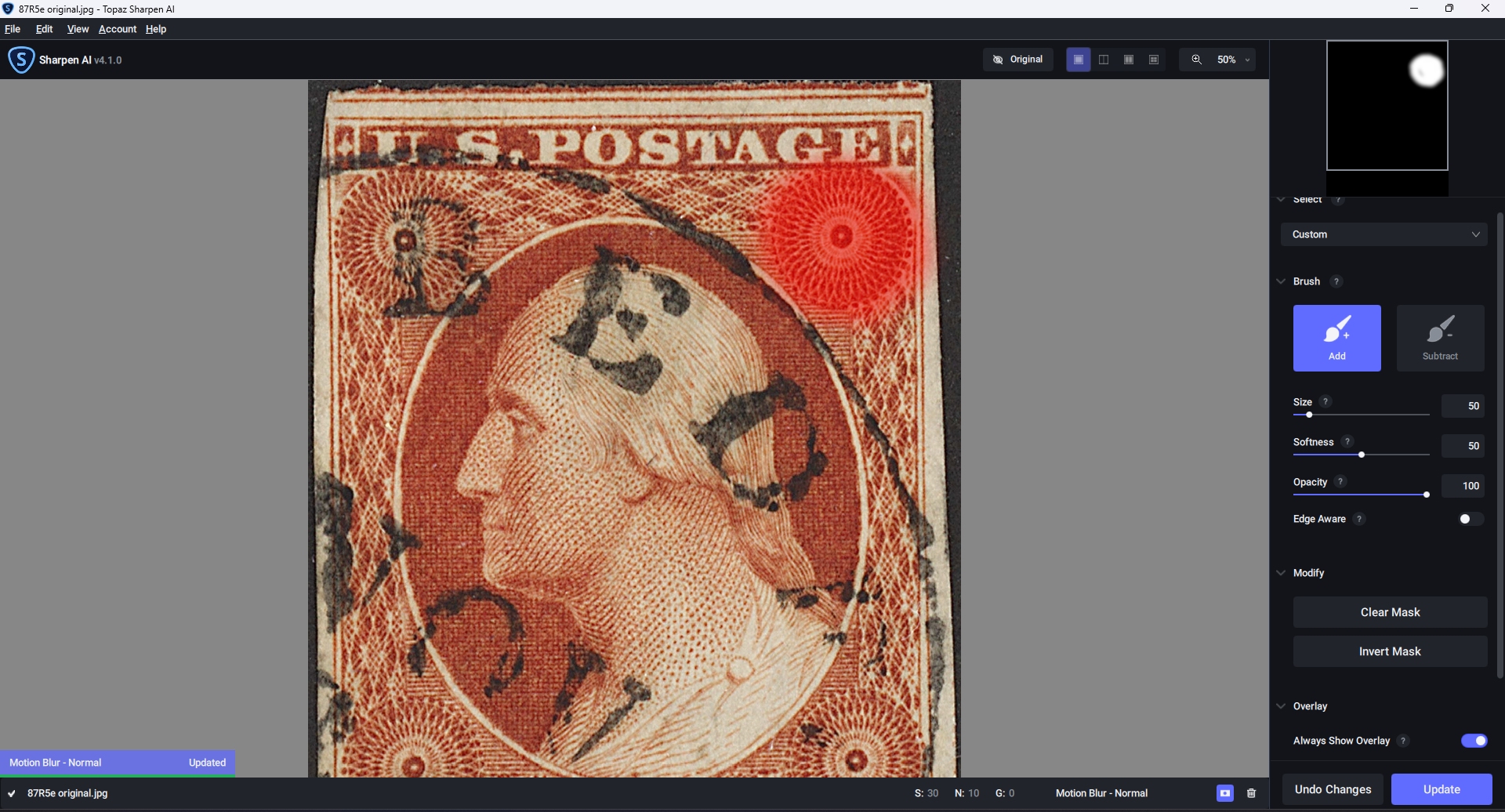 And lastly, there is a single 'Post Processing' function which allows you to add grain to the sharpened image. Adding grain after sharpening can reduce image smoothness even further.
Here are what I feel are the primary pros and cons of the 'Topaz Sharpen AI' application.
Pros
- Works well with an innovative approach to sharpening an image
- Interface clean and simple to use
Cons
- CPU and memory requirements high
- Very large application (3GB)
- A bit pricey for a single purpose app
I also worked with ultrahigh resolution uncompressed TIFF files which had file sizes up to 250MB each. My computer is $4000 a powerful graphics workstation and the 'Topaz Sharpen AI' handled these massive files albeit slowly. There is an option to control the amount of CPU bandwidth that the app should use but even running my PC wide open the applying of the filter or saving of the file allowed me to make a trip to refrigerator, make a snack, get a drink, and come back before it was finished. On a slower, less powerful PC trying to work with extraordinarily file sizes would be too painful. But if you are only working with typical sized files, 'Topaz Sharpen AI' should work for you.
If interested, you can download a crippled version (100% functional but adds an ugly watermark on any saved image file) from their website. The website also has some more information on the full version $80 'Topaz Sharpen AI' application.
https://www.topazlabs.com/sharpen-ai
Don
*** Moved by Staff to a more appropriate forum. ***