The card catalogs in Frech/Mette/Werner's private postcard catalog as PP106 B5/01.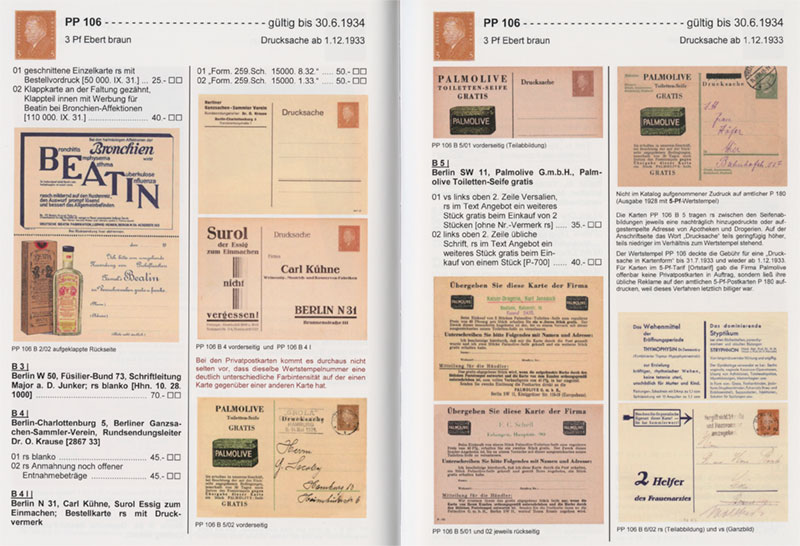 (click to enlarge)
As to what that catalog entry means, the /01 variant has normal mixed-case text "Toiletten-Seife" at top left of the front of the card. The /02 variant has that text in all caps (see top left image on right-hand catalog page).
The text on the back also differs slightly. The /01 variant advertises buy two, get one free, while /02 is buy one get one free.
The last column of the catalog entry states the following:
Quote:
Additional print on official P 180 not included in the catalogue
(Issue of 1928 with 5 Pf stamp)
NOTE by PMGS: Not listed because this is a private postcard catalog, and the additional printing is on an official, non-private postcard.

The PP106 B5 cards have, on the rear between the soap images, the printed or stamped address of a pharmacy or drugstore. On the address side the word "Drucksache" (printed matter) can be slightly higher or lower in relation to the value stamp.

The face value (3 Pf) covered "printed matter in card form" rate until July 31, 1933 and again from December 1, 1933. For cards in the 5-Pf rate category, Palmolive apparently did not commission private postcards, but instead printed the usual advertising on the official 5-Pf postcards (MiNr. P180), because this method was ultimately cheaper.
As to date, the first use of the Ebert image on postal stationery was in 1928, and these particular cards were good until 1934. The cancel date on your copy is 8 April 1929, 9-10 at night.