... and I don't mean eBay, for a change.
First a 2-document lot I picked up at a Sterling Stamps auction on SAN. While the stamps themselves are a bit beat up, the documents fall squarely in my illegal/improper usage collection. Both documents have pairs of the 1861 1c Franklin affixed.
The first is an 1867 receipt of unknown geographic location. The stamps, while not canceled, appear to be "tied" by original document folds.
I recall having a conversation with a prominent national dealer a number of years ago when examining a similar item in his stock, where he listed the value of the stamps using the "mint no gum" value from the Scott Specialized rather than the used values, as the former was much more than the latter. I asked him why, when the stamps were clearly used. His response was that you could soak the stamps off and sell them as mint no gum.
Personally, I found that to be a somewhat unethical response, but it reinforces my contention that only stamps with a large part original gum should ever be considered unused. I contend that the vast majority of stamps (revenue or postage) found in such a state are NOT unused stamps but rather uncanceled used stamps that have been soaked.
Mint No Gum is a misnomer IMO.
This particular pair isn't the best example of how such a concept could be alluring, as the difference between two MNG singles and a used pair is only $200 vs. $95 per Scott, but for the stamps on the document the dealer had, the difference was into 4 figures.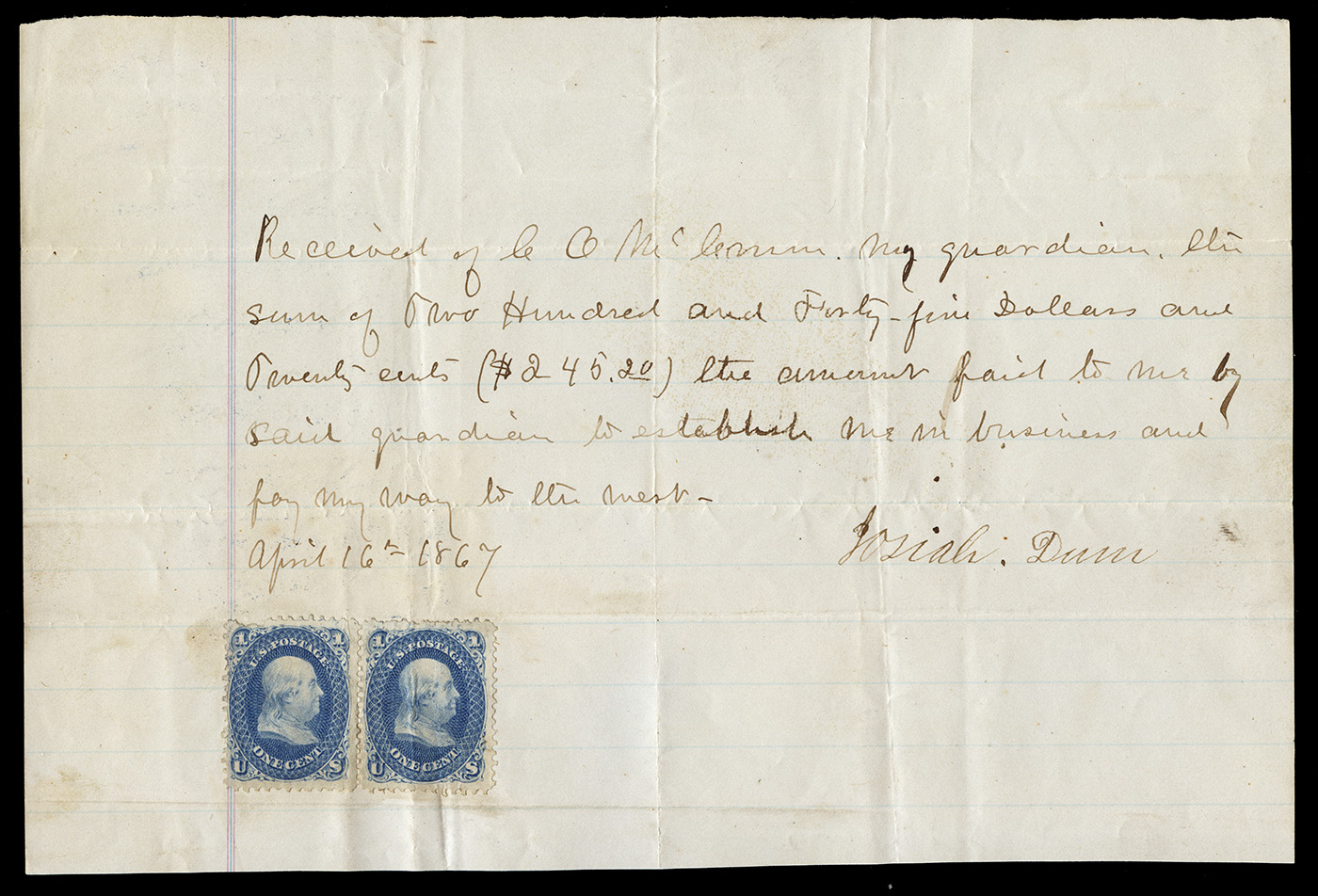 This next one, the stamps are even more mangled than the first, but are clearly canceled by the same hand as the document. It also has very attractive vignettes. More importantly, it is a Texas usage, which are quite scarce. Not to the level of Arkansas or Florida usages, but I was surprised at just how few Civil War-era Texas documents I have amongst the thousands in my collection... this is only the second one I've imaged. I have far more Texas documents from the Spanish American War tax period.
It caused me to do some research, and I guess I never realized just how low the population density was in Texas during this period. Per the Texas Almanac (
https://www.texasalmanac.com/drupal...t%20web.pdf)
these are the populations of the major "cities" in Texas in 1870:
Amarillo: ---
Austin: 4,428
Brownsville: 4,905
Corpus Christi: 2,140
Dallas: 3,000
El Paso: ---
Fort Davis: 615
Fort Worth: 500
Galveston: 13,818
Houston: 9,382
Huntsville: 1,600
Jefferson: 4,190
Laredo: 2,046
San Antonio: 12,256
Sherman: 1,439
Waco: 3,008
No wonder not many Texas documents are extant!
Next up are two documents I picked up in Eric Jackson's 3-week auctions.
First is an improper use of a 2-cent Blackjack. Not uncommon, but nice in that it's on a billhead (most are typically handwritten receipts).
The next one is one I was thrilled to get, and my max bid was considerably more than I ended up paying. It's a pair of U.S. Scott #112 (1c. Franklin) used improperly as revenues on an 1869 receipt, canceled in a hand matching the document. The bottom stamp has a horizontal tear, but I'm not complaining as improper uses of #112 are hella scarce. I've only been able to find record of about 6 examples, and only 1 other multiple (uncanceled).
By far the most frequently seen 1869 denomination used as a revenue stamp is #113, the 2c Post Horse and Rider, which logically makes sense, as the 2-cent tax rate is the one that occurs the most. The next most common stamp (and FAR less than the 2c) is #114, the 3-cent Locomotive, typically found overpaying the 2-cent rate, albeit improperly. The 1-cent is found in far, far fewer numbers.
Lastly is one I sat through a session of Kelleher's most recent auction to bid on. While I already have an example of Scott # R115a (2nd issue 50-cent revenue with inverted center), it's not on document, and as I've progressed in my collecting, my goal is to replace stamps with examples on document where possible. So when an example on document came up I figured I'd give it a go. There was some competition, but I ended up with it at under 2/3 of Scott after buyer's premium and shipping, which I consider to be quite reasonable. All of the prior on-document examples on SAN sold for higher amounts.
I wouldn't go so far is to call it rare, as there are 7 other examples on document in SAN's archives, but I would call it scarce.