Chris,
I'm using the same binders, though not exclusively in 3". Avery makes them in 1", 1 1/2", 2", and 3", and I use a bit of all of them since some of the areas of my collection deserve their own binder, but don't fill a 3".
The binders have worked well for me. I've had bad luck with some of the name-brand stamp album binders in the past, specifically with the quality of the spine and the ease with which the rings get misaligned. Since I move a lot for work, this was a large source of frustration and $$$ down the drain. I haven't had that problem with the Avery binders. They're not designed to be especially pretty or fancy like some stamp albums, but they'll take a beating and still function properly. Plus, I like the ability to insert a custom cover and spine.
As to pages, it varies a little depending on what's on the pages. For my albums that are primarily stamps (not covers or postcards) in mounts on 67 lb paper, I can comfortably get about 200ish pages in a 3", though I could realistically get about 10-20 more without causing the pages to lay incorrectly in the album due to overstuffing.
I have 5 binders finished at the moment (4x3" and 1x1") and several more of varying sizes that are partially filled since I still have quite a ways to go in getting my entire collection mounted. I anticipate I'll end up with about 10 total, or maybe a few more since I think I'm going to have to split up a couple of the 3" binders into 2x2" -- I can't stop buying stamps...
Here's my Third Reich album with about 200 pages.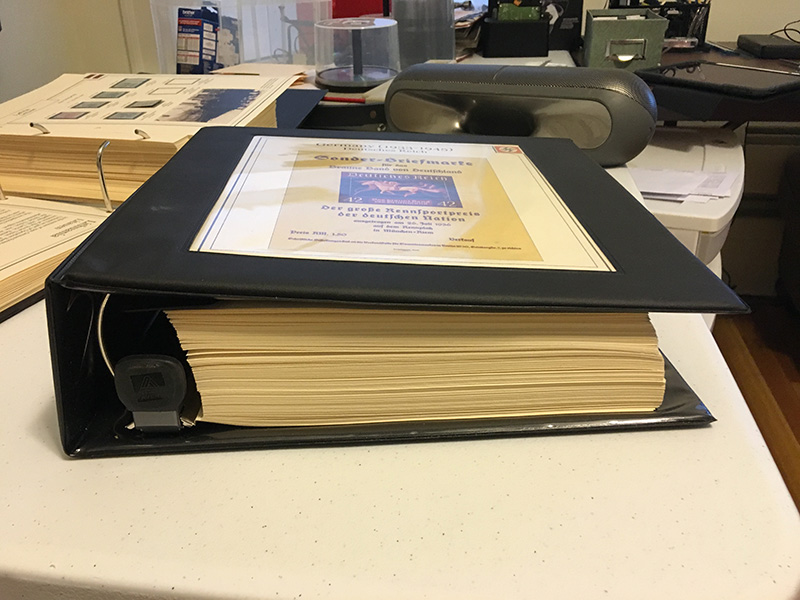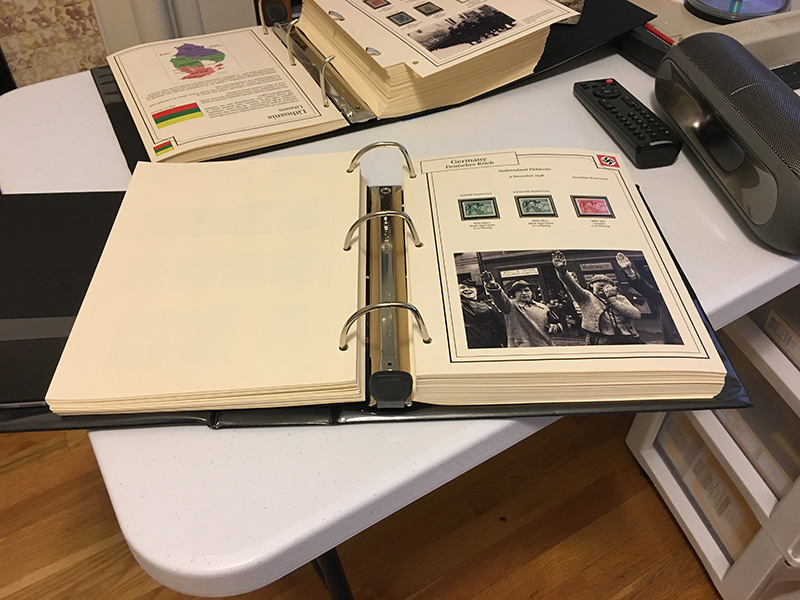 In the background is my WWII Occupations binder (approx. 230 pages), which I'm going to have to split because it's already too full, and I still have several occupied territories to go.