Another nice addition to this collection — one of the two Ponape cash payment cancels for this period.
Though I only mentioned the provisional overprint and bisect above, there were actually five provisional methods of franking mail during the stamp shortage:
1. 5 Pfennig Germania stamps -- presumably from the ships' stocks of German postage -- cancelled in Ponape
2. 5 Pfennig overprints of 3 Pfennig issues (see above)
3. Bisected 20 Pfennig stamps used as 10 Pfennig issues (see above)
4. Cash payment of postage (Barfrankierung) on 13 and 31 July 1910
5. Postage of the Marshall Islands cancelled in Ponape on 31 July 1910
Of these, the two shown above (bisect and overprint) are the most common.
I recently acquired a postcard that was cancelled using the case payment method (Barfrankierung). When this method was used, the postal clerk would simply make a handwritten notation that the postage had been paid, then apply the cancel.
There are two known Barfrankierung types for this period -- the 13 July notation and the 31 July notation.
The 13 July notation was used on mail accumulated between 1-13 July. It reads
Porto u. 5 Pf.
(or 10 Pf)
bez. in Ermangelung von Freimarken 13.7. Hollborn")
(Postage of 5 pfennig paid in the absence of postage stamps 13 July Hollborn"). I don't have one of these, but here's a sample;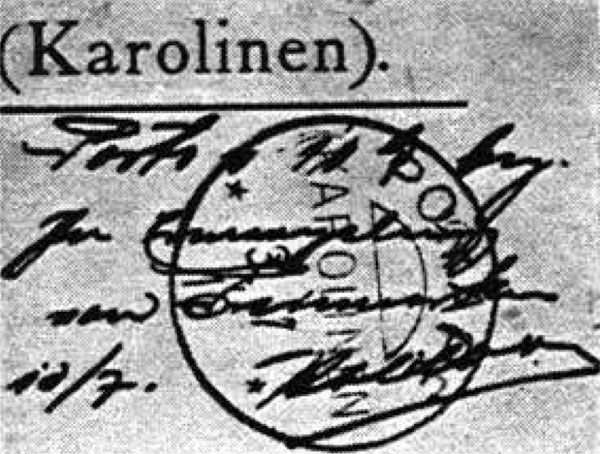 The 31 July notation simply says
5 Pf. bez.
(5 Pfennig paid). It looks like this: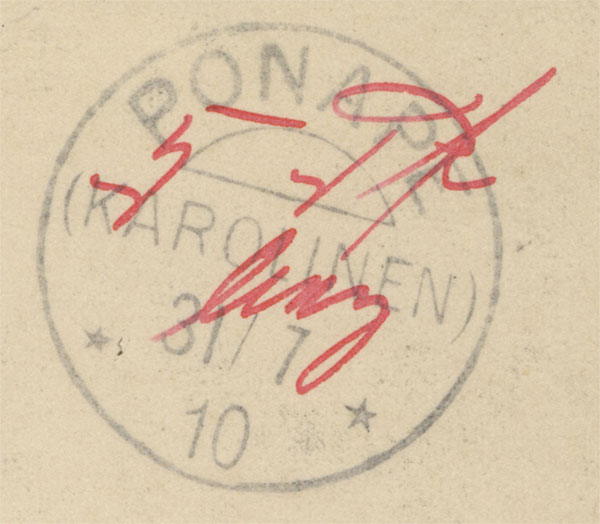 And here's the full card: