I'm slowly rolling out a new feature on my website, so stop by and have a look.
For ages, I've displayed my collection digitally, with little attention given to actually mounting my stamps in proper album pages. This was partly due to my reluctance to add extra bulk or weight to my collection (I move frequently for work), and partly due to laziness. I'd only mounted a small portion of my collection, and the remainder was kept in stockbooks or boxes of Heco cards. Those that were mounted were mounted on Schaubek-sized custom pages in Schaubek binders. This was a significant factor in my lack of progress, as I was never really satisfied with that setup -- the larger pages required me to have paper custom cut and drilled, they were hard on my printer, and the Schaubek binders didn't stand up well to constant packing/unpacking/moving (and they're expensive to replace).
After my last move, I was searching for several high-value items, and I couldn't find them anywhere. After a couple days of digging, I finally found the box the stockbook was hiding in, but I finally decided I needed to better organize my collection, if only to preserve my sanity. So, I've switched to a lower-cost, off-the-shelf solution using paper and binders that are widely available, and software that allows me to crank out pages in a hurry. I'm rebuilding all my existing albums, and attempting to finally get pages built for my entire collection.
As I get the pages built, I'm going to include a link on my website to scans of the physical album pages so you can see the collection as it actually exists. It's also a quicker way to view my collection than clicking through the individual pages of the website.
On the main pages for the respective collecting areas (example, German New Guinea is
here
), there will be a small link at the bottom that looks something like this:
If you click on it, you'll be taken to a page with large thumbnails of the album pages (example
here
). Clicking on the thumbnails will take you to higher resolution scans of the pages. WARNING: the higher res images can be large, so if you're on a slow Internet connection, beware.
If you spot a typo, please don't tell me -- ignorance is bliss at this point... ;)
So far, I've only finished German New Guinea, but I'm making progress. It's slow going.
A little detail on the physical albums:
Software --
Adobe InDesign CC 2015
Paper --
Neenah Exact Vellum Bristol, 67 lb, 8.5" x 11", Cream color
Mounts --
Scott/Prinz Split-Back, Black
Mount Adhesive --
Scotch Double-Sided Scrapbooking Tape
Postcard Pockets --
Smead Self-Adhesive Polypropylene Pockets, 6" x 4"
Binders --
Avery Framed View 3" EZD 3-Ring Binders, Black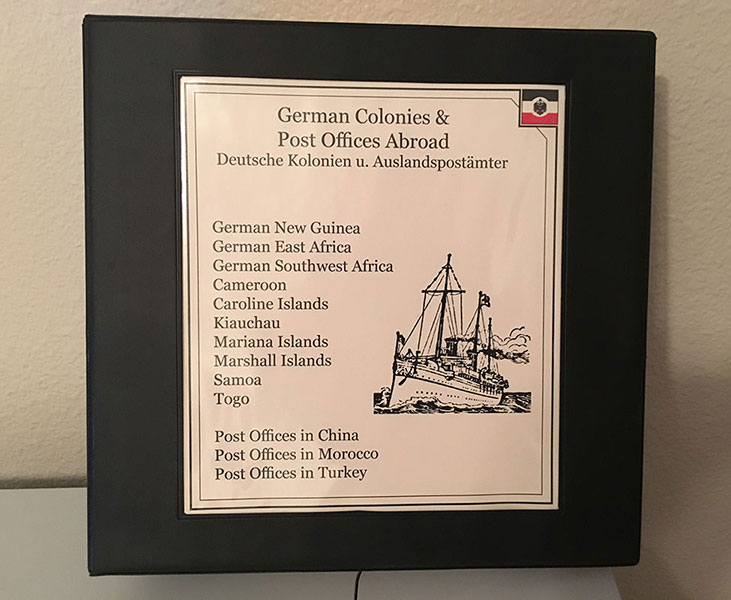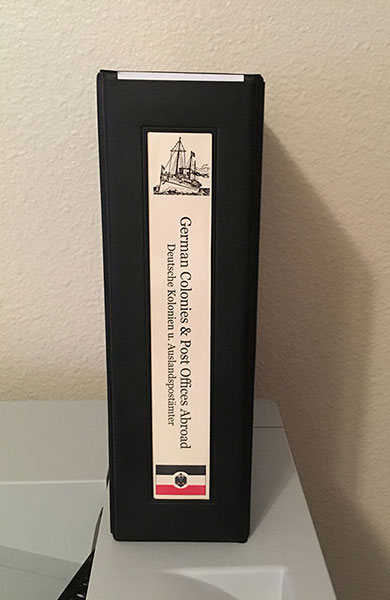 For those who are interested, I'll keep posting updates as I get more pages built/scanned.