We have all seen the confusion surrounding the stamp design dimensions when inexperienced hobbyists try to convince themselves that they have one of the rare Washington/Franklin varieties. And we have all seen the many threads, especially in the Canadian section of this forum, regarding variances in perforation gauging. I have previously posted about my informal discovery on the impact of paper moisture content and how the moisture content of the paper can have an impact both during production and after production. I am surprised that many of the threads do not have more references to paper moisture content.
Beginning with the current moisture content of post-production stamp paper; you can do your own home test. I previously tested with a common 2 Cent and 3 Cent US Bank Note stamps (you can use whatever common stamps you may have on hand). Begin by soaking your example stamp in clear, cool water for 20 minutes. Remove from water and immediately take careful design dimensional measurements and gauge the perfs with a specialty gauge; record the results. Then place the same stamp into your oven on very low heat. Be sure to thoroughly heat the stamp (20 minutes or more) to drive the moisture content out of the paper. Repeat your same gauging and measuring and compare the result. You will find that the delta between a stamp with 100% moisture content and the same stamp with only 2-7% moisture content is significant. You will also typically find that your stamp has grown/shrunk more in one axis than the other axis, this corresponds to the paper 'grain'. Of course, none of us maintain our stamps at 100% RH and paper moisture content but this test demonstrates that current paper moisture does indeed have an impact on both design dimensions and perf gauge.
But what about during production? How important was paper moisture content and if important did this result in stamps being produced with variations in either/or design dimensions and perforation gauge?
I took a look at this topic by examining a number of 1872 US Registry seals (OXF1); this stamp makes a good study candidate to consider for several reasons. First, the OXF1 Registry seal is one of the largest perforated US stamps. Secondly, it was only printed from a single 3 x 10 plate (two panes of 15 seals each) which was made by the National Bank Company. (It should be noted that there is another plate recorded, produced by the Continental Bank Note Company, with a 3 x 3 layout but there is no record of Continental Bank Note Company ever delivering seals to the Post Office. As such, experts agree that this second plate only produced a few proofs and no usable seals.)
Given that the OXF1 Registry seals only came from a single plate, and we know the plates do not change size, we would expect to find OXF1s all of the same size in a collection (assumption is that a collection would contain stamps with the same current paper moisture content). But even at looking into a small selection of these stamps in my procession; the design dimensions vary greatly. In the stamps shown below the horizonal design sizes vary from 70.6 mm to slightly over 72 mm. Well over a 1 mm difference!! Yet they all came from the same plate, they all have similar current paper moisture content.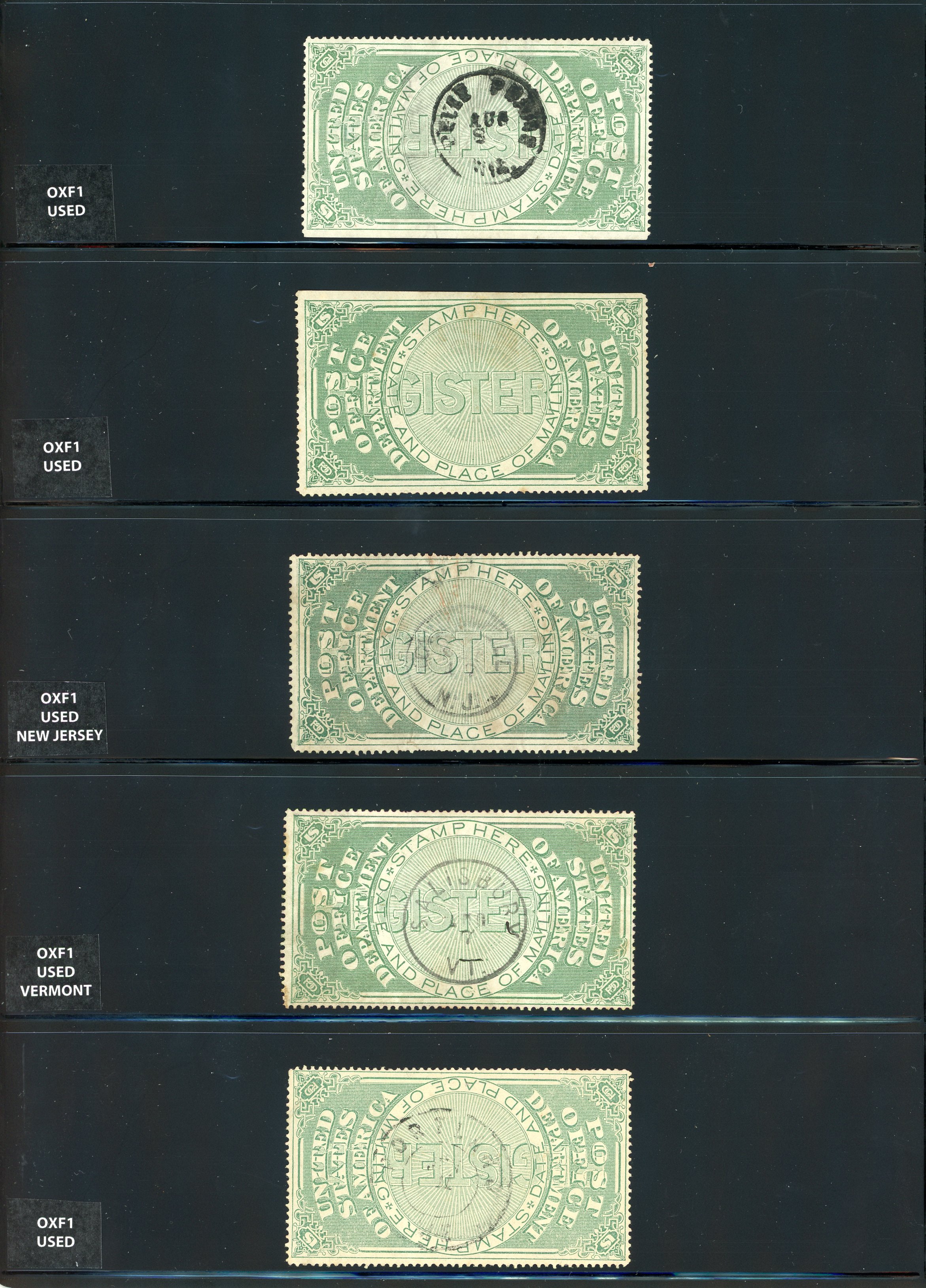 There is only one possible explanation, the paper moisture content at time of printing varied. If they printed one run and the paper moisture content was XX% and a month later they printed another run on paper with a moisture content of YY%; the stamps from the two runs would have different design dimensions and different perforation gauging. This point is also made (along with the results of their testing), in the 1983 "The Post Office Seals of the United States" book by Perkal and Kazman. Back in 1872 printers were certainly aware of paper moisture content, it impacted the quality of the printing. But moisture meters first became available in around 1920, before that I am unsure how they would determine the amount of moisture in a roll of paper. Also note that manufacturing facilities of that era often did not have great temperature and RH control, I do not doubt that seasonal and weather changes impacted the environmental conditions inside the buildings.
In my opinion this is an answer as to why perforation gauging in most catalog are rounded off and why you can find many small variances in perforation gauging of stamps. I also think that paper moisture content (both current and at time of production) is also a factor in variances in design dimensions.
Much like having a discussion about color in the absence of ambient lighting definitions; discussing stamp design dimensional or perf gauges variances in the absence of paper moisture content is missing a critical piece of the puzzle. Should these variances be considered 'new' cataloged varieties? In my opinion this would be a rabbit hole that the hobby does not need to go down. Should folks study this topic? Most certainly.
Don