Values
The stamps were in use contemporaneously with those of the permanent series showing the effigy of Queen Juliana, and from 1981, Queen Beatrix. They served as make-up values or covered the rates for printed matters and postcards that were lower than the basic rate for inland carriage of a letter. The basic set comprises eleven values ranging from 5c to 80c.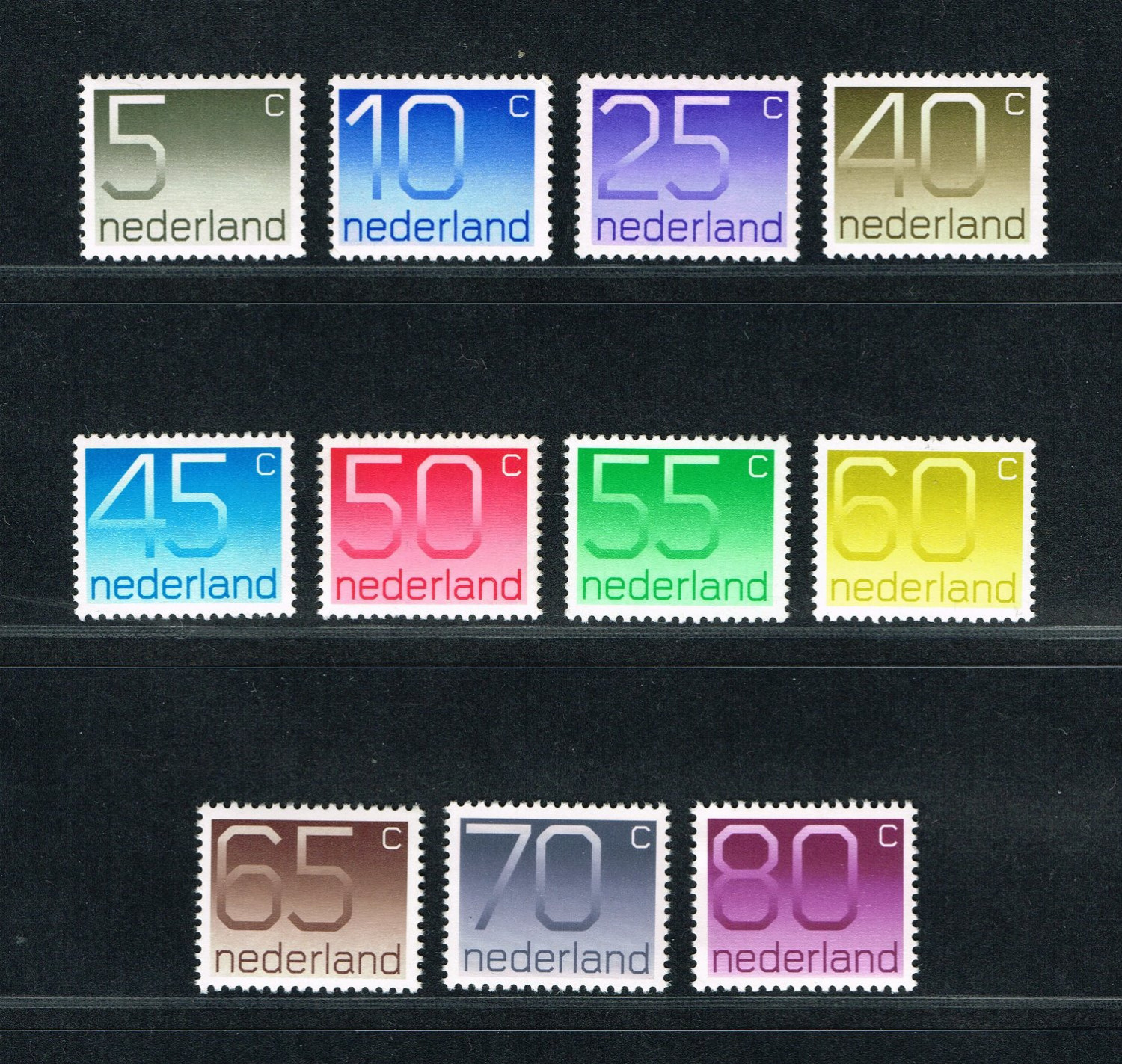 Crouwel permanent series sheet stamps
The first stamps were available from two machine-vended stamp books issued on 10 March 1976. These were the make-up values of 5c and 10c, and the 40c prepaying the inland carriage of postcards and printed matters in card format. The 5c covered the difference between that rate and the basic inland rate for other printed matters up to 20 grammes in weight. The 10c made up the difference between the general printed-matters rate and the basic inland rate for carriage of letters up to 20 grammes.
The stamps were not issued in sheet format until June 1976; the exact date of issue is unknown. These were the make-up values of 5c, 10c, and 25c. The 40c stamp prepaying the postcard rate became available in September 1976. The 45c prepaying the general printed-matters rates was issued in sheets in November 1976.
These tariffs were raised by 5 cents on 7 January 1978. Originally, the increase had been planned for 1 January 1978. Consequently, a new 50c value was required to cover the general printed-matters rate. The 45c, now, covered the postcard rate. This new 50c stamp was issued shortly before the rates increase. Stamps from stamp rolls were sold before the official issue date in Groningen.
In 1981 the basic inland letter rate had risen to 65 cents. In June 1981, 55c and 60c Crouwel stamps replaced the existing stamps with the effigy of former Queen Juliana. She had abdicated on 30 April 1980 and was succeeded by her oldest daughter Beatrix. As many June issue dates exist as there exist listings.
A further increase in the basic letter rate from 70 cents to 75 cents ensued on 1 July 1986. In August 1986, the 65c stamp Crouwel stamp was issued. The final two values of 70c and 80c were issued in June 1991. At time it was issued, the 80c stamp prepaid the basic inland rate for carriage of letters up to 20 grammes.