I've just published the first update to the app, v1.09. It's available at the app
webpage
.
The only change of note is a major correction to the cropping algorithm.
v1.09 Changes
With v1.08 if you applied a high manual rotation angle, the padding was off. For example, observe the corners of this stamp -- the padding should be 1px.
v1.08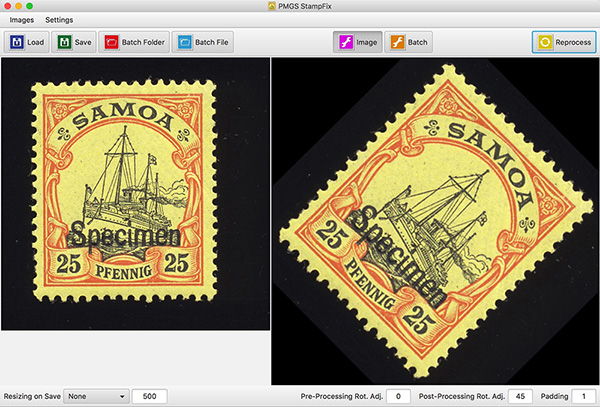 Here it is with v1.09.
v1.09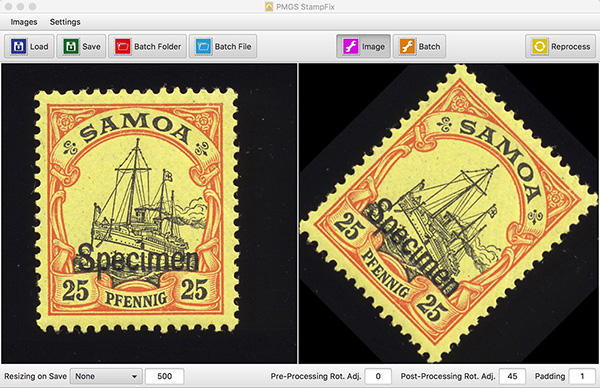 I discovered this during the course of experimenting with diamond-shaped stamps. Observe...
v1.08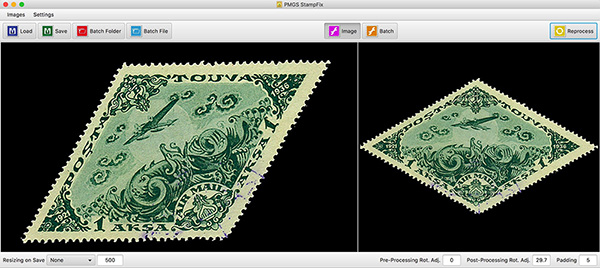 v1.09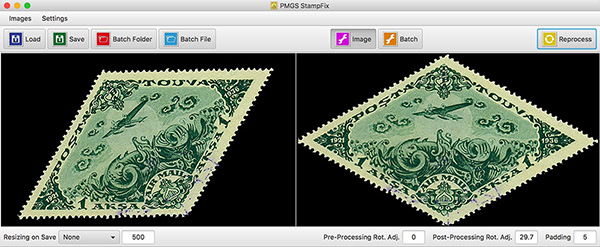 New Download Options
I took a new approach to the packaging of the app, and I managed to get the download size down from ~178MB to ~48MB.
Also, there's now a lighter option -- if you already have Java Runtime Environment installed, you can download the app without the JRE bundled. It's ~9-13MB. So for those with a bandwidth cap, consider downloading the JRE
directly from Java
, so every time I update the app, you can just download the light version.
Other App News:
I'm still working on dedicated diamond and triangle options. In the meantime, however, here are some instructions on how to process triangles and diamonds.
Triangles
The app still tries to treat triangles as squares, but you can overcome this by using only
Pre-
Processing Rotation Adjustments. If you find the sweet spot, it will make a perfectly cropped triangular stamp. The key is,
DO NOT
use
ANY
Post-
Processing Rotation Adjustment. I haven't worked through that issue yet.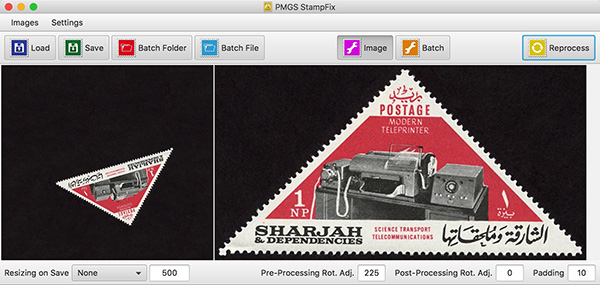 Also, if you're going to do triangles, you need ample spacing around the stamp in the original image. If the stamp is too close to the edge of the original image, there won't be sufficient background to cover all the space when it's rotated, and you get this (note the darker black fill in the corners) --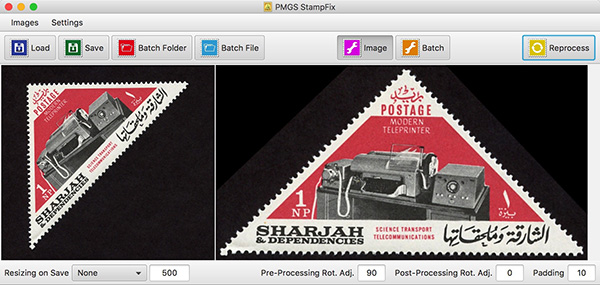 Diamonds
It's also possible to do diamonds, though again, not yet on full automatic.
For diamond stamps that are actually square, there's no amount of coding that will make the app treat them as a diamond. The app can't read the face of the stamp to tell which way is up in the text, so it will always rotate the stamp to a square. The solution -- apply a 45°
Post-
Processing Rotation Adjustment.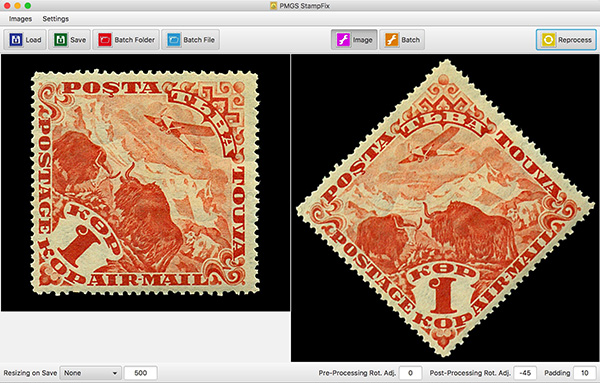 For more traditional diamond-shaped stamps, the angle will be a little different -- in this example ~30°
Post-
Processing Rotation Adjustment produced this result.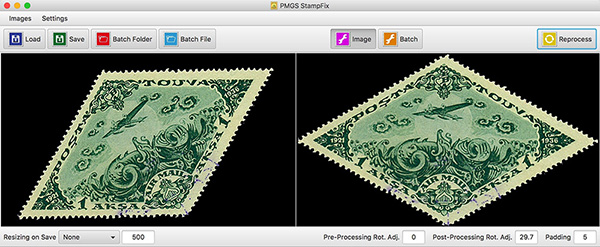 Hopefully, I'll be able to automate the triangles and diamonds soon, but until then, these tips will have to do!