The $500 Alexander Hamilton denomination of the 1917 documentary series is such a wonderfully odd duck, in my opinion.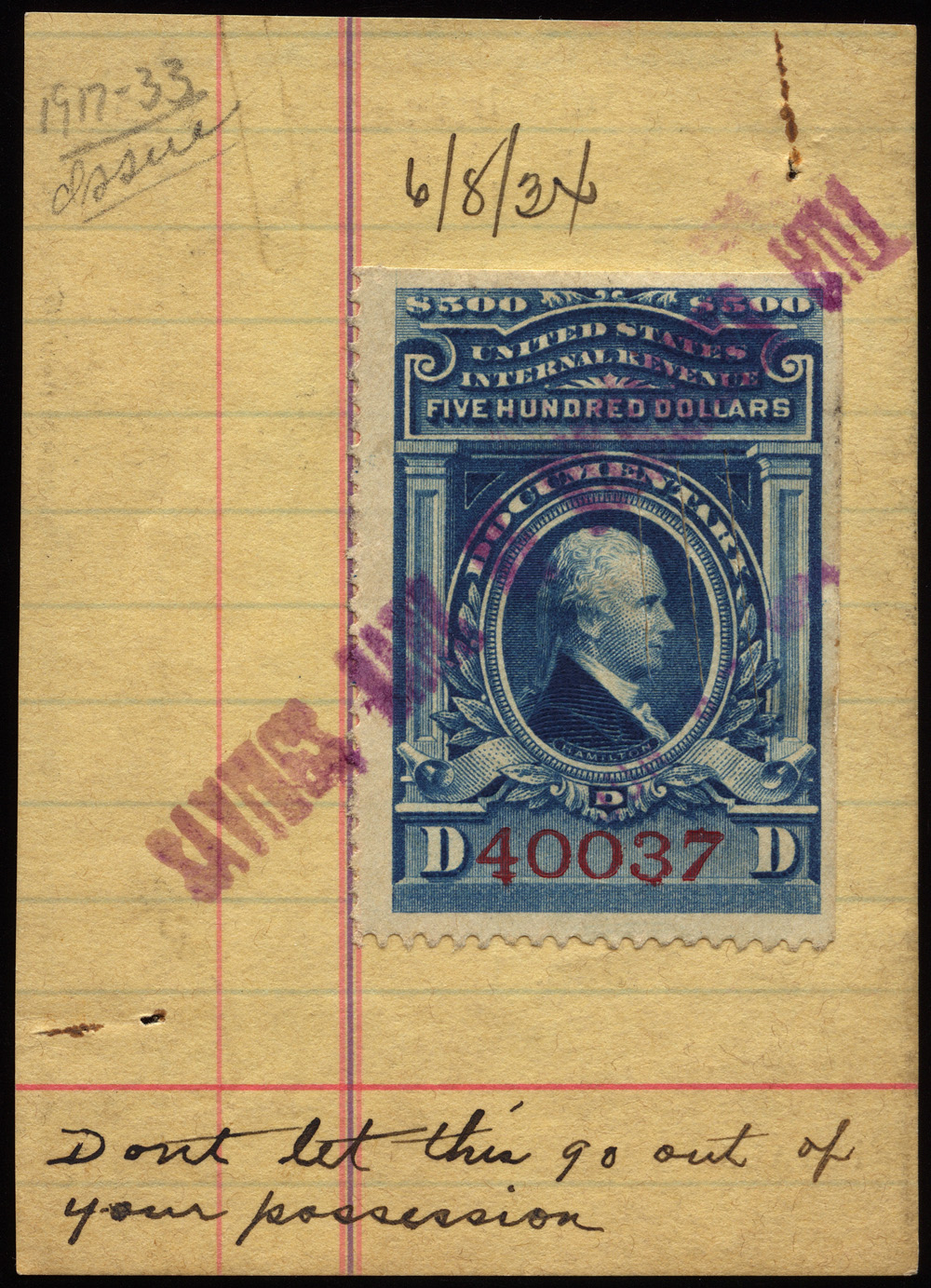 The 1917-1933 documentaries, in addition to serving their documentary purpose, were also overprinted to serve other needs: Future Delivery (RC series in Scott), Stock Transfer (RD), and Silver Tax (RG). Certain denominations were additionally handstamped "Series 1940" in the R, RD, and RG series (although the $500 denomination was not handstamped such in the RG series), these handstamped issues being quite scarce and extremely valuable, not to mention fake handstamps abound.
The $500 denomination occurs with both orange and red serial numbers, differentiated such in Scott. Because certain serial number ranges were only used for certain overprint types, not all types are found with orange serial numbers. The orange serial numbers were only used very early in the serial number range (more on that later).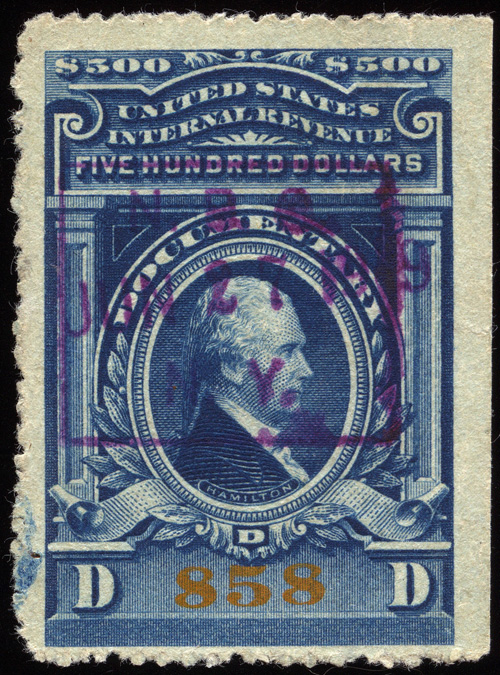 Here is a summary list of the $500 denominations as currently listed in Scott:
R249 (red serial numbers)


R249a (orange serial numbers)


R285 (red serial numbers, handstamped small single-line "Series 1940" in violet)


R285a (red serial numbers, handstamped large double-line "SERIES 1940" in black)


R285b (red serial numbers, handstamped small single-line "Series 1940" in blue, double transfer) [apparently only one example known]


RC20 (red serial numbers, overprinted "FUTURE DELIVERY" in red)


RC20a (orange serial numbers, overprinted "FUTURE DELIVERY" in red)


RD23 (red serial numbers, overprinted "STOCK TRANSFER" in red)


RD23a (orange serial numbers, overprinted "STOCK TRANSFER" in red)


RD65 (red serial numbers, overprinted "STOCK TRANSFER" in red, handstamped small single-line "Series 1940" in blue) *


RG22 (red serial numbers, overprinted "SILVER TAX" in black) **
* No orange serial number version of RD65, as the stamps handstamped were apparently from a very narrow serial number range (bookends #8551-8763 from my limited research) that is well above that where orange serial numbers occurred.
** No orange serial number version of RG22, as the stamps handstamped were from a very narrow serial number range (#40921-41920) that is well above that where orange serial numbers occurred.
So there are numerous series and variants featuring this single underlying stamp design.
More importantly for our discussion, the $500 denomination also includes one of the few 20th century major double transfers. It occurs only on the bottom position in a pane (these stamps were printed in panes of four), and does not occur on every pane. Since the DT theoretically exists for all of the above stamp types, it makes for a great item to hunt for. R249, R249a, RC20, RC20a, RD23, and RD23a are relatively findable. However, the base catalog values for the remaining stamps are too high to pursue unless you have deep pockets or get extremely lucky.
I started going down the road of documenting serial numbers intending to determine a pattern as to where double transfers occur. I got part of the way through the process, had an epiphany, smacked my forehead and shouted "Dan, you [CENSORED] idiot!"
Sigh... based upon the printing and numbering processes of the period, there is no way to correlate serial numbers with double transfer panes. Unlike modern large-format presses where numbering is done inline with printing, the numbering would have been performed as a secondary process via letterpress (please correct me if I am incorrect in this assumption).
What this means is that in between when the blue base stamp was printed and the numbering performed, who knows what sheets were stacked/restacked in which order. Additionally, if there were multiple panes per press sheet, if they were cut down prior to numbering, the order in which they would have been stacked could have varied, thus again altering the sequence of sheets/positions. Lastly, if they ran multiple numbering devices in parallel to improve throughput (e.g., station one numbering 1-10,000, station two numbering 10,001 to 20,000, etc.) that too could alter sequencing of panes/sheets if being pulled from the same stock.
So much for that idea...
However, one of the things I disovered as part of this serial number documentation is weirdness going on at the very beginning of the numbering, where the color orange was used and then switched to red... but then back to orange again... which makes no sense at all. I don't know what the explanation is:

1. They switched back and forth between orange and red multiple times, which I would find highly unlikely.

2. The numbering sequences overlapped by mistake and they discarded duplicates of both colors, thus creating the seeming switch.

3. Similar to the manner in which star notes are used in currency as replacement for damaged notes, panes were damaged in production, and new ones with the same serial numbers were created to fill in the gaps, but using the new red ink instead of going back and using the original orange.

4. Least likely, there are duplicate stamps out there with the same serial numbers in both red and orange in a small range of numbers.

I lean towards option #3 personally.

I don't know precisely where the final switch from orange to red occurs. The highest serial number with orange numerals I've identified is #2032.

Here is a visual chart of the $500 Hamilton double transfer serial numbers I have been able to locate, with cells of orange serial numbers filled in orange. The switch from orange to red and back can be seen.

UPDATE:
Looking closer at the image on the Philatelic Foundation website, I believe they got this one wrong. Looking at the shade of the serial numbers compared to the overprint, I believe the numerals are red rather than orange, which invalidates the need for my entire premise above. It appears that a shift from orange to red occurred between #1286 and #1475.
http://pfsearch.org/pfsearch/pf_grd...lledfrom=lkp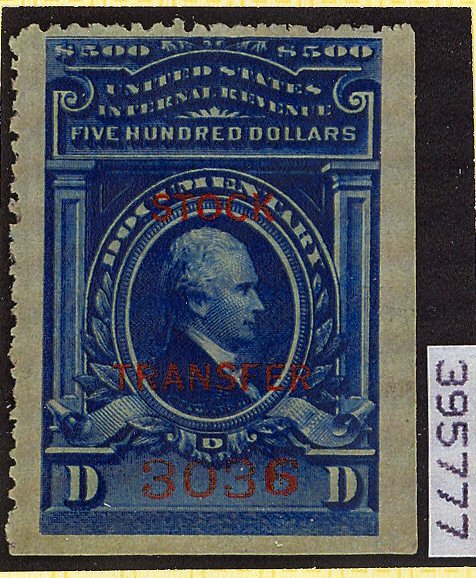 So why did I start doing all of this?... Scott # RG22, the silver tax stamp. I noticed that a double transfer is not listed in Scott for RG22, meaning that an actual example had not been reported... but it theoretically should exist... which sent me down this rabbit hole. I started looking for examples online and in auction catalogs... and striking out.
If you recall, there was extensive discussion here about a purported RG22 double transfer back in 2020:
http://goscf.com/t/71831
It was lot #2120 in Siegel Sale #1222 on May 29, 2020, where it garnered $649 including BP... not an unreasonable price... if it were genuine. But it isn't. The Philatelic Foundation had mistakenly granted it a good cert, not checking the serial number sequence used for RG22, or they would have noticed that the serial number is well outside of the authentic range of serial numbers for RG22. It's a fake overprint. Subsequent to the sale, the PF contacted Siegel regarding the mistake and the buyer was notified.
(I notice that ALL online records of this cert other than this forum (the PF cert archive, Stamp Auction Network, and the Siegel website)
still have not revised any discriptions to reflect that this stamp is bogus.
To the unwary collector, this is still claimed to be a genuine stamp, which I find unconscionable.)
When trying to determine how scarce something may be, while the number extant is the most important, the number that could possibly exist is also a factor. As mentioned earlier, RG22 was created from stamps numbered 40921 to 41920, so 1000 total stamps. But the double transfer is limited to the bottom position in the pane, which limits the number to 250 possible... but that assumes that every stamp in that pane position is a DT, which is clearly not the case. So how frequent is the DT (the answer I mistakenly thought deriving a pattern through serial numbers could discern)? If one of every four panes exhibits the double transfer that makes an original population of roughly 60 stamps across the entire RG22 type; if it's one of every eight panes, that means an original population of approximately 30.
Regardless of the exact number originally created, these are absolutely miniscule numbers in the global scheme of things, especially in light of how many of those stamps have likely been destroyed or discarded over the intervening century! Hunting for one is the proverbial needle in a haystack... where someone has lit the stack on fire and burned most of it down (yes, I know... poor analogy as a needle would likely survive the fire and one could sift the ashes for it, but you get my point!
).
I ended up discovering one candidate, #41859, auctioned as lot #3354 in Schuyler Rumsey Sale #31, October 28-31, 2008:
https://www.rumseyauctions.com/auct...apter/31/133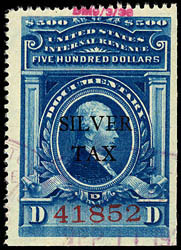 The image is tiny, but it has the diagnostics of the DT. Unfortunately the catalog link on that page is a dead link. I have reached out to Rumsey to see if I can get a high-resolution scan from the printed catalog. If anyone has a printed catalog from that sale and can provide a 600dpi scan of the page showing that lot, I would greatly appreciate it.
So that is the only example was able to identify as a potential double transfer on Scott #RG22.
Fast forward to last week.
I was going through the listings in Eric Jackson's 3-week auctions and there was an RG22 being offered. I glanced at it briefly, went past, then went "Wait a sec..." and went back. It wasn't listed as a double transfer and the images are low resolution, but it looked like it could be a double transfer to me (the biggest at-a-glance diagnostic points in a low-res image are the doubling of top frame line in left half of stamp and doubling of lower left corner). The doubling is dramatic in $500 and FIVE at left as well as HAMILTON and the circular frame of the portrait, but those diagnostic points are obfuscated in a low-resolution image.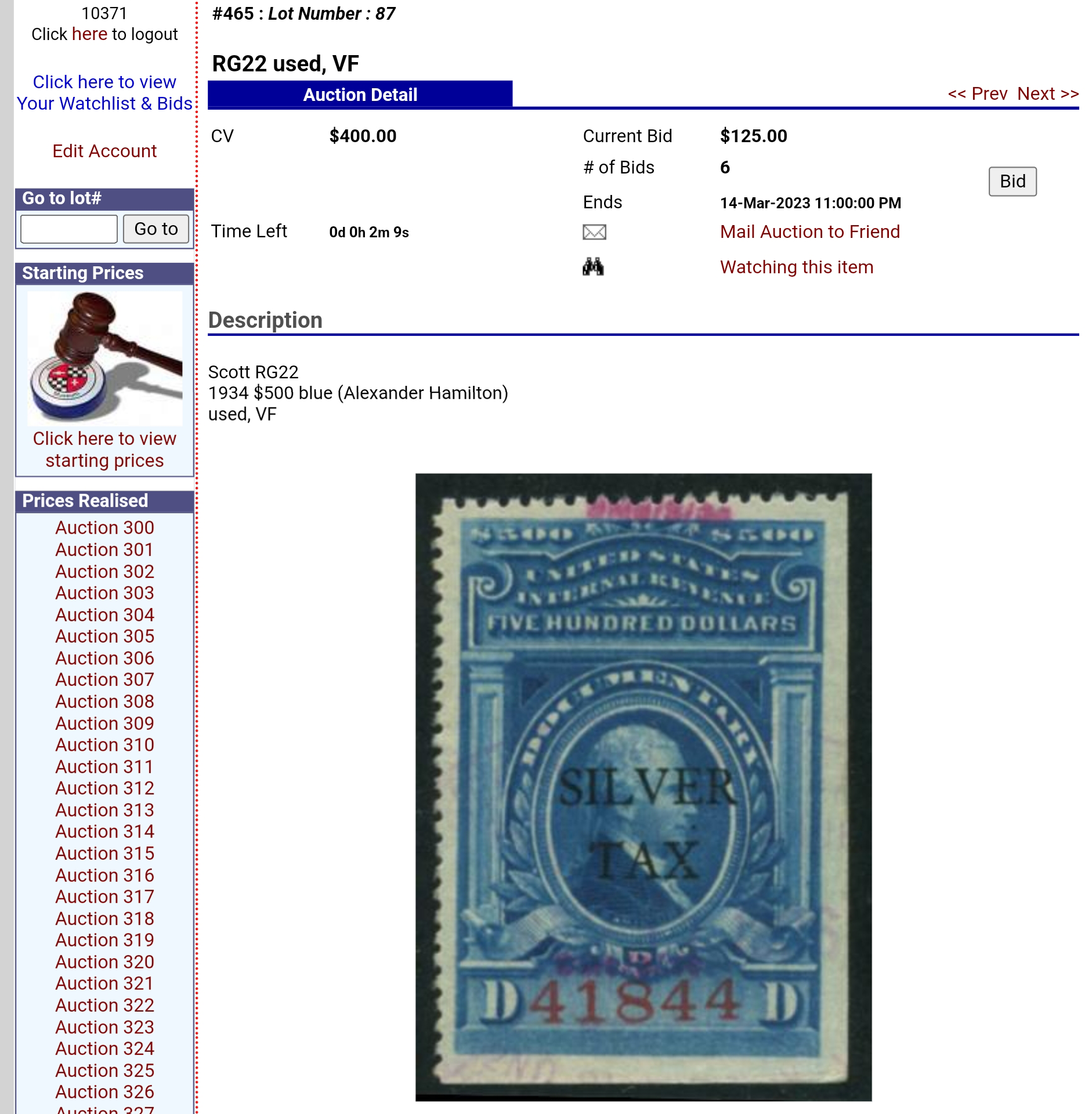 And the serial number is in the correct range for an RG22, so it passes the "Siegel Test(tm)".
So I waited until Tuesday night when the auction was about to close to make a "manual snipe" as I typically do for these auctions. The question was how high to bid... if I was wrong in my assumption, I'd potentially be overpaying for what is an average-at-best example of RG22, but if anyone else had seen what I saw and there was competition and I lowballed it, I would be forever kicking myself for missing it. Since I didn't already have a normal RG22 in my collection and my worst-case scenario was overpaying to fill a spot in the collection, I decided to throw caution to the wind and set a nuclear bid.
As luck would have it, there wasn't any major competition, and I won the stamp for roughly 50% of Scott for a normal RG22.
Now the waiting and anticipation for the stamp to arrive to see if the gamble paid off.
The stamp arrived yesterday and it was what I hoped it would be!
So now I'll add a DT entry for RG22 to my list of additions to the U.S. Specialized Catalogue when I submit them in June.
Before I forget: if anyone has examples of double transfers on any of the $500 Hamiliton types with serial numbers not included in the list above, please contact me. I would love to keep this new list updated.