lithograving - Sorry, but I don't believe that I have any information about either the Danish or Spanish printing presses; I must confess that my interest in engraved stamps has always been centered on the products (engraving technique and stamp design), rather than on the specific manufacturing processes.
Your "El Cid" set is one of my favorites, too; it was engraved by one of the most prolific Spanish masters, José Luis López Sánchez Toda (1901-1975.) I would agree that the
el Cid
head on the 1 peseta stamp looks a
lot
like the late actor, but in doing some research on this stamp a while back I found that it was actually designed after a detail from an equestrian statue,
Monumento al Cid
, Burgos, sculpted in 1955 (some six years before the movie's release) by Juan Cristóbal González Quesada (1897–1961.) Perhaps this is a situation where a postage stamp influenced a film production casting decision?
I would also agree with you that the engraved Spanish stamps of that era often had a similar "feel" to them, probably because most projects were evidently team efforts. For instance, on the Famous Spanish Women set I posted above, not only Sánchez Toda, but no less than two
other
engravers are credited with making contributions, besides Carande Boto. In the end, on many Spanish stamps it is sometimes hard to tell exactly who engraved what.
To wrap up this commentary, here are images of a few more engraved stamps issued by Spain and credited (either solely or mainly) to the
mucho
talented Señor Sánchez Toda.
- nethryk
Archangel Gabriel, issued on October 12, 1956, Scott No. 852, Edifil No. 1195.
Juan Donoso Cortés, issued on February 25, 1965, Scott No. 1292, Edifil No. 1653.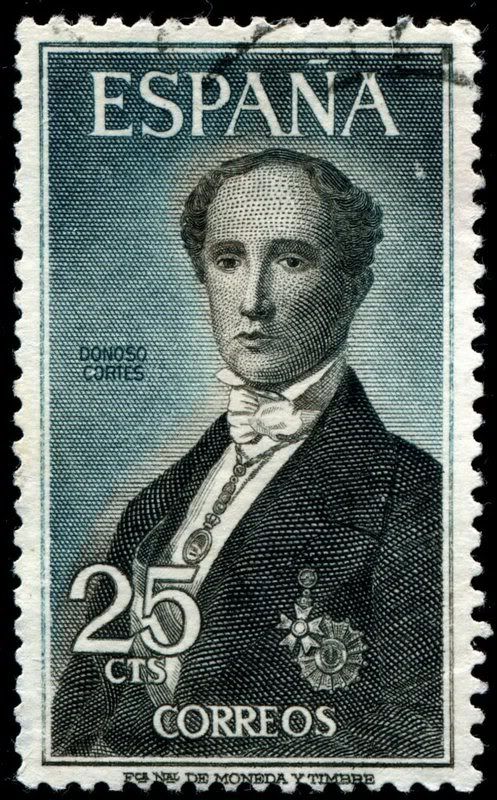 St. Benedict, issued on September 27, 1965, Scott No. 1313, Edifil No. 1675.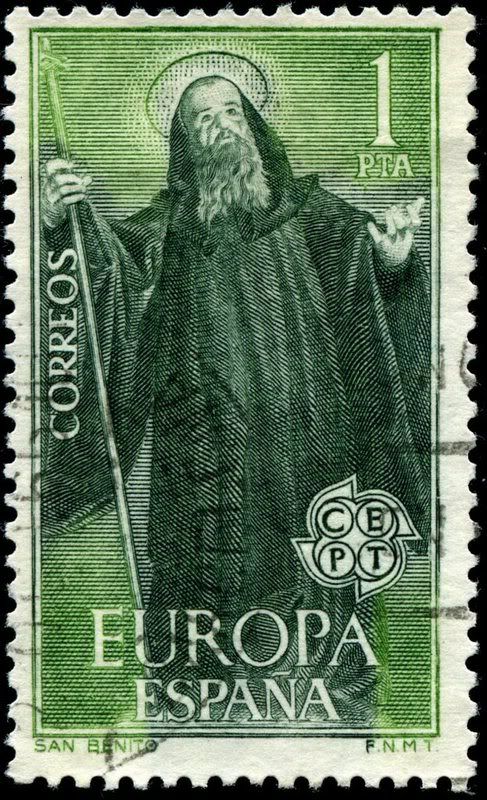 Portal of St. Mary's Church, Sangüesa, Navarre, issued on July 15, 1968, Scott No. 1537, Edifil No. 1879.